Artist:
DK5600
Title:
Distanza Katrias 5600
Format:
CD
Label:
Bugs Crawling Out Of People
Rated:
DK5600 is an electronic, ambient, experimental duo coming from Italy and formed by Ro So-matix (already active with ARS A.V.I.) and CircumLiver (a.k.a. Paolo Bono, active as Circum Liver and Triplomaltose). They just released for Bugs Crawling Out Of People their first album "Distanza Katrias 5600". Based on the concept that they recorded a sort of diary from planet Katrias which is 5600 light years far from earth, the album is divided into twelve tracks, plus five that are only available into the digital edition, that made me feel like I synched a transmission from outer space where the speech was disturbed by sidereal noises and cosmic frequencies. The recitative filtered and treated Rosanna's vocals, which aren't always intelligible, are mixed with ambient noises and drones created by Paolo. Only on track seven, "Rete Di Terra", we have a background melody which is giving to it a dramatic touch but most of the rest is sounding really glacial and isolationist. Only the vocals reading lyrics like it was a broken robot looking for help are the only "human" touch to the whole album. From track nine, "Essere Estensibile Dinamico", ten, "Tensione Di Contatto" and on we have an sort of traditional electronic approach to sounds with long synth sweeps and pads (on the first one) and nice dramatic touch with noise blasts on the latter one. I have to admit that the first half of the album was quite hard to listen to, because it was really cold and minimal but the other tracks are succeeding into giving a good atmosphere and a more structured approach to sound which helped me enjoying it.
Give it a try, here http://www.bugscrawlingoutofpeople.com/bcp020/index.html
Artist:
Public Domain Resource
Title:
Six Years
Format:
CD
Label:
Space Age Records
Rated:
Born in 2012 as a solo project of an Italian guy called Pietro Oliveri, Public Domain Resource saw Ugo Crescini joining in 2013 as a singer and signed soon after for Space Race Records. On the same year the duo produced their first album "Dead Surface". That CD contained twelve tracks and three remixes and its music was a blend of synthpop and 90s e.b.m. with a bit of dance attitude. Two years passed and the duo is now ready to release a new album, always for Space Race Records. "Six Years" is a concept album about WWII, a unusual theme for bands that play this musical genre, I must say. Containing fourteen new trakcs, the album is focused on the feelings of the people who lived that tragedy: for example the lyrics of "Warm Frost" tells the story of someone recalling how he lost his mother, "Sad, So Sad - Tibbets War" has something to do with Paul Tibbets, who was a brigadier general in the U.S. Air Force and is best known for piloting the aircraft to drop the first atomic bomb in the history of warfare and I don't think that a title like "Our Widows" needs further explanations as like remembered on the inner cover, on those six years, seventy one million people lost their lives. Musically, we pass from melodic e.b.m. to e.b.m. industrial with filtered vocals where synth arpeggios and rhythms are the main elements where catchy sounds enrich the formula. The opening "White Cloud" and "Das Boot" are mid tempos with hard beats while tracks like "Cold Lightning" and "Kill Rolf, Kill" are ideal for the hard dancefloor. Listening to these tracks I tought of Public Domain Resource as a sort of Evil's Toy meets Front 242 and if you are fan of these bands, you would be interested into checking them!
Artist:
Limbo
Title:
My Whip, Your Flesh
Format:
CD
Label:
Oltre La Nebbia Il Mare
Rated:
Originally released on vinyl by Mantra Records in 1989, "My Whip, Your Flesh" was the first album by Limbo, that released it three years after the debut MLP "In Limbo". "My Whip, Your Flesh" was sounding different from the first MLP, which contained some songs coming from the first demo, "Poisoned Kisses" (a track they released on a compilation issued by the fanzine Komakino) plus some new ones. If the first Limbo were a sort of dark wave electronic combo influenced by Virgin Prunes, the new Limbo were more obsessive, dark and sometimes kinda electro industrial (check the pounding drums of "This Fire Trinity", for example). For sure, having Paolo Favati, who's famous also as being responsible of Pankow's sound, at the mixing desk had its relevance. On "My Whip Your Flesh" most of the tracks are long and repetitive and sound like Becuzzi and Mustone were possessed by an evil entity. On this album Limbo on lyrics start to play with sexual contents: check the LP sides that were called "Penetrationis Pars" and "Ejaculationis Pars", check tracks like "Meopenisintuavulva" ("My penis into your vulva"), "Big Sex Beat", "I'm The Lust", "Les 120 Journées" (inspired from the De Sade book), "Eros Et Thantos" and the closing "Pain Is Pleasure". This reissue released by Oltre La Nebbia Il Mare sees the original intended track list plus a heavy sound restoring work made by Diego Lo Porcaro, Limbo member since the late 90s and, before, member of Kebabtraume. Now the tracks sound more powerful compared to the ones you found on the 1991 CD edition of the album (it has been released along with their second album "Our Mary Of Cancer" but with "Pain Is Pleasure" left out) and also the sound of the instruments is more detailed and balanced. This is a great chance to check the first Limbo album but be prepared, because there are a lot of surprises about the band in the near future!
Artist:
Lambert
Title:
Drachenreise
Format:
CD
Label:
Spheric Music
Rated:
It's different time that I review album released by Spheric Music but this is the first time that I have the chance to review an album by its founder Lamber Ringlage. The reason is because "Drachenreise" is his first album since the 1999 collaboration with Jiannis. Since then he collaborated with Alien Nature and they released three albums as Hypnosphere. "Drachenreise" ("The dragon's trip") will lead you through the imaginary trip of a dragon. I know that it could sound strange nowadays but as Lambert explains on the booklet, what he wanted to convey into his album are only the feelings born from his experiences. Maybe for this reason also on this album you won't find any lyric: because music sometimes doesn't need further explanations. The voyage starts with "Corona", an electronic suite where Lambert has as guest on guitar Gandalf a.k.a. Heinz Strobl. On this one we have middle eastern rhythms dueting with synths and guitar. Atmosphere gets dark on the following track, "Stairs". Here we have nice synth phrases sustained by a classic use of the arpeggiator. The story goes on with "Estranho" where epic atmospheres are underlined by drum blasts and harp sounds arpeggios. On some moments it recalled me early 90s Jean-Michel Jarre classics and tracks like "Call" or "Past" have everything it needs to be instant classics for the lovers of this kind of electronic music. I like the way Lambert alternates intimate moments, dark ones and other that have upbeat tempos and tons of synth pads to help creating the right mood (like on "Motion"). "Drachenreise" is a great comeback and it won't take other sixteen years for a new album as the twelve tracks of this one will satisfy your appetite for long but not for that much!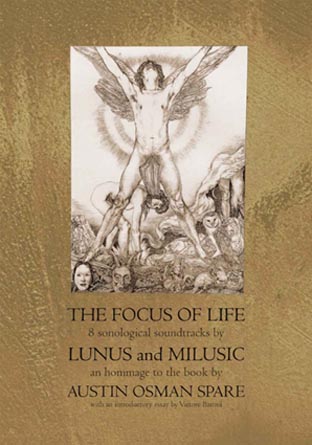 Artist:
Lunus And Milusic
Title:
The Focus Of Life
Format:
CD + Book
Label:
Old Europa Cafe
Rated:
Artist, magician, precursor and eccentric man for his Dickensian times, Austin Osman Spare brought the unconscious to conscious thanks to his automatic drawings and sigils methods. His paints were evocative and mysterious and despite he lived almost in poverty, he made links with Crowley (he joined shortly the Botherhood Of The Silver Star a.k.a. Aregenteum Astrum) and in the 50s with Steffi and Kenneth Grant, who after his death became his literary executors. Talking about the CD by Lunus and Milusic, I think that the first one doesn't need a long introduction, as Denis Granziera is active since the 90s with musical project such as Teatro Satanico, Abra Had Abra, Bass Tards!, Lvnvs, Necrophonie, Officina Elettromagnetica, S. Biasin Trio, the latest New Processean Order, etc. Milusic is Roberto Migliussi and musically hasn't been really active, but he was the founder of Idola Tribus, a fanzine published in the 80s that was dealing with music, iconic historical people (as Hassan-I Sabbath) and more. In the last decades he became publisher and translated different Grant and Spare writings as well became a Peat therapist (Peat is a method of energetic psychology perfectioned by Zivorad M. Slavinski). Anyway, back to the music, "The Focus Of Life" contains eight tracks inspired by the Austin Osman Spare book. We have a sort of spoken word with an electronic soundtrack where synth pads and mid tempo rhythms create the core of the tracks while noises, chants, hypnotic melodies enhance the formula. The release has also a 38 pages book with introductory essay by Vittore Baroni and reproduction of the work of A.O.S. from 'Focus of Life". I enjoyed the release and in my humble opinion would have been perfect with the lyrics read by a professional actor.