Though pitched as the work of a classically trained pianist toying with analogue synths, "Earth Loop" is a fully fledged soundtrack-like instrumental electronica album that owes a lot to Tangerine Dream and Vangelis, and sounds like what TD could have sounded like in this century if their releases had had a bit more vigour and enthusiasm behind them. Bright analogue bleep patterns dance over bold, bright, super-keen synth and string-synth pads, while sparse dramatic percussive hits give everything a sense of importance and wonder.

"Second Run" has a slightly synthwave edge to it, like the opening overture to an 80's sci-fi movie, but not in a kitsch way which is to its credit. "The Start" and "The End", a deliberate musical book-ending, add hints of a male vocal sample that add a little extra nuance as well.

At points it could be accused of being a one-trick pony- every track feels a little like an attempt to synthesize the feeling of a bright new sunset, with tracks like "The Terminal" and "Tempel 1" not adding quite as much variety as they might. But with a running time of only 37 minutes, attention never gets over-stretched.

Overall it's lovely synth-electronica with a hint of retro that leaves you with a genuinely warm feeling.
Artist:
Mary Yalex
Title:
River
Format:
12" vinyl + Download
Label:
KANN
"River" is a 5-track electronica EP full of contrasts, as sounds from downtempo light instrumental techno chug alongside bleepier, more melodic elements.

Opener "Metalic Elements has a groove which is born out of crisp steady house rhythms but with ahead-of-the-beat layers adding a sense of urgency that plays against the mellow, near-chill-out synth lines wandering about above them. "Night Bus" offers a more easy-to-follow glitch-laden pattern arrangement before "July (Part 2)" (I don't know where Part 1 went) delves further into Rhodes-keys-like meditation noises, only really given any edge by the slight crispness in the glittering decorative synth noises.

The energy levels pick up again with strong and more conventional techo track "River" where the pads have a slightly more sun-kissed flavour, but "Stairway To The Stars" takes us back to the chillout room again to finish.

What might have projected tracks like "Night Bus" into stellar territory is strong melodies- instead, for me the weak point throughout the EP is that the synth pads sound like half-hearted live improvisations searching for good elements, rather than the filtered outcome of those experiments.

Sonically it's quite a familiar set of sounds that's been arranged here, not really pushing the envelope particularly hard, but nevertheless it's an accomplished mixed bag of techno and electronica instrumentals on the intelligent side of dance music.
Artist:
Yair Etziony
Title:
Deliverance
Format:
Download Only (MP3 + Lossless)
Label:
False Industries
Yair Etziony's sixth album is an array of drama-laden electronic soundscaping full of dark symphonic chords, echoey rumbles and percussive hits, subbass groans and slow synthetic washes abound. Sounds familiar to the darkest of minimal techno production are repurposed into these sometimes-arhythmic arrangements that seem purpose-built to create a sense of dread.

After the full-on overture of "Justice", "Am aller Ecke" is a more hollow affair that aims for the lower end of the register, before "Gesundbrunnen Ghosts" with its bottle-like melodic noises initially offers something a little more lightweight before distempered scratching sounds bring back the sense of fear.

The second half is more rhythmic. "Unterwelt" introduces a steady pulsing element that reconnects to Etziony's techno roots and gives a different flavour of tension, while "Unheimlich"'s connection to techno is exhibited through the rasping bass synth note that ebbs and pans aggressively during the slow and ominous arrival of hard-to-place workmanlike hit sounds. By the time a TB-303-esque acid note arrives halfway through we realise we've wondered back into super-slow techno almost without noticing. Final track "Deliverance", rather than being the culmination of what's preceded it, tilts things in a different direction, focussing on a calm organic pattern of natural hand drumming over which the electronic weirdness is sprinkled more sparingly.

In a good way, it's as though this album is the score to a sinister and immersive horror game- always tense and disquieting, but never sudden enough to really distract. The gradual progression from ambience into rhythm throughout the 40 minute span is well handled and forms a very interesting journey that plays things a touch safe at times but is still very engaging.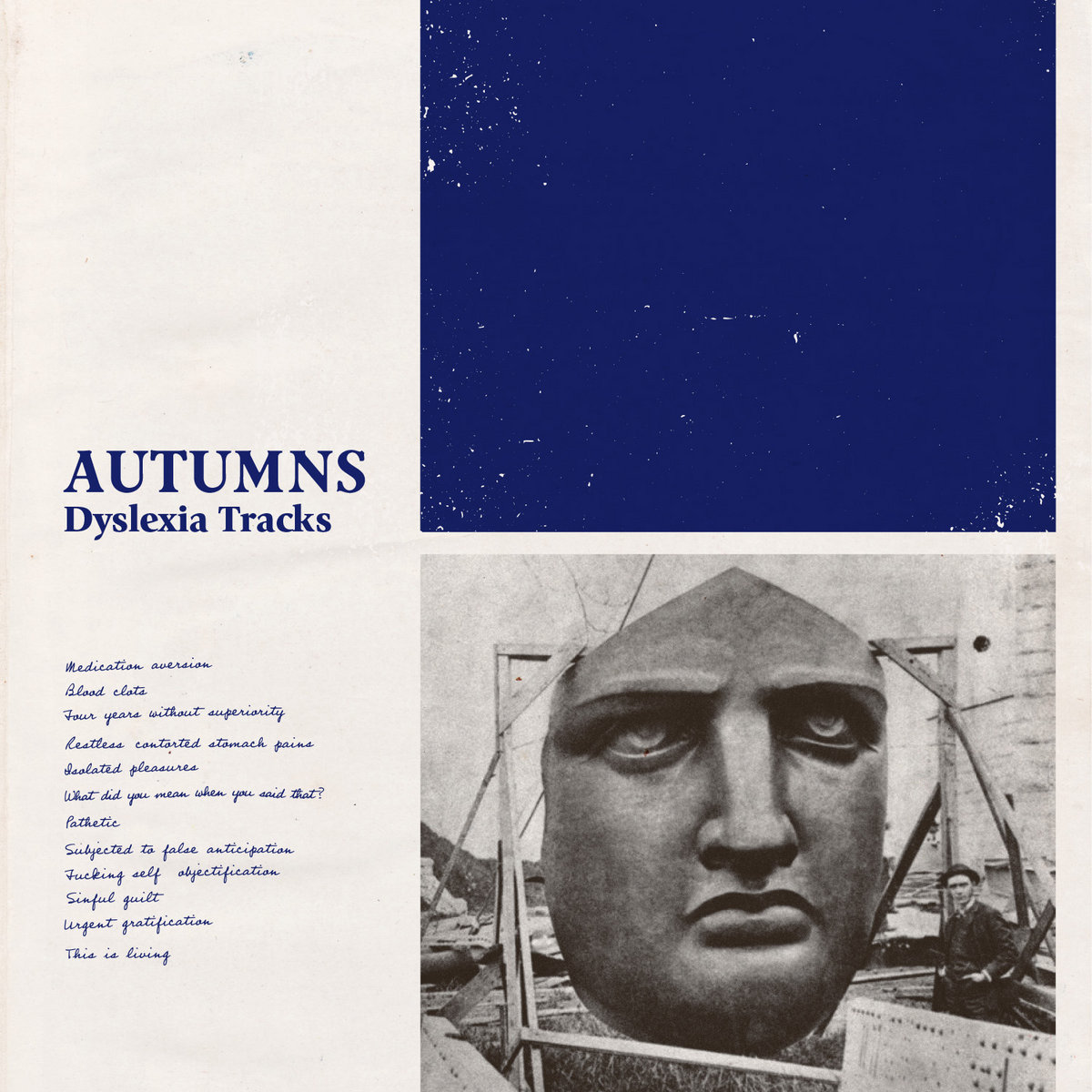 Unlikely elements somehow meld together on the aptly titled, "Dyslexia Tracks" a five-track EP which is noisy, squelchy, inelegant and erratic, yet also structured, rhythmic and somehow danceable; ideal for a younger Molly Ringwald and her breakfast club. Autumns is Derry, Northern Ireland's Christian Donaghey who brings 60's-era psych rock guitar twangs, indecipherable reverb-drenched vocals and tense synth undulations more at home on retro video game soundtracks. Opening track, "Self Consumed" has fist pumping dance beats ideal for an 80's synth rock Billy Idol song on a triple espresso and mean synth lines best suited for a tense first-gen Nintendo game where you square-off against a particularly nasty level master. The following "Headache Tablet" still immerse in continuous undulations of the video game motif with subtle, yet still danceable beat changes as our lead character fights through a horde of baddies. The title, "You're A Right Useless Cunt" was probably coined at an Irish pub just before a fight over the last pitcher of Guinness while an early New Order song plays on the PA and a 60's-era Godzilla film on the telly. Nice, layered electro beats, random laser beam squelches and reverb leaden monster vocals phrase brief yet indecipherable comments. Both "City Secrets" and "Distorted Thinking" have electro progressions and vigorous retro style drum machine rhythms, but this time set to some twangy and echoey guitar music at home on an old Batman TV show if the hero was somehow drugged and disoriented. In addition to early Billy Idol and New Order, Dyslexia Tracks brings to mind minimal techno great, Patrick Pulsinger, electro's, Adult and 'Add N to X', with a middle finger aimed at most techno/electro conventions which is probably the point. Dyslexia Tracks are fun to listen to and Donaghey is not afraid to get unconventional if not erratic and layer elements most would feel have no business being together in the first place. Somehow, it works.
Artist: DJ Taye
Title: Still Trippin
Format: LP
Label: Hyperdub

Though branded as a relatively straightforward hip-hop electronica album, as you'd expect this offering from Hyperdub is a bit smarter than many of its peers. The groove and the swagger are definitely there, but the tempos are more varied and the drum programming is complex, the melodic synth work is smart and ambitious, and the fast-cutting production touches are quite deft, allowing the subbass to shine and offering something really different to listen to.

"Need It" is particularly unusual, cutting up jungle rhythms and bending them into a subdued multi-tempo affair that turns the vocal into something oddly stalker-ish. The tracks collaborating with DJ PayPal, such asl "Bonfire", are equally jittery in interesting ways, with "Pop Hop" taking a surprising turn towards acid gabba (to a small extent). Fabi Reyna's bass guitar playing and vocal on final track "I Don't Know" give it an unusual vibe as well.

Lyrically it's a mixed bag, with some unusual cultural and political lines at points, but also a fair share of the usual tedious testosterone-fuelled bragging and rapping-about-rapping that gets quite dull quite quickly.

Across sixteen tracks, mostly around three minutes each, there's a breadth of ideas that keeps things running smoothly, but it is perhaps lacking enough real dynamics and highlights to make this a repeat-go-to album.