Artist: Aux Field
Title: Square Landscapes
Format: LP
Label: kotärecords

Georgia-based Rezo Glonti's latest album comes with sparse background information and lets the eight tracks speak for themselves as they blend synth-electronica and elements of the most atmospheric edges of synthwave. Despite being drum-sound-free this is mostly rhythmic stuff, a modern take on proto-electronica with quite a fresh outlook.

At times, particularly in the very charming unfoldings of "Unstuck", this feels like Jean-Michel Jarre background music, and if you slapped a strong melodic hook on the top you could pretend it was J-M-J. The second half of the album, in tracks like "Memo" and "Paragraph", has a slightly more experimental feel, making more use of raw sawtoothed sounds and analogue (or analogue-esque) sonics.

The pulsing and tension in tracks like "Underpass 90" has a decidedly soundtracky feel that feels like it's calling out for visual accompaniment, further helped by the fact that across the 41-minute duration it spans a variety of moods, with "Expending System" [sic] one of the more melancholy moments and "Garden In The Frame" evocative of slightly prolonged preparations for battle.

If scrabbling to find fault I might say that this release never really grabs your ears fully in the way it threatens to do at times, and last track "Fieldhead, Dear Friend", despite the perfectly-timed note change at 2:14, ends up just slightly limp as a finale, but these are minor points to what's otherwise a top-class bit of cinematic sort-of-synthwave.
image not
available
anymore
Artist:
The Exaltics
Title:
Das Heise Experiment 2
Format:
CD
Label:
Solar One Music
Rated:
An alien who fell to earth, the creation of a new destructive weapon, two scientists who want to save their laboratory, an experiment gone bad and The Exaltics, an alien race that is surveilling the earth. This is the plot behind "Das Heise Experiment 2", the new album by The Exaltics. The Heise experiment saga started five years ago with the first part released on vinyl by Abstract Acid. The eight tracks of that album were more influenced by acid, having a TB303 upfront sound. For the second episode, which has been anticipated by the three tracks (six on the digital version) picture disc "Das Heise Experiment 2 [The Prequel]", released the last year by Solar One Music, besides the story and the music we have to talk about the different formats, first. The new album, which is number six, has been released on double 10" with twelve tracks, CDr with thirteen tracks and a special metal box edition containing three splatter transparent green 10" (with seventeen tracks) plus the CDr. Every format is sold along with the 26 pages comic book written by Nico Jagiella and drawn by the guy behind the Godspill nickname, Mehdi Rouchiche, most known for having drawn most of the Creme Organization covers. The thirteen tracks of the CDr I have are in balance from dark electro/techno and eerie ambient soundtrack atmospheres with a bit of experimental approach. On most of the tracks the rhythm is king and we have different layers forming a complex web where few melodic pads help into defining the horrific atmosphere. The effect created is particular, as for the old releases there's melody but at the end of the track you won't remember it. Another particular stuff, as for the prequel, on "Das Heise Experiment 2" the titles seems to be codes but I don't know what they are referred to. Also, as well on the prequel, we have a track in collaboration with Rudolf Klorzeiger, a.k.a. Gerald Donald, Heinrich Mueller, etc of Arpanet, Dopplereffekt, Drexciya, Der Zyklus fame (just to name few). Due to pressing plant issues this album had six months delay but it was worth the wait.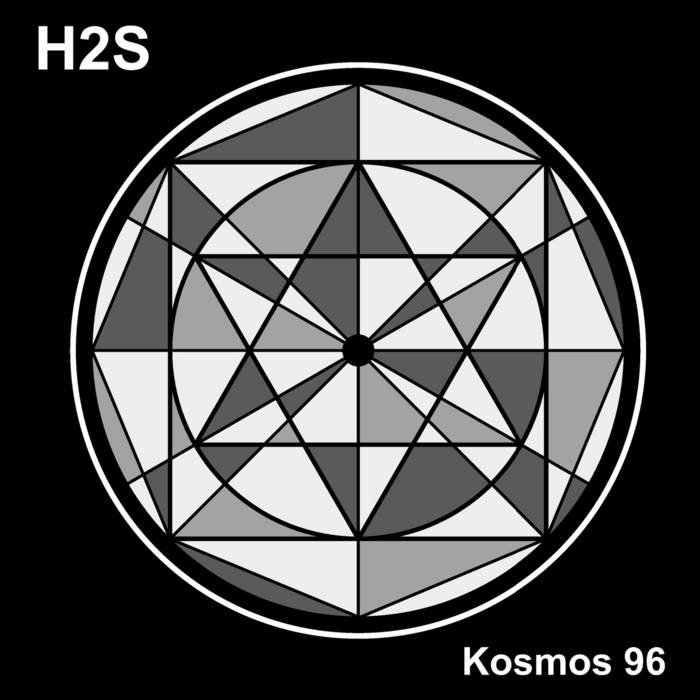 Artist:
H2S
Title:
Kosmos 96
Format:
MCD (Mini CD)
Label:
Biotasi Records
Rated:
Eleven years after the latest album titled "Proteus Soundtracks", H2S, solo project of Fabio Degiorgi, is back with a new mini album and a new sound. In 2007 we left Fabio dealing with "tracks always in balance between experimental intuitions, industrial sounds and also a bit of post punk/new wave", quoting my own review I wrote back then. What we have now? For "Kosmos 96", Fabio composed five new instrumental tracks which are sounding more cinematic and melodic. Somehow is like on this new release he gathered all his past musical experiences (he plays bass guitar with the wave band Vidi Aquam and played for the hardcore band Crash Box, for the garage psychedelic band Four By Art, etc.), packed them and decided to take a trip to Venus (the title track is inspired by the Soviet space probe part of the Venera project which was shoot into space in November 1965, just to fall back to earth in pieces two weeks after). Fabio in the presentation sheet named as main references the 70's cosmic travellers coming from Germany (Cluster, Tangerine Dream, Popol Vuh, early Kraftwerk, etc.) and also the most experimental wave bands of the 80's of the likes of Tuxedomoon or Eyeless In Gaza. Well, with "Il terrazzo di Glottertal", "Fontange De Donis", "Organia", "Kosmos 96" and "Kopli" he succeeded into creating his personal soundtrack which is not only able to lead you to an imaginary travel through melancholic landscapes but it's also able to allow yourself to let you loose into synth suites enriched by clean guitar arpeggios and treated bass guitar lines... no drums allowed! Really nice release which can be yours for 5€, if you want to own one of the fifty CDrs or only 2€ for the Bandcamp download!
Artist:
Wolfgang Mitterer
Title:
Nine In One
Format:
CD
Label:
Col Legno
Taking all of Beethoven's nine symphonies (performed by the Haydn Orchestra of Bolzano and Trento) and compressing it into one 55-minute 'greatest hits' that's twisted with loops, cuts, backwards elements, electronic bends, sparse and sometimes raw-edged extra electronic noises and bold rearrangements- it's a supremely bold move, some would say very arrogant, especially when you spot the booklet tagline "you really can listen to Beethoven!". It feels like it ought not to be endorsed, or maybe not even listenable- yet for better or worse it works.

The most melodic themes- both the overplayed best-known ones and the less popular-culture-exhausted ones- are treated with a certain degree of reverence, but it's their dynamism, and the bridges between the peaks, that are driven further thanks to speed changes and more complex drops and builds. At times it feels truly complimentary- though Beethoven-academics are likely to disagree.

Large chunks are left intact, without electronic decoration- "Satz 2" being a strong example of where the editing is so subtle that only people who've memorised the original work will be conscious of the changes, while other pieces like "Intermezzo" are more explicit deconstructions, heavy speed-shifting and sharp glitching transforming some of the less dynamic source material into avantgarde electronica that at times borders on difficult digital jazz.

Despite it being rather deftly handled for the most part, traditionalists will still find this reworking of the so-called 'new testament of music' undoubtedly sacrilegious, but if you're looking for a piece of surprisingly fresh-sounding classical music that brings a little bit of electronic wizardry into play around established strong themes, and if you're not going to be too precious about it, this is surprisingly enjoyable.
Artist:
Carl Stone
Title:
Electronic Music From The Eighties And Nineties
Format:
2 x 12" vinyl
Label:
Unseen Worlds
A triple-LP collection of Stone's "Electronic Music from the Seventies" has here been followed up by a equally imaginatively-titled sequel, but it seems there was less to work with this time as it spans two decades but only stretches to two pieces of vinyl.

After the relatively familiar-sounding slow and mesmeric soft chords, vocal ahhhs and faintly ambient-lounge-jazz of the only '90s piece "Banteay Sray" (1993), it's the 1980's works that are the more interesting.

The slightly more plinky-plonk keyboard structures of "Sonali" which has a decidedly early-80's-Tangerine-Dream flavour to it, but which grows its own distinctive character by a very nicely handled processed and looped vocal chant and a fairly unique progression into more chaotic juxtaposed melodic patterns. Things take a particularly appealing twist and turn towards the end of this track when glitched operatic samples arrive and gradually dominate the finale. For a piece composed in 1988, this glitchy approach to gating and sampling was massively ahead of its time.

1983's "Woo Lee Oak" takes the long sustained sound of panpipes- which at the time hadn't yet become the New Age cliché they were to become- and draws them out with suspense-laden string tones into a building melée of overlapping complex harmony.

Previously unreleased 1984 track "Mae Yao" is also eye-opening, using similar cut-up and micro-sampling techniques (that 15 years later BT would claim to invent and call granular synthesis), opening with a deeply raw and sparse cacophony of sound ordering before returning, fairly abruptly, in the second half to longer more drawn-out atmospheres and synthetic melodic pad layering where the sampling becomes a decoration rather than the core.

I have to confess to being unaware of Carl Stone's work prior to this promo, but what's on display here is a real eye-opener- long experimental electronic pieces which, while still clearly capable of being placed in the timeline of 70's and 80's experimental music history, also sounds fantastically ahead of its time. I must check out more Stone works, not solely for any pretentious reason of cultural importance but because, as well as being very surprising, they're also a very pleasant listening experience.