image not
available
anymore
Artist:
GLORIA NUDA
(@)
Title:
Dictate from beyond
Format:
CD
Label:
Frost Fundation
Rated:
Gloria Nuda is the name of a duo working in the industrial-electro field. They melt theatrical speeches with distorted vocal approach. Sounds are both industrial and a bit epic (such as in the case of "A lonely prophet").The duo formed in 2003 and they finished the album in 2005."Abduction part 2: mutation" is particularly effective as well as "A wish of obnubilation". Its melody is catchy enough to be loved after the first time you listen to it. Synthetic structures are used with piano and deep voice.This is a concept album based on an aliens' domination...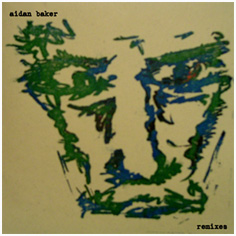 Artist:
AIDAN BAKER
(@)
Title:
remix
Format:
CD
Label:
Aidan Baker
(@)
Rated:
When Nomeansno were singing "oh no Bruno... too much is not enough!" they didn't know Aidan Baker yet, if action speaks louder than words: his discography speaks really loud!. This time differently from the project in which he's directly involved this canadian musician has put together an incredibly well assorted bunch of remixers to reinvent some of his songs. I really mean "well assorted", generally I happen to hear good remix-records with some good tracks, but hardly it happens I'm satisfied by the whole cd, this' one of this few excerptions to that. Baker's drony, dark and melodic music is a good substance to be moulded by the talented hands of any good musician, but while giving new shape to the sculpture many of the remixers have kept its original spirit untouched. Funny, every once in a while I've had the impression some of Aidan's original influences (Swans, Godflesh to name a couple of em) resurfaced from the bottom of the pool. From Andrea Marutti's ambiental loops of the opening track to Building Castles out of matchsticks' opus (definitely post-broaderickian), from the danceable new tissue of Naw to the desolation of Wilt's version of "breaking points" a-la-Codeine, the listening is really relaxing. Absolutely good.
image not
available
anymore
Artist:
TOMCRAFT
Title:
Hyper Sexy Conscious
Format:
CD
Label:
Kosmo Records
(@)
Distributor:
Caroline
Rated:
BUY from
If I should sum the review of the third Tomcraft's album titled HYPER SEXY CONSCIOUS I would only write: "wow"! I mean, this album is a smash! It contains all the elements that a dance album needs: good tunes, rhythm, house as well as techno and electro elements all blended into a perfect formula. Produced into his home studio in Munich, Tomcraft called Tai Jason for production (he also did the rap parts into the smash hit "Sureshot" and the electro gem "Quelle heure est il") and Rolf "Jam El Mar" Ellmer (from Jam & Spoon) for the creation of three tracks ("Electronic toys", "Roots" and "Dirty Sanchez"). For the female vocals he called Dacia Bridges and Stephenie Coker (she sung into "Bloated" a sensual soul'n'blues electro track and into "Da disco", a house track where her bluesy vocal enrich the cool melodies created by Tomcraft, Tai and Trokken & Lützenkirchen). The album opens with "Sureshot" (which is also the first single released after the album), a track that will convince you in no time with its hip hop techno structure (if you love Prodigy tracks of the likes of "Breathe" or "Smack my bitch up", you'll love this one) and which is also present as bonus into the version featuring Sido & Tai Jason for an even more rappier version. "Quelle heure est il" is a perfect track for the electro lovers and it has already released as a single the last year. Check its 4/4 rhythms and the funky guitar...I'm sure you'll love it! House techno is present with the following "On screen" where Dacia Bridges gives her sexy performance on vocals. "Roots" changes the atmosphere of the album turning it into a dark soundtrack with long synth pads and a catchy rock guitar. There are so many high points into this album that it is difficult to name each of them but each track contains something new that will catch your attention while your feet will start moving since the first notes of the album. Tomcraft is a well respected producer, he did remixes for Depeche Mode, Pet Shop Boys, Simple Minds and Dandy Warhols to name few and this is your chance to check his skills in full. Don't lose this opportunity!
1. Breast Eggplant[angry mosquito drums circling overhead – ring of positron whistles parting your follicles and foibles – Ponce de Leon in a grass skirt doing the hula with the native girls hoping for a snog]2. Camera Up Uranus[rummaging around the house trying to find it – throw the cushions aside – push the furniture again the wall – no sign – blood pounding at the temples – where the (h) (e) double hockey stick is it?!!! – maybe under the bed? – nope – under the fridge? – nope again – under the cat? – nope nope again – might as well give up]3. GMO's Meet PMS[dance you moron! – she's still not interested – wail and flail – speak in tongues – jabber and gabber – twitch and switch – pay and pray – she still not interested]4. I'm not Perfect[grovel and grind in the dust – wriggle and writhe – eat dirt maggot!!! – stop making excuses! – try harder! – no one gets anywhere by quitting! – whine you little fanboy – nobody's impressed]5. Plastic Loves Global Warming[artificial – repetitive – a sore spot]6. Buddha & The Blueberry Wizard[stuck in the mud – avatar in chains – mind over matter – wizards in treacle – does this mean anything? – I like blueberry muffins]7. Error And Error[portrait of a young man – pulse and pound – blood and brain – swish and wash – all lost in repetition – warts and all]8. Mummy Crazy[mummy or mommy – fixation – Freud and Oedipus dancing a jig]
1. The Overture

[random sample hold pinched cycles of faux bagpipes and tweeting electro-birds circling overhead - wooden branches of electric trees cracking in the wind – particles of sunlight brushing against insistent green]

2. God Bless the Miners

[tolling of industrial bells calling the laborers to work – action and time passes unnoticed – the divine intrudes on the consciousness and interferes with work – labor is the opiate of the Masses]

3. Enola Gay

[the hum of summer – the hum of engines – the hum of a tune – signs of summer – signs of engines – whistlestop]

4. Cuckoo to You

[electric beak and steel perch – silver forest and aluminum leaves – twist and turn and twist again]

5. Belles I

[on the back porch - moonrise]

6. Remnants

[I heard it – so did you – something this way comes – circus of freaks in buses – reality Ruth! – epileptic, schizophrenic manic depressive]

7. Jungle Birds

[path and undergrowth – signs of life – hidden safely – observant eyes – who has seen the wind – tendrils and claws – shake, rattle and roil]

8. Days Left

[direction to go – fork in the road – journey ahead – a ringing in my head – only my hair dresser knows for sure – sunlight draws a circle in my eyes – heat and haze and heart – hour glass and horticulture works the same ground as my hands]

9. Organ Song part I

[the body electric sings – sound the portals open – conversation ensues – communication seems possible – transmission is desired]

10. Belles II

[metal skirts of purest iron – brazen tassels swing and sway as they walk – they are the belles of the ball]

11. My Guitar

[repetition is the mother of learning – wisdom is the fountain of life – living provides examples of consequence – stay on the path!]

12. BOX

[precious fragility – the imposition of time and demand – attention dwells – think outside – a breath of fresh air? – six sides are enough]

13. One for Nick

[the saint? – the devil? – why only one? – traumatize and fantasize a willing reality – no chance for regrets – one foot in front of the other]

14. I Slept Through Vespers

[black and white – recrimination – somnambulant sisters – ring of cloth, ring of bells]