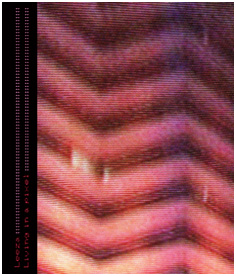 Artist:
Leeza
Title:
Living in a Pixel
Format:
CD
Label:
Afe Records
(@)
Rated:
Milan's Luca Di Mattei Aka Leeza is out on the Afe label with the new "Living on a Pixel". Slightly out-of-fashion laptop-based IDM but extremely well executed. Leeza's trademark are the keen and intricate synthlines almost recalling the ones on Bola's Soup (my all-time favourite in IDM) but there are more Autechrish ("Amber"-era) tracks like "Dav_Home" or "Phonetic Boot" that show a good display of more schizoid rhythms and breaks. "LOAP" is a record that would fit perfectly in the Skam back catalogue. A more recent reference point would be the rosters of the Toytronic and Merck labels. A well-crafted record not to be missed by IDM diehards and nostalgics.
Artist:
GREIFENKEIL
(@)
Title:
Moog EP - A New Generation Of Sounds
Format:
CD EP
Label:
GrenTzwert
(@)
Distributor:
Icare Media Distribution
Rated:
We have already discovered the self-titled full-length release of this mysterious German project, but this EP is the official released debut, also for the fine and hard working GrenTzwert label. Without doubt, this one is a special and conceptual release, it represents the strong dedication of A. von Greifenkeil to one of the pioneers and inventors of the machinery we all like and use, the synthesizer. Without the work of Bob Moog almost everything what is related to the evolution, creation and kind of synthesizers wouldn't be – an unthinkable scenario! So three of the seven presented tracks here use only original Moog sounds, the further four pieces are leaded by them. The included voice samples of Bob Moog are taken out of a documentary film done by Hans Fjellestad, www.hansfjellestad.com. That the use of some typical Moog sounds also causes into a limitation of the wide range of multiple styles which A. von Greifenkeil and his project is able to handle, has my understanding. It tries to show some different ways to create arrangements with the given sounds with the very own GREIFENKEIL monikers "Greifenpop" or "Industrialkeil", but it all ends a bit into repetition. Although it tries, this release can't give you a deeper insight of the dark and scary music efforts this project is able to offer – on the other hand, a musically combination and so the use of different sounds than taken from the original wouldn't be a fair tribute. This release is not designed to give entrance into the mystic GREIFENKEIL empire – it is a tribute and a presentation of Bob Moog. The fine written and praising words to honor this great inventor are a fine proof of this. Designed for fans and collectors – GREIFENKEIL meanwhile works hard on a new output and can be discovered soon here with an interview...
image not
available
anymore
Artist:
IMIAFAN
(@)
Title:
Collaborations
Format:
CD
Label:
Red Star Budapest
(@)
Rated:
COLLABORATIONS, along with the split 7" I'll review later, is the newest ImiAFan release and it contains nine remix, re-processed tracks produced during the 2001÷2005 period thanks to John Merral, Cabaret, ImiAFan & DNC, Karaoke Tundra, Michael Harding, Martin Burlas, Marek Zubko (aka DNC), Cjjbrozt and Yosuke Kawamura (aka Lozi). The oroginal tracks are coming from the previous band's releases "Péntek este EP" and "Legy a falon" 12" and four of them seems to be unreleased, because I haven't seen them listed anywhere else (they are "Inner voices", the two versions of "Naomi" and "Prechádzka"). These nine tracks differs a lot from the electronic instrumental analog sounding style of the Imrich Végh project and they span from the analog melodic glitch breakbeat of "Toys (Hyobitech 3 remix)" to the ambient idm of "Time (Lozi remix)", passing through techno ("Inner voices – Cabaret road trip mix"), minimal experimentations ("Légy A Falon - Do16! Remix"), electro lounge ("Toys! - The Only Michael Remix") or minimal ambient wave ("Naomi - Redefined By DNC"). This release as well as all the Red Star Budapest releases are free of charge as they are released under the "The Free Music Philosophy" (check http://www.ram.org/ramblings/philosophy/fmp.html). The last thing I could say is: support this initiative as the sounds are good and the philosophy is great!
Artist:
VV.AA.
Title:
Industrial For The Masses Vol. 3
Format:
2 x CD (double CD)
Label:
Out Of Line
(@)
Distributor:
SPV
Rated:
At first we have to realize that the term "Industrial" for this new Out Of Line compilation is meant as a pretty European description for the more US-based terms Powernoise/Powerelectronics. Like the same formula presented on the second edition of this compilation series, this new one features a rhythmically "Toxic Electronic Dancefloor Assault". The term Powernoise and so my understanding of this music is almost sparse filled in here, the Out Of Line act KIEW in collaboration with AMBRASSADOR 23 is the one and only act falling into this kind. The further acts depend between Harsh Electro/EBM, TBM, IDM and some Techno/Trance styles as well. Best pieces I've noticed by the Out Of Line acts COMBICHRIST (wow, what a fine kind of vocal fx...), UNTERART (bombastic arranged... nice done!) and DULCE LIQUIDO (I wish to hear Erk's screams on this straight and fast-forward arranged track – this would be a nice HOCICO tune...), while some licensed acts (BASTEROID, MOTOR) can't offer any interesting sound or composition and simply bore me like hell. Too weak for a Powernoise comp at all, but I think it's more dedicated to the usually label program. Out Of Line's new signing NORTHBORNE (signed to the side-label Masterhit, www.masterhit.com) make here on the second CD their first steps, but also for them I have to say, that the presented stuff doesn't feature ingredients to fill them under the Powernoise moniker. It is instrumentally arranged Harsh EBM, but this with nice sounds and some good ideas. Two different pieces with "The Pill" and "Trucks" plus three remix works on "The Pill" done by some famous names like UNTERART, Mark Jackson of VNV NATION and DISKONNEKTED offer a good quality. But it's for sure too early to give a final judgement on this act, they have to prove their talent more on an own full length CD. Further worth to mention is the exellent done artwork which hides these both CD's under a beautiful digi-pack.

Tracklist:

CD1

1. Combichrist - ElectroHead
2. Basteroid - Rabimmel
3. Unter Art - Der Morgen
4. Dulce Liquido - Serial Killer
5. Chris Liebing/Speedy J - Tunox
6. Motor - Punkture
7. Kiew - Mr. 29 (feat. Ambassador 21)
8. Terence Fixmer - The Calling
9. Ada - I Love Asphalt
10. The Horrorist - Body to body (DJ Stampa mix)
11. Esplendor Geometrico - Moscu Esta Helado (The Hacker)
12. Maelstrom Inc - Afraid Of Us
13. 13th Monkey -Tremor
14. Edelstahl - Drehstrom

CD 2
1. NorthBorne - The Pill (Radio Edith)
2. NorthBorne - Trucks (v. onepointzero)
3. NorthBorne - The Pill (Remix by UnterART)
4. NorthBorne - The Pill (GBH mix by Mark S Jackson)
5. NorthBorne - The Pill (Diskonnekted mix)


image not
available
anymore
Another new output of the German SkullLine Mail order service, this release was done by one half of the project TT, which lately brought out a first CD "Opfer:Einheit". The already presented musical elements are also listenable on this new output "Kunzt!-Gaz?", maybe with a stronger dedication to harsh minimal and rhythmically Powernoise efforts. This well done release takes already known elements like pregnant German voice samples and combines them with pounding Electro-like bass line and of course the tormenting distorted drum patterns. "Terrorgefahr" features this element well, it is dedicated to some bombing attacks against trail stations of Berlin. Another heart-felting piece has to be named with "Terror Pakt" featuring the news content of the tragic happening of the terror attack in Beslan. "Hell-Sound" sounds like a cliché and reminds a bit on some OBZÖN GESCHÖPF works. "Warum" and "Lebensberechtigung" continue the more EBM than Powernoise style in a decent way, but then this release turns more and more into the Powernoise/Powerelectronics genre. Still very rhythmically arranged, TRITON 83 offer with the best pieces here, "Seelenfresser" or "Bestie Mensch" a perfect alternative to some known acts like NOISUF-X, XOTOX, FABRIKC or CONTROL-SYSTEM. The dark but still hefty tune "Ozonhole" gets my favorite vote here by offering some well done layers and well set in voice samples. Although not providing anything really new, this mysterious does well in this minimal harsh EBM/Powernoise style. And as usually, also this release is strictly limited to 100 pieces. Also a special edition of only 20 pieces packaged in a special steel box is in preparation. Act up soon and get it!