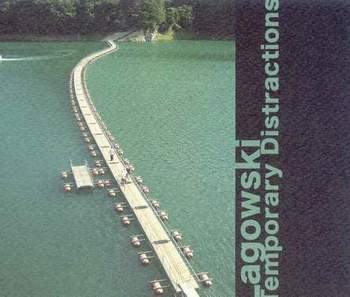 Artist:
LAGOWSKI
(@)
Title:
Temporary Distractions
Format:
CD
Label:
Ars Benevola Mater
(@)
Distributor:
Masterpiece Distribution
Rated:
Andrew Lagowski don't need any introduction because he's active since early 90's. He releases his music with different monikers such as Lagowski, S.E.T.I. and Legion and I'm pretty sure you already heard of one of them. His latest album as Lagowski has been released by Ars Benevola Mater and it is titled TEMPORARY DISTRACTIONS. The CD contains ten tracks which float between ambient, electronics and i.d.m. By reading the titles, the tracks don't seem to follow a particular theme. Maybe the "distractions" are like electronic canvas where Andrew exercised different ways of dealing with the electronic subject. Listening to TEMPORARY DISTRACTIONS is like entering a gallery where you can stop in front of your preferred painting and lose your senses by following the electronic waves of the ambient tracks, the upbeat rhythms of tracks like "Wm29a" or the experimentations of "Random how".
image not
available
anymore
Artist:
5ALAD
(@)
Title:
Over Mini-Pop / Electro Faith / [º_O]
Format:
MCD (Mini CD)
Label:
Imaginary Non Existent
(@)
Rated:
Salad is a project of the same guy who you already know as Monoceros. As band debut Imaginary Non Existent and Fueraserie! released three different E.P.s: "[º_O]", "Electro Faith" and "Over mini-pop". Each release is available as limited CD (through the labels' websites) or as digital download at www.digital-tunes.net. The first E.P. "[º_O]" is focused on rhythmical minimal ambient techno tunes with a little bit of i.d.m. while "Electro Faith" is a bit more electro oriented with more defined melodic lines but always with the prevalence of smooth sounds even if on tracks like "Vicious SID" there's the predominance of a cool square wave bass line. "Over mini-pop" is a mixture between minimal techno and tiny electro pop fragile tunes where bleeps are floating on fluffy synth pads. A good debut that maybe, even if the tracks are a little different in style, could have fitted one CD only.
Artist:
VV.AA.
Title:
Hyperreality
Format:
CD
Label:
Aliens Production
(@)
Distributor:
DSBP
Rated:
The Slovakian Dark Electro/Industrial label Aliens Production surprises their listeners with a new compilation which collects besides some international guests several more or lesser known acts out of their area or out of their neighbor state, the Czech Republic. Packaged this time in a beautiful metal case almost in size of a CD and of course strictly limited to 550 exemplars, it therefore lacks a bit of more info on the acts. That this label stands generally for music styles asides the current hypes at least needs to explained once again – mostly the signed acts to this label like DISHARMONY, SAMHAIN or ANHEDONIA are standing for a mysterious, creepy but very complex arranged Dark Electro music, which often integrates elements out of Ambient, IDM and/or Ritual Industrial music – rhythmically Powernoise efforts or classically EBM tunes are rather seldom integrated, if we point out GAPING CHASM for instance. So also this "Hyperreality" presents the who-is-who of their label as ell as out of both countries, Czech Republic and Slovakia, but also a lot of unrecognized and promising stuff, which will come up soon. Like on several other compilation, I like to pick out the most remarkable pieces. TERMINAL STATE, also a band providing the Slovakian Dark Electro formula and like DISHARMONY with a German past by releasing a debut CD on Broken Seal, is a band on which the return is eagerly awaited. This new track "Behind The Enemy" offers some vocoderized vocals combined with a rather PUPPYan bass line programming and some gloomy synth layers - well done, let's hope that they can soon release their new full-length CD. ANHEDONIA are providing once again a new and typically arranged track – the spirit of the unfortunately defunct US act GRIDLOCK somehow continues in the musically output of this Czech act. That the Australian duo and member of the Crash Frequency collective EMPTY would enter this comp is rather surprising – the explanation follows, because the Slovakian duo of DISHARMONY has done a remix on the track "Alone". Both German acts XABEC and MNEMONIC have created remix works on each other which both appear here. Especially the Re-Programmed Remix by MNEMONIC on XABEC's track "Open State" can convince with some melodious orchestral-like string sounds, decent synth textures, and... uuhmm a real trumpet? Really? Well – who cares, it sounds great. Also GAPING CHASM returns here surprising – the use of some guitar riffs and the cleaner than ever before provided vocals are rather unexpected – it seems a bit that Ergo manages heavily to create some new directions for this project. The DISHARMONY side-project OXYD surprises with a rather straight produced track offering an interesting IDM-inspired rhythm programming. LAST INFLUENCE OF BRAIN – yeah, they're on returning and should be ready to come out with a new full-length album signed to the US-based label EAR/Vendetta-Music – another highly anticipated name offer maybe asides TERMINAL STATE the only real Dark Electro tune featuring distorted vocals, rotating bass lines and some extra-ordinary rhythm patterns. ANIMA MUNDI is another project of GAPING CHASM and Ergo likes to point out with this project the difference between both – "No More Heroes" is rather dark and sample-driven, also the obvious "church choirs" for which this project is known for are included. Also the MNEMONIC appearance, remixed by XABEC as mentioned above, can totally convince with its slightly distorted rhythm patterns meet sedating cold melodic synth layers. DISHARMONY and ANHEDONIA have collaborated for their track "May God Be With You", which is musically and rhythmically rather inspired by the new, a bit more IDM-inspired DISHARMONY works on their current full-length release "Malignant Shields" – soon more about this. German cult act POLYGON aka Ingo Lindmeier (MORTAL CONSTRAINT) also appears with a depressive Dark Electro/Ambient-inspired piece "Memorandum" with German lyrics dealing with a tough theme like the loss of an own child. Last but not least the Swiss act STENDECK providing us a dark and melodic outro piece. This compilation – as expected – is rather designed to get consumed under a good pair of headphones. Only a very few pieces can animate some people for some rhythmically movements – and somehow this is a trademark of the fine Aliens Production label. Isn't it much appreciated to hear some stuff asides the trendy hypes of your usual Electro/Industrial listening? It is, thumbs up for this well done compilation.

1. OTX meets KENJI SIRATORI – Industrial Boy
2. TERMINAL STATE – Behind The Enemy
3. ANHEDONIA – Logical Closure
4. EMPTY – Alone (DISHARMONY Remix)
5. ENCLIPSE – Count 666
6. TABOR RADOSTI – Ho Basileus tú Kosmú
7. XABEC – Open State (Re-programmed RMX by MNEMONIC)
8. GAPING CHASM – Running Fight
9. FLINT GLASS – At Twaki
10. OXYD – Suspiria
11. LAST INFLUENCE OF BRAIN – Recently
12. ANIMA MUNDI – No More Heroes
13. MNEMONIC – Political Absurdity (8-bit Remix by XABEC)
14. DISHARMONY meets ANHEDONIA – May God Be With You
15. POLYGON – Memorandum
16. STENDECK – The Thin Light Between The Trees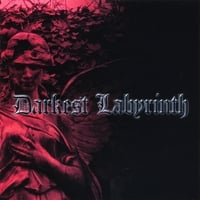 We had a small infiltration of Japanese Electro/Industrial acts in the early 90ies with the both Sapporo-based acts DRP and 2nd COMMUNICATION signed to some Belgian cult labels like KK Records and Body Records (...and it was Dirk Ivens aka DIVE who introduced us these fine acts...). But afterwards there wasn't any real sign of musically life (exception: JACK OR JIVE) hailing out of this high technologically country – until in the last few years the Goth-Rock act BLOOD could start their trip of victory with international gained attention. BLOOD band leader Kiwamu finally is also responsible for the label Cure as well as the concept and compiling of this compilation. Of course musically based more or less on Goth-Rock music, Kiwamu likes to introduce us 10 artists including BLOOD hailing out of Japan and two European appearances with the Austrian Goth-Rock act HALLOWS END and the Greece Electro/Industrial act (!!!) VIRGINS O.R. PIGEONS, recently signed to the Cure label and also currently out with a recommendable debut CD "Place No Reliance". The things on this comp are starting well with the appearances of CALMANDO QUAL – of course based into Goth-Rock with haunting guitars, but a surprisingly well tuned rude vocal performance. Austria's HALLOWS END are really jumping into every possible cliche-loaded Goth pot, especially the female vocal counterpart to the deep male vocals seems to be misplaced – while they offer a well-done sound quality. No stuff for the kids is offered by the angry and Electro-Punk driven act BAAL – if it is a female vocalist, I tend to compare it with UNTER NULL on speed! That the appearance of VIRGINS O.R. PIGEONS fits the most with my personal preferences is no real secret – but their fine done track "Existe" can stand every comparison with some global scene players like HOCICO or TACTICAL SEKT – marvelous! The project DESPAIR also offers unstructured song arrangements with growling vocals and are also not designed for the faint-hearted. A not expected excursion into Japanese plastic Synthpop culture then you'll get with the appearance of –QICHE-, it reminds a bit on old S.P.O.C.K with female Japanese lyrics. BLOOD then offer a new piece out of their third band phase featuring again Fu-Ki on the main vocals – compared with most of their fellowmen here, they're really sedating and well produced with a great acoustic guitar and piano play. The provided stuff here gives indeed a well introduction to the Goth scene in Japan, although – this has to be said – most of the bands are really rough-minded and some lack of a better production – that's real underground – I guess so it was meant!


1 emnityforgod / Calmando Qual
2 FORSAKEN (Pre-Release Version) / Hallows End
3 maishugetsuyou no kindanshojyo / heisabyoto
4 Favorite song / SUICIDE ALI
5 VERMIN / BAAL
6 Existe / Virgins O.R. Pigeons
7 MPD Conflict / Despair
8 Bordeaux after midnight / TheCandySpookyTheater
9 silent-stream (Mog Decorate Mix) / -qiche-
10 kaikon to sitsui no hateni / syaranosui
11 Fountain of Blood / BLOOD
12 ainohate, tatoebayoakeni. / Rose de Reficul et Guiggles

image not
available
anymore
This is for sure the most awaited and anticipated release of the year and I guess it's not required to introduce this duo nearer. Since some of you readers out there may think it's cool and funny to get some stuff heard several days before the official release date (which is in this case TODAY for Europe, at 10th of April available for North-America), let me tell you, that this is a promotional copy.

We at the Chain D.L.K. are maybe not in the position to start any new endless debates about the currently hard times with dropping sales near to zero for all participating bands and labels. Several labels – mostly the better known having some established artist in their roster – are seriously looking out to save costs and have switched their promotional efforts completely on a digital downloading procedure. Some others do press special promotional CD often under-toned with a voice telling you two times per track that "you're listening to the XY album of ... (fill in artist)" – not fine at all, but at least you CAN get an impression of the album content. But this "new" idea of the VNV NATION release is the top of impertinence. I see the fact that some so-called journalists are feeding some illegal downloading portals with some new stuff earlier than the official release date, but this "item" I tend to call irreverent and pure paranoia.

This promotional copy features one full-length track ("Farthest Star"), one near-to-full-length special edit ("Nemesis") and five additional snippets of album tracks featuring at best a verse and the refrain of the track. With a playing time of 17 minutes some professional hard-working journalists which take their "job" (...and nobody pays us!!!) seriously should be able to give a quality review on the new complete album? We're talking on VNV NATION, a scene-leading act which has taken influence on styles like Synth-/Futurepop like no other act else. Where's the sense in this promotional item – okay, this time a journalist won't feed the mostly in Russia placed illegal piracy servers – but a buyer soon will, face the facts!

Okay – "The Farthest Star" is definitively a new club filler with a decent melodic content and Ronan's smooth vocal performance – straight and catchy arranged – it simply features all well-known elements which have made VNV NATION that famous. "Nemesis (Divine Command Edit)" differs a lot – it's maybe one of the hardest tracks ever composed by them. Old-school EBM-like bass line and a much more angry vocals, some acoustic guitar elements to strengthen the refrain which proves their lately recognized dedication to some more Alternative-influenced styles – this all results in one of the most unexpected tracks of VNV NATION but in a good quality.

And the snippets? No, thanks – not with me, because these files are definitively too short to give out any tendency. VNV NATION and the label want a perfect promotion – the best with interviews? Well, then offer a full-length album with a complete artwork. No rating on this new release from my side, because the given stuff is too limited to give a quality judgement.