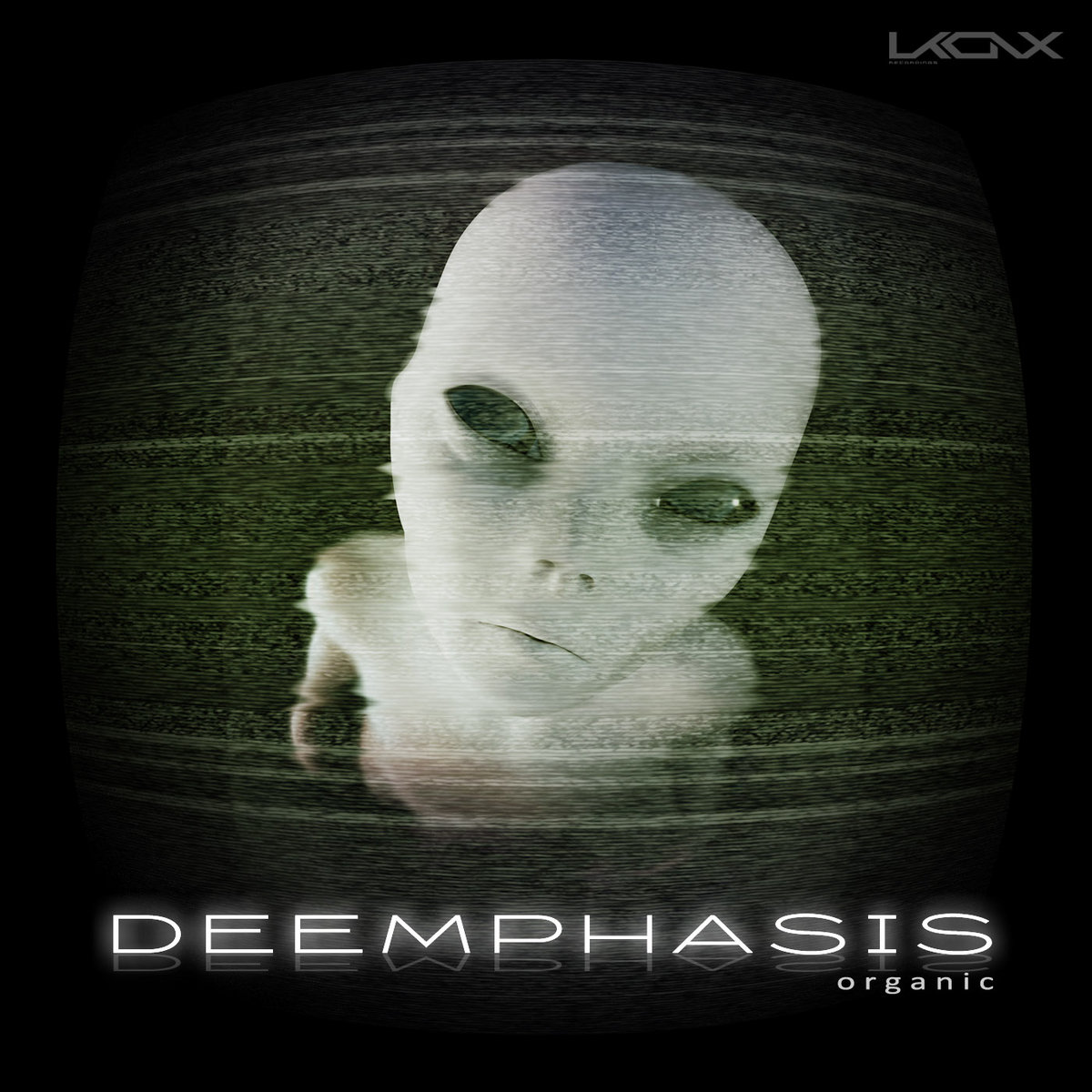 Artist:
Deemphasis
Title:
Organic
Format:
Download Only (MP3 + Lossless)
Label:
Ukonx
Rated:
Stéphane Bastien a.k.a. Deemphasis is back with a new E.P. on his own label Ukonx. "Organic" contains four new tracks that are mixing acid bass lines, 00's electro melodies and 80's intuitions (see the use of vocoder filtered vocals). The producer from Antibes didn't give any description about his new work, probably he preferred us to dive into the sound he crafted. I did it and the alien which is staring at us from the cover like he's watching a strange creature, it gives me the same nervous itch that tracks like "Electric Pressure" and "Organic" (two mid tempo based on an acid bass line, arpeggios, bouncing rhythms and vocoder filtered unintelligible vocals) are able to make me feel. "Organic" is a solid release with the right balance of catchy melodies, great sounds and nice production. Give it a try!
https://ukonx.bandcamp.com/album/organic-ep
Artist:
Fofoulah
Title:
Daega Rek
Format:
CD & Vinyl
Label:
Glitterbeat
London based afro-dub ensemble Fofoulah's second album is a distinctive blend. It centres around the rhythms and vocals of Gambian sabar dummer Kaw Secka, recorded in the prestigious Real World Studios, which are then taken into the London studio of keyboardist and saxophonist Tom Challenger who manipulates and produces it into a more electronic, more Western-sounding layout that aims for, and often achieves, the best of both worlds. Contributions from Johnny Brierley providing deep bussy basslines and Phil Stevenson in guitar give the whole thing an organic, live or 'live plus' feel that certainly acts as an advert for the band's forthcoming gigs.

The range of moods and tones on display is impressive. For example, "Knicki" adopts an interesting, seemingly more sample-driven and old-school experimental approach, while "Kaddy" has a lovely upbeat, jazzy and very drum-and-bassy vibe that provides one of the album's most toe-tapping moments, before final track "Kulo" works itself into a slow, dark, stepping techno as a tribute to artist Khadijah Saye who died in the Grenfell disaster.

Tracks like "Seye", "Ndanane" or "Nijite" could all show grime artists a thing or two about making interesting music within that sphere, and appealing to listeners who wouldn't normally venture that way, while unusually it's the title track that provides one of the sparsest and most introspective turns.

There's a strong tradition in the UK of fusing African and other 'world' beats into our sonic spaces without, I'd like to think, too much sense of cultural appropriation. This is another strong example that fits nicely into that history, a strong and very listenable organic meld of cultures and a very pleasant way to spend forty minutes.
Artist:
Bonaventure
Title:
Mentor
Format:
Download Only (MP3 + Lossless)
Label:
Planet Mu
Soroya Lutangu's first EP on Planet Mu is a strong introduction. Across six tracks, the Swiss/Congolese producer blends rhythms and samples from across cultures, generally setting patterns out onto relatively straightforward 4/4 electronica beds but layering them up with more complex patterns and unusual melodic loops that make it one of those rare releases that will work an open-minded dancefloor but still play perfectly for home listening.

After the bold, quite action-movie-ish drama and gutpunchers of opener "Physarum", "Mentor" is one of the thumpers and a really positive drive to it, while "Nemesis" is an example of the more broken-beat and unpredictable approach that I'd stereotypically label as more 'Planet Mu-esque'

"Colony" is thoroughly atmospheric chin-stroking grime while "Impetus" has hints of both trap and techno as well, but always maintaining a breadth and character that make it sound not quite like anything else. Final track "Both" is notable for its looped poetry from Hannah Black, an attention-grabbing brooding track that's a highlight that could've been the opener.

With only one track reaching the four-minute mark, it does perhaps feel more like a sampler or a calling card than a fully formed half-album, leaving you wanting more and wishing that some tracks had been explored in more depth- but what a calling card it is, here's hoping there's more to come.
Artist:
Satoshi Takeishi
Title:
Fragments
Format:
Download Only (MP3 + Lossless)
Label:
Clang
There's an earnest sonic revelry about the final piece of Takeishi's triptych that started with 2016's "Dew Drops" followed by 2017's "Premonition". Taking an eclectic selection of mostly childish acoustic instruments as a source- broken autoharps and toy pianos, thumb pianos, "African Marimba from Gift Shop" (delightfully honest), and sampling and processing them into abstract electronic shapes that have an improvised impulsiveness and energy gives us a 10-track , 43-minute work of quite purist electronica.

The high glockenspiel and bell tones are dominant, forming it into a sort of twisted lullaby arrangement most notable on pieces like "If I see you again". In amongst that there are deeper more brooding moments, like the fairly sinister "Unfolding", and pieces with more of a percussive punch like "Fragment I", but in broad terms it says on a fairly consistent sonic palette throughout.

It's an enjoyably textured work with an attitude which might lend itself to live performance perhaps a little better than studio recording. The fragile acoustic textures and harsh edges won't be to everyone's taste but it's certainly got its own gritty beauty.
Artist:
Koray Kantarcioğlu
Title:
Loopworks
Format:
12" vinyl + Download
Label:
Discrepant
Kantarciolu treats samples from 1960s and 1970s Turkish records and makes reference to the process of 'databending', the technique Atay lgun (publisher & designer) used to make the album cover of the first edition. While that term used to define the concept maybe lacks precision, the approach is certainly substantially different to the mainstream sampling techniques of dance music and electronica. While there are loops here, there's only the briefest shades of rhythm- everything else is delay- and effect-washed atmospherics that flows in waves, back and forth, sombre and thoughtful.

Prosaic titles like "Percussions A-1100" more suited to a sample library misrepresent the quite expansive, multi-layered tones and flavours on display. The plucky melody on tracks like "AC RU 29 Part 2" (a highlight) are reminiscent of Sasha's forays into more ambient areas, while "Part 3" of the above is a firmly deep-space soundtrack piece. "Organ Extract KP 001" is, sure enough, based around an organ, but so thoroughly pulled and reworked into drone territory that it's a solid understatement.

The final tracks on each side of the LP are both notable exceptions to the above, more overtly and almost tongue-in-cheek mangling old lounge groove into short afterthought pieces that borders on silly, as though intended as explanations of the audio trickery which so thoroughly disguised the rest of the sound sources.

Originally issued as a limited edition cassette two years ago, I'm glad "Loopworks" is getting a 'proper' outing on LP and download, as it's an intriguing experimental work with a distinctive character and a surprising amount of charm too.