Artist:
PROVISION
(@)
Title:
Ideal Warfare
Format:
CD EP
Label:
Section 44
(@)
Distributor:
A Different Drum
Rated:
For sure not the newest release of this Synth-/Futurepop 4-member-outfit hailing out of Houston, TX, but somehow important. Since PROVISION have recently announced their end of existence, this 15-track remix EP marks one out of two last official releases for this band. It is the companion release to their last studio album "The Consequence" featuring two of the most remarkable tracks out of it, "Ideal" and "Perversions Of Conventional Warfare" (Here abbreviated "P.O.C.W."), which got both remixed several times by diverse colleagues and label comrades. PROVISION's talent can be discovered with an own revamped version on "Ideal", somehow their sounds and arrangements remind a bit on some earlier NO COMMENT works. To pick out some remarkable remix works, the Radio Mix of "P.O.C.W." by RENAME comes smooth and very Synthpop-stylish, but intense and fat arranged. The Austin-based act CTRL has worked on the same track and added some Rock-like guitars, for sure a decent idea and contrast. Metropolis-recording artist SYSTEM SYN offers an unusual remix on "P.O.C.W." and nails the listener with some rotating harsh bass kicks, one of the most aggressive works on the PROVISION tracks. NULL DEVICE have entitled their work on "P.O.C.W." Misadventures in Dub – well, it comes conspicuous with some vocoderized vocals. The remix work of CLOUDLESS on "Ideal" brings back a retro-EBM-feeling and can be counted to one of the strangest works. EBM seems to be also the hobby of UNITCODE:MACHINE, but besides the expected different rhythm patterns, they also surprise with some well worked-out synth layers. This release of course appeals Synth-/Futurepop-fanatics, but has also some further interesting moments to offer.
Artist:
Scrape
(@)
Title:
Cruelest Intentions
Format:
CDS (CD Single)
Label:
Dark Reality Productions
(@)
Rated:
Scrape�s latest effort entitled "Cruelest Intentions" is an album that can best be described by a single word, which is trite. While other reviewers have praised the album for charting unexplored territories in the realms of terror EBM and noise, I simply do not see what all the fuss is about. Most of the tracks on the album rely on most of the tried and true clich�s that have made the once exciting genre of EBM the bastion of mediocrity that is today. We all know the clich�s rather well from repetitive late 1980�s and early 1990�s sounding synthesizer patterns to indiscernible vocals using bad vocoder effects to the same 4/4 distorted techno rhythm. In the case of Scrape, they use the same obnoxiously corny vocoder effect on every single track, which is made worse by their incredibly hackneyed lyrics, which is the stuff of disaffected fifteen year old angst with lines like "When all love has washed away, I hate myself for how I feel, I see the world in a grey haze, I hate everything about my life." The best track on the album is actually the intro track, which is a short ambient, yet rather dark and menacing instrumental piece that gives one the false hope that "Cruelest Intentions" is going to be the "Music for a Slaughtering Tribe" for the next generation. However, this hope is fleeting as everything from the second track forward descends into a malaise of bland and uninspired EBM where every track sounds exactly the same. This is rather tragic given that it is very apparent that the members of Scrape seem know their way around the studio and are well versed in sequencing and programming.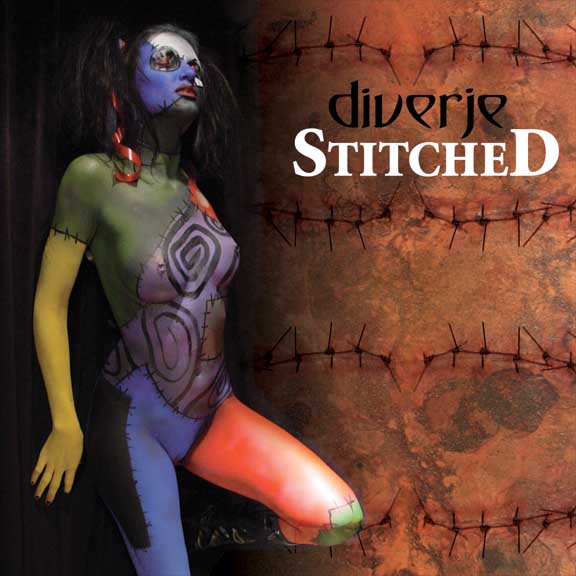 Artist:
Diverje
(@)
Title:
Stitched
Format:
CD
Label:
DSBP
(@)
Distributor:
Indietective
Rated:
Thanks to multiple gigs at all thinkable venues in AZ, NM and TX, the electronic-musician-collective DIVERJE, leaded by Tommy T. Rapisardi, has grown to a constant, if not the biggest and best-selling act of the DSBP label. Tommy has built a nice live line-up with 4 other band members which seem to stand dedicated to their "chief" – Tommy himself provides an energetic and extravagant vocal performance. So it was about time to return with a new full-length album two years after the predecessor "The Distortion Chamber", since the audience wants to hear new tracks. And somehow the uncountable live performances seem to have left impression especially on Tommy. Is it me, or does his voice sound this time much more aggressive and raging than ever recorded before? Musically I tend to say that the new DIVERJE-sound hasn't changed that much in comparison to "The Distortion Chamber". The reasons for this can be recognized thanks to the fact that Tommy's stable of integrated "guest" musicians especially for the main tracks hasn't changed. And why changing a fine working music collective?
At first there's to name Vince Pujol of the French Electro/Industrial act E.S.R.. He has contributed and helped out Tommy over the last 4 years with compositions, sounds, remix works, mixing and production – it is obviously that a lot of DIVERJE tracks offer Vince's authentic sci-fi-infiltrated textures. For this album he has provided his marvelous programming abilities on "Smell The Blood", which has to be seen as one out of two main tracks here, because this piece has received 2 additional remix works by the Infacted-recording artist PRE-EMPTIVE STRIKE 0.1 and the fine DSBP-recording act NOISE PROCESS. Vince has also provided the music for the track "Evil One" and "Run Like Hell", plus he shares the production with Tommy on "Help Me" and "Wrapped Around".
Next one to name is Josh Wood of the New Zealand-based artist THE MERCY CAGE. Josh also stands faithful at Tommy's side if it comes to integrate some guitar works to provide a rather Crossover/Cold-Wave-driven sound to DIVERJE. Besides the track "Tear It Down" he has contributed the music of the cover version available on "Stitched", "Come Back", originally offered by the J. Geils Band – can somebody imagine how it sounds with the tiger-like vocals of Tommy T.?
Ever faithful to Tommy through the years, this counts also for Xon of BOUNDLESS. Although he has slowed down his musically activities a bit through the past years thanks to his private family situation, he has always proven his abilities when the call of Tommy came in.
So asides this regulars, some new forces are joining in to offer their abilities too. That NOISE PROCESS would join the DIVERJE collective, isn't that surprising, also regarding the fact, that Michael Renfield's solo project R010R is in consideration to be one of the next releases. That they could provide besides the E.S.R.-track "Run Like Hell" one of the best tracks at all here, "Unleashed", featuring some fine catchy synth layer sounds, well, that's surprising. NOISE PROCESS develops to a constant and important trademark for the DSBP label, they also provide a remix work on "Smell The Blood".
But I tend to say that the appearance of the Argentinean project ALIEN PRODUKT to compose the title track is the biggest surprise at all. It proves that Tommy T. is able to watch over his own plate, because ALIEN PRODUKT is signed to BLC Productions. Also a second version, a remix of "Stitched" got created by this South-American act. Emileigh Rohn of the US-Coldwave artist CHIASM provides her well-tuned vocals and the lyrics on "Help Me", and the Synth-/Futurepop-act DIVIDER did the composition on the instrumental track "Ho For Sho" (sampling work by Tommy T.). Last but not least, another remix work provided by the Brazilian act DEAD JUMP accomplishes this album.
As usual for a DIVERJE album, you'll get a convincing and diverse sounding Electro/Industrial release, which should be able to appeal fans of the harder-minded EBM/Electro music. It doesn't fall into the flaw – and this has to be said – to explore already known paths of the Hellektro camp, but it is at least thanks to Tommy's vocal performance aggressive as hell.

image not
available
anymore
Artist:
WYNARDTAGE
(@)
Title:
Praise The Fallen
Format:
2 x CD (double CD)
Label:
Rupal Records / e-noxe
(@)
Distributor:
Alive
Rated:
After having released his second full-length album "Evil Mind" in autumn of the last year, Kai Arnold a.k.a. WYNARDTAGE returns with a completely new studio release. Quite a fast kind of work, "Praise The Fallen" holds 12 new tracks mostly based in his known hard and cold Dark Electro style. Why changing too much a successful formula, since "Evil Mind" was and is still fine appreciated by the listeners? "Sterbehilfe", although already originally presented on earlier releases and compilations, has become an evergreen for the German club scene and works still fine. Nevertheless Kai's new compositions should be easily able to rival it. "Praise The Fallen", "Embraced By Darkness", Cold Massive Blue" or the nearly Hellektro-like "Feel My Silent..." are on-top floor stompers which will keep the masses in motion. The special details are based somewhere in between. "Hurricane Age" is a rather slow-paced piece featuring some unconventional drum patterns, which reminds strong on some classic and noisier-minded SUICIDE COMMANDO-recordings. A conspicuous element in the new WYNARDTAGE-recordings are the placed interruptions in the arrangements to add an ominous and scary sounding sample work. Orchestral-like string sounds work well to underline this dark mood, maybe this can be named the signature for WYNARDTAGE, which saves this project to get reduced and sorted to the swarms of Hellektro-troops? The surprise of this 12 new tracks is for the last one, "When We Are Gone", featuring a female-leaded vocal performance and a different, rather Break-Beat-like drum pattern programming – applause for the try to figure out something different. You'll get also a special bonus recording placed at song position 33 – it is a remake of the WYNARDTAGE classic "Waste Of Time", originally released on the same-titled debut. The reason for this remake belongs on the fact that the debut is completely unavailable anymore and a lot of listeners have never heard the original. There's also a available a second CD to accomplish this new studio work, which holds a massive remix-war attack for all the club goers. 14 remix works on 7 tracks of the new album, created and constructed by global scene-players like L'AME IMMORTELLE, X-FUSION, AMDUSCIA, or DAWN OF ASHES – but also from lesser known acts like the new Rupal Records-signing RE:\LEGION, the Mexican act C-LEKKTOR, or Spain's Harsh EBM output ASSEPTIC ROOM. It's hard to figure out the best work, I rather and definitely recommend to purchase this limited 2-CD-item to make sure to have the best club food around. There seems to be no end of the rope for WYNARDTAGE and "Praise The Fallen" has enough to offer to save a continuation of the successful story.


Artist:
Son Of Rust
(@)
Title:
Vicious Cycles
Format:
CD
Label:
self-released
Distributor:
CD Baby
Rated:
SON OF RUST is the Portland-based solo project by Justin Coope, who likes to present us his already second and self-released full-length CD. Surely not at all a bloody greenhorn, since Justin could already open some events mostly in his area for global scene-players like A23, INFORMATION SOCIETY or IRIS. Also a strong friendship on MySpace and several playlist entries speak for his growing rule in the Industrial scene. Musically "Vicious Cycles" offers an electronic-driven outfit being infiltrated with some Rock-like guitar sounds and Justin's charismatic vocal performance. Synth-/Futurepop with edges, luckily without the plastic-sugar-sweet-kind – so it can be named, too. The given references on DEPECHE MODE, MESH, IRIS, NIN and/or IMPERATIVE REACTION aren't to far away from topic, I also tend to compare especially Justin's timbre with the non-effected voice of Gary Zon (DISMANTLED), while Justin is definitively more talented. 12 quality tracks following some fine compositional guide lines without any filler are presented here. However, some favorites like "Welcome To Chaos", "Just Once" or "Another Beautiful Tragedy" have to be named to be the best danceable tunes, while the mid-tempo pieces like "The Highest Cost", "Violator" (what a title...) and the majestically "To Be Free" totally convince and proof Justin's fine nose for a needed catchy composition. Even if this release is a self-produced one, it has to be praised for its kind, sound and the good artwork printed in a digi-pack. This is a fine and constant good release for the Synth-/Alternative-Pop genre, thumbs up!