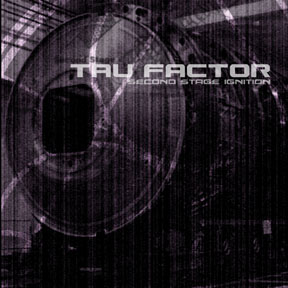 Artist:
TAU FACTOR
(@)
Title:
Second Stage Ignition
Format:
CD
Label:
DSBP
(@)
Distributor:
Icare Media
Rated:
A new signing for the NM-based DSBP label, but with TAU FACTOR a relatively known name. Hailing out of Seattle, this one-man project led by Carsten P. could already release a debut CD called "Prototype" on the ADSR Musicwerks label (NOXIOUS EMOTION) back in 2K2. Several live performances around the Seattle area have happened through the years and TAU FSACTOR could open the shows for some international renowned acts like THE CRUXSHADOWS, GRENDEL or IMPERATIVE REACTION. So live performances have always had an essential point for Carsten, and this will continue, since he prepares for a tour later this year. Thanks to this, but also musically Carsten likes to prove very well his artistic background – this isn't the musically output of a lonely PC musician installing some preset loops. The music of TAU FACTOR is a very own mixture out of acts like UV, early INFORMÄTIK, Germany's ACCESSORY and some early 90ies EBM/Dark Electro flavors. The overpopulated Hellektro-virus got luckily left outside of this production, it is a rather moody Dark Electro album which allows to offer danceable tunes ("Dissolution", "Cold Core" or "Overpressure") as well as music to expand your mind ("Fade From View"). Carsten for sure doesn't use the freshest water to cook his music soup, but otherwise music banned on a real silver circle which avoids the trendy styles is highly appreciated. This CD features 10 new compositions, one cover version of "Inhumanities" by MENTALLO & THE FIXER (blessed by Gary Dassing), a new version of the older track "Convolution" and a remix work on the track "Motionless" provided by the Greece act PREEMPTIVE STRIKE 0.1. Also included is a nice music video on the track "Motionless". This is a very detailed arranged, high-quality Dark Electro album, which currently lays like lead in my home entertainment. Authentic old-school Dark Electro music which avoids a pseudo-aggressive attitude – another fine addition to the rich roster of the DSBP label.


image not
available
anymore
Artist:
AMBASSADOR 21
(@)
Title:
Drunken, Crazy, With A Gun
Format:
CD
Label:
Invasion Wreck Chords
(@)
Distributor:
Ant Zen
Rated:
It's good to see that in five years Ambassador 21 succeeded into making their band and label grow so much. Since the first day they have been hyper active and created a web of links with similar realities all over Europe. With the previous album "Weight Of Death" they also passed from CD-r to factory pressed CD and in this period of mp3s craziness it's a symptom of wellness. This new album DRUNKEN, CRAZY, WITH A GUN celebrates these years of activity proposing 14 remixed tracks picked up mostly from their previous album. As usual the remixers re-worked the tracks adding to the aggro industrialism of the Byelorussian duo their typical sound. We have the rhytmic noise with P.A.L, Mimetic and Asche), industrial e.b.m oriented tracks with :Wumpscut:, Suicide Inside, Ah Cama-Sotz, S.K.E.T. and Monolith, ambient with This Morn Omina and Contagious Orgasm and industrial breakbeat thanks to Bak XIII, Iszoloscope, Hypnoskull and Tamvred. For the remix lovers this is an interesting release but if you want to approach the sound of the duo I suggest to check their previous release.
Artist:
NEONGRAU
(@)
Title:
Spam N Space
Format:
CD
Label:
Das Drehmoment
(@)
Distributor:
Neuton
Rated:
Seventh release for Das Drehmoment and first full length release for Neongrau, who, after his first 12" released for LoFi Stereo and already out of print, produced an amazing album of retro electronic music with an eye toward the future. Since the first tracks of the album we can listen a certain Gary Numan influence along with echoes of early John Foxx but everything has blended with an electro attitude which takes inspiration from the past (fall 70's / early 80's in this case) without forgetting the modern way of playing electro music by blending different genres (think about the nowadays electro funk scene or bands like Legowelt or Bangkok Impact). The bleeping sounds typical of Roland/Korg drum machines/synths see a new life thanks to the musical attitude of Oliver. The sounds are filtered through two decades of music, mixing post punk vocals (sometimes he recalls me Peter Murphy), synth pop sounds and dark melodies. Try to imagine early Depeche Mode (it isn't a case if on this CD you can find a cover of "Photographic"), The Normal, Soft Cell and Fad Gadget cloned and aware of what had to come. I really appreciated the dark vein of the songs along with the catchy sounds. This is a must have. Check it by visiting Neongrau's webpage!
image not
available
anymore
Artist:
VV.AA.
Title:
Caution! Invasion & Friends 2k7
Format:
DVD
Label:
Invasion Wreck Chords
(@)
Distributor:
Ant Zen
Rated:
Filmed live during the Maschinenfest, Noxious Art, Elektroanschlag and other events during the years and assembled and visually tweaked by Invasion Wreck Chords, CAUTION! INVASION & FRIENDS 2K7 is a video compilation of 77 minutes length containing 16 video tracks from Ambassador21, Suicide Inside, Rasputeen, Fragment King, Boot-Sector-Viruz, Mimetic, Synapscape, Sonar, Asche, Klangstabil, Roger Rotor, Proyecto Mirage, S.k.e.t., Ah Cama-Sotz and Bong-Ra. If the video are recorded live during the events and assembled and directed by Ambassador 21, the audio track has been taken from the official albums of the various bands. This DVD is a good chance to see your preferred band live and to taste their energy but it's a pity that you can't check how they sound live. Anyway, this is an interesting document and the way it has been shot and assembled gives you the idea of a scene which is alive and kicking.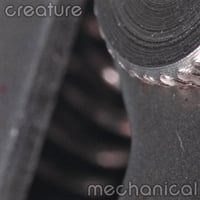 Artist:
CREATURE
Title:
Mechanical
Format:
CD
Label:
Haunted House Records
(@)
Rated:
BUY from
MECHANICAL is the first full length release by Stephen Haunts. It follows different E.P.s released for his own label Haunted House Records. His releases are mostly available through digital stores but he also print a small quantity of CDs to satisfy the people that still loves to deal with a real object and not only with files hidden into the corners of a overloaded folder. Music isn't only a question of files to upload into a mp3's player. Anyway... MECHANICAL bring to the lovers of electronic music sixteen tracks of music influenced by bands such as Nine Inch Nails, Boards of Canada, and Hybrid. Stephen took exams with the Trinity College of Music in London but his will to explore new sound solutions made him tweak old electronic toys by rewiring the insides to create new sounds. His music is always driven by rhythm but he likes to create dark atmospheres and ambient pads. The result is evocative and sometimes cinematic (check "Daisy cutter" for example). The tracks have good sounds and create a really working atmosphere but sometimes, in my opinion, they create the same kind of ambience because of the constant use of synth pads. A good change about this point is the vocal line on "Nox", the only track with vocals.