image not
available
anymore
Artist:
VV.AA.
Title:
Trumpett Sounds
Format:
12"
Label:
Enfant Terrible
(@)
Rated:
Here we are with a new (the last) album of Trumpett label material. This time the people at Enfant Terrible dug into the label's archives and out from the dust found thirteen tracks by Dr. Pho, The Actor, Doxa Sinistra, A. van Garde, Ende Shneafliet, André de Koning and Erkamp & Popma. The Actor, have three tracks covered on this compilation (tracks which haven't been previously reissued) and someway they are the most "pop" sounding ones (if you consider mainly the first two songs "Picture 210" and "Modern Air", because "Seit wir uns kennen..." have darker atmospheres and a minimal sound) as the other bands sound more experimental. Take the obsessive "Air Zaïre" by Ende Shneafliet, for example. It sounds like a experimental electro goth song with distant distorted vocals. Really evocative and mysterious. Also "Genetic Surgery" by André de Koning is a good example of eerie instrumental electronic and along with the other gems makes of this album a must have for every electronic music lover. P.s. You have to act really fast, because the label has already sold out their 512 copies, so you have to check with their distributors. Check here www.enfant-terrible.nl/sales.htm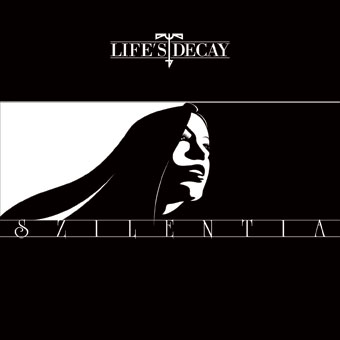 Artist:
LIFE'S DECAY
(@)
Title:
Szilentia
Format:
CD
Label:
Abstraktsens
Rated:
After last year's album, Life's Decay are back with a new one which shows a band with a most defined sound/tracklist. The twelve tracks of SZILENTIA have always that hybrid approach in balance between martial experimentations and electronic goth atmospheres but this time the tracks are equally distributed. Three or four instrumental tracks with orchestrations, drums and obsessive atmosphere are balanced by catchy dark songs with the female vocals of Alea in evidence (see "Inksterna", "Katalena", "Descence", "Claressa", "Lawsia" and "Ambvience"). These songs sound like dark ballads (with electronics and also some acoustic guitar sound) or more upbeat electronic ones. As far as I remember the previous album "Lysselia" didn't give me this impression or I remember it to be less immediately accessible. You can check some songs directly at the band's website. It's worth it...
Artist:
The-Pulsar
(@)
Title:
Revolution (Reloaded)
Format:
CD
Label:
Advoxya Records
(@)
Distributor:
Poponaut
Rated:
Already the third official release signed to the Hungarian-based Advoxya label for this prominent Russian trio consisting of Sergey Naan, Alexey Boitsov and Vladimir Sokoushin. The title may suggests it, "Revolution (Reloaded)" isn't a complete new studio album. "Revolution" was a successful early recording of band dated back to 1999 and so of course originally a hard-to-get-item. It may was simply published as a self-released demo, maybe only available on tape, but surely only available in Russia. The responsible people at Advoxya seemed to be astonished by the bands' early works, therefore they've decided to re-release this special edition completely revamped and new mastered. To forward the conclusion of this album – the audio result proves them right. "Revolution (Reloaded)" offers a stronger dedication on classic EBM tunes heavily inspired by the old Belgium-based school. 3 band members, a hidden fourth member responsible for production and mastering (Slava Arkhipov) – well, doesn't this remember you on the biggest EBM-invention ever? But not only for this I like to name 242, maybe asides SIGNAL AOUT 42 or/and AIRCRASH BUREAU, as possible quells of inspiration. The pressure this trio is capable to create out of their machinery is somewhat similar to 242, while THE-PULSAR may can't back up with that immense studio efforts of Belgium's veterans. "Revolution (Reloaded)" consist of 9 tracks, plus a special remix on the track "March" provided by the up and coming Russian talent DENERGIZED. As I've said before, this album deals with the rougher first period of the band, which may sounds a bit dated from its kind and production especially compared to their both predecessor releases "Awakening" and "Re-Wakening". But who cares, since old-school EBM currently regains ground and acceptance in the scene. No stuff for the Trancewhackedgoregalore-maniacs (copyright by electrofreak), but a MUST-HAVE-release for every EBM maniac.
image not
available
anymore
Artist:
Spirited Machine
(@)
Title:
As We Count The Days
Format:
CD
Label:
self-released
Rated:
Spirited Machine is the solo project of the Iowa-based Electro/Industrial-musician Andrew Johnson. Starting a music career full of hopes, this 9-tracker As We Count The Days" is the self-produced debut release for him. Andrew simply considers his music as being "Electro" – that surely fits, but a dedication to some Futurepop/Synthpop-artists in sound and arrangements can be added. This album is a relatively sedating procedure, danceable and skillfully arranged, without any pseudo-aggressive attitudes to fall into harder EBM-minded textures. Regarding the fact that Andrew has avoided for this release to pick up a microphone and to add a vocal performance, his multiple and detailed worked out sequencing lines are appreciated. Surely nice and consumable stuff for the hook-line-addicts, but I nevertheless do recommend to add vocals. If Andrew doesn't feel comfortable to do this on his own, the hiring of a capable vocalist seems to be required, especially if it comes to hunt for some more international exposure. The title track gets the vote for being the best worked out track, while "Resonance (Instrumental Mix)" (Huh??? So the original features vocals???) can be named as being the straightest piece. Quite interesting and entertaining first work, lets hope for a continuation.
image not
available
anymore
Artist:
ISIS SIGNUM
(@)
Title:
Electrosensual
Format:
2 x CD (double CD)
Label:
Advanced Synergy
(@)
Distributor:
A Different Drum
Rated:
So finally here comes the new ISIS SIGNUM full-length album packed in a special paper box and strictly limited. Besides the album it features an additional CD-EP dedicated to the track "Destroy The Wall" well hidden in here. Talking at first on the full-length album, Helder continues to produce danceable Electro-Clash tunes in a rather static and cold mood and he once again likes to pick up female guest vocalists. SARA NOXX, KINDEL of LIQUEFACTION (both already available on the both predecessor EP "Heartbreaker" and "Communication") and TYING TIFFANY are sharing the microphone to offer their abilities to fulfill Helder's tracks with the right human factor. Besides the fact that Helder seems to have a favor to use only analogue hardware equipment, it is conspicuous that the music generally doesn't concentrate to storm through the ears in your brain. A calm and remarkable melodic content which would point out the tracks is a bit missed. But maybe this is intentional and shall explain his musically difference to all Futurepop-/Electro-Clash acts out there? Helder works as a DJ and is internationally renowned, he therefore should know which elements in his music work at best to entertain the masses or to fill the floors. The nearly old-school EBM-like "Not Defined", available in two versions, is a favorite, "Destroy The Wall", the into German translated "Herzensbrecher" have to be named too. 12 tracks at all on this album, plus you'll get a video clip on "Destroy The Wall".
The additional inserted CD-EP of "Destroy The Wall" is comparable with the content of both predecessor EP's "Heartbreaker" and "Communication". 9 tracks at all on this item which features some new interpretations by internationally renowned names like Daniel Myer (haujobb., DESTROID), the German Black-Rain-recording artist SUPREME COURT or STRAFBOMBER. This EP is a fine additions for the die-hard fans for sure, while I tend to rate the last EP "Communication" to be the better alternative. Anyhow, with this nice package, which features additional info sheets, flyers and goodies all around, DJ Helder has created to himself a kind of monument. The signals out of the clubs world-wide made it possible and Helder grows from release to release. Check out a rather calm-minded electronic music output hailing out of Mexico asides the known HOCICO/AMDUSCIA-formula...