image not
available
anymore
Artist:
Painbastard
(@)
Title:
Borderline
Format:
CD
Label:
Accession-Records
(@)
Distributor:
Indigo
Rated:
"I am torn between rage and melancholy", so the introducing quote of PAINBASTARD-musician Alex P. – and he has never pointed this out that clear. With a strictly separation of the track list for his new album "Borderline" in 9 "Rage"-tracks and 5 "Melancholy"-tracks afterwards, you'll get a glimpse of what to expect. So the first tracks are sort of those Harsh EBM-smasher tracks with straight-forwarding dancefloor-compatibility and rough distorted vocals. But what happens here? The first 5 tracks give a frightening impression that the musically development drives PAINBASTARD more and into that Hellectro rush. Why? Was it necessary to copy the same and repetitive sounds over and over again, like so many acts did and still do? These tracks are sounding that unspectacular as they'd been produced in a rush – technical and compositionally no complaints, but the PAINBASTARD-signature is completely missed. Track 4, "Hope Dies Last", is a collaborative effect with Nemrod of the band DEMENTI providing the guest vocals. What works well and common at the verses, ends in a fiasco in the refrain, because this track drifts musically into pure embarrassment, so that no vocalist available on this world will be able to service a useful performance – the weakest track of this whole album. Luckily the average part finds an end and this album continues in that expected sort and style. "A Fool In Love" at least comes out how I was hoping to hear it in the first 5 tunes. Multiple synth layers, harsh vocals, but still well placed in the mix and a high recognition value. The epic kind to offer thick and well-worked out synth layers, at times melodious, at times ominous provided, has always been the most attractive part in the multiple arrangements of Alex. This counts also for the next both tunes "Web Of Lies" (what a bass line!) and "Madhouse Earth" – the latter with some reductions. Finally the talented duo of AMNISTIA (look for our interview with them somewhere else here...) offer a remix on the title track with rather old-school EBM bass lines and a solid kick and snare work – it punches the original by light-years. Coming to the "Melancholy"-part of this album, which at least doesn't mostly sound that melancholy like expected in the first instance. It's quite courageous to offer a reinterpretation on Ludwig van Beethoven's "Mondscheinsonate" – an EBM version with EBM-like instruments on a classic tune. Also "Liebe, Die Verbrennt", another instrumental tune sounds a bit like adopted from this classic composition – and so it is, it is a new interpreted part originally based out of the "Mondscheinsonate". Both best tracks are also placed in this section: "Parting from You" starts calm with nearly natural sounding vocals and an orchestral-sounding arrangement, until the mood turns to a cold and bombastic-sounding Dark Electro-tune. Last but not least, the mid-tempo-track "Beyond All Borders" clocks over 7 minutes and documents the outstanding end of this album - what a fine programming on this track, excellent! Nearly 75 minutes of audio, but it features 25 minutes of a black-out – the more I listen to the second part of this album, the more misunderstanding grows in me by checking once again the first 5 tracks. Maybe a remix companion release can bring back some more magic to it.
image not
available
anymore
Artist:
CROWDKONTROL
(@)
Title:
The War On Error V.1
Format:
CD
Label:
BLC Productions / e-noxe
(@)
Distributor:
Alive!
Rated:
On our site a newbie, but the North Carolina-based act CROWDKONTROL has already released earlier this year a debut full-length album entitled "Burn Your God V.2" on their very own small label Sonic Prison Records. Due to summer time the Arkansas-based label BLC Productions could proudly announce the new-signing of this act, which mainly consist of Graham Mars. On this second album "The War On Error V.1", Graham produces a very own kind of Electro/Industrial-music with a signature taking influences of the programming skills of early BATTERY CAGE or New Zealand's THE MERCY CAGE. You've simply to erase the guitar riffs which both mentioned and comparable acts like to install, you can instead set in a more dedicated use of complex rhythm patterns. The arrangements are sounding a bit typically American-influenced, but without any guitar-driven Coldwave-attitude. Rhythm and beats seem to have some extravagant devotion (check "Old Machine" or "Crowdkontrol") for this act, also at live performances Graham likes to provide action through up to three different drum kits and with the additionally help of the two female members Leslie and Temper. It isn't at all the repetitive 4/4-on-the-floor-formula, some D'n'B and/or Breakbeat elements are shivering in, too ("Conversation"). Leslie is Graham's wife and she provides some gorgeous and energetic vocals for one of the outstanding tracks on here, "Sunburn". This track can be called a little masterpiece with its straight-forward moving bass-lines and rhythm work and should end in being a little club hit. Graham's vocals are sounding clear, but still energetic enough to kick some asses, while his lyrics deal a lot with themes out of religion and politics. The instrumental tune "Coma" then can be named as being the most unusual tune for this act, because CROWDKONTROL leave for this piece all of their before heard sound- and programming-abilities to produce a speeding Techno/Electronica-tune with hectic D'n'B-like rhythms beyond all expectations. A fine proof for their musically diversity, congrats. CROWDKONTROL don't offer the darkest or the hardest Electro-release available, but maybe this is the winning point for Graham and his collective members. Simply an album which differs to the average mass, thumbs up! In recent news CROWDKONTROL have hired with Matt Horton an additional band member, who will contribute to the next recordings.
image not
available
anymore
Artist:
WYNARDTAGE
(@)
Title:
Praise The Fallen - Silver Edition
Format:
CD
Label:
Rupal Records
(@)
Rated:
No, this isn't the same review on the last WYNARDTAGE-album "Praise The Fallen". With this "Silver Edition" of the mentioned success-album, Kai Arnold a.k.a. WYNARDTAGE offers 16 other international wide-spread artists a further free slot, to present their remix works on his new club-hits. Was there already a limited second CD available to the main album, here comes the final act to accomplish the WYNARDTAGE-onslaught of this autumn. And no, here are 16 different interpretations to the previously released limited DCD. Some well-sounding names like DOLLS OF PAIN, :A7IE:, PRE-EMPTIVE STRIKE 0.1, NURZERY RHYMES, Robert Dope (yes, that STIGMATA NL-mastermind, signed to BLC Productions), MAY-FLY or the Brazilian act KLAUSTROPHOBIK are included on this "Silver Edition", but – as usual – the more remarkable appearance are provided by the rather unknown acts. The before mentioned remix artists don't disappoint at all here, it's just the phenomenon, that they can't add anything interesting to the original compositions, which would make them jump out of an average gray area. It's no wonder that most of the lesser interesting appearances have their musically quells in that still famous Hellectro-rush. One exception of this I like to name with XENTRIFUGE and their work on "Walk Alone", which comes out decent with tempo changes and additional Powernoise-like textures after a spooky introduction. The best remix work got provided by the rather undiscovered and heavily underrated South-African artist GARTEN DER ASCHE. Although similar danceable like a Hellectro-production, they offer different sounds and real programming abilities – let's hope for some more attention on them. Both remix interpretations of KENNEDY and the Russian act CEREBRAL APOPLEXY are slowing down the tempo of the originals "Cold Massive Blue" and "Walk Alone" to experiment with the structure – a good experiment to follow. The Rupal/X-Cem-acts LA MAGRA ("Flieh Mit Mir" – can anybody explain me, where I can check the original composition???) can surprise with an undiscovered remix work, which has no relation to the original "Praise The Fallen"-album. Same counts for DAVANTAGE and their remix on "Sterbehilfe" – nearly Futurepop-textures meet vocoder-vocals, that's an unexpected re-work of this WYNARDTAGE-classic. Further remix works can be discovered by POLARLICHT 4.1 and IINSANITY, so that this "Silver Edition" with its 16 appearances at least stops after more than 80 minutes of audio warfare. One little point of criticism on that whole release-madness I've got: Nothing, seriously nothing on here is able to hit the original compositions. If neutral listeners can endure it, to listen through all at least three full-length CD's of the WYNARDTAGE "Praise The Fallen"-bulk, they can surely also win the New York-marathon. The danger of overfeeding is given.
image not
available
anymore
Artist:
VV.AA.
Title:
Dark Future
Format:
CD
Label:
Dark Past Communications
(@)
Rated:
This is the debut release for the new US-based label Dark Past Communications, which will soon return with debut releases of their represented artists. Musically almost all acts turn into the Synth-/Futurepop-genre, at times with some tendencies into EBM or Goth. 10 tracks are available here provided by 7 different acts, the already known act LEVEL 2.0, plus SINCOGNITO and ANGEL CRISIS can provide two tracks out of their repertoire. I miss a bit some details on each band with contacts, links and credits, but unfortunately there isn't a real cover available. However, the already mentioned LEVEL 2.0 opens this comp with their new track "Far Away". They are a bit longer active in this business and this can be well recognized through more maturity in their textures. There's experience behind their compositions, even if the male vocals are sounding a bit too rough to fulfill the perfect Futurepop-kind. SINCOGNITO follow and they offer female-leaded vocals to known and mostly already discovered sounds. "Ever Mary" is a decent mid-tempo tune, while the second of their tracks, "Obsession (Save Your Love)" ends in a fiasco, because of the misplaced female singer, which totally gets out of tone. BLACKMAIL MUSIC follow and have to fight with that often heard failure of not offering a capable singer - unfortunately also TED CIKOWSKI lacks of the same problem, while I tend to rate the music as being acceptable. Nevertheless both acts could need some polishing and help on the production. ANGEL CRISIS then are the third act with a double-play and the mood provided through their tracks turns into grief. Maybe the renowned act PRIDE AND FALL have had a depressive influence on them, while they can't nearly rival with the Norwegian giant. Although offering cliche-filled lyrics, they've got some useful ideas, while also they could be any better with some experienced help on the production and also the vocals. Coming then to the winner of this compilation, the already known project PULSE STATE with "Innocence". A debut release is slated for 2008 and this act has already caught some attention thanks the placement at several forums and communities. Refreshing sounds, catchy bass and synth lines, good male vocals – well, this "Innocence" is an innocent reference for all featured artists here – some of the above mentioned can learn from it. Since both acts, LEVEL 2.0 and PULSE STATE, can look back on some more experience in any kind, the label Dark Past concentrates to offer dedicated US-based acts a new home to publish a professionally pressed CD. Some of the featured acts here have to be rated critically, nevertheless there seems to be some promising potential for this label. Wait and see what will come...

TRACKLISTING
01. Level 2.0 - Far Away
02. Sincognito - Ever Mary
03. Blackmail Music - Die With You
04. Angel Crisis - Fallen Angel
05. Pulse State - Innocence (United Mix)
06. Softcore - External
07. Ted Cikowski - Servitude
08. Level 2.0 - Intercept
09. Sincognito - Obsession (Save Your Love)
10. Angel Crisis - In My Dreams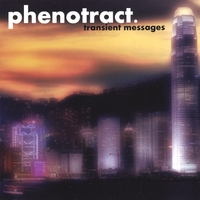 Artist:
PHENOTRACT
(@)
Title:
Transient Messages
Format:
CD
Label:
Souvenir Records
(@)
Rated:
BUY from
Phenotract's second full length album TRANSIENT MESSAGES brings to the attention of electronic music lovers eleven tracks which are deeply influenced by modern synthpop, techno, ambient as well as 80's electro. A good example of song with well merged ingredients is the third of the track list ("In another life"): it has a pounding rhythm (almost techno), sounds that to me seem digital and an 80's flavor, talking about the vocals. This particular mix works well and also the refrain is a convincing one. The following one "A million colors", mix ambient (see the long intro), melancholic atmospheres and dreamy vocals. On half of the tracks Eric Shans (the main person behind Phenotract) is helped on vocals by Niabi Caldwell, who gives an help to the dreamy atmospheres thanks to her mellow voice. If I have to find a weak point I have to point out the length of the tracks (the shorter one is 5' long) and the sounds equalization which is too high on mid and high frequencies (is this due to digital sounds?). A nice album which would be a great one with a different production ("Heightened" would gain points with powerful sounds). You can check the songs excerpts at http://www.cdbaby.com/cd/phenotract2.