Artist:
T.W.A.T.
(@)
Title:
Working Class Love
Format:
Download Only (MP3 + Lossless)
Label:
Machineries of Joy / COP International
(@)
Distributor:
Alive
Rated:
A Swedish newcomer signed to the Belgian Machinery Of Joy-label, but to me personally, this went a bit down under my radar. T.W.A.T. has been founded by Martin Sax and his wife Mary S. Sax and they like to introduce us with this debut EP their fusion of Punk and EBM styles, entitled Oi!BM. By using the term Oi! as being a style description, no one of course ' especially in the over-correct Germany ' has to expect any politically direction and/or meaning. T.W.A.T. drawing themselves relations to veteran EBM projects like DAF or Pouppée Fabrikk. That fits so far with the content of this EP, on which I'm globally unable to identify the Oi!-content. Because both main tracks 'Working Class' (3 versions/remixes by Ionic Vision, Darkmen and Sheriffen) and 'Lovesong' (exclusive b-side, remix by S.P.Z.) follow pretty much to work-out the concept to introduce this duo and to offer the needed help to grow in the scene with prominent remix contributions. Finally it is all rather typical Anhalt-/Neo-Old-EBM, following the above mentioned idols - I guess you know what you'll get. What needs to point out is the musically quite different remix of Sheriffen on "Working Class", which drifts into unexpected territories like IDM/Post-Modern Ambient music. No stuff one would have expected at all. "Working Class Love" stands for a good introduction to the related music scene, while I'm sure, that this duo will approve its skills much better with the upcoming album "Blood, Sweat and Teargas", also to be released on Machineries Of Joy.

Artist:
VV.AA.
Title:
Strange Tales From The Future Vol.3
Format:
12"
Label:
Solar One Music
Rated:
Solar One Music is back with a new vinyl release and this time it's the the third volume of the "Strange Tales From The Future" series. It contains two songs each by Luke Eargoggle/Johan Inkinen (Stilleben, Lunar Disko), Kan3da (Stilleben, Transient Force), Oestral (SOM, Black Montanas) and Weltwirtschaft (Dominance Electricity, Kommando 6). Basically is like having four singles packed into a single release. Weltwirtschaft opens the dances with "Invention", a track with dark atmospheres and electro techno intuitions. Luke Eargoggle with Johan Inkinen (the same duo who is active as Faceless Mind) is next with "The Highest Height", a bleeping kinda mysterious tune which has their characteristic analog sound we already love. Oestral's first track is titled "Vade Retro" which is kinda obsessive 4/4 as it evolves around a looping melody where other synth short arpeggios are added. Side A is closed by Kan3da with "Mm", another bleeping track (that could be a consequence of being Swedish, maybe) which is halfway from the robotic and the acid sound. On Side B we have the band sequence messed up. It is opened by Eargoggle/Inkinen with "Empathy Window", a fast syncopated tune that gives me the idea that it could fit the closing titles of an 80s movie. "Robocop takes Miami" could be its title. Oestral is next with "Sarah Or Rahema" a track that sounds almost nightmarish thanks to its hissing background sounds. Weltwirtschaft on "Evighet" mixes again electro and a bit of techno using also stop and go and analog bleeping effects. Kan3da is the last one with "Stupid", a mix of robotic analog sounds and late 70s electronic music. This is another Solar One Music fine release. Check some samples at the label's website.
Artist:
Fractured
(@)
Title:
Beneath The Ashes
Format:
CD
Label:
Metropolis Records
(@)
Distributor:
Industrial Music
Rated:
What have we waited for this? More than five years after the brilliant second album 'Only Human Remains' of this Canadian Electro/Industrial-project, Mastermind Nick Gorman starts his long awaited comeback with this all new album entitled 'Beneath The Ashes'. And it starts, where 'Only Human Remains' has stopped. The opening track 'Beneath The Ashes' represents Nick's sense for perfect inserted synthesizer-pads, searching for their mutual, smooth path with the integrated acoustic guitar loops. That the last five years haven't left Mr. Gorman unaffected, well, that I had to learn with the next tracks. Especially 'You Are (The Voice Inside My Head)' with Nick's natural sounding voice and a nearly singing-along-the-parts-like chorus are turning this track dangerously near to the Synthpop-genre ' but thumbs up for this 'experiment', which turns to be out quite assessable. Not to forget to mention, that Nick relies again on the talent of some long-years' comrades like the brilliant spoken-word-artist Squid a.k.a. It-Clings ('Transcendental Rage For The Fundamentals'), or M@ of Encephalon ('Anesthetic'). Haunting Industrial-Metal guitar-loops are nowadays also an 'allowed' weapon to express some his tracks, 'Save Me' starts it, 'We Bare These Scars' highlights it. Finally 'Disengage' is again a witness specially dedicated to the more classic Dark Electro-audience. 'Beneath The Ashes' is definitely the more matured work of Nick Gorman compared to the predecessor, although this means, that Nick has intentionally developed a bit away from that haunting, classic Dark Electro-stuff, with which he has grown up. That isn't a negative point, because Nick proves to write more personal songs with better compositional skills. If it then turns out with tracks like 'You Are (The Voice Inside My Head)' to enter the bastion Synth-/Electropop, then I agree, since this helps Nick to be better recognized. Not to forget, that he has started nearly from scratch again, because most of the younger listeners are hardly able to remember an album released in 2005 due to our stress-driven life-times. Thumb up for this good and well-produced Electro-/Industrial album.

Artist:
Blame
(@)
Title:
Convergent Fields
Format:
Download Only (MP3 + Lossless)
Label:
Ionium Records
(@)
Rated:
Unbelievable, that the needs and his job at the gaming industry would at least offer Boris Posavec a free time-window, to work on this very detailed follow-up album 'Convergent Fields', after his official and highly praised debut release 'Water'. 'Water' has seen the light of a release in 2007 on the unfortunately too early gone German label Klangdynamik, which has set one or another milestone against the still continuing Hellectro-rush with fabulous releases of bands like Fection Fekler, Nordschlacht ('¦which have nowadays renamed into Pyrolline'¦), Collapse Project, of just Blame. And Boris proves that 'Water' wasn't at all a one-hit wonder album. Compared to 'Water', this new album can be called the hoped for development, which more than before places Boris to be a fine producing Electro-/Industrial musician, whose talent isn't reduced on a simple preset sound or stolen rhythm pattern. Although pretty much dancefloor-oriented, you'll find several niches and details in the sound-environment of Boris, which will bind you under your pair of headphones. The opener 'Progeny' for instance offer some interesting vocal fx-manipulations and multiple percussion patterns. 'Logical' follows with bass-line programming, which sounds quite related to Fix8:Sed8 ' has Mr. Sane had his fingers on this track? Also the fast pacing title track has my preference with its homogenous changes between verses and chorus and the different vocal fx-treatment. The cold 'Begotten' turns out to be a classic Dark Electro pearl worth to mention too. Friends of a valuable synthesizer programming featuring opulent sweeps and pads have to take a listen to 'Protozoa' and the hidden, not-listed last track. Diversity and the art to integrate this big word tatstefully, that is something, Boris is well capable to deal with, Let's keep the fingers crossed, that this project won't take again such a long pause between two albums. Good and well produced Electronica music!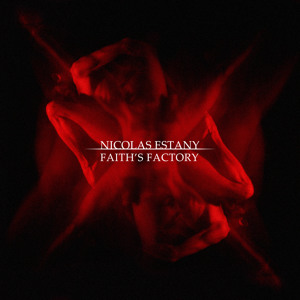 Artist:
NICOLAS ESTANY
Title:
Faith Factory
Format:
Download Only (MP3 + Lossless)
Label:
Romance Moderne
Rated:
Coming from Chile, Nicolas Estany is releasing through Romance Moderne his second E.P. titled FAITH FACTORY. His first one "Third Eye Of Child" has been released always in 2011 by Black Montanas and had four different takes of the main track (even if the titles are different, the melodies and the core of the tracks is the same). On FAITH FACTORY Nicolas presents four new tracks plus "The Last Firefly", which is a different version of the opening main title (which is an instrumental track), with the add of Andy of Oppenhaimer Analysis on vocals. You read right, Oppenhaimer Analysis, the 80s duo that had their stuff reissued by Minimal Wave during the last years. On this release Nicolas fit better the sound of what the label proposed until now: cold wave electronic sounds. In balance from new wave, minimal wave and electronic obsessive distortions (like on the closing "Autumn Leaves"), FAITH FACTORY's track listing is a good mix of electronic danceable rhythms, cold atmospheres and melancholic melodies. Nicolas wrote all the music and like on the aforementioned song, also on "False History" and "Bonjour Deception" he had guest vocals: Xiu on the first one and Bastian on the latter one (his deep voice and French lyrics add a nice atmosphere to the track). This is another cool Romance Moderne release which calls for your attention. P.s. You can check the tracks at Nicolas' Soundcloud page.