Artist:
ERIK LEVANDER
(@)
Title:
Kodens
Format:
CD
Label:
Rumraket
(@)
Rated:
Active since late nineties with different projects and at the second solo full length album, Erik Levander is a Danish guy who is presenting to the lovers of minimal sounds his newest album titled KODENS. The new album took almost four years in the making and different compared to its first version (the hard disk of Erik's pc crashed and he lost almost everything), KODENS is a mix of melancholic atmospheres, glitch mayhem and ambient intuitions where also acoustic instruments are used (see the main clarinet part on "Manen viskar" or the piano track "Tribut"). Creating a thick web of sounds where light noises and bleeps crashes and die just to find a new form/life, Eric gave form to a complex structure which sometimes is difficult to enjoy at a first listening and it's difficult that it would be enjoyed by people who don't love i.d.m. or experimental stuff. Anyway there are tracks like "Kvad" that immediately are able to catch your attention thanks to the little melodic lines which give more power to the intricate sound structure while others like the opening "Sekund" sound too intimate.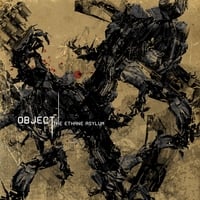 Artist:
OBJECT
(@)
Title:
The Ethane Asylum
Format:
CD
Label:
E.A.R. / Vendetta-Music
(@)
Distributor:
KDG Media
Rated:
Still numbed by the last months' release of the French NEON CAGE EXPERIMENT, the Denver-based label Vendetta-Music in collaboration with E.A.R. has already a next valuable horse to start off, this time the German one-man Dark Electro artist OBJECT. OBJECT is Andreas Malik and he has made himself already a good name with his earlier 2 full-length albums "Part Time Paranoia" and "The Reflecting Skin", both released during 2001 – 2002 on the now defunct German label Broken Seal (MIMIC MIND, TERMINAL STATE, BLINK TWICE; DISHARMONY...). Also not to forget his glorious days during a fruitful tape phase starting in 1994 to 1998 where he released three own produced demos and a first CDR entitled "Self-Designed Eden". It has happened in early 1996 that Andreas could make his first CD appearance ever with his track "Amkura 3" available on the compilation CD accomplishing to the German Vertigo-magazine 02/1996 (r.i.p.), an appearance which had my personal involvement and brings still a smile back in my face.
Lately here and thanks to his hard work and will to improve and to grow on all terms of production, OBJECT became very soon a secret tip and could grab the attention of the responsible people at Broken Seal, who have always distributed Andreas' demo tapes through their mail order service. Broken Seal built their label with the intention to release the first CD releases mostly by bands which have sold well their demo tapes through them. Therefore the signing of OBJECT was rather expected than a wonder. Both albums are still quality relicts of a past where was a lack of quality Dark-Electro music in vein of old INFORMÄTIK, PULSE LEGION plus the layered works of earlier MENTALLO & THE FIXER in Germany. Often, very often Andreas gets compared with the before mentioned patterns and there's surely a constant amount of truth behind this.
A typical trademark in the music of OBJECT can be named with the cold, but melodic multiple synth pads, his abilities to work out some spacey moods are still outstanding. Andreas trusts once again mainly his programming skills on the Roland workstation XP-50 and it seems a bit that he can't think of to produce music without this not very new synth. To each its own, also "The Ethane Asylum" seems to be completely composed and arranged thanks and through this synth. Therefore all who have been consumed the earlier works of OBJECT before, will find themselves quite familiar with the new album. Andreas didn't exchange that much of his equipment, the used sounds and drum programs as it seems, he may develops some of his compositional efforts here and there.

Some pieces have be named as being outstanding. "Dreamer Without Dreams" convinces completely through its well-thought usage of eerie synth layers and smooth piano textures. Not very danceable thanks to the use of some "broken" drum patterns though, but a complex kind of programming which "wows" the listener. The ballad-like "Existence On Trial" surprises with a vocal performance by RESPIRANCE, which drifts between Synthpop-like calm to vocoderized to slightly distorted. "End Of Sin" is maybe the most accessible work of Andreas with a steady beat and an easy-to-follow bass line and drum pattern programming. Two additional remix works by MC1R (presents a remix of "The Reflecting Skin", the title track of the last OBJECT album) and BRAIN LEISURE (a very FLA-sounding remix on the title track "The Ethane Asylum") accomplishing this top-notch dark Electro album with a playing time of more than 75 minutes.
"The Ethane Asylum" is an expected album and this isn't meant negative. At least it is also an album a lot people were hoping and waiting for. Too much Hellectro/Trancewhackedgoregalore-productions (copyrighted term by electrofreak) are still the leading force in the clubs, let's hope that this production receives enough positive recognition to become a constant force against this virus. Let's finally hope that OBJECT won't let us wait another 6 years before a next new album will be ready.


image not
available
anymore
Artist:
SARALUNDEN & ANDREY KIRITCHENKO
(@)
Title:
There Was No End
Format:
MCD (Mini CD)
Label:
Nexsound
(@)
Rated:
Second CD release for Sara Lunden and Nexsound both. This time Sara is working with the label's boss Andrey Kiritchenko. The six tracks of the CD present a particular blend of electronic arrangements (almost glitch) mixed with light noises, electric guitars and the characteristic Sara's vocal approach which is in balance from melancholy and intimacy. These tracks recalled me one of the most melodic releases of Bpitch Control (Damero first album) but without the rhythmic research which here is substituted by the synth/noise multi layer approach. "Take your chance when you have it", instead, is a sort of alternative modern folk track with acoustic guitar and noises. This is the track I appreciated most along with "Erotic dreams", a track with a good mix of melody, rhythms (the other ones didn't have a rhythmic section) and electronic experimentation. This release is interesting as well the other was but they both tend to be focused on a calm melancholic approach which is ok in this case since we have six songs E.P.s. but which could tend to be a little repetitive in the case of a full length.
image not
available
anymore
Artist:
SARALUNDEN.BJORKAS.MJOS
(@)
Title:
Dubious
Format:
CD EP
Label:
Nexsound
(@)
Rated:
Founded in 2000 by Andrey Kiritchenko in Kharkiv/Ukraine, Nexsound is a label dedicated to unconventional sound. Their releases (they press proper CDs as well they release stuff as web label) have a characteristic experimental approach which on the pressed CD is less considered as on that format they are releasing the most "accessible" stuff. The first release of this series is a collaboration MCD which see songwriter/performer Sara Lunden composing with Kyrre Björkås (he plays with the Norwegian band Det är jag som är döden) . and Andreas Mjös (producer/musician, he plays with the Norwegian band "Jaga Jassist"). DUBIOUS contains five tracks which mix "pop" with electronic experimentations and melancholic soundscapes. The tracks are based on male/female vocal duets where the first two tracks "Dubious" and "You can come" see the musical structure based on acoustic instruments (mainly guitar and piano) being enriched by manipulation of electronic sounds. "Naked in my bed", "The sound it makes" and "Murder" (the song I appreciated most because of its dark atmosphere), instead haven't acoustic instruments into their structure as they have a minimal electronic background made of tiny synthetic sounds which couple well the intimate atmosphere created.
Artist:
HOLLYDRIFT
(@)
Title:
Halting Gait
Format:
CD EP
Rated:
Personal project of Mathyas Anderson, Hollydrift is releasing a free four tracks E.P. which mix ambient dub atmospheres with shoegaze attitude (his personal definition). Mathyas in the past experimented a lot into the industrial noise field but lately he didn't found it too stimulating, so he used his passion for field recording, sytnhs and his passion for the place where he lives (Port Washington, Wisconsin, near the lake Michigan) to record four tracks where he mixes the sound of those places with darkwave intuitions (see the rhythmic and melodic "Buckles and bows") and reverbered ambient ambience. His tracks have a certain cinematic effect but sometimes he tend to lose himself into the echoes of the sound produced. Anyway the tracks have a lot of good moments and interesting sounds so you can give them a try by downloading them at http://www.hollydrift.com/haltinggaitep.html. After the listening don't forget to write to Mathyas your impressions because he's offering his music for free but he'd like to share something with the listener (he's also sending another release for free in change of a letter where you describe the place where you live).