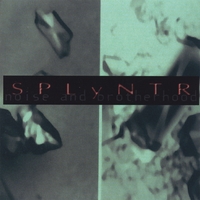 Hailing from Mississauga, Ontario, Canada, we like to welcome the brothers Matthew and Peter Kwantes with their debut release to the internationally Electro/Industrial scene. Being active in musically different acts before, they've never produced music together, until they've decided to unite and to create SPLYNTR in the fall of 2K4. "Noise And Brotherhood" is a 9 track full-length album taking its musically influences out of the works of classic SKINNY PUPPY recordings, PLACEBO EFFECT, older INFORMÄTIK or ABSCESS – without being a clone. It is definitively not another addition to the Hellektro army, they rather share the classic form of compositions, textures and sounds pretty along the line of the mentioned artists. "The Tortured Beginning" opens this CD and like the track "A Thousand Fists" it is the one which follows the nearest the mentioned PUPPYan structures, while there's diversity in the provided male vocals ranging from melodious singing along the line up to energetic screaming. Slightly integrated riffs of an acoustic guitar even strengthens the impression. Next track "I Swear" offers the most catchy content of all their tracks so far and is quite dedicated to bring some action on the dancefloors. Another favorite to point out are the companion tracks "Acid Rain" and "Acid Flowers". "Acid Rain" marks a kind of instrumental introduction featuring some well integrated piano sounds, until - without a real break – the rather danceable "Acid Flowers" invades the scenario. This CD ends with a fine sinister instrumental tune aptly entitled "The End" on which SPLYNTR once again can convince with nice synth layers, piano sounds and an in-depth programming. "Noise And Brotherhood" offers a lot of interesting aspects and is a must-have release for friends of the "PLH" organization ("Play-Less-Hellektro"). Although inspired out of different music styles, SPLYNTR offer from the first to the last track a matured and experienced work. For sure one of the best surprises of this year so far.


image not
available
anymore
Artist:
AGENT SIDE GRINDER
Title:
Agent Side Grinder
Format:
7"
Label:
Enfant Terrible
(@)
Rated:
Heading from Sweden, Agent Side Grinder is a duo who perform their songs using only analog synths and a drum machine. Also on their gigs they don't use even backing tapes and the "special effects" are reproduced live using tape loops. The two tracks on this limited 7", "Me, me and me" and "Ricocheting Memories", are minimal electronic tracks in the tradition of bands like Suicide (this is the comparison which fits most) and Throbbing Gristle. The tracks don't have many melodic changes and their sound is characterized by a central theme with slight changes of the background sound effects where the overwhelming despair of the cold vocals create that sensation you have listening to the old Cabaret Voltaire records. I also listened to their other tracks on myspace and there, they sound a little more melodic. Check "Container baby traffic blues", I really appreciated that one.
image not
available
anymore
The first time I've discovered an audio result of this act was the fine compilation appearance of the R010R track "Brain Death", released on "Noise Terror Vol. 1" (NTP/Dependent) – to me already an outstanding piece of work, which kicked hefty into the asses of some so-called global scene-players like LEAETHER STRIP or SUICIDE COMMANDO. Packed in a DVD case, here comes the first solo onslaught of the NOISE PROCESS musician Michael Renfield, who lately has made a highly recommended comeback with his NP partner Tim Garelick and the release of the long anticipated "Groundzer0" album (www.dsbp.cx). An interview with Michael explaining the details behind the long hiatus of NOISE PROCESS and the finding of R010R should be up here on the site around the next days. Thanks to the unclear future of NOISE PROCESS, maybe also thanks to the separation of both band members being living in different US states (Michael has moved to New York, while Tim is still based in Arizona), this side-project has come to life. "Gradual Destabilization" therefore features all of Michael's works through the years, it is self-released and offers 13 tracks with 74 minutes "of intense anti-genre Electro".

"Anti-genre"? Let's say that Michael tries to point out that R010R isn't trapped into a tight musically corset, which may counts more for NOISE PROCESS. He simply reflects with R010R his own audio preferences, which break here and there with some known boundaries. Therefore I tend to compare the musically output of R010R as a fine mixture of the works of NOISE PROCESS, DIE SEKTOR and new MENTALLO & THE FIXER. Not only regarding the opening track "Exist (Override)" I'm surprised by the offered speed on the first tracks and the provided complexity well-balanced in the arrangements and textures. The works of NOISE PROCESS can already be called high-energy and modern, but R010R definitively kicks more asses.

As a musician I would rate Michael's at times unconventional efforts to integrate harsh and noisy textures as being inspirational – not to forget his fine sense to place the right and not-heard-before synth layer to offer a small catchy attitude ("Hypocrite"). Another striking exclamation mark he sets with the track "Soul Destruct" by providing distorted drum patterns, heavily manipulated textures and a strange disturbing vocal performance – a track which would be a pearl on every release out of the rhythmical Powernoise genre. "Brain Death" – for sure one of the most melodic tracks, while not at all offering a smooth mood - can't be praised enough for its classic Dark Electro attitude. Be sure that this for sure best known track of R010R isn't an exception – "Field Mechanik" or moreover "Peripheral" are standing in their starting-places to storm the international clubs immediately. With the track "Human Circumference", Michael likes to show his audience that he's capable to offer a real Hellektro/Harsh EBM track featuring all the typical elements, which can cause envy to some artists out of the NoiTekk roster – a top-notch work musically and technically. Finally the above mentioned comparison to the latest MENTALLO & THE FIXER works finds its perfection with the track "Room With A View" – all I can see/hear is a massive wall of epic sound - hard, unconventional, disturbing, creeping, but also addictive – Gary Dassing would be proud to hold such item! Last, but not least, the final track "Crystal Cells" slows down the tempo and comes rather sedating thanks to a "Crucified Division"-like (:WUMPSCUT:) rhythm programming and melodic layers, while still offering a huge complexity.

So after this now more than 15 times consumed diverse and authentic sounding Electro/Industrial album, I come to the conclusion, that there are only two small riddles to solve:

1. What has Michael Renfield driven to use the pseudonym Michael McNulty?
2. And more important: why is this album self-released? Come on, it totally RAWKS and it is that awesome that it needs to be signed!!!

A top-notch album and a constant rival for the "album of the year" contest!


image not
available
anymore
Artist:
ROTERSAND
Title:
1023 (tentwentythree)
Format:
CD
Label:
Dependent / Metropolis
(@)
Distributor:
Alive / Metropolis
Rated:
Third full-length album with a rather conspicuous title for this well-known German trio, which marks one of the summer highlights of the Dependent roster, licensed for sure to Metropolis-Records. Regarding the title, the band has explained that it was taken from a room number of a hotel in Chicago, where the band has stayed a night during their last years' US tour. It happened after a spooky and eerie trip with the lift into the basement of this once luxurious, but nowadays rather forsaken hotel. Still consisting of the three professional musicians Rasc, Gun and Krischan, ROTERSAND could once again develop their wide-ranging musically output and prove their outstanding status. There's much more behind this act than a simple reduction their musically abilities on the term Futurepop – elements out of EBM, Alternative, Pop-art and a constant Classic influence can be heard as well. Impressive songwriting and compositions, excellent arrangements, a charismatic male vocal performance – this all are the ingredients of this three very different musicians, which can unite into an emotional combination to form and perform ROTERSAND. Examples? The track "Lost" surprises with some slightly distorted bass lines and synth textures, while the song structure offers a marvelous change between straight and forward-moving to calm and harmonic – a piece full of contraries, but catchy as hell to satisfy feet and mind. "I Am With You" is a masterpiece of a ballad which offers opulent and addictive layer sounds. "I Cry" features a CURE-like acoustic guitar play as being the outstanding melodic content, while the mood of this track turns into depression. "Rushing", "Don't Know" or "I Don't Remember" are killer food to storm the dancefloors, often infiltrated with non-expected and detailed integrated effect textures. I can easily now continue with praising hymns on every other track as well – let's say and be sure that this album doesn't offer space for so-called filling stuff. ROTERSAND have again set the measuring bar one slot higher and nobody will ever talk again on their last album "Welcome To Goodbye", since this new one is so much more excessive and brilliant.

image not
available
anymore
Artist:
The Serotonin Sunset
(@)
Title:
Futurestate
Format:
CD
Label:
Serosun Records
(@)
Distributor:
CDBaby
Rated:
This is a new project by the British musician Paul Five released on his very own Serosun Records label, which is based in his chosen home, the Spanish holiday island Ibiza. Paul has formed THE SEROTONIN SUNSET in 1999 and has brought out a first EP in the fall of that year. Afterwards he was a member of SYNTHETIC (now SYNARA), has recorded three albums in five years and has toured in Europe. Due to "geographically" differences (as mentioned above, he lives in Ibiza, the other band members in Germany), Paul has left the band to concentrate on his own solo efforts. A first solo CD called "The Poetry Of Drugs And Promiscuous Sex" got released in 2006, musically rather re-animating his Rock'n'Roll roots. With THE SEROTONIN SUNSET he returns now into that musically register, for which SYNTHETIC/SYNARA stood for – to mix straight EBM/Electronica bass lines and synth textures with energetic drum patterns, haunting Rock guitar riffs and his deep and dark-sounding male vocals. Paul has also integrated two further members with Sarah P. and Prawnstar, mainly responsible for some action behind the drum pads. A musically field somewhere between the Alternative-minded VNV NATION and Rodney Orpheus/THE CASSANDRA COMPLEX comes to mind for giving out a possible comparison. His Rock attitude shines through almost all tracks, but his guitar play sounds much more authentic than the poor efforts of several Electronic bands sampling the needed riffs from the latest SEPULTURA CD. You'll find here also four rather Electronica-driven instrumental interludes, which work well ("Fade", "Outside") to spread some breaks in this album. Favorites can be named in the more catchy tunes like "Sun", "Everything" and especially "Revolution". "Futurestate" is a quite straight and danceable produced album without offering high-end complexity for the Electronica elements, but with some real guitars and a dynamic male vocal performance which doesn't need to be treated with uncountable effects. This release should appeal to open-minded Rock- and Electro-fans. A new 5-track EP entitled "Kein" is already in the works.