Artist:
TOTAKEKE
Title:
Elekatota – The Other Side Of The Tracks
Format:
CD
Label:
Tympanik Audio
(@)
Distributor:
DSBP
Rated:
Another new release by the rising Tympanik Audio label, this time a new album by the New York-based musician and producer Frank Mokros. Frank has made himself already a quite good name internationally, be it with several remix contributions for acts like TERRORFAKT, KLANGSTABIL or IMMINENT or with his own both projects. Under his second and rather harsh Noise-project SYNTH-ETIC, he's signed to the German Hands Productions, as well as he has been active with both of his projects under the flag of Frozen Empire Media, which has sadly gone too fast. Tympanik seems to deal a bit with the surviving fragments of FEM, a few goodies are still purchasable through the Tympanik shop section, so let's hope and see, if they will be able to re-animate one or another act out of those days again. But back to TOTAKEKE, because Frank's album requires but also deserves your fully attention. It is a journey into a multiple-layered and diverse sounding kind of FX-Electronica, which ranges between slow and rather experimental oriented tracks ("Gift Of Nervous Methods") to complex Dark Electro tunes in vein of acts like REMAIN SILENT, MC1R or in parts MENTALLO & THE FIXER ("Pull The Plug", "Elekatota Two" and the outstanding pearl "Strangle"). With TOTAKEKE Frank offers a musically much more valuable alternative to the harsh and disturbing outfit under SYNTH-ETIC, since he can prove any better his sense for a thrilling mood and his abilities of a complex programming. "Elekatota – The Other Side Of The Tracks" drives the listeners into 73 minutes + clocking odyssey of an undiscovered space trip, so please fasten your seat-belts and take part with all senses. You won't find too much better releases of demanding Electronica music.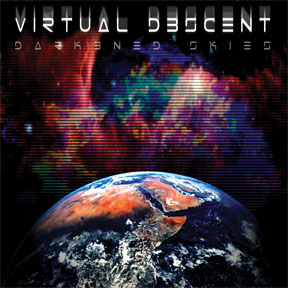 Artist:
V1RTUAL D3SCENT
(@)
Title:
Darkened Skies
Format:
CD
Label:
DSBP
(@)
Distributor:
Indietective
Rated:
Well, it's effective and a promising hint, if the band name offers a letter/number-combination, which shall document the genre classification, isn't it? Seriously, the debut of the Illinois-based duo V1RTUAL D3SCENT is a little surprise for the DSBP label, since the musically direction of Erich Fate and Scott Pilz turns rather into a smoother form of Futurepop/Electro. No hint of the Harsh EBM formula normally expected and often presented by DSBP can be found on "Darkened Skies", but therefore an unexpected catchy tendency. This duo has already shared the stages with acts like LOST SIGNAL (signed to 23DB – yep, the label of Tom Shear/A23) or STATE OF THE UNION (maybe much more prominent in Europe with a license deal to Infacted Recordings...) and it doesn't seem to be happened by chance, that their sound outfit draws comparisons with these examples and to related bands. What disturbs is the abused term Futurepop', which has been too often used in the past to describe a repetitive one-dimensional point of view of danceable Synth-/Electropop music. Transformed on V1D3 this wouldn't be a fair description, because the music turns much further – simply the fact that both Erich and Scott are more talented than the usual PC-user-produces-some-samples-and-adds-loops-musician'. Both have experienced in their childhood a classic-oriented piano training – and for some reasons this can be heard. Very often they add classic strings and piano drops as being used as the main lead synth sound ("Darkened Skies", "...") – it sounds elegant and cohesive so it seems to be a trademark of this act. The opener "1000 Tears" is a fresh state-of-art Electro-track reminding with its strong programming art on works of bands like IMPACT PULSE or INDIVIDUAL TOTEM. Applause also for the excellent usage of vocoder fx on the lead vocals for "Suffocate" – seldom before a band could use vocoderized vocals that effective like V1D3. "I Vivisect" then is another favorite and it didn't wonder, that V1D3 have given out remix kits especially for this track to share it with some friends and additional musicians. The result can be discovered here, 4 additional remix contributions of "I Vivisect" are documenting the attraction of this fine and catchy tune with finest programming art. The track "Concede" then offers a fair amount of a fast-paced rhythm construction which allows some dancefloor action. A lot of good stuff to discover from this duo and a perfect alternative output against the harsh and pseudo-aggressive Hellectro camp. Check it out!