image not
available
anymore
Artist:
ATTRITION
(@)
Title:
At The Fiftieth Gate
Format:
CD
Label:
Two Gods
(@)
Distributor:
Voice Print
Rated:
After releasing "Smiling, At The Hypogonder Club" back in 1985 change was around the corner for Attrition as they switched record label passing from Third Mind Records to Antler and they also temporarily lose Julia Waller, who briefly joined the Legendary Pink Dots. Martin then collaborated with an old friend and veteran punk guitarist Garry Cox. The tracks of the album are a blend of synth wave with guitars and dance 4/4 rhythms. At a first listening this is one of the less charismatic album by the band as with this one seems to team up with the sound of bands like Balaam And The Angel or the Mission. Fortunately Attrition had always their dark twist to save them from a total commercial attitude. Thing that, strangely enough, is more balanced on the 12"s B-sides of the period (see "Lady look now"). You'll be able to judge by yourself as all the tracks from "Hadyn (or mine)" 12" and "Turn to gold" 12" are included into this new edition.
image not
available
anymore
Artist:
Ad∙ver∙sary
(@)
Title:
Bone Music
Format:
CD
Label:
Tympanik Audio
(@)
Rated:
After a 10 year run as a techno/industrial DJ and promoter, Jairus Khan has emerged from the shadows with his own musical project named Ad-ver-sary. Released under the Tympanik Audio imprint, Ad-ver-sary's debut album "Bone Music" offers a very well thought out and developed blend of instrumental industrial, EBM, ambient, and noise. The key to this album is Khan's ability to blend organic soundscapes and harsh industrialized rhythms and noise in a way that strikes a balance between what many would consider to be two mutually exclusive musical forms. Indeed, throughout the album, neither approach dominates the other. Some of the stand out cuts from "Bone Music" include the album's lead off track "Ancients" which utilizes very simple samples and effects that gradually build up into a very powerful and driving industrial tour de force that is harsh and mechanical while maintaining a sense of musicality, and "Waiting for Gira" which features a very ominous militaristic beat that is backed by subtle soundscapes and a very evocative guitar part that is interestingly reminiscent of U2. For those of you who like harder hitting noise driven pieces "No Exit" and "Number Nine" are aggressive and cacophonous workouts straight from the factory. Overall, "Bone Music" is a great album that provides a glimmer of hope that industrial music is not dead.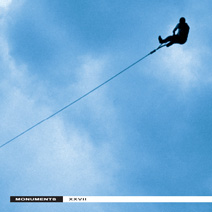 Artist:
MONUMENTS
Title:
XXVII
Format:
CD
Label:
Anna Logue Records
(@)
Rated:
It is impossible to me to give a low rate judgment to this release because somewhat I'm involved in it. Don't worry, this isn't a case of "inside trading" because the story starts 25 years ago when I was a kid. At that time Rockerilla was the only independent Italian music magazine and they decided to print their second vinyl compilation titled "Body section" (now reissued by Spittle Records on CD). On that record Monuments released a song titled "Wonderful woman" and two things convinced me to contact them: I dug that track and they were coming from Torino, just like me. On those years Alberto Campo, a music journalist (and still is) who was writing for Rockerilla was making a radio program called Puzzle on Radio Flash here in Torino. Coincidentally he was a friend of the Monuments and he was so kind to pass on to me a tape with the first two Monuments' demo and to give me the contact of one of the duo: Mauro Tavella. For some time I bugged Mauro while he was working at his sister's joiner's laboratory. He gave me a tape with four new tracks. After few years Alberto Campo decided to do a record label called Discordie and he released the Monuments MLP "Age" but after only two releases (that one and a Deafear MLP) he closed that chapter. Years later I decided to record some of my record collection on CD and I did a compilation of all the Monuments stuff I owned. I gave that CD to some of my friends and years later I discovered that my CD was on the play list of a German girl. I don't know how but that Monuments CD I did leaked on the net through the P2P. Marc of Anna Logue already knew the Monuments MLP and I think he had some mp3 coming from the net. He succeeded into contacting Andrea Costa and arranged a reissue of their old material. Unfortunately Monuments lost some masters during a move (do you remember those tracks Mauro gave me?) but a friend of mine told me about Anna Logue's project and I was in time to give back to Andrea the tape I had and on XXVII you can enjoy two of those songs. XXVII contains a compilation (but not all the tracks) of all the demos made by the duo, the "Age" MLP and a new reworked version of "Die dankmaler". Now that you know the facts we can talk about the music. Monuments early stuff (before the MLP) were deep influenced by German electronic music and were linked to what D.A.F. were creating on those years: cold analog tunes with a bit of melancholy and melody. Tracks that released back then by labels like Mute would have sell well: check "Her von samt" or the following "S.A.L.T.", two tunes that under their ice curtain are capable of delivering energy under a robotic dance input. "Age" changed their style a little by rounding off the corners thanks to a different sound (the infamous Simmons pads) and production. Fortunately the tracks didn't lost their magnetism and now you can check them after twenty years. Monuments are still active and during all these years they worked at the creation of soundtracks and now it is possible a comeback as Monuments II. I wasn't able to check their new style but I know that they did a musical installation early this year so I guess it is a bit more "experimental".
Formed by Carola Müller (composition, lyricys, vocals) and Marco Thomaschewski (composition, arrangement), Prospective worked the last two years into the making of their debut album THE DARK SIDE OF LIFE. Blending goth (see the melodies and Carola vocal style) and harsh e.b.m. (with some exceptions like the melancholic piano ballad "Angel dust" and the goth ballad "Path of life"), the duo composed ten tracks which paint their vision of nowadays. Even if the production is good and all these songs don't catch me. There's something that makes me skip the track after a couple of minutes. It could be the goth approach (I'm sorry but that isn't my cup of tea) or the Wumpscut approach to the genre (it's since after "Embryodead" that Wumpscut don't thrill me) or maybe this sensation of musical déjà vu that was making me know what was coming next forced me to skip to the next track. Unfortunately except the first part of "Deadly sins" (a song which could be the a dance-floor filler with a different way of singing) I didn't find a song I wanted to listen to twice but if you love melodic goth and e.b.m. you could enjoy it.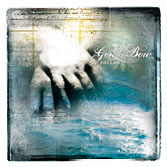 Six years after their second album titled "What's Beyond The Suns" the duo God's Bow is back with FOLLOW. Agnieszka Kornet (lyrics) and Krzysztof Pieczarka (music) on this album created a mixture of electronic goth music with classical and trip-hop influences. FOLLOW opens with "Empathy", a short dreamy track based on strings and Agnieszka's chants which introduce one of the best songs of the lot: "Tomorrow". This tune (along with "Mosaic") made me remember of some early Dead Can Dance atmospheres (see the use of percussions and the dreamy vocals) but mixed with new wave arrangements. The following one, "I know", is a bit more electronic and is able to create a sort of goth electronic mixture which sounds nice. "Helpline" is the main track of the single released before the album (the MCD contains different versions of the main track and of "This perfect time" but no unreleased tunes). The song is a mid tempo electronic goth tune with a strong refrain but to me it sounds less sensual paragoned to "Tomorrow". "Wave awakes" play with slow percussions, synth pads and Middle Eastern melodies but it doesn't sound that catchy to me. "This perfect time" is a bit more melancholic paragoned to "Helpline" and it fluctuate between synth pads and Agnieszka vocalises. The album somewhat follows with this scheme and along with "Mosaic" I'd point out to you "Under heavy sky". On this edition of the album there's a bonus CD with ten other remixes of "This perfect time" and "Helpline" (six and four). Of the lot I appreciated the ones which heavily reworked the tunes, these are: "This Perfect Time – remix by C.H.District", "Helpline – dead air mix by Weave", "This Perfect Time - remix by The Frozen Autumn" (not their top notch work, but a nice one) and "This Perfect Time – remix by Dark Territory".