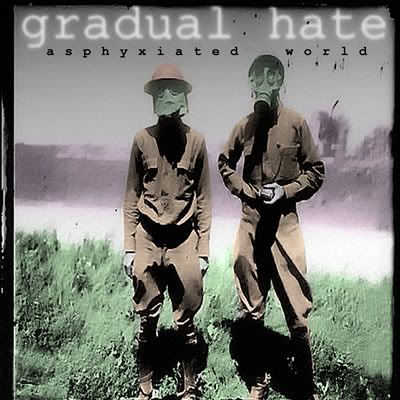 Artist:
Gradual Hate
(@)
Title:
Asphyxiated World
Format:
CD
Label:
Hypervoxx / Telegrammetry
(@)
Distributor:
CD Baby
Rated:
Another surprise released by the Miami-based Hypervoxx label, GRADUAL HATE, a Spanish Dark Electro/EBM-duo, are surely that sort of a newcomer, on which no one would think of to release a debut CD. Even those bands out of Spain I normally talk to seem to be quite surprised, while this isn't at all meant negative. As GRADUAL HATE like to prove on nearly all of their tracks on "Asphyxiated World", the possibility to release a debut through this hard-working Miami-based label is well deserved. At least it is one of the best releases of the Hypervoxx label so far. Musically always straight and dancefloor-oriented, GRADUAL HATE's version of Dark Electro music takes rather influences out of prominent acts out of the mid-90s, acts like early FUNKER VOGT or EVILS TOY come to mind. On some tracks they also like to integrate some guitar riffs as an underlying effect in their tracks ("Dancing On Ruins", "Gradual Hate"). They also don't seem to trust that much their programming abilities on some EBM-like bass lines, because mostly all of their tracks are dominated through opulent layer and pad sounds – this of course offers them more a Dark Electro instead of a pure EBM status. Regarding the vocals, well, they are sort of genre-typical, mostly distorted and raging, while the recording quality of them could need some improvement. But that's maybe the only one constant point of criticism, because musically they do their best to keep their audience entertained and the masses in motion. A lot of floor-filling stuff is available here and GRADUAL HATE have their best moments on the tracks "Elektro Radio Sex-Station" and "Weakness Man" which both can totally convince through its integrated catchy inserts. Although GRADUAL HATE "play" with that often used sort of militaristic attitude to strengthen their manifesto, and if you're able to accept that they surely aren't the end-solution of a musically sensation, this tremendous debut album has enough ear-catching food on board to grow to a constant secret tip in the scene. Good work, keep it on!
image not
available
anymore
Artist:
VV.AA.
Title:
Weatherhead 3
Format:
2 x CD (double CD)
Label:
Hypervoxx/Telegrammetry
(@)
Distributor:
CD Baby
Rated:
Well, I'm quite late on this and I hope that the guys of the Miami Vice don't get me for this. The Hypervoxx label, a division of the FL-based Telegrammetry, returns with this long awaited release, a new part of the "Weatherhead" series. Since the last year has been a very difficult especially in the private life of label chief B. A. LaRed, a release like this DCD compilation offers hope, that things will be running smoother in 2K8. Yes, this time the "Weatherhead" compilation has grown to a DCD set and the staff around B. A. had to do some hard decisions, since more than 110 projects/bands have reacted on the call and have sent in stuff for consideration to take part. So at least you'll get a quite quality oriented sort of a newcomer-compilation with only a few familiar acts but dozens of talented unknown names. Some of the Telegrammetry/Hypervoxx-recording artists of course are included and all of them are doing their very best to offer new and exclusive stuff. Greece-based AKRON continue with their cinematic instrumental music on their new track "X-Revenge". STAHLSCHLAG, based very near in my home area, continue their drastically Rhythm/Noise installments with a new tune. "Acute Netzzerstörung" (is this title correct printed???) comes out quite in vein of the current acts out of the ProNoize roster and this seems to be intentional. E-THIK is another act worth to mention here, their "Machtuefall" (again the question: is this a typo?) is rather more dedicated to classic forms of EBM instead of productions out of the nowadays Hellectro rush, plus the male vocals offer decent distortion effects. Although a parade example out of the often criticized Hellectro camp, the best appearance available on CD1 got provided by MORDACIOUS. Somehow SO it has to be sound if you like to take a step into this genre – well worked out synth bass lines and textures, a constant good rhythm work – this new MORDACIOUS track entitled "Death In Denial" beats almost everything of Mr. Mordacious' previous compositions. CYANIDE REGIME, out of Miami and sorted under a comparable musically roof, give with "Vanquisher" an unfortunately already discovered, but still a quite valuable appearance. BLC Productions own act STIGMATA NL gives out another hellish teaser of their up and coming debut album out in the coming months – musically relations with MORDACIOUS are recognizable. Another rough and noisy tune got provided by ESA (didn't they release an album on Hive Records?) and accomplishes the first out of two CD's.
CD 2 starts with another unreleased remix work on one of the latest DIVERJE smasher tracks, "Smell The Blood", this time remixed by MORDACIOUS. The new HYPERVOXX-recording act GRADUAL HATE, a duo out of Spain, is also featured with their track "New Highway And Asolation". This one is taken from their debut "Asphyxiated World" – so let's agree to rate it like this: well-done and valuable to take part on this comp, yes, but nevertheless one of their weaker tracks compared to some of their tunes on their album – soon, very soon more about them! Sweden's TWZ, recently signed to the Hungarian-based Advoxya-Records label, give out an alternative version of their new track "The Grid", originally available on their up and coming new album "Evolution". As a trademark of them, their synth textures used as manipulated bass lines still offers them a sort of special niche in the scene. But the best track of this whole compilation got provided by an also to me quite unknown act named SCHISM TRACE. Reminds strongly on a mixture of old X MARKS THE PEDWALK ("Abortion") mixed with older FLA, excellent programmings, good sounding vocal manipulation and an addictive melodic content makes "The Failure" to nothing what the title may announces. BRAINCLAW are counting surely to be one of the better known acts available on this comp and their rich experience sound- and production-wise is recognizable in every second of their exclusive remix on "Feed The Machine". Addictive hook lines as usual, just another great work of this BLC-recording male/female duo. Germany's [ORGANIC_CAGE] are surely one of the big up and coming artists for the rhythmically Powernoise genre. "Program Interrupt" though isn't a favorite of this act, but a great example how this solo project treats his machinery.
A stylistically wide-ranging collection of newbies and established acts are featured on here, and so this new "Weatherhead" compilation reminds a bit on some BLC compilations out of the "Interbreeding" series. Quite good comp if you're on the hunt for some new talents and so worth to spend some bucks on!

Track list:

1 Akron - X Revenge
2 Stahlshlag - Acute Netzzerstorung
3 E-thik - Machtuefall
4 Twinsine - Revolution
5 Andromeda 5 - Fleisch Und Blut
6 Mordacious - Death in Denial
7 Spit Static - Break It Off
8 Sino Re-build Projects - to Die
9 Acc:xess & Grammatik Inkorekt - Fyebs
10 Cyanide Regime - Vanquisher
11 Stigmata Nl - Satanus Malificarum
12 Esa - Tand

13 Diverje - Stitched (Mordacious Rmx)
14 Gradual Hate - New Highway & Asolation
15 Evlent Chapter - Tivoli
16 Total Pain Kollapz - Are You Scared?
17 Synaptic Defect - Punish Me
18 Ferrum Dei - Ascendency of the False Prophet
19 Stainless.4571 - Trip to Madness
20 Twz - the Grid
21 Schism Trace - the Failure
22 Brainclaw - Feed the Machine (Rmx)
23 Organic Cage - Programm Interrupt
24 Suburban Prototype - Luna (Wax Rmx)

image not
available
anymore
Although there's a label hint regarding the copyrights of the represented audio material, I guess that behind Vagform doesn't hides a real label. It's rather a collective project driven by Krister Petterson, the music-head behind the Swedish Cold-Electropop duo CHINESE THEATRE. The concept of this collection is a quite interesting one and differs from a usual compilation. This 1-CD compilation is filled with 19 possible appearances, but all featured bands present 3 – 4 tracks each. This guarantees a quite good introduction on all of them, since all bands here can be named newcomer acts or at least they haven't seen any higher stages of an unexpected so far. It also needs to be mentioned that all bands differ to each other sound-wise and provide therefore a diverse sound outfit. But one thing all of the featured bands have in common: they all share a rather retro and analogue-driven form of electronic-based music. Things get started with a German project entitled AUDIOSCOPE, at least I must admit that I haven't heard of them before. The presented music on their 4 tracks is a sort of experimental retro-EBM, maybe a bit influenced by the classic work of THE KLINIK. Comes then NORTHERN ELECTRIC, a Swedish Synthpop act heavily inspired by some works of the early Energy-Records acts like ELEGANT MACHINERY, DEAD EYES OPEN or PAGE. Their stuff lacks a bit of originality, while the typically Nordic accent of the singer brings a smile in the face of the listener. PROTOTYP, well, that's already a small name in the scene, likes to re-animate the classic old-school EBM-formula. Somehow their tracks draw some inspiration out of POUPPEE FABRIKK and AMNISTIA, to name a currently on-top artist. Well chosen sounds, good hook- and basslines plus useful male vocals – well, they should soon be able to reach a wider and international-based audience. CHINESE THEATRE of course don't have to be missed here, offering three additional tracks of their cold but smooth melodic Synth-/Electropop. As usual, their dedication to some 80-retro acts is recognizable on every track. As expected, next to PROTOTYP the winner of this comp. ADOLF FILTER out of Gothenburg are another Swedish act which strictly relies on analogue synths and production tools. Somehow they seem to be the Swedish answer here on the entrancing AUDIOSCOPE, their tracks, also featuring some live improvisations, offers a comparable hypnotic mood. Last but not, the Belgian project LIQUID G – yes, move your ass to your good old vinyl and demo tape collection, because Peter van Bogaert is still alive and kicking. And at least his stuff sounds that chaotic like the nearly 20 years before, it seems that the time has stood still for him. A bit more modern with his new side-project MAXX IMPACT for sure, but the mood is similar. So you'll get 19 tracks in all on a filled CD full of old-school and analogue-driven Electro power. A must-have compilation for the veteran and die-hard EBM maniacs, while the kids out of the Hellectro/Trancewhackedgoregalore-camp better keep their fingers away from it.

Track listing:

01 - Audioscope - The Prelude
02 - Audioscope - Shut Up
03 - Audioscope - In All Conscience
04 - Audioscope - 100(1).000 Souls
05 - Northern Electric - The Captain
06 - Northern Electric - The Modern Mannequin
07 - Northern Electric - Fashion
08 - Prototyp - Beyond Belief
09 - Prototyp - Shine
10 - Prototyp - Solitary Confinement
11 - Chinese Theatre - Bit By Bit
12 - Chinese Theatre - Forever And Ever
13 - Chinese Theatre - Minimal Horror
14 - Adolf Filter - Printed Letters
15 - Adolf Filter - Tiny Girl
16 - Adolf Filter - Alla Ord
17 - Maxx Impact - Gangsta
18 - Liquid G - Welcome (Rapture Mix)
19 - Liquid G - They Control It

Artist:
Wagoon Cookin
(@)
Title:
2Faces
Format:
2 x CD (double CD)
Label:
Compost Records
(@)
Rated:
Javier and Luis Garayalde are two brothers from Madrid, Spain, who allegedly enjoy good cusine but live in a railway wagon of the once Trans-Europe-Express at the foothills of Sierra De Gredos. It's hard to believe that you can live Christopher McCandless-style while being into delicious foods and having the equipment (and the electricity to run it) to make a fine record like this, but on the other hand it is Spain after all, so everything is possible! Regardless of whether the story is the fruit of the imagination of their publicist or not, nevertheless, the tangible result at hand is real and real good indeed! It's electronic music with jazzy influences and a latin twist. The two have already played with the likes of Eddie Palmieri, Chic Korea, Gilles Peterson and Rainer Truby, to mention a just a few and this double CD has a lot of other artists lending their talents to the Wagon Cookin sound. Through "2Faces" you can live and breath the sensual and hot swinging beats of the Southern American continent and the Iberian peninsula as seen through the kaleidoscopic eyes of two jazz students on electronica steroids. It is a very interesting blend of bossa, samba, funk, acid-jazz, electronics, jazz, dance music and comes off as the perfect hot weather white sand beach DJ-ing soundtrack.


Artist:
ERIK LEVANDER
(@)
Title:
Kodens
Format:
CD
Label:
Rumraket
(@)
Rated:
Active since late nineties with different projects and at the second solo full length album, Erik Levander is a Danish guy who is presenting to the lovers of minimal sounds his newest album titled KODENS. The new album took almost four years in the making and different compared to its first version (the hard disk of Erik's pc crashed and he lost almost everything), KODENS is a mix of melancholic atmospheres, glitch mayhem and ambient intuitions where also acoustic instruments are used (see the main clarinet part on "Manen viskar" or the piano track "Tribut"). Creating a thick web of sounds where light noises and bleeps crashes and die just to find a new form/life, Eric gave form to a complex structure which sometimes is difficult to enjoy at a first listening and it's difficult that it would be enjoyed by people who don't love i.d.m. or experimental stuff. Anyway there are tracks like "Kvad" that immediately are able to catch your attention thanks to the little melodic lines which give more power to the intricate sound structure while others like the opening "Sekund" sound too intimate.