Artist:
Kalabrese
Title:
Let Me Be Your Princess
Format:
12" vinyl + Download
Label:
Zukunft Recordings
Zurich-based veteran producer Kalabrese is back with another assured three-track EP taking a fairly familiar but reliable formula. Essentially deep house structures, grooves stripped down and laid out with a confident flatness, are decorated with somewhat indie-ish male vocals (that put me in mind of Chris Rea for some reason), and some squelchy acid bleeps for decoration.

First track "Let Me Be Your Princess" is a steady complete journey that in one way seems to throw back to the classic early days of the extended mix, knowing full well that the right groove and very gradual change is sometimes all you need. With a gender-relaxed lyric which I'm fairly sure is saying "let me be your Santa" quite a lot, I guess it could also qualify as a Christmas record…?

"Dance Yourself Clean" ups the indie flavour, still maintaining the groove but in a more definite song structure with more of a live funk feel, and while the same elements are all still there in similar measure, somehow the result feels more dated. Both this and final track "Ligestuetz", which foregrounds Lara Stoll's spoken German tones, wouldn't have sounded out of place on a mid-noughties 'indie rocks' compilation alongside Soulwax or DFA.

The title track is certainly the standout but it's a confident and fairly satisfying release that falls quite far into the old "dance music for indie kids that don't like dance music" territory.
problems
with image
availability
Artist:
Randall Dunn
Title:
Beloved
Format:
12" vinyl + Download
Label:
Figure Eight
(@)
Rated:
BUY from
Randall Dunn is a fantastic producer, best known for his work with Sunn O))), Anna Von Hausswolf, Tim Hecker and many others. This is his debut as a solo artist and, as you can imagine, it comes loaded with years of his experience as a producer and as a connoisseur of all things analog and all things synth. Reading the credits of the album is like reading the history of analog synthesis (PPG Wave, Minimoog, Elka, Arp QUadra, Juno 60, Ems Synthi 100, OB8, OBX, Buchla, Roland system 700 etc), something Randall went looking for, exploring and recording all over the world, like in the South Tirol area of Italy bordering with Austria, in El Paso Texas and Brooklyn New York, where Randall lives and where his record label Figure Eight has the Figure8 recording studio owned and operated by label founder Shahzad Ismaily (who also played some bass on this record).

The seven cuts on the vinyl are dark and atmospheric, droney and melodic, melancholic and anguished, perfect for fans of Vangelis and Johann Johannsson. I can't help to think that it also reminds me (especially tracks like "Mexico City") of the latest BladeRunner soundtrack by Hans Zimmer and Benjamin Wallfisch (which coincidentally was initially going to be done by Johannsson, and that Dunn was working on himself).

Some of my favorite cuts are the ones where organic old school synths are joined in by acoustic instruments, such as cello and bass clarinet (like in the fantastic "Lava Rock & Amber", where Jeremiah Cymerman plays the reeds and Will Smith plays the cello), although such pairings of instruments happen on almost every one of the songs on the record. There are almost no beats in the whole record, except for a subtle electronic heart beat in "Something About That Night" (which also features vocals by Frank Fisher of Algiers) and a pulsating EMU Emulator pattern in "A True Home" (featuring guests vocalist Zola Jesus). Other notable players are Eyvind Kang on viola, John McCowen on contrabass clarinet, Justin Morris on flanger boss, Ulfur Hansson on guitar and Buchla and Timm Mason on various synths.

Although you can listen to this record on Bandcamp, I would highly recommend getting the 180 gram vinyl album, which, other than obviously sounding better than digital, also features photography by Lauren Rodriguez and Una Blue, cover art work design by Stephen O'Malley of Sunn O))) and a zen poem by Gesshu Soko which he wrote close to death and became the lyrics that Frank Fisher sings.

Artist: Ben Chatwin
Title: Altered Signals
Format: 12" vinyl + Download
Label: Village Green Recordings

After last year's excellent original album "Stoccato Signals" and its companion/rework "Drone Signals", the release of remix album "Altered Signals" could be accused of over-milking the source material. Such suggestions are quickly put to bed once you start listening though, because far from squeezing the last life from the ideas, this is an example of remix compilations at their best- taking excellent source material, sharing it around carefully selected and like-minded individuals who breathe new ideas into it, and curating it into 49 minutes of supremely high quality cinematic electronica.

Sevendeaths' remix of "Castle" opens proceedings and gives shades of synthwave which are perhaps a slight mis-sell to an album which goes deeper and more atmospheric and doesn't maintain the retro synth sound.

Visionist's remix of "Fossils" or From The Mouth Of The Sun's "Substrates" exemplify the album better- bringing the acoustic string and piano elements more to the fore in looser, more laidback environments that wear their hearts on their sleeves. The electronic elements are frequently just decorative icing, but worked sympathetically in.

Ital Tek's take on "Silver Pit" is absolutely esquisite, revelling in Chatwin's string sounds and playing them confidently alongside a piercing and dominating synth bass for a layout that's unorthodox but captivating. Steve Hauschildt's version of "Helix" with its rubbery speed shifting squeaks, and Konx-om-Pax's "Claws" with its slow dubby synth stabs, are both a little reminiscent of some of the Orb's more recent and more overtly digital work. The latter also gradually brings in an acid 303 pattern which is an inexplicable direct line to happiness for people with fond memories of early 90's proper trance- people who'll probably respond well to the perkier sounds of the Vessels version of "Hound Point".

Pye Corner Audio's remix of "Knots" feels like it may have been pushed to the back of the pile as it stands out slightly, with a synth-electro make-up and heavier kick that's very strong, but feels like it's the beginning of a different style of remix album.

Apart from the last track though, the sonic quality is generally so consistent- and so consistently high- that you could readily believe this was an artist album, all creatively drawn from the same source, and for the genre in question that's a compliment.

Ben Chatwin's managed to generate three high-quality albums for the price of one here, in a manner of speaking. It's another mesmerising release that deserves broad attention.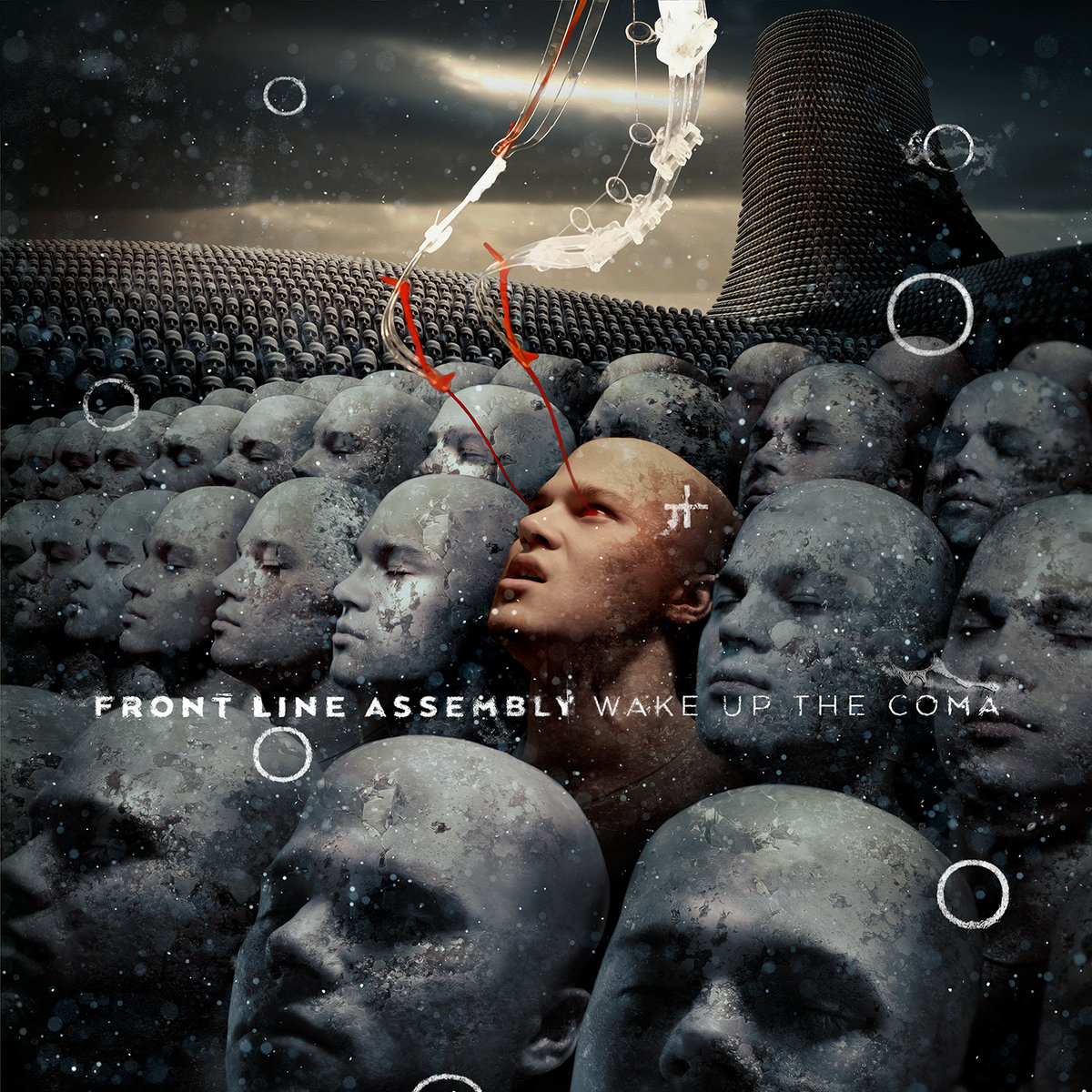 Artist:
Front Line Assembly
(@)
Title:
Wake up the Coma
Format:
CD + Download
Label:
Metropolis Records
(@)
Distributor:
Bandcamp
Rated:
A bit late from my side but better late than never. Actually it was kind of hard due to some personal circumstances to find the right mood for this review. Bill Leeb and his long-years partner Rhys Fulber have finally released their new full-length album which once again demonstrates their exceptional position in the Electro/Industrial music scene. I think there is no need to further introduce this famous Electro/Industrial music-project as ther long-year activty and their integrity speaks for itself. This album also holds the last two tracks composed among others of Jeremy Inkel, who passed away in January 2018.

This album kicks off with the already previously released killer track "Eye On You" featuring Robert Görl of DAF to provide some sequencing works. Another track already released previously is the usual cover version of the Austrian Pop-music artist Falco. With "Rock me Amadeus" the far too early gone Falco has reached highest international chart positions in 1985 and people often forget, that Bill Leeb is a born Austrian citizen. So this cover version is actually meant as a serious homage to his countryman. As for the half-German / half-English vocals, Jimmy Urine of Mindless Self Inguldence has been hired and he deserves respect for his performance. As it comes to rate this track, I was actually hoping for a bit more tougher and more Industrial-minded outfit of this cover.
But luckily "Wake up the Coma" offers enough mouthwatering stuff to satisfy your inner need for a raw Electro/Industrial experience. "Hatevol", "Living a Lie", "Mesmerized" and/or "Structures" are exactly the ones someone was hoping for: beat-oriented EBM-like tracks to bring some wild Pogo action back on the dancefloors of the dark clubs. Especially "Living a Lie" is that well composed with a catchy chorus progression and reanimates a quite compareable impression which we all had experienced with their classic smasher compositions like "Gun", "Iceolate", "Provison" or "Plasticity".
Asides these more upbeating tracks there are also some rather slow and ominous produced tunes which caught my attention. "Tilt" is a slow stalking, ultra-depressive track which describes lyrically the upcoming unavoidable nuclear worst-case scenario. Because of its brute and raw bass-line sequences this is to me one of the highlights of this diversified album.
"Negative Territory" has a related mood musically compared to "Tilt" but adds some more subtle layers and pads especially in the chorus part. Further guest appaerances to provide guest vocals can be noted in the title track (Nick Holmes / Paradise Lost) and the album closer "Spitting Wind" which features Chris Connelly (Revolting Cocks, Cocksure).
All in all this new FLA album turns out to be a satisfying one. Not their best work for sure, but in times when it gets harder and harder to separate the good ones out of a mindblowing mass of mediocrity, this album acts like an oasis in the desert.

image not
available
anymore
Sixth full-length album of this German Dark Electro/Industrial project consisting in their current line-up of Stefan Schötz and Tino Claus. All of their last studio albums they've released under the wings of the German Scanner / Dark Dimensions label but with "Black Halo" they returned to their very own brand 9XO Media with which they started in 2003 to release some early demo recordings as well as some of their related side-projects (Neukampf / TC75). Asides the usual availability via download (Bandcamp) this new studio album can be purchased as a physically CD pressing (300 exemplars) and also as a rare limited box-set of 97 already sold-out items.

For all those of you readers out there who still haven't heard of Amnistia I try again to find the right shelf to sort their musically outfit into. They produce classic arranged Dark Electro music which often flirts with the works of prominent global players of the Electro/Industrial scene of the 80s/90s music era. Puppy, FLA, 242 or some famous European projects like early Evils Toy, Sleepwalk or Abscess in the mid-90s have left without doubt musically impact on Stefan and Tino. But Amnistia and their way through the years until 2019 are by far more than copycats of above mentioned projects. This is post-modern Dark Electro music far above the level what people still call and compare to that repetitive Harsh-EBM / Hellectro-formula.
After the usual start of any Amnistia album with an instrumental track entitled "Init" here in its 7th version ("Ini7"), the mid-tempo based "Package of Regrets" catches easily all recognition. Be it the epic synth pads or the pleasant distortion effects of Tino's vocals this track is to me one of the oustanding tunes, somehow in that direction how I would like to hear it on an imaginary, never-released third Pulse Legion- or din_fiv-album. "The Itch" increases the pace and adds some distorted guitar undertones to boost the synth bass-lines - quite effective and aggressive produced, this one should be able to set fire on the dancefloors.
"Through The Night" points out the most difference of Amnistia to the above mentioned influence of the Canadian veterans: These bass-line sequences combined with a steady kick-and-snare work represent that typically the mid-90s era of label releases provided by Celtic Circle Productions (Sleepwalk, Page 12) or Gothic Arts Records (Paracont, Splatter Squall). This is quite European infected Dark Electro out of those glory days with its unavoidable EBM influence - and this influence also separates Amnistia to the Puppy-related kingdom, because their EBM roots are still included. Actually and as long as it comes out that well and professional produced like from Amnistia, it is stylish - it is their signature.

The scenario changes again with the title track. The multiple chosen voice samples at the beginning and the interupted bass lines evoke a stronger Puppy-relation than any other track on this album. "Crowds Cheer Verdict" with its integrated Trump voice-samples proves that the protagonists actually think about messages in their lyrics and its politically meaning - and at least they aren't afraid to turn the knife in a wound. "Misery" is another hot knife which cuts through the butter with its elegant synth pad programmings to lead Tino's vocals. "In Between" turns out to be a mid-tempo monster with more than 6 minutes playing time and reanimates a nearly comparable impression like with "Package Of Regrets" - what an epic arrangement.

After nearly 57 minutes of this top-notch produced Dark Electro masterpiece I for me personally had enough sense of duty to press the "repeat"-button on my discman once again (yes - the physically product RULES - just look on that cool looking spine-radiograph...). "Black Halo" is without doubt their most matured album so far, a true gem of real Dark Electro/Industrial music. Pick up this beautiful flower in the snow!