Artist:
DREAM DISCO
Title:
Take Me Home
Format:
12"
Label:
Das Drehmoment Records
(@)
Distributor:
Neuton
Rated:
Initially reported by me as coming from Milan (that's what is written on their Myspace page), Dream Disco is the project of Rotterdam based producer Dj Overdose. After three months from the previous two songs 12" TAKE ME HOME brings to the lovers of italo disco music a new good track which is confirming the ability of Dj Overdose of creating catchy tunes which don't require multi layered structures or particular tricks. The new tune is one of these which couple the old tune "In your eyes" which is here present with three versions: the original and two remixes ("DJ Technician RMX" and "Speculator RMX"). I really appreciated the latter one as it preserve the charm of the original version but it dilate it and give to it a new semi melancholic 80's vein that works really well. The first remix, instead is more true to the original track and for this reason is nice but not indispensable to me. The same goes for the "Dubstrumental" version of the title track. On my CD-r promo there's also an instrumental version of "Take me home" but since it isn't reported into the promo sheet or into Das Drehmoment website I don't know if it is a sort of ghost track...
image not
available
anymore
Artist:
Dismantled
(@)
Title:
When I'm Dead
Format:
CD
Label:
Dependent
(@)
Distributor:
Alive!
Rated:
Aptly fitting with the title, Gary Zon has announced that this new DISMANTLED full-length album would be his last album ever. It seems that he sees DISMANTLED as being a huge misunderstanding which still hasn't reached and entered the expected reactions of the audience. Well, to me DISMANTLED is still an important addition to the label Dependent and has reached by far more exposure than millions of other bands out there could ever imagine of. But okay, tastes and personal preferences differ, so maybe this could be named as the most important term, why the things haven't been worked out that smooth how Gary wanted it. DISMANTLED isn't sort of a Hellektro/Harsh EBM band, period. But after the quite good self-titled debut in 2K2 he has made some wrong decisions to change drastically his style of music and to add his natural sounding voice providing the vocals. A musically development is something which every musicians tries to reach, but it seems that the Electro/Industrial scene isn't at all that "open-minded" how it likes to be – drastically changes of the music directions do seldom end in a success in this scene. This is something which Gary had to learn painfully. However, "When I'm Dead" sounds to me much more comfortable than his last album "Standard Issue", with which I had my issues. It is simply because Gary has decided to offer a reflection of all different sound outfits he has provided so far including the overwhelming Dark Electro-influence from the debut, plus he has decided to collaborate with some talented guest musicians for one or another track. So you'll get a track "Clench Your Teeth" with Gary's voice being hefty manipulated with some vocoder effects – it reminds a bit on "Dystopia" available on the mentioned debut and can offer a similar voice-sample orgy too. For "Stay On Target" he has hired Skot Moat of the US act DYSTOPIATE whose debut "Feral State" is still in a good remembrance. He is responsible for the direction and programming for this track and already this fact points out some richer details than the last DISMANTLED works could offer. Favorite is the danceable track "Wisdom", which really picks up a catchy refrain and also Gary's vocal performance comes out quite satisfying. With "Under The Flood" he has also included a piano-driven ballad, but this is sort of the rather whiny tunes with vocals too much in the foreground singing along the piano line – not at all spectacular. For "Change The World" Gary has included some guitar riffs to accomplish the song structure, maybe this track introduces the upcoming next music project NNN, which will drift more into an Alternative-driven style. "When I'm Dead" has its moments, no doubt. Let's see if this was seriously the last audio sign of this music project.


Artist:
OXYD
(@)
Title:
Larva
Format:
CD
Label:
Aliens Production
(@)
Distributor:
DSBP
Rated:
There's once again magic in the air! Whoever else than the both DISHARMONY-protagonists Lord Sauron and Ryby will be able to offer such another new epic sound experience pretty much in the already discovered line, but still quite diverse? I guess the main difference between DISHARMONY and this side-project can be explained, that OXYD is more Ambient-driven and a pure instrumental work. Some relations to the main project are of course recognizable, especially after the intense last DISHARMONY-album "Malignant Shields". DISHARMONY is colder-minded, rather KLINIKal when a play with terms is allowed. OXYD sounds more classically inspired and it allows different cultural influences to take place in some niches. It shouldn't wonder you if you can hear some quite unusual and organic instruments like pipes or brasses as additional elements. "Traveller" is sort of this work by offering a DISHARMONY-like sequencer line while several multi-layered sounds at times with an oriental touch are joining the scenario. That's fantastic cinematic music, timeless and addictive! Some voice-samples here and there get some inserts too ("Transformations", "From The Inside"), while I wouldn't call them essential. "Transmission" surprises with a straight, FLA-like bass line performance which is quite unusual for this Slovakian duo and compared to all of the other featured tracks an exception. "Suspiria" with its broken rhythm patterns reminds then rather on DISHARMONY, until "Carbon" brings this album back on track. "The Frozen Moon", maybe asides "Traveller" the favorite on this album, can be named as being one of the most melodic pieces – again the multiple layered bass line and synth pad work is outstanding and light-years above the average Electro/Industrial band! It is an Aliens Production release, it is from Slovakia, it is the side-project of the DISHARMONY-musicians – aren't this 3 reasons enough for you to buy it? A MUST-HAVE!
image not
available
anymore
Artist:
VV.AA.
Title:
Electro Arc Compilation Vol. 3
Format:
CD
Label:
Electro Arc
(@)
Distributor:
Nur Medien GmbH
Rated:
Third chapter of this Germany-based compilation series again compiled by Intrendent and ready to save a decent X-mas celebration. There's one problem I've got with this comp, because it features my own music project with an appearance. I of course can't review my own music efforts and it should be understandable if I leave a mantle of silence on it. However, it is also my "job" to write a review on this release and I hope that all of the featured artists have a sense of support for this. As usual for the "Electro-Arc" series, this third volume comes out musically quite diverse by discovering several styles and tendencies. It once again concentrates to collect only a few better known artists and several underground acts. The UK-based ATTRITION are sort of veterans and active since more than 20 years. Their track is a straight Tech-Dance piece accomplished with several voice samples. Also the Belgian-based project IC 434 aka Geert De Wilde is one of the better known and rather old-school EBM-like acts here. He offers with a Re-Take of the track "Ferghana" a first new audio sign of life, which will hopefully soon continue with a new full-length album. Oh, and Belgium has to be named here, because this compilation got compiled with the intention to collect the most appearances hailing out of this small European country – maybe to check and see, what the heirs of legends like FRONT 242, SIGNAL AOUT 42, NEON JUDGEMENT and others are capable to offer. I don't know from where TRANSTECH are hailing, however, their track is another straight and danceable tune with some decent vocoder effects. DHARMATA 101 then stands for the international guests, because they are hailing out of the United States. Stylistically they're sitting in between the chairs be offering a mixture out of Industrial, Electronica and Goth-elements. Their track "Outline (Of My Shadow)" is a quite good composition featuring a fair amount of acoustic guitars, Metal-guitar riffs and decent Electronic textures, while the natural sounding vocals need some more spins to earn acceptance. DEVOTED SYMBOLS then switch back to harder EBM a bit comparable with some up-to-date productions of SUICIDE COMMANDO. Also RECON are pretty much dedicated to EBM, but rather in a minimal style, while the vocals – as simple as the lyrics are – reminding hard on Claus Kruse of the German act PLASTIC NOISE EXPERIENCE. It follows with HYBRIDS (Daft Records, ant-zen) another better known act by offering a live recording, which turns this comp into a more experimental field. The best appearance got provided by the German duo NORDSCHLACHT, which we had recently presented with the release of their highly recommended debut "Silence, Beauty And Cruelty" (Klangdynamik Records). "Facts" is multi-layered Dark Electro in perfect conditions, danceable, but still with the sense to offer opulent synth pads. Another good thing on this track – it isn't available on their debut! SOLANACEAE TAU then offers a Goth-inspired work with mighty guitars and a female vocal performance, while BODY POLITICS offer a metallic live old-school EBM performance. Both last appearances on this comp got provided by the Belgian musician Peter Bonne with his both projects LINEAR MOVEMENTS and TWILIGHT RITUAL, which is again an excursion into some 80-like Italo-Pop/Wave-music culture. I may was expecting a more detailed presentation on some up and coming talents of the Belgian EBM-scene – in case there is one – where the fuck are IONIC VISION or DARKMEN for example? However, this compilation collects a lot of new talents and some older heroes as well, while the predecessor rather Dark Electro-inspired volume 2 of this series is still the favorite.

1. Attrition – The head of Gabriel (Pablo sonic terrorist mix)
2. Synaptic Defect – Devouring Hate (Electro d'Arc Mix)
3. IC 434 – Ferghana (Re-Take)
4. Transtech – Satellite
5. dharmata 101 – Outline (Of My Shadows)
6. Devoted Symbols – Hush
7. Recon – Rise of the dead
8. Hybryds – Babel (Live Paris)
9. Nostromo 7 – Longing
10. Nordschlacht – Facts
11. Solanaceae Tau – Riots lullaby
12. Body Politics – Lust (Live)
13. Linear Movement – To Another Soul
14. Twilight Ritual – Delay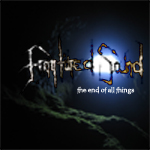 Artist:
FRAQTURED:SOUND
(@)
Title:
The End Of All Things
Format:
CD
Label:
self-released
Rated:
After sneaking around in various areas, the Oregon-based Electro/Industrial-project FRAQTURED:SOUND has made itself a good name in his local area through several supporting gigs with acts like NO LONGER HUMAN or DIR:/TD. Some current mutual events with a scene-player like GOD MODULE are just another prove for the development behind this act and the still to be discovered talent. Consisting of Chris Norris, FRAQTURED:SOUND offers a new 12-track full-length album heavily inspired by Dark and Splatter-Electro themes, in some way comparable with older SKINNY PUPPY, VELVET ACID CHRIST, PLACEBO EFFECT or OBJECT. Although completely self-produced, this comparison also fits with Chris' kind to manipulate his vocal performance, which comes out in a similar way. Definitely not the still rushing "switch-synth-on-and spread-the-Trance-oontz-oontz-formula" another time, this album likes to rediscover and to play with the pearls of the above mentioned acts. "The End Of All Things" presents 10 original compositions plus 2 remix works conducted by the both musicians of NO LONGER HUMAN, another up and coming talent (check back the BLC Productions compilation Interbreeding IX: Kuru for a quite remarkable work...). Some stuff can really bring some action into your legs, "Connection Broken" or "Waiting" have to be named, while the highlights are the tracks featuring the rather cold and layered textures, like "Compatable" and "Inner/Twine". This album offers a decent quality and can grow after some spins to an underestimating secret tip. Give it some rotations, it is worth to get heard!