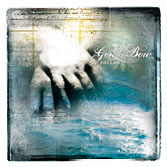 Six years after their second album titled "What's Beyond The Suns" the duo God's Bow is back with FOLLOW. Agnieszka Kornet (lyrics) and Krzysztof Pieczarka (music) on this album created a mixture of electronic goth music with classical and trip-hop influences. FOLLOW opens with "Empathy", a short dreamy track based on strings and Agnieszka's chants which introduce one of the best songs of the lot: "Tomorrow". This tune (along with "Mosaic") made me remember of some early Dead Can Dance atmospheres (see the use of percussions and the dreamy vocals) but mixed with new wave arrangements. The following one, "I know", is a bit more electronic and is able to create a sort of goth electronic mixture which sounds nice. "Helpline" is the main track of the single released before the album (the MCD contains different versions of the main track and of "This perfect time" but no unreleased tunes). The song is a mid tempo electronic goth tune with a strong refrain but to me it sounds less sensual paragoned to "Tomorrow". "Wave awakes" play with slow percussions, synth pads and Middle Eastern melodies but it doesn't sound that catchy to me. "This perfect time" is a bit more melancholic paragoned to "Helpline" and it fluctuate between synth pads and Agnieszka vocalises. The album somewhat follows with this scheme and along with "Mosaic" I'd point out to you "Under heavy sky". On this edition of the album there's a bonus CD with ten other remixes of "This perfect time" and "Helpline" (six and four). Of the lot I appreciated the ones which heavily reworked the tunes, these are: "This Perfect Time – remix by C.H.District", "Helpline – dead air mix by Weave", "This Perfect Time - remix by The Frozen Autumn" (not their top notch work, but a nice one) and "This Perfect Time – remix by Dark Territory".
Artist:
CRYSTAL CASTLES
Title:
Crystal Castles
Format:
CD
Label:
Last Gang
(@)
Rated:
Named after She-Ra's home (do you remember He-Man and The Masters Of The Universe?) Crystal Castles are a male/female duo which are already named as the next big thing. Their self titled debut album contains sixteen tracks in balance from digital punk and dark lo-fi electro. Their use of retro gaming sounds (old Nintendo games and similar) is giving a fresh touch to their melodic but also difficult style. Based on loops and digital cut-ups and helped out by torn vocals of Alice Glass Crystal Castles previously did great tunes such as the singles "Courtship dating" and "Crimewave" (noted as Crystal Castles Vs. Health). The second time I listened to the album I thought about their music as "shoegazer digital distortion": mixing the "I don't care" attitude with great melodic taste (see "Vanished" which is able to become an instant hit), the album contains great electro songs, digital punk distorted ones, "autistic" instrumentals and much more. If I understand something of music, their inspiration won't be gone after the first album. The next big thing is now...
Artist:
Denergized
(@)
Title:
VHS Recall
Format:
CD
Label:
Advoxya-Records
(@)
Distributor:
Poponaut
Rated:
It can't be said that the originally out of St. Petersburg hailing responsible label people of Advoxya-Records wouldn't watch the market in their home country any longer, since they moved with their headquarter two years ago to Hungary. The project DENERGIZED is just another fine example of what can be possible. They are hailing out of Kaliningrad (Königsberg), which is at least a real divided part of Russia, since all of the Baltic neighbor states like Latvia, Estonia and Lithuania could reach completely independence. Bands out of the Eastern European area often complaining in interviews the effect of the long-year cultural and scientific isolation of the gone soviet government, it would be therefore interesting to know how they feel as being still a but nearly forgotten part of Russia. However, musically this official debut of DENERGIZED is a marvelous trip into a rather mid-90ies inspired Dark Electro music. :WUMPSCUT:, yeppers, Rudy R. seems to have some inspirational influence on their work, maybe here and there mixed with early SUICIDE COMMANDO recordings have to be named to describe the dark and ominous sound outfit of this duo. Not bad references, but be assured that DENERGIZED haven't done the mistake to copy the sound outfit of the above mentioned patterns. Irrelevancy and Hellectro-repetition isn't their business so far and will hopefully never be. Two tracks are standing a bit out of this quite attractive debut, both "Neuro" and the already discovered piece released on the "PABS 2" compilation "After Tomorrow" both offer the straightness to let the dark masses storming the dancefloors. That whole album comes out quite energetic, but it rather concentrates to create ominous moods and offers several obscure rhythm patterns. Even if this is their debut and also regarding the fact that these tracks are a sort of collection taken and extracted from their first musically steps, it come out quite refreshing and coherent. Plus, all stuff which doesn't follow any generic and repetitive Hellectro-course needs to be praised and DENERGIZED aren't definitely a kid of the Trancewhackedgoregalore/Terrorbanana-movement (copyrighted terms by Electrofreak). A quite entertaining album for the old-school EBM/authentic Dark-Electro audience.


Artist:
VV.AA.
Title:
Spectraliquid: Konkrete
Format:
CD
Label:
Spectraliquid
(@)
Distributor:
Ad Noiseam
Rated:
The debut release for this new Greece-based IDM/Electronica-based label looks a bit like the little twin to the highly anticipated debut DCD compilation "Emerging Organisms" by the Chicago Heights-based Tympanik Audio label. And indeed, some similarities didn't definitely happened by chance. Behind Spectraliquid stands among others Kostas K., who is also the responsible musician behind the Ambient/Industrial act SUBHEIM, which is signed to Tympanik. And it is the project SUBHEIM, which opens this comp and they can insert the first highlight here. "Howl" is a little Down-Tempo/Ambient-Electro-driven masterpiece in a best GRIDLOCK-like manner, rich in its melodic content and it features the female Katja doing some "howling" vocals. Second appearance of FABRICS isn't lesser interesting, the monotonous bass line programming reflects a lot of the ideas, which have been provided and celebrated by THE KLINIK. FLAQUE, well, we come to one of my personal favorites, offers the same track like presented on that Tympanik compilation with the title "Black Shadows In The Fog". That's a great example how to combine lush layers with a hectic rhythm performance, always and ever supported of a steady cardiac-pacemaker-like rhythm. PSYTECH offer a new track, but this one got remixed SUBHEIM, who can show their talent once again. Another Greece-based project named MOBTHROW is currently preparing a debut release for Spectraliquid and also this act is responsible for the mastering of this compilation. "Deathstep" convinces with it's staccato-like percussive moments, which get more and more raging as long this tracks runs. Second highlight is the calm and melodic instrumental tune by the established act DETRITUS, which can – just like SUBHEIM - count on Katja (www.myspace.com/katjaspectraliquid) providing some smooth vocals. XSOZ stands for the harder IDM/Click'n'Beat-like kind and "Please Wait" can be discovered too on their upcoming release at the German underground label Fich-Art, which normally presents early and revamped works of acts like MORGENSTERN, ASCHE or SYNAPSCAPE...). Last but not least, the Belgian act AH CAMA-SOTZ is to name as being the second better known name besides DETRITUS, and they've produced a fair final tracks of this promising compilation. What I said already on that Tympanik compilation, counts for this strong debut release of this Greek collective too. It's an amazing compilation which should be able to appeal to all fans of demanding Electronica music. A lot of talent is hidden here, so let's discover some new blood until we have to wait for some coming releases of SUBHEIM, MOBTHROW, FABRICS and/or XSOZ.

Tracklist:

1. Subheim - Howl
2. Fabrics - All Rights Reversed
3. Flaque - Black Shadows In the Fog
4. Psytech - Finding Yeesha (rmx by Subheim)
5. Mobthrow - Deathstep
6. Yttrium - Zeitlicht
7. Desperation & Fugue - Half Of The Truth
8. Detritus - Lead Balloons
9. Throttler & Track Killer - Against The Machines
10. Xsoz - Please Wait
11. Ah Cama-Sotz - Depth Charge



Artist:
TYSKE LUDDER
Title:
SCIENTific technOLOGY
Format:
MCD (Mini CD)
Label:
Black Rain
(@)
Distributor:
Nova
Rated:
Two years after their comeback album titled "Soujus", Tyske Ludder are bringing three new tracks (four counting the ghost track you find after 90 five seconds silence tracks). "Thetanen" (a track which seems to be against the Scientology organization, "Kinkat" and "Kamfgruppen" balance really well melody, e.b.m. energy and harsh sounds. The first two tracks are also potential dance-floor hits ("Kinkat" beginning and refrain are real catch ups). I've been also positively impressed by the ghost track, which is a sort of retro synthpop song with e.b.m. sounds and vocals. Actually I don't know if it is a cover or not but it is nice. As every single also the new Tyske Ludder has remixes. On this one we have Wertstahl and Feindflug on "Kinkat" (personally I prefer the original version, because the two remixers gave to it a classic e.b.m. treatment cutting off its peculiar approach to the genre) and Nurzery [Rhymes], E-Craft and Brain Leisure on "Thetanen" (nice versions but my impression is the same I wrote about their "colleagues").