Artist:
CRUISE [CTRL]
(@)
Title:
We've Met Before, Haven't We?
Format:
CD EP
Label:
self-released
Rated:
WE'VE MET BEFORE, HAVEN'T WE? is a self produced CDr which functions as an appetizer of the forthcoming Cruise [Ctrl] second CD on Divine Comedy Records titled "How's Annie?". The three tracks continue their tradition of 120bpm tracks where analog electronics coupled to treated guitars create obsessive atmospheres. The opening "Henry's head" sounds a bit static but its aim isn't the one to create a melodic tune, it rather to be focused on alternation of tension. The second track "The bunny room" leave the drum machine and the distortion to offer a soft guitar sound coupled to a sidereal sound that crawls slowly between the sounds created by the picked strings. "Where is alice? Alice who?" is a mid tempo track that sounds like a industrial e.b.m. 80's track where drum machine and sequencer play the main part while industrial distortions create the mood. Unfortunately I hadn't the chance to check their first official album so I can't confront that one with this but as far as I can hear, Cruise [Ctrl] kept their ability to create tension also keeping the sound under control.
Artist:
CYCLOTIMIA
Title:
Music For Stockmarkets
Format:
CD
Label:
Zhelezobeton
(@)
Rated:
MUSIC FOR STOCKMARKETS is the Cyclotimia release I prefer so far. Divided into three parts titled "Wallstreet Requiem", "Trivial Pleasures" (already released in 2003 on CD by Monopoly Records) and "Financial Glossary" and composed during the 2002/2007 period, the album contains thirty two tracks which span from semi analog electronic improvisations (see "Mr chairman" and the following "Moneycast"), electronic synth retro atmospheres, synth analog soundtracks to cold marketing procedures and few short industrial electronic tunes (see "Market experts" or "Negative territory"). On this one the Russian project succeed into giving a functional sound to modern greediness. The high frequency bleeping sounds make me recall the old 70's needles printers and the hypnotic atmosphere of the tracks lead you toward a world made of rituals where there's nothing human but the feeling of survival. Cold as a clinical cut but at the same time warm as blood, MUSIC FOR STOCKMARKETS is only available in a limited run of 500 copies. You can preview six complete mp3s at the label's website.
Artist:
Zero Degree
Title:
The Inner Realm
Format:
CD
Label:
audiophob
(@)
Rated:
As usual, I had not heard of this band, but the label's bio states that this is a side project of nihil, who also records under the name Painslut. According to the press release that came with the disc, "The Inner Realm' offers tight electronic sounds between dark ambient worlds and noisy technoid rhythms." OK, guilty as charged. The usual comparisons (Squaremeter, etc.) apply. This is a good mixture of atmosphere and driving beats, but unlike some similar bands (Sonar, Imminent Starvation) the beats do not become overpowering. Luminary is one of the standout tracks for me, with an interesting beat and a lot of atmosphere that gives the track depth. Overall, this is a pleasant listen but isn't terribly demanding of the listener – think of it as easy listening for the Ant-Zen set. If you want a starting point for someone who has never considered this kind of music, this is a good place to start. This disc weighs in at 70 minutes.

image not
available
anymore

After some E.P.s from the past/back catalog of the label and after some brand new band, Eevo Next decided it was time to do a little sum of the sounds proposed. Spanning from minimal techno to particular ambient electronic, WHAT'S NEXT 2 E.P. is bringing four digital/download only tracks/bands. Estroe, The Moderator, Terrace and Avigail are the projexts involved. Estroe's "Anybody" is a nice minimal techno tune where rhythms/sounds alternation create a varied pumping scenario which little by little become a little ambient thanks to synth pads and tiny melodies. Avigail's "Slipping" is the most particular track of the lot (I reviewed her E.P. months ago) and under a core of dub bass lines there's a little soundtrack full of strings, melody and passion with some i.d.m. rhythmical solutions here and there: it's like a particular mix of Cocteau Twins and ambient electronic. With Terrace, Stefan Robbers (the man behind REC, Con Man, Florence and Sierra Romeo), bring us "Lidl chronicle", a track suspended between techno, ambient and electro. The Moderator with "Bump!" closes the short compilation with a techno tune that mixes anxious melodic lines, ambient pads and bumping bass lines. Nice compilation but I'd have preferred a couple of track for each one, just to get the right mood from each artist.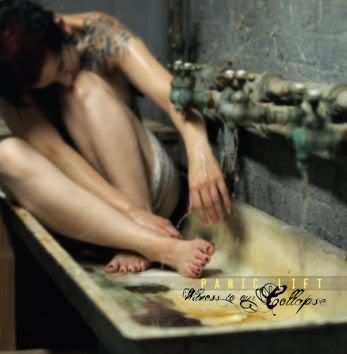 Artist:
Panic Lift
Title:
Witness to Our Collapse
Format:
CD
Label:
Hive Records
(@)
Distributor:
Metropolis Records
Rated:
Panic Lift's sophomore release "Witness to Our Collapse" is almost the monumental collection of songs that its accompanying press kit claims. The high points of the album are many, as all of the songs are very well crafted, textured, and melodic, which has increasingly become a rarity in the EBM genre. In fact, Panic Lift's strength lies in its ability to thoughtfully texture arpeggiated synth lines, melodic piano accompaniments, and orchestral ambience. That being said, all of these positive qualities are undermined by their use of vocal distortion which reduces the lyrics to unintelligible noise. What is even more annoying is that the distorted vocals overpower most of the mixes so that it dominates the songs. As a result, Panic Lift takes what could have been a great album and reduces it to triteness.