image not
available
anymore
Artist:
VV.AA
Title:
Radio Resistencia
Format:
CD
Label:
Enfant Terrible
(@)
Rated:
Each time that I receive a promo packet from Matijn often I'm surprised and this time it happened the same. RADIO RESISTENCIA is a CD compilation gathering eighteen bands, same of them new on Enfant Terrible and some others not. The first surprise is that Enfant Terrible opened a section of the label to CD releases and the second is that Martijn decided to open the label to new genres. So, on RADIO RESISTENCIA you'll find something more than electronic sounds. The CD opens with five bands/songs that aren't sounding electronic at all but they are really interesting as they mix post punk noisy intuitions (Swann Danger and Black Ice), noise ballads with light industrial rhythms (Headcollision with their "Fireman"), melancholy piano low-fi ballads (Saralunden with "Les mains d'un autre") and dreamy ballads with accordion and female vocals (Louisa La Chouf with "Thousand miles of dreaming"). Electronic music starts with the great "Obrisi" (it is a convincing minimal electro track with old e.b.m. influences and a catchy female voice) brought by the Croatian band Popsimova and the same atmospheres are covered also by Flying Bodies with "Transformer" and by Florence Fast Fan Club with the instrumental "Subliminal neurosis". "Something ahead" by :Codes bring us to the D.A.F. atmospheres of the "Fur Immer" period. Agent Side Grinder is the first band I know of the lot and they present "The screams" a track of cold electro wave. Dolina from France with "Once again" are here with a good track of old electro wave. Kim Ki O are from Turkey and their "Mutsuzsunuz, Hepiniz" is a really nice song influenced by 80's electro wave with pumping bass lines, drum machines and a duet of dreamy synth lines and female vocals. Model Z with "Military march" offer a cold synth track influenced by early Die Form. Also Le Moine are from France and their "Amnesia" is a nice instrumental electro wave voyage. Antlers Mulm bring a different version of his "Painted graves" coming from the beautiful "Of Withered Sparks" I already reviewed here months ago. Distel with "Fand" are the darker band of the lot: they made a track made of minimal sounds and nice subtle melodies. Wermut with "The systematic destruction of craving" bring to the audience a track based on a 4/4 pumping industrial like snare drum with an obsessive sequenced bass line and a razor guitar. Oplen from Sweden close this great compilation with "Music for trains", a lo-fi electronic instrumental obsessive tunes. Check some excerpts from the label's website and don't miss this release!
image not
available
anymore
Artist:
Psy'Aviah
Title:
Entertainment Industries
Format:
CD
Label:
Alfa Matrix
(@)
Rated:
I seem to have a certain proclivity for European female vocalists, at least when it applies to electronic music. From Miss Kittin or The Knife to 64 Revolt, I'm likely to be more into a project as soon as I hear that sexy foreign accent. Which brings us to Psy'Aviah, a Belgian project on the Alfa Matrix label (possibly one of the few projects that share the same homeland as the label), who just so happen to have some damn sexy female vocals, not to mention pretty spiffy music.


"Entertainment Industries" is Psy'Aviah's second full length album, though I have yet to here their first effort, so I can't compare them. What I can say is that this is 16 tracks of solid inventive EBM/ Electropop goodness. The majority of the tracks lean more towards the EBM side of things, with a focus on creative synthlines and beats that aren't afraid to get dirty and experimental, though never outright noisy. The pop side of things is explored only really on a few songs, my favorites of which are probably the catchy "In the shadows" and the slightly eerie (in a good way) "Tired". But they're all very solid tracks, and they can only really be fit into proper genres in a broader sense, as they definitely have their own take on danceable electro.

If you like your EBM with more bite to it and would enjoy some electro pop that wasn't trying so damn hard to sound like Apoptygma Berzerk and the like, I highly suggest you check this record out.



image not
available
anymore
Artist:
Bodyhammer
Title:
The Lateral Line
Format:
Download Only (MP3 only)
Label:
Mizukis Box
(@)
Rated:
Also the US-based label Mizukis Box (DUBOK, ONLY FLESH) has to suffer under the current lack of sales of physical CD's and has decided to release the follow-up EP of BODYHAMMER for free. You're of course free to donate a sum, if you think that the provided music by the DUBOK-musician Heil is worth it. To me you should seriously consider this, because also the featured tracks on "The Lateral Line" are impressive. Heil continues generally his music direction, which drifts away from the smooth and melodic-influenced Futurepop-sound of DUBOK. BODYHAMMER stands for a darker and rather EBM/Industrial-oriented sound outfit, which features his extremely processed vocals, diverse rhythm constructions and aggressive pummeling synth bass-lines. A higher complexity thanks to his programming abilities can be noticed, a little Vancouver-inspired influence (FLA) here and there is surely available too. "The Lateral Line" features 5 new own compositions and 2 remix contributions by the label mate TOUCH SENSITIVE. As for a favorite, the speedy "Pole Position" or the opener "Hun Bastards" keep some bodies moving, while "Transient Technique" seduces completely as a listening experience. Heil scores once again and has hammered out a fine follow-up to his still highly recommendable double-CD debut "Neutral Base Culture/Zero Dark". Epic Dark Electro, which completely entertains.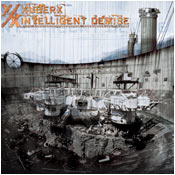 Artist:
XUBERX
(@)
Title:
Intelligent Demise
Format:
CD
Label:
Radio-Active-Music
(@)
Distributor:
DSBP
Rated:
This is a new release brought to us by the North-Eastern-based Radio-Active-Music label. The Virginia-based trio of XUBERX we had already with a first EP release entitled "Rogue State", so they present herewith their first full-length album. Musically I must say that there are light-years between the quality of the EP compared with this album, which can be mainly explained with the grown experience the handle some equipment and the better production of this album. XUBERX are presenting a mostly danceable Electro/Industrial-minded sound outfit, which gets supported by some sleazy guitar riffs. Produced and mastered by Dan Clark of STROMKERN, it's that of a typical American sounding effort pretty much inspired by the classic Coldwave attitude, while the Electronica-elements are sounding up-to-date. It is generally not the reinvention of a bulb and it rather swims with the average mass, but still a satisfying music construction. Therefore more remarkable in the music of XUBERX is surely the quite different kind of work of the both vocalists, Zomboy and the female member Liebchen. While Zomboy acts like the angry Industrial-shouter which reminds a lot on S. Talada of the veterans STG (a classic and still masterpiece for the Coldwave era, although IDIOT STARE acts as a valuable follow-up project...), Liebchen offers a melodic and classic trained timbre. Since this both kinds are totally contrary to each other, you'd be surprised how well these both voices fit together, if you give it some spins. "The World Ends Today" in its both versions is a great reference and represents the best elements out of both music and vocal performance. Other can be named with the speedy and angry pounding title track or the ominous starting track "Solution". XUBERX offer us a quite convincing first album with a marvelous vocal performance. Applause for the fine ruins-like artwork manipulation, which perfectly suggests the genre in which this act can be sorted in. Latest news report of a coming remix companion release out in spring 2009.
image not
available
anymore
Artist:
Informatik
Title:
Beyond
Format:
CD
Rated:
When Informatik released samples of their new album, "Beyond", some people were afraid that they follow the path of Apoptygma Berzerk, from EBM to something between synthpop and rock. Fortunately, the album as a whole proves that they did not change their style so much.
They started to use guitars. The guitar is dominant in a couple of songs (for example "As We Lay Silent") which makes them sound "warmer" than before. Those who expected this album to be as synthetic and cold as "Nymphomatik", let alone previous releases, may be disappointed, as it is not so gloomy indeed.
The difference between this and the previous release is visible even in their titles. "Nymphomatik" was sort of automatic, mechanical, while "Beyond" is much more organic. Also, there are no elements of trance music anymore. It may be perceived as drawback as well as an advantage. However, the band found a balance between new and old sound, and "Beyond" is a mixture of songs close to rock music ("As We Lay Silent") and electronic club hits, such as "Simple".

Lyrics have changed too. They are still about human relationships, but there is no trace of despair in them as in the case of "Nymphomatik". The lyrics are more mature and no one is singing that love is not for him anymore, which certainly is good.

If you like Informatik, or futurepop as such, give "Beyond" a try, but be aware that you will face new, less aggresive side of Informatik.