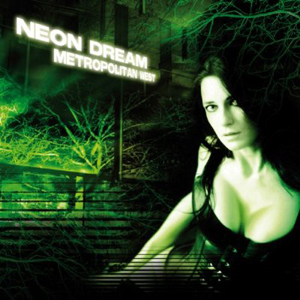 Artist:
Neon Dream
Title:
Metropolitan West
Format:
CD
Label:
Equinoxe
(@)
Distributor:
Masterpiece
Rated:
Hey, folks... please take your eyes off the green-filtered (you should know that green is an hypnotic color, shouldn't you?) picture of the entrancing neckline of that cutie model on the artwork and respect our fatigue of reviewing records for hours and hours just for a while as the Munster old gothic school seems to be more active than ever... Well, after the renowned issue of the prog-rock band Long Distance Call, here it is the second long-awaited act (... the whole fan-base and those critics which acclaimed to their debut Anodyne have patiently waited for five years their coming back in a studio recording... ) by Neon Dream, a fine band of contemporary gothic novelist and music translators of "dark" feelings swarming in the bowels of contemporary society into a musical idiom deeply rooted in the traditional gothic-rock ground' it's almost impossible to deny a certain influence of bands such as Paradise Lost - enhanced by some elements deriving from metal and wave and inventing a sort of (not so) fictional plot with a fertile level of metaphorical imaginary. In the illuminating preface to the record, the band headed up by singer Klaus Mollers' his gloomy voice is undoubtedly one of the most remarkable element of Neon Dream's line up... - clearly states that their main theme is "war and aggression against life" and quoting a famous sentence of Platoon ("We did not fight against an enemy. We fought against ourselves. The Enemy was inside us") in order to describe the state of the art of the mankind today, they identify their source of inspiration in a sort of nightly revelation inside of which there could be an hidden remedy ("It is despair, that characterizes all the beliefs in imaginary spiritual forces... call them god. Because: did those powers ever arrive or have been seen yet at all? I watch out for them every night. Hours, in which all lyrics of this album were written"... that's maybe why the album metaphorically begins with an atmospheric intro entitled "Flight to Dusk"... there're even some samples of an helicopter just to underline the technology evolution since the times of wax wings by Daedelus! ). Metropolitan West is not only what is normally known as a "conceptual album", even if its cohesion could suggest it, but the honeycombed way this band well balance gothic influences with metal and new wave excerpts is a body of evidence of their musical skills, which are clear since the first track Black Cicada, a sort of allegorical spell highlighted by a somber vocal interpretation by Klaus, whose visionary but not inducted by hallucinogenic drugs (!) state reach a peak in the title-track, a track which stylistically has a more "commercial" appeal, reminding to us some tv fictional series' soundtracks and classical goth-rock throughout airy sounds and sequenced guitar sets. We really like the inspired lyrics of Stealth, a sort of call-to-arms combined with a disquieting transliteration of a modern incubus in the "trillion lights up to 90th floor" of a skyscraper, which is depicted almost as a treasure of terrible mysteries connected to homologation plans ("crowds rushed beneath dark skies/Woman and man . dressed the same") transcending common people's imagination... ! Melancholy and depression as well as a sick sense of inadequacy are the leitmotiv which seems to inspire Veils , while in Agnostic there's a synth-pop pigment which doesn't disfigure the darkish visions of the whole album as well the touch of medieval folk harmonies roosting on Last Hours harmonies. The next track, "Exil" the only one with German lyrics with his industrial-novelistic wit and a hieratical tic-tac of a pendulum clock is with no doubt one of the most atmospheric one (and one of my favorite one). The harder side of Neon Dreamz' sound is surely Child Night Dream, which partially join with the support the band's giving to the Kim Foundation for helping children who physically or mentally suffer from war experiences (have a look to the foundation website: http://www.www.kimfoundation.com) . Some influences by the famous Finnish goth-roch band 69 Eyes on the luscious Sexaholica, while Human Replica seems to be another lucid inversion of a predictive dreamlike realism. The bonus track, Overscreening, with gears moving from the new-wave scene, is another body of evidence showing how diversified Neon Dream style seems to be! Thanks for your attention... now you can look elsewhere!
Artist:
PLASMODIUM
Title:
PARADISE UNDER FIRE
Format:
CD
Label:
Caustic Records
(@)
Distributor:
Masterpiece Distribution
Rated:
Straight, "simple", hammered Gothic EBM with a Spanish voice coming out from Balaguerò best movies ( the firsts ), Synths are like whips and in their music the absence of hope and the literary presence of an infernal chaos is evident, just like in today stock market. The work is powerful and the energy they put on this CD is without doubt sincere, they have a total control upon their art and their imaginary. All the tracks are ready for the club where EBM and strobolight are the gods of the night and I strongly suggest to EBM djs to pick up this useful instrument for ears "torture". What I love of EBM is the ability to be sharp and without remorse from the first vibes, PLASMODIVM wins this essential challenge and their music is even ready for an utilization really peculiar: cut all the sound of DOOM 3 or HALO and play at maximum volume this tracks, thats a symphony perfect to frag monsters, aliens and demons. My fav tracks, the sixth, sorry but I love Euro Techno ;)

image not
available
anymore
Artist:
Splatterpunk
Title:
Channel 83
Format:
CD
Label:
Caustic Records
(@)
Distributor:
Masterpiece
Rated:
"The future is now" ... and it is obviously bad smelling... First full-length album signed by the evocative moniker of Splatterpunk (a term coined by D.J.Schow in order to describe a movement which rebels against the traditional horror fictional structure by depicting '" even from the graphical viewpoint '" the violence in a very tangible way and using horror novels just as a tool to propose a non-fictional analysis of the most disgusting portraits of the daily social life in a provocative way!), an interesting ebm project empowered by sharp reviews of contemporary lunacy, ideally broadcasted on channel 83, the highest frequency (now defunct) for NTSC-M terrestrial broadcasting! Even if there �re a plenty of references to some EBM classics, it's evident that a rich eclectic vein pulses using new music forms to propel its sometimes "subversive" messages in Splatterpunk's electromechanical body and Oscar Javierre Payà aka F18, the man behind this moniker, keep on dissecting the foggy pall enwrapping media-COMtrolled minds through an exquisite blend of sound tricks and well-crafted frequencies full of style variations, which sounds really good and absolutely enjoyable according to our ear response! Rooted down in the cyberpunk fertile cultural ground, the lyrics contains some eruptive statements since the beginning: Future Shock is a good ebm-techno liberation march related to the almost scientifical control some mass media use for enticing minds through apparently inoffensive bombing of info-shit ("digital emotion is the wrong devotion, connected to their lies by optic fiber line") and the nice Psychoterminal (... it's adorable that girl's voice contrasting with the hoarse one by Oscar repeating in an obsessive way "psycho"!) continues with the similar themes which is a sort of leitmotiv of the whole album, inherited by a lot of ebm and dark past acts ("the operative system that they install on your mind is just a simple extension of their fucking masterplan" evokes some dystopian writings by the legendary Philip K.Dick). After the whistling and suppurative minimalistic My Neurosis with the classic crumbling on some brass'n'bass sounds with an 808 State-like (to be honest, we should speak about a 909-State!!!) rhythmical pattern, there's the first pit stop, Robot Interface, a mumbling little candy (a little more than one minute is enough to take breath... !) with technospheric soundings which stands almost like a sort of tribute to Kraftwerk lessons before the further snapshot on social manias (un)frozen in the track Hi Technology, Low Life, a good example of danceable yeasty lo-fi tunes with grizzling "vocoderized" captions for a technologized world suffocated sentencing "the time has come and it will never come back again, we live in the last step of the final end", a nostalgic caress before the retro-futuristic high-propelled track Renegade Hacker 3.0 (prepare to repeat a lot of words ending with '"tion if you like to sing this song while dancing, folks!!!!). What a great track for a supposedly forthcoming Apocalypse engineered by Intel!!! Mr.Ralph appears again on Self Isolation, a catchy conglomerate of pitiful assumptions on people which decide to live this condition as a way of escapism... what can't be cured must be endured... ! A bleeding conceptual passage from robotic to zombie interface (not casual!) before another bath in an acid pool throughout the trance inducted by the well-done XXX-Terminator and the (voi)dances on a sort of vituperative "thrust and parry" in Suicde Epidemix ("I'm tired to see you in these fuckin photos, throw away this shit, it shows your self's lightlessness" seems to be the words a strong-minded friend will shout to an absent-minded one loving filling his albums on facebook!!!). Turbina Neoplastic with the flux of exercises on throaty beating vocals is certainly not my favorite track (even if it contains good samples), while the howls introducing the romantic intercepted love affair (let's say so!) of an idiot and a mechanical whore (containing a sample of the lies by Jose Maria Aznar told to Spanish people to justify the war on Irak... you should already know the bullshits on Iraki mass destructive weapons... shame on you, politicians!) is surely one of my favorite ones! Don't forget to have a listen (and some jumpy steps) on the two remixes included in the album, among which the ASCII-Disko one of XXX Terminator is an highlight! My personal compliments to Die-6 form Barcellona for pictures and artwork (well... the "fluttering" girl on cover artwork presumably taken from a Japanese porno movie is not the next picture taken from Berlusconi's Sardinean villa family album bought by El Pais!!!).
image not
available
anymore
Originally released in 2000 by Trisol and Invisible Records, THE HAND THAT FEEDS sees major names of industrial/experimental music scene of the past giving new life to classic Attrition's songs coming from their darkwave period. All the projects involved but Dance Or Die (they did a creepy short version of "I am a theif"), The Truth (they version of "Ephemeral" is a nice minimal ambient tune) and Flip Shriner (this one has been included here for the first time and "One of this morning" is sounding like an experimental nightmarish industrial track) opted for a dance floor/almost acid trance version of Attrition's songs. We have: "Cold Genius" Polaxe remix, "Waste not, want...more" D.O.S. remix, "Cosmetic Citizen" Stromkern remix, "Lip Sync" IT remix (IT was the other project of Nightmare Lodge's Ivan Iusco), "I am (Eternity)" Chris n Cosey remix, "White men talk" Morbus Kitahara remix (this is the less trance oriented track as it sounds like an orchestral, rock oriented upbeat tune), "The Mercy Machine" Attrition remix, "My Friend is Golden" Regenerator remix, "Acid Tongue" New Mind remix, "The Second Hand" Mark Crumby remix and "IAE" In the Nursery remix.
Artist:
Synaptic Defect
Title:
World-Wide Life & Death
Format:
CD
Label:
Advoxya Records
Rated:
Synaptic Defect is a one-man-project by Marc Tater from Beverstedt, Germany. Marc has got a long history of being involved in the dark electro scene; he was a co-owner of a label, currently he writes for the German gothic printed zine Zillo and not least for chaindlk.com.
"World-Wide Life & Death" is a follow up is his second album after "Mechanical Oppression", which was released in 2004 on BLC Productions. The album is over 75-minute long of Old-School EBM and this is no easy listening music. The rhythm lays the fundament for the tracks, often with more than just a little power-noise touch accompanied by samples and distorted vocals.
The track "Punish me" could serve a soundtrack for an SM-session. "Belief" seems to me to be the most fitting track to be played in a club because it is the most danceable one on the album, in my opinion.
The album criticizes the shortcomings of this world and the role the human kind has played in bringing them upon itself. The music is uncompromising, which is usually the case with solo artists and no surprise for an Advoxya Records release.
Synaptic Defect is a project that has much to offer to the listeners but it also demands some musical competence from them which is not uncommon in the underground scene.