image not
available
anymore
Artist:
Violet
(@)
Title:
Modern Life
Format:
CDS (CD Single)
Label:
Equinoxe
(@)
Distributor:
Masterpiece
Rated:
If you're not totally unaware of the German Gothic-folk and Medieval scene, it's possible you already heard something about Violet '" or maybe you were lucky enough and see them perform on the same stage with renowned acts such as Corvus Corax, Faun, Saltatio Mortis or Persephone... - as well as their side project Violetta, one of the most intriguing medieval music project from the German fertile ground, which gained a considerable acclaim among people addicted to that enchanted imagination crowded with princesses, knights and sometimes dragons, witches and necromancers and perceives as still anchored to forgotten habits and values clashing with modern times! If you already follow this band, you probably know that just one year ago they composed a sort of soundtrack for The Book Of Eden, the best selling book of the fantasy German novelist Kai Meyer... Well, that book begun as a sort of spiritual journey of a group of heroes starting from the Parisian Tour Eiffel - a steel giant which could be considered as one of the most emblematic symbol of the modernity '" and going towards orient. It seems that for Modern Life, the same heroes come back to the modernity to fight against the false gods and believing of Modern Life. Such an interpretation could be easily verified since the beginning of the record: while Exult is a sort of ironic statement dealing with the misunderstanding of the concept of self-fulfillment '" often confused with ephemeral material wellness... - with an apex reached in the final strophe ("they say it's healthy to be just a little selfish/to be a liar and a bitch sometimes/they say it's fine to be a little egocentric/just in case it suits you well"), Modern Life is the introduction to the other side of the so-called modernity, speaking about the sense of denying and annihilation of personal identity and the need to emerge of people laying like numbered balls in a ballot box hidden into an anonymous crowd. The first part of this record winking at rock-orientated dynamics end up with Home, which seems to be the page of an intimate diary inviting the listener to find home inside itself while walking on the endless path of life. There's a touching cover of Wreath Of Barbs '" famous and lovely piece by the legendary Bavarian dj Rudy Ratzinger (just to dispel any doubt, he's not related to the Pope... as a body of evidence we could cite of the highest point of the insensively spiritual lyrics of this song sentencing "the injection religion/has a comalike effect/and bodies lay in decay/dreaming of a greener day"!)- with a goth-folk flow and a distinguishable oriental fragrance. You'll probably stand on ceremony after having a listen to a musical version of the Ode to Francisco Salinas, originally written by Fray Luis de Leon for this revolutionary musical theorist and organist, blind from birth (sometimes it's not a limit... ), who starting from the theories by the Franciscan monk Gioseffo Zarlino about music in High Renaissance (the "ars perfecta" in its own words!) elaborated some interesting theories frequently applied in modern music about harmony and rhythm, intuitions which according to the literary tenor of this ode are compared to the vision of high spheres ("alta esfera"), even if his scores have been lost and no one knows anything about his compositions for organ; the combo has chosen an elegant texture of dubby rhythms mixed to latin and celtic sounds with an oriental touch, a pot-pourri highlighting the intent of this exquisite combo to go over the stylistic boundaries. Oda a Francisco Salinas is not the only song entirely sung in Spanish, being the other one a foggy habanera interpretation of the famous caricature-like poem Poderoso Caballero by Francisco de Quevedo (words such as "poderoso caballero es don dinero" '" "brave knight is mister money... !- reminded to us the El Pais reportage on Italian prime minister, the cavalier Berlusconi... .!!!), a poet, politician and nobleman who was endured by political persecutions for its frequent attacks on avidity and vices of the Spanish political establishment. The nice male/female vocal duet in White and the easy chords of the ballad Read My Lips are the more poppy acts of the whole album, while the formula mixing Celtic suggestions and athe brightening pop-rock melodic ballad in The Web could be perfect if Equinoxe will decide to issue a single from this album. Cembalo, guitar and bagpipe together with the mournful sing of Bianca Stücker in the melancholic vibes of I Wonder Why and the ritual appeal of Come Closer To The Fire close an album persuading us of the musical skills of this six musicians combo and even if they prefer to call their style "Medieval Crossover", they demonstrate their ability in drifting different style in their boiling pot. Hope to see them perform somewhere during the forthcoming summer as their live-shows are often enhanced by entrancing oriental dance elements and theatrical ones.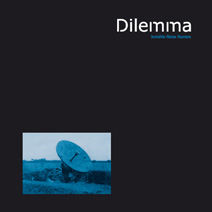 Artist:
DILEMMA
Title:
Invisible Noise Hunters
Format:
12"
Label:
Anna Logue Records
(@)
Rated:
DILEMMA were a German duo formed by Klaus Hahn (active previously with The Chemical Death and Cat No Res) and Christoph Schaller that was active during the 1986 ÷ 1990 period. They released seven tapes and participated to a couple of vinyl compilations: Christmas EP" (7" on Dirk Ivens' Body Records) as well as on "VA – Forms of Elektronik Body Music" (LP on Impuls Records). They supported Klinik during the 1989 tour but never succeeded to have a proper album released. Anna Logue Records decided it was time to let them know to a wider audience and released this compilation album / live 7". The 12" contains a selection of twelve tracks coming from their tapes and since from the opening "Shocked in the glasshouse" you realize that they have been hardly influenced by the early e.b.m. of bands such as D.A.F., Klinik, Nitzer Ebb and the ones of the early KK roster. Their sound was mainly based on drums, basic synth sounds/noises and shouted/filtered vocals. Even if some tracks sound a little naive without a doubt the duo did their best to sound honest and they succeeded into creating a cold/mechanical atmosphere that will please lovers of mid 80's industrial synth sounds. The 7" contains live recordings of "Device like a claw", "We can kill desire" and "Will to power" and on these three you can feel the band's spirit and appreciate in full their sound as the controlled aggressivity of studio tracks is abandoned and vocals sound more raw and convincing.
Artist:
Frank Rothkamm
(@)
Title:
Frank Genius is Star Struck
Format:
CD
Label:
Flux Records
(@)
Rated:
Another collection of cultural detritus and pilfering assembled around a dance beat. One wonders if there's anything original to the artist in this kind of musical expression. Of course he is the assembler, but could he actually come up with an original melody or beat without the digital machinery? Or perhaps there's no point asking that question. I'm wondering why the copyright lawyers aren't all over this guy. Fourteen tracks ranging from :04 to 4:09 all melting into each other for the ultimate DJ experience. His take on fascism (or is it just a pompous operatic sample) and Heavy Metal on track #12 "Ascending Megablast" is pretty funny though, and maybe not as ironic as that sounds.
image not
available
anymore
Artist:
PNDC & HOUSEWORK
(@)
Title:
Secondhand Language
Format:
CD
Label:
Ammonite Records
(@)
Rated:
SECOND HAND LANGUAGE is the second album for PNDC and this time he tighten the collaboration with Thanos Vavaroutas a.k.a. Housework (each track see him playing guitar and he also sung on four of them) and you find it stated on the CD cover as it has been released under the PNDC & Housework moniker. The net collaboration between Serbia and Greece still worked fine and the duo offers ten new tracks in balance from dark electronic pop and dark wave with no boundaries. Offering intimate atmospheres, electro wave sounds and melodies that will seduce your soul the album convinced me and if Joy Division fans will be pleased by "Animal farm", lovers of female vocals will be seduced by Marina Skiadaresi a.k.a. Shadowlike on "Pilots" and "Goodnight". Musically, Pedrag created a good mixture of synths, piano and bouncing bass/drums sounds which found a good counterpart into the distorted/acoustic guitars of Thanos (which sometimes he sampled and treated). Sounding sophisticated and creative without forgetting to be "popular", SECOND HAND LANGUAGE is a good album which you should check. P.s. As bonus we also have three mix: "30.000 feet" reworked by "Laurent", "Shut my soul" remixed by Harold Nono (he did a wave semi industrial version of it) and "Goodnight" (this one is based mainly on Marina's vocals and layers of treated guitars).
Artist:
The Crystalline Effect
(@)
Title:
Identity
Format:
CD
Label:
Advoxya Records
(@)
Distributor:
Poponaut
Rated:
Australia's Electropop-duo THE CRYSTALLINE EFFECT hasn't surely any identically problems, although some of the musically influences this duo likes to integrate in their tracks, remains to be filled with diversity. It's the rich musically horizon represented by especially Pete Crane, which draws on this album with black ink in huge letters by balancing between music styles like Synth-/Futurepop, EBM, Industrial or Trip-Hop. And some Downtempo-tunes only based on some sedating synthesizer sounds, a charismatic vocal performance by the female band member Elenor Rayner as well as slowed-down Breakbeat rhythm-patterns ("One Time In Life"), can be discovered too. TCE aren't that sort of an "often-heard-often-forgotten" act full of linearity and foreseeable sounds. But they aren't also a typically floor-filling act relying on the ability to produce that "one-hit-wonder". A fine example can already discovered with the opener "Blue Sea", which starts with a single piano introduction and Elenor's aesthetic vocals, until the beat joins the scenario to push the audience toward to some floor-movement. As for another highlight I tend to name with "Life Has Failed You", with its staccato-like kick and snare-programming and the included interruptions to strengthen one or another part of the music arrangement. Three additional remix works by Lee Bulig (ex-STARK), ENDIF and especially IMPACT PULSE are offering at least diverse sounding and for the most part straight and dancefloor-compatible reinterpretations, which may help some lazy DJ's by the decision to play TCE tunes in the club – the original tracks of this album aren't that suitable for this. A quite interesting Electropop-album, which earns its praising by the refreshing kind to experiment with diverse styles and rhythm programmings.