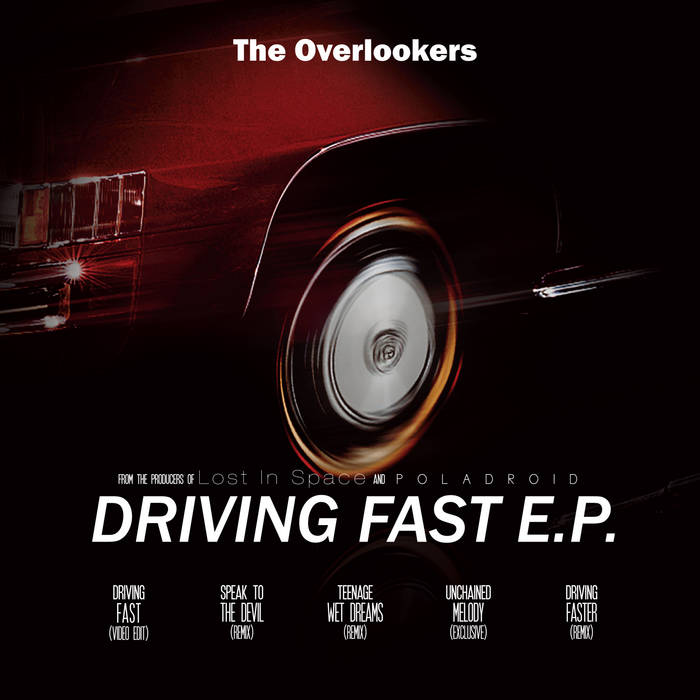 Artist:
The Overlookers
Title:
Driving Fast EP
Format:
CD EP
Label:
Boredom Product
Rated:
Initially I was thinking that The Overlookers were a mysterious band coming from France but they have recently posted a photo on their Facebook profile and it seems to me that one of them is JB, of Dekad. Anyway... Their first EP "Driving Fast" has just been released by Boredom Product and it contains three tracks which will be released on their first album "Teenage Wet Dreams", which you can find here remixed (only "Driving Fast" is here also with the video edit version), plus a cover of the Righteous Brothers' "Unchained Melody". The band, has been helped by Member U-0176, of Celluloide fame and boss of the Boredom Product label, for the "special effects" and post-production. The songs, find their roots in the 80s/90s synthpop but with a twist and in this case we have a bit of 90s e.b.m. influences helping to spice up the rhythm section, thanks to bumping bass arpeggios. The three original tracks "Driving Fast", "Speak To The Devil" and "Teenage Wet Dreams" are really nice and make you feel curious about the forthcoming album, because they are sounding quite different: the first is a uptempo killer (probably it's the one which is more e.b.m. sounding), the second is a mid tempo dark tune and the third one is a slow tempo which is recalling me the old Depeche Mode ballads of the likes of "Waiting For The Night" or "Question Of Lust", because of the overall atmosphere and also because of the the arpeggios progression, which melodically remembered me the Basildon boys. The "Driving Fast" remix, renamed "Driving Faster", is a good electro track which is focusing on the rhythmic parts of the song (bass lines, drums and synth percussions are the main elements) and the leads are added here and there to enrich the melodic parts. Check it here! https://boredomproduct.bandcamp.com/album/driving-fast-ep
Artist:
VV.AA.
Title:
Notes from the Underground. Experimental Sounds Behind the Iron Curtain, 1968–1989
Format:
2 x 12" vinyl
Label:
Edition Iron Curtain Radio
Experimentation and progress doesn't happen in a vacuum and it would be wrong to assume- as we maybe have- that while the West were experiencing an explosion of experimental composition, particularly electronic composition, that 'behind the iron curtain' remained a cut-off world still stuck in accordions, oompah brass bands and folk dancing. Of course nothing could be further from the truth, as this 2LP collection, consolidating no fewer than four different collation projects gathering together experimental music from the USSR, Czechoslovakia, Hungary, Poland, Yugoslavia and East Germany demonstrates.

There's a broad variety of styles here, all with electronic elements but sometimes only serving as bit players in more traditional band set-ups. There's raw wave music with angry shouted vocals, courtesy of Der Demokratische Konsum. The track from Vágtázó Halottkémek has more than a shade of prog rock about it, while the catchy vocal proto-pop hook in A. E. Bizottság's "Pek-Pek" is a proper earworm. Kilhet's "Extract Of Concert Number 4" has the abstract soundworking, splicing and tape effect energy that sits it nicely alongside 60's Radiophonic Workshop-style performance sonic mangling, while the short-but-sweet "Live in Petfi Csarnok" from Vágtázó Halottkémek is a bold and theatrical percussive workshop.

But the overriding mood for most of the tracks seems to be frustration, bubbling into genuine anger. In keeping with the underground, subversive nature of the music in its context, a lot of it feels decidedly punky in its make-up (though the notable exception of AG. Geige's weird-kids-TV-music "Elektrische Banane" has to be mentioned).

Perhaps fittingly then, some of the sound quality is understandably lo-fi. "Krebs ohne Stuhl" and "Untitled" are examples of tracks with a decidedly tape-sourced sonic quality that no amount of high-quality mastering will completely remove.

Other tracks worth making a note of include the deep and sinister rumbling flows of Ziemia Mindel Würm's "Untitled" (the one track were sound quality really is a hindrance to overall effect). The industrial-pop of New Composers' "Max-Industry" stands up well as one of the brighter moments, as does the quite forward-thinking (if oddly named) final track, Ornament & Verbrechen's "Der lÄchelnde Chinese".

To be fair, it's not without its weak moments too- Praffdata's "Live in Remont, Warsaw" being an example of a track that perhaps didn't warrant being exhumed.

It's a fascinating collection and a great insight- more than a glimpse, a positive 86 minute extravaganza- into experimental sounds with strong connections yet also profound differences to what we Westerners might think of as a experimental music history.
A real treat of immense proportions is what we have for you today. Cross & Divide is the new release from Trash Deity available on Metropolis Records now!

Trash Deity is Groovie Mann aka Franke N. Nardiello (My Life With The Thrill Kill Kult frontman/writer) and accomplished music producer and Industrial artist John D. Norten (Blue Eyed Christ).

"Cross & Divide Album is an album for now and is a representation of the confrontational and divisive times we live in. Each song has its own identity, but the album was designed to be a trip on a journey. It sounds totally cohesive and totally chaotic at the same time...just like us! (John Norton)"

Cross & Divide is as seductive as it is addictive; a great and fun listen from point A. to point B. The album contains nine solid songs each equal in quality and character as well as one remix of "Finger on A Trigger." The title track comes in like a slithering snake with Groovie's sultry vocals over the steady, mid-tempo beat.

If you are familiar with My Life With The Thrill Kill Kult and Blue Eyed Christ then you can likely guess the sonic influences for the album. But this quirky duo does step out of the pre-defined lines and delves into the sounds of mid-90s ebm with the likes of "Run For Your Lies!" "Emotions Matter" begins almost with a Kraftwerk-esque ambiance including a rhythm and background vocal nuances that are a bit akin to "Autobahn."

But really the entire duration of Cross & Divide is met at every stop with diversity so a track-by-track analysis is virtually pointless. Each cut stands firmly on its own and occasionally crosses lines that defined these artists during their respective careers.

Really the only thing that I didn't like about this album was the idea of another 3-year period separating this and a (hopefully) follow-up album. But then again such a thought is subjective. In the end, Trash Deity reminds us that we must live in the "now" and appreciate life for each adventure that it brings.
Artist:
Foamek
Title:
Radar Ruins
Format:
Download Only (MP3 + Lossless)
Label:
Youngbloods
Foamek's "Radar Ruins" is a well-executed throwback to the gentler and more chin-stroking side of 90's dance music, revisiting sunkissed late-90's balearic chillout-meets-trance and some slightly deeper instrumental techno, pumped through slightly lo-fi channels.

The fusion of old-skool breakbeat patterns, long melodic pads and electronic squeaks in "Marshhide" strongly recalls early Future Sound Of London material, while "Heart Won't Die" and "Prysm" recall mid-afternoon dancing on the beach vibes.

"Swing" has a bit of a French-style acid bounce to it that recalls Laurent Garnier or even Mr Oizo, while the bonus VIP version takes things in a more main-room direction. "Moving On" brings a more trip-hop flavour but still firmly cushioned and padded with mellow jungle noises and warm pads that put things in the territory of early Woob releases.

Opening track "Ingenue" is the most modern-sounding, in a slightly twisted way, as it involves the heaviest use of lo-fi effects and some interesting glitch-percussion work that demonstrate from the off that this isn't 'authentic' retro but a reworking with a fair bit of its own imagination.

Doing for 90's music what synthwave does for fans of the 80's, I lapped this up. Being almost excluslvely instrumental it lacks a unique selling point that will give it really broad appeal, but if like me your collection of 'proper' trance and classic chillout material is sounding a bit overplayed, this will certainly pad it out nicely.
Artist:
Furtherset
Title:
Drawings Of Desire And Hate
Format:
Download Only (MP3 + Lossless)
Label:
-OUS
Furtherset's latest EP continues to explore the underside of mainstream electronica production, taking patterns and production values that wouldn't sound out of place in some of today's post-dubstep radio-electropop, but stripping away any overtly pop elements- and any drums- to revel in the synth basslines and the effects and atompsherics found underneath.

"Studio False Start" employs some nice dawning synth-string pads that give it something of a computer game intro flavour, while "Spring Training" wouldn't sound out of place on Planet Mu. The frantic, faintly Glass-like arpeggios and odd breathing rhythm of "Falling Makes Way For Rising" are a quirky third part that's harder to pin down.

A nice bit of chinstroking electronica, but with three tracks averaging four minutes each, it feels more like a sampler for a more extensive work than a fully-rounded and coherent EP.