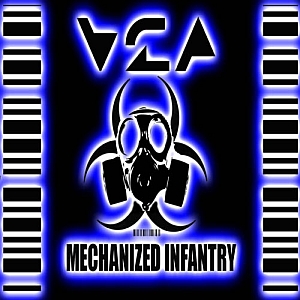 Artist:
V2A
Title:
Mechanized Infantry
Format:
CD
Label:
Biohazzard Records
(@)
Distributor:
AL!VE
Rated:
After the issue of an omonymous cd-single, which has been hugely appreciated by EBM indomitable lovers, the album by the Anglosaxon (just a synthetic way to say they're half German half "Anglische"...and just to remark their double roots they sing using both languages...an unusual aspect for this kind of stuff!) band V2A starts with a suffocating introduction, a sort of war declaration for the intestine battle against decay hieratically ordained by the scraping filtered voice coming out of Kevin Stewart. The gears surrounding this Mechanized Infantry sound like a nice playset appearing like a soiling of a lot of past danceable acts. In spite of references to the inventory belonging to band such as Covenant, VNV Nation, Combichrist and Suicide Commando, this records is not inteded neither for nostalgic people nor for "romantronic" spoons weeping for new wave necrotic sing-songs as it's able to inject brand new stimulations to all those dancers wearing gas masks and "gummyplasticous" overalls even if sometimes it looks they drink from lyrics pushing the dark pagan scene as a source for inspiration! That's the reason why the weakest ring of the heavy chains bolted by V2A are lyrics, while from the other side compositions and rhythmical patterns are well-forged as they perfectly fit to the wide range of motions (of bodies and souls) for people attending ebm parties. Flushing meadows of pushing beats, aggressive kicks, metallomelodic sequences, harsh sounds and even a set of flaming laser-like sounds - have a listen to the hissing Mechanizm just to chew that solid imaginary set! - as well as captivating dance-songs scattered with convulsive beats such as Contagen, Demons and Electro Whore (just a whispering vocal anthem like "love like an angel, fuck like a whore" perfectly fits a fetish party!) are going to set you on fire! In tracks like Stahl-Tanz (steel dance!) or aggro-tech with gummy kickdrums tracks such as Jesus Loves You (which reminds some acts of Angelspit) or Kill -9, the basslines and the hard kick seems to be the soundtrack for the frenzy dance of mechanized spiders. A countdown from 9 to 0, a persuasive song repeating "you're demons" intended for dancers with potential identity crysis, filtered basses sounding like electric saws, cranioclastic rushing rhythm make this chunky album danceable from the beginning to the end and the length of each track (no more than 4 minutes...) is the most reccomended by djs playing for dark dancehalls among steel chains, Mad Max-like haircuts and black skin boots. When you'll finish listening to (or more presumably dancing on...) V2A's last work, you'll have more reasons to agree with their beloved statement. EBM is not dead!







Artist:
V2A
Title:
Mechanized Machinery
Format:
CDS (CD Single)
Label:
Biohazzard Records
(@)
Distributor:
AL!VE
Rated:
Some like it harder indeed. The German-English V2A trio is no newcomers in the EBM scene. In 2002 their debut album simply entitled "EBM" was released by Trisol and since then their fanbase has grown tremendously. V2A shared the stage at their numerous live performances with no lesser acts than Funker Vogt, Covenant, Suicide Commando and VNV Nation. As these lines are being written "Mechanized Infantry" occupies the tenth position of the DAC albums chart. The cyborgs among you that have already got works of The Retrosic, Suicide Commando, Megadump, Grendel and similar artists on their CD-shelf are going to dig this album. The tracks are aggressive, in your face and really loud. Both Kevin (the British) and Ines (the German) sing in English and German. So much bilingualism can only be welcomed. The female voice adds a relatively untypical element to the Industrial-EBM sound, which is normally associated with rough, masculine vocals. By the way, V2A is a kind of stainless steel. As far as the music is concerned all is just fine. This, still young, band demonstrates a rather advanced level of composing skills. All compositions were written in the best tradition of the genre. All the tracks are rather high tempo, catchy, danceable and not monotonous, while many believe monotonousness to be the greatest plague of the extreme electro music. The tracks are 3-5- minutes long; just the right length for a club. One is a soulless machine if he/she would not start off to the dance floor when he hears the V2A beats. The weakest link in the album are the lyrics. Topics-wise the band dealt with the majority of the subjects common for EBM: machines, military & war, and sure as hell anti-Christian content is there, too. (Thank god for the freedom of speech!). Most likely the band itself considers the lyrics as an inessential matter. It is doubtful that the vocals they were primarily meant to convey much serious meaning, but rather to serve as a complementary instrument (for the most part distorted). The line "one life, one sky" in Jesus Loves You echoes with "one world, one sky" by Covenant while "this is my rifle, this is my gun" on Contagen made me think of "this is my rifle, this is my life" by Combichrist. In "Deliver us from Evil"
V2A bash religious dogmas while they broadly use lines from canonic Christian prayers: "if I die before I wake, I pray lord my soul lord to take... " and "hallowed be thy name". Per se there is nothing wrong with striking your opponent with his own weapons, but those very lines were used more than just a couple of times in the dark scene and for that reason they sound overused by now. But one may see it otherwise, of course. Perhaps broadening the spectrum of issues dealt with would guarantee distinctiveness of the lyrics. The younger cyborgs are going to be utterly enthusiastic about Mechanized Infantry, whereas the veterans might miss a bit of unmechanized imaginativeness here that would make this release stand out of line of other very good albums and make V2A's sound dissimilar to the rest of their electroconvulsive colleagues. One can look forward for V2A's forthcoming concerts. Get your gasmasks and cyberlox ready!

In case you were also wondering, according to Webster's online dictionary, hyperakusis (in English, hyperacusis) means, "An abnormally disproportionate increase in the sensation of loudness in response to auditory stimuli of normal volume." According to the press sheet that came with this disc, this is audiophob's 10th CD. This is a compilation of exclusive tracks from the artists that have already put something out on audiophob: Alarmen, Nerthus, Mandelbrot, Spherical Disrupted, and Zero Degree. Alarmen kicks things off with mellow, glitchy synth sounds over some beats. "Make Your Day" removes the beats and starts off promising, but becomes a bit too repetitive for my tastes. Overall, it's OK, but not really as complex as I like this kind of material to be. Nerthus follows so much in Alarmen's footsteps that if I did not have the tracklist in front of me I would think that they were the same band. Pleasant, but doesn't really push the envelope. Mandelbrot changes it up a bit by laying down an interesting dark ambient soundscape that is best described as cinematic. At 13 minutes, it is also long enough to really get into. Quite enjoyable. Spherical Disrupted takes us on a similar ride with "Ghost of Jupiter," although with a more minimalist approach that really drew me in. This is an artist that knows how to make use of quiet passages and dynamics. "Arctic Circle" changes the mood with a repetitive synth line that has minor shifts just below the surface, but doesn't really seem to evolve quickly enough. I much preferred the previous track. Finally Zero Degree finishes it all off with "Frozen Sunlight," a nice mix of calming synth pads, beats, and electronic blips. Overall this is a good introduction to the label that is worth checking out. This disc weighs in at 66.48.
Artist:
Famine
(@)
Title:
Every Mirror Turns Black
Format:
CD
Label:
Bugs Crawling Out Of People
(@)
Rated:
With a band name of Famine and a title like "Every Mirror Turns Black," I expected some dark ambient, but Famine throws down glitchy breakcore that is an interesting mix of Autechre and Venetian Snares. But it goes far beyond this. For example, "Blood Sacrifice" sounds like a melodic doom metal band collaborating with Blearg or any other glitchy band, complete with guitar solo! It gives the feeling of listening to a scratchy CD that is skipping constantly. This was absolutely fantastic. The label explains that "'every mirror turns black' is a concept album of sorts, where famine, with precise precision unleashes the brutality and demons within him, smashing together black metal with breakcore cuts, psychedelia with an obstinate rejection of religion." Overall, Famine is a much more varied artist from most of the breakcore stuff I have heard. It is not all in your face drill and bass. Tracks like "Optical Stimuli" and "We Fuck Together" have a stripped down atmospheric feel that proved depth to the album and helps Famine stand out from other artists working in a similar vein. Another standout tracks include "Seven," with the looped female vocals "there are seven ways to die." Overall, an interesting release. This disc weighs in at 51 minutes.
image not
available
anymore
Artist:
ANIMA VIRUS
Title:
End Of The Eden
Format:
CD
Label:
Decadance Records
(@)
Rated:
Born in 1996 from the fervid mind of Aurelio Gioia after the disband of The Vacuum, Anima Virus is his personal musical project/vision. Starting from his love for goth music, Alessio succeeded into giving a new sound to a genre that sometimes is too focused on the visual aspect. Mixing the early classic Christian Death atmospheres with electro sounds and sometimes with upbeat tempos and danceable atmospheres, he made a really good album titled END OF THE EDEN. The album contains fourteen songs composed and played by Aurelio (some songs have some guest musicians but I can't say who they are) and since from the bass distortions of the opening "Days of ice" you realize that something good is gonna happen... finally you're going to enjoy a revived version of the atmospheres that made the fortunes of Sisters Of Mercy, March Violets, the aforementioned Christian Death, etc. Actually END OF THE EDEN sounds like someone found a Christian Death lost album of the "Catastrophe ballet" era and decided to update the sound. We have always the classic mysterious guitar sound with long sustained notes but we also have semi industrial ambients sounds, electro sounds, sequenced bass sounds along with real bass guitar sounds and so on. You know that cool sounds aren't enough for having a good record and in this case we have also catchy melodies, good vocals and also a semi acoustic version of Echo & The Bunnymen song "The killing moon" where Aurelio mixed the dreamy atmospheres of the original tune with darker ones and he also changed a little the refrain and added razor like guitar sounds. Check it!