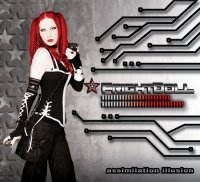 Artist:
FRIGTHDOLL
(@)
Title:
ASSIMILATION ILLUSION
Format:
CD
Label:
Quantum Release Records
(@)
Rated:
After the nice debut album "Reference Version", Frigthdoll is back with eleven new tracks. ASSIMILATION ILLUSION brings to the fans of e.b.m. electronic sounds good dark dancey atmospheres with an edge plus some surprises as Frightdoll reveals on the opening "Lost" and on "Distant" her romantic side: if the opening is a piano/vocals tune with a melancholic touch and nice strings arrangement, "Distant" mixes upbeat tempos, piano, electronic distortions coupled with a bit of melancholic atmospheres. The following tune, "Leaving you" is also a nice one which sounds more powerful compared to the the previous e.b.m. tracks I listened. It is more convincing and catchy even if it deals always with the same elements. Maybe she composed it thinking about its dance potential. Also "Generate" sounds more convinced/convincing, so I don't know why she chose to include the tracks from 2 to 6 which are sounding to me less personal as the sound structure doesn't offer innovative keys as some other songs succeed in that. The album closes with "Endings" and "Sweet serenity", other two particular slow tracks. The first one is kinda melancholic while the latter one is more creepy. It seems sung by a devilish girls while a piano plays a dissonant tune and this is what I mean with "personal"!
Artist:
De/Vision
Title:
Noob
Format:
CD
Label:
Metropolis Records
Distributor:
metro
Rated:
I waited many years to see De/Vision and it was well worth the wait. De/Vision came to Chicago for the first time last weekend. It proved to be one of the most amazing live shows ever. The new album I am reviewing this time is " Noob " It is the newest one from the duo we so love and cherish and have danced to for many years on end. We open with Track 1, " What you Deserve " which is a instant club danse hit. Lead singer, Stefan sings to us in pure eletronic fresh clear form, " you deserve first class every day." Words of beauty and passion expressed so deeply with each beat. Love and dancing is the key to De/Vision and dancing their shall be. Next is Track 2, " Obsolete " a haunting eerie track very reminiscent of early Depeche Mode. Stefan sings, " You got to confess, that your life is a mess ." Very catchy puns that become words to remember and hold dear in true national/international anthem, which is the key to this band. They profess anthems that will be remembered for the hope of this dark future we know. Another memorable phrase Stefan sings to us, " Role model for another generation to take things on, disposable ones, running on repeat, an empty tape distorted background noise, a thrown away toy." Words that hit hard and ring true, something we can all relate to. Track after track tells a story of power, corruption and lies and tales of woe and lost love. Every track is a sure fire danse hit that burns a hole in our souls and dansefloors leaving it's mark and standing proud and true. Progressing on to Track 5, " Death of Me " which is a witty cool track that shines to me due to it's classic lyrics. Stefan sings, " I shine, I stumble and might be led astray, believe, believe, you'll be the death of me ." Slow melodic tune that chills us to the bone and shakes and stirs us. Moving on to Track 6, " Flavour of the Week " which is a fast moving track that is a personal favourite track of mine. Stefan sings to us, "You think you're perfect yes it's true, this world was made for me and you." This a electronic Gothic love song that pulls on our hearts strings and doesn't let go. Jumping a couple of tracks over we come to Track 8, " Love will Find a Way ", which I heard live last weekend that was truely amazing. Another personal favourite of mine that I have danced to and was truely lost in it's essence. Stefan sings to us, " Love will find a way, a way back home to you." A beautiful track that calls to us and completes us. Electronic goodness and positive vibes from across the waves and back again. The rest of this album is phenominal and shows great promise for more greatness to come from this band. Join De/Vision and join their oath and danse to the beat of love, truth and honour. ~ 4 stars Michelle Russo
image not
available
anymore
Artist:
Intercity3
Title:
Love The Way You Are
Format:
Download Only (MP3 only)
Label:
Urbcom
(@)
Rated:
This is the first official release of this London-based collective, which can look back on a promising compilation appearance with their track "Windows" on the 2-years-old Urbcom double-CD release "Recreation V. 2". "Windows" brought in unexpected success, so the call for new stuff was loud enough to release now this 7-track EP, again via Urbcom. Responsible for the machinery and controls is D. Escott, better known with his very own AWAX project, which too is related with Urbcom. For INTERCITY3 different vocalists got hired, like the both females Catasha Kin, a London-based singer, promoter and DJ, as well as the Brighton-based Liz Andrews (SWARF) and the Danish PROJECT-BLUE-musician Martin Holt. So from the vocal part, there's quite diversity, but also musically INTERCITY3 can't be thrown into only one cupboard. The music takes elements out of up-to-date sounding Synth-/Futurepop themes, inserts also Trance and House elements, but also harder EBM evoking an enjoyable Industrial ambience got included. A quite interesting sound outfit, since no track comes out in an expected kind. Best moments are offered with the nearly Indie-/Alternative-sounding track "Freaks", featuring an energetic D. Escott in front of the micro, but also both last track "Catch Me" and the nearly 7 minutes clocking "Supersonic Dreams", which offer impressive Electronica arrangements. Completely well done, entertaining and recommendable, I hope for a full-length album of this project.


image not
available
anymore
Artist:
Funker Vogt
Title:
White Trash – K17 Live Excerpt
Format:
Download Only (MP3 only)
Label:
RepoRecords / SPV
(@)
Rated:
A teaser for FUNKER VOGT's demanding plans for 2009, which will see the release of a double-CD and double DVD entitled "Warzone K17". The title track "White Trash" is a new compositions, which has been presented for the first time live to the audience at the Berlin-based club "K17". Since the recording quality of this live gig happened back in April 2008 was that brilliant, the band has decided to work out all efforts of producing a double-CD and double-DVD. "White Trash" is a relatively easy-minded FUNKER VOGT-track featuring all their good ingredients like a catchy refrain, hymn-like synth melodies, rough EBM-bass-lines and a danceable beat. The live "feeling" provided through the yelling and applauding audience is still included here, although the recording has been polished in the studio. As additional goody, this Downloadable-only item offers two additional tracks, which are 2008-versions of both classic tracks "Thanks For Nothing" and "Black Hole", both originally released on the 1996-Zoth Ommog-debut album "Thanks For Nothing". Maybe new studio versions of this classic are sought-after from the fans, but... it needs to be said, that I still enjoy more the rougher sounding originals. The complete album "Thanks For Nothing" is the classic release, a nearly monument importantly connected with the history of Zoth Ommog. The try to refresh or to better a monument is nearly impossible. Let's look forward to the coming new releases offering the live-power this act has to offer.


image not
available
anymore
Artist:
OHGR
Title:
Devil In My Details
Format:
CD
Label:
Synthetic Symphony
(@)
Distributor:
SPV
Rated:
The first question every Electro/Industrial-junkie asks, is the one, how much Nivek Ogre's new solo-album will sound like a work of the famous veterans SKINNY PUPPY. I guess all readers of this web resource are familiar with PUPPY, therefore it doesn't need any further excursions into their meaningful career. But OHGR is OGHR and hasn't got too much to do with the famous Canadian giants. "Devil In My Details" comes out full of experiments, which multiple unheard sounds (you should hear the brass interments (!!!) on "Feelin' Chicken"). Has Ogre especially under the PUPPY-moniker being often discovered as a spooky and scary person, the open-minded musician shines through his solo work. It is at least the work, which strengthens his status as being a real musician over his status as being the monstrous vocalists of a scene-related icon. His vocal performance is surely the one and only unique point which reminds on PUPPY, but that can't be avoided. But thanks to the already reached status Ogre has received so far, this new album comes out quite unconventional, unorthodox and full of weird ideas. It isn't a "hit" album which has to follow selling-related structures, it's rather more the psychotic result, if Ogre and his band members are able produce without boundaries. Therefore most of the tracks are following each other without clear interruptions and it was intended to produce an album with only one long track. But at least here's the point, where the record company has set a stop. If you're ready for a musically quite diverse coarse, then give this album a try.