Berlin new music legend Gudrun Gut's new album is a 14-track pack of dark synthpop, rumbling and firm-walking electronics and understated German-language vocal performance that just oozes confidence and which, arguably, plays it all rather safe.

Highlights include the gradual acid builds of "Musik" where Gut's vocal adopts a drawn-out sensual whisper. Unsurprisingly the nicely squelchy cover of Bowie's "When You're A Boy" is one of the album's more memorable moments too.

Only a couple of tracks top the five minute mark, with some adopting an almost radio-pop structure (but not sound) and others more like electronic interlude sketches, like the really enjoyable little skit of "Shuttle Service". Proceedings get a touch more experimental as they go along, with "Sein" an example of the dark spaces that are reached as a result.

It's mixed by T. Raumschmiere, as shines through in elements such as the groove on "Baby I Can Drive My Car". He's been responsible for some far more energetic and impassioned affairs, against which this sounds rather self-assured and even middle-aged by comparison.

It's a surprisingly mellow piece of "post-electroclash", if that's a thing, where the angry voices of over a decade ago are now settled in suburbia with calmer tastes, but not fundamentally changed underneath. It really works, and will certainly appeal as a post-club wind-down.
Artist:
Jan Nemecek
Title:
Recurrences
Format:
12" vinyl + Download
Label:
-OUS
'Power ambient' is a fascinating made-up genre to label a release with, leading you on thoughts about what that could possibly sound like and how that could possibly not be a contradiction in terms before you've even clicked play. In truth this is definitely more 'ambient' than 'power', by far, but it's still clear where the idea came from and it's not an inappropriate fit. It's a busy ambient with plenty going on, but still calm.

Digital sweeps and pads, with measured amounts of sawtoothed crispness and just hints of distortion, wash around over staple electronica sounds and processed textures. It's more than a little reminiscent of old The Orb albums at times, particularly in the stuttering voice treatment on "I Pretend", while other pieces like "Incidents I-II" are more akin to modern game music with a cinematic tension and open unscriptedness. "Foreverness" has that crisp digitally-pure-melodic downtempo flavour that feels a little done yet always relaxing.

It's a sharp and intricate bit of electronica that pulls neither a lot of surprises, nor a lot of tricks from its sleeve, but it's richly textured and varied enough to keep your attention throughout.
Belgian (Bruxelles) EBM/electro-industrial band Mirexxx is the duo of vocalist Stijn S. and synthesist/programmer Posse, and 'Vault' is their Echozone debut album after their 2017 EP, 'Inside You', and a couple of previously self-released mini-albums. This is old, old school stuff after outfits such as Klinik and Suicide Commando, just not nearly as good. Stijn rasps his way through ten tracks on 'Vault' with little variation. The synthwork seemed as if it was going the same route (little variation in sound and sequencing) but changed a bit in the later innings during and after the instrumental "Distraction," a welcome change of pace. Drum are all rinky-dinky computer generated sounds so I found nothing really compelling about the rhythm. One of the only things Mirexxx has going for them is that there aren't many artists doing this strictly minimal style of EBM these days, so there isn't much in the way of competition. Still, it's a long way from moving a cluster of black-clads in a dark club to getting people excited about your album, especially if the album gets kinda boring after a few songs. Misanthropic, dystopian lyrics included for those who don't grok rasp.
Artist: Pharoah Chromium
Title: Jean Genet- Quatre heures à Chatila
Format: 7"
Label: self-released

This is a bold and powerful political 7" in which Elli Medeiros reads French-language extracts from Jean Genet's essay "4 Hours In Shatila", describing the massacres Genet encountered in Beirut in 1982. Underneath Medeiros' straight and emotive reading, Pharoah Chromium lays down a pair of uncomfortable but not intrusive electronic drone environments, with gritty rumbles, odd whispers, occasional heavily processed guitar plucking and oddly plinky, almost stylophone-like improvised high melodic notes. It melds together into a powerful modern take on beat poetry without very much beat. It's an expressive release that could easily have merited a longer exploration on its own, instead forming part of a larger project "Eros & Massacre" that, on the strength of this, is certainly worthy of attention for fans of politically emotive experimental electronica.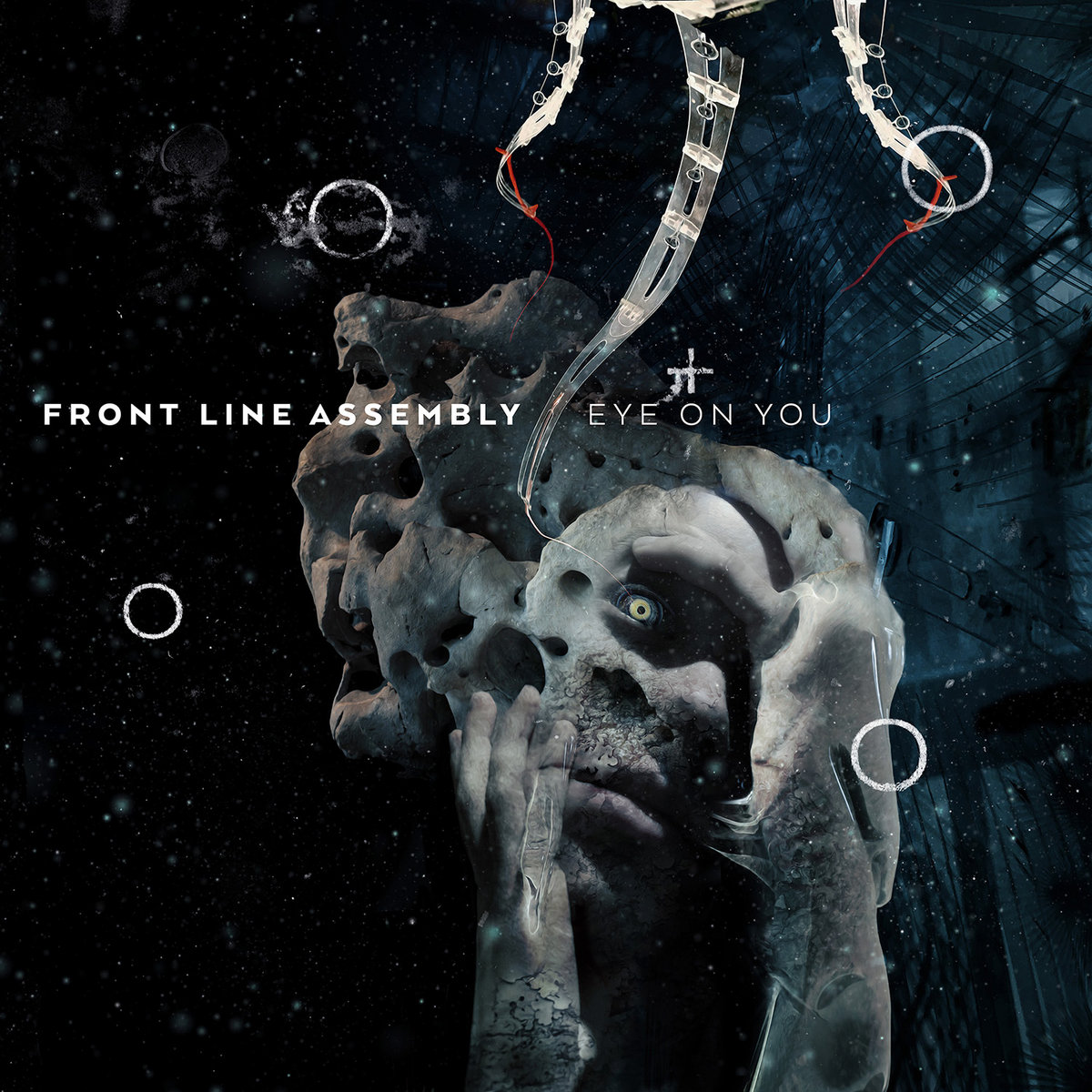 Artist:
Front Line Assembly
Title:
Eye on You
Format:
Download Only (MP3 + Lossless)
Label:
Metropolis Records
(@)
Distributor:
Bandcamp
Rated:
After the release of "Warmech", the sequel to the popular "Airmech" game soundtrack, this is the first appetizer to support the already announced next FLA album to be out in early 2019. It is also the first release without the appearance of Jeremy Inkel who passed far too early away in January 2018. "Eye on You" is one of those typically produced tracks by these Canadian veterans which will leave their audience hungry for more. It features with Robert Görl of D.A.F. another prominent German contributor of the early 80s (NDW / "Der Mussolini"). If Robert's contribution can be recognized with the addition of some ass-kicking bass line programming, then I must say he has done a fantastic job. Bill Leeb himself provides various vocal manipulations between harsh screaming and nearly natural sounding in the chorus on this pounding track. Lyrically the track government-critically deals with subjects like surveillance or authority. Adding to this the significant FLA-like sci-fi sound textures thrown widely into the mix and you'll get a safe smasher in the long-year FLA discography. Two remix works of this track provided by Terence Fixmer and Orphx summing this release up. Both remixes adding more club compatibility by concentrating mainly to fill in various additional bass line sequences, but actually it alters the original composition. All in all, YES, this new track will be one of those you'll remember when you're going to visit one of the dark clubs during the coming winter holidays.