Artist:
Aktive][Hate
(@)
Title:
Washed in Blood
Format:
Download Only (MP3 only)
Label:
Enough Records
(@)
Rated:
Nearly one year after the debut release for this Portuguese solo project, here comes a second and free available demo recording brought to us by Enough Records. 'Washed In Blood' demonstrates obviously the talent behind this project, compared to the debut, this new effort sounds more matured thanks to a more experienced compositional development. It's distinctive to hear and it warms my heart, that the mysterious Mr. ISK, mastermind behind AKTIVE][HATE, investigates a lot, to satisfy with harmonic Synth loops to spend some recognition to his tracks and with raspy vocal performance, he would be able to win every imaginary 'singing-like-ASLAN-FACTION' contest ' which gives you a hint, how his voice sounds here. 'Core Damage' and 'Animality' have to be mentioned as being furious dancefloor-compatible tunes, while the evil and slow stalking 'Ugly Inside' causes a devilish smile on the faces of the audience. At least this well done Harsh EBM stuff has been heard by the responsible label-head of the Hungarian-based Advoxya Records label, so a first official, and then physical release by this talent should be out soon. In the meantime, try to hunt for this freely available goodies by this act, since they are worth to get listen to.


Artist:
CeDigest
(@)
Title:
Walking In The Flesh
Format:
CD
Label:
NoiTekk
(@)
Distributor:
Nova Media
Rated:
It can be a big loss, if a label like NoiTekk has to replace both of its most popular horses in the stable. DAWN OF ASHES and PSYCLONE NINE are meant, whose musically direction has turned from the once in a lifetime Harsh EBM/Hellectro-inspired kind towards to a Black-/Death-Metal related sound outfit, which does no longer fit with the tastes of an Electro/Industrial label. NoiTekk's decision, to pick up those notorious British bulldozers of CEDIGEST, has at least also surprised some experts of the European Harsh EBM/Industrial scene. CEDIGEST, backed up by the responsible mastermind Joss [Avi] Iles, are far away from being bloody newcomers, as they have released two previous albums in limited esitions under their very own small British TriTech Records label. And 'Walking In The Flesh', with its bloody cover art, points out already with the first tones of the brutal opening track 'Evil Returns', that to take prisoners is seemingly a sign of weakness. CEDIGEST know exactly, how push the right knobs by offering the expected harsh and pummeling bass line and kick work, combined with disturbing guitar riffs. Extremely fx-processing works are featured too on the vocals, so a sound-wise relation to those above mentioned prominent colleagues is surely intended. But asides all roughness, CEDIGEST do mainly satisfy thanks to their ability, to deal with diverse styles, rhythm changes and to create different moods, just check the track 'Fermenting Remains' as being an outstanding example. And if they fall really into a kind of morbid mood, instead to destroy and smash down hardly all hope, 'Abattoir' acts like a perfect soundtrack for an imaginery doom apocalypse. Hard stuff for hard people, may a bit lesser suitable for Electro/EBM purists, but still intensely enough to convince.
Artist:
Black Hole Nine
(@)
Title:
Velocidad de Escape
Format:
Download Only (MP3 only)
Label:
self-released
Rated:
Again a goodie rather happened by chance while scrolling through undiscovered areas of the MySpace community, this free available album by the Venezuelan duo BLACK HOLE NINE has made it on my table. Consisting of Siva Black (voice, programming, synths, sequences) and Kaiper (guitar, programming, synths, sequences), this duo plays an energetic form of Harsh EBM/Industrial, which offers a slight 'exotic' touch and a few sound-wise surprises too. First of, their sound is generally not that obviously Techno-/Trance-driven compared to some South-American colleagues. Abrasive guitar riffs are an 'allowed' ingredient for the BH9 sound-cocktail, accompanied with some surprisingly emotional vocals. Besides that expected doze of danceable and straight-forward pounding tracks like 'Black Hole Nine', 'Shinigami', or 'Hey God (Fuck Politics, Fuck Religion)', they are able to install some rather dark and scary sounding collages ' those fine experiments into darker sound-territories are welcomed and offer them a rather own and authentic sound-identity. At least, also the US-based label Shinto Records (www.sin-tech.org) has paid some attention to this duo and has placed them on their last years' compilation 'Sin Factory'. So a lot of good points and talent behind this project, so that they should be able to play a leading role not only in their home country, but maybe at the whole South-American continent too.
Artist:
VV.AA.
Title:
Yummy! Yummy
Format:
CD
Label:
Hot Corner Records
(@)
Distributor:
667 / Rough Trade
Rated:
When I first put this CD on, not knowing it was a compilation, I assumed it was one artist, so when I found out it was various artists I was impressed with how organic, well matched and homogeneous the selection turned out to be. The artists are mostly unknown and I believe all or mostly german and they've come together thanks to the Hot Corner Records mastermind (and contributing artist himself) John Pussner. The other six names are Danny Decock, Crack Hudson, Blockboy, Parasyte Woman, Mika Krogen and Lippovic and they contributed a total of 15 tracks of groovy, loungey, disco-ish fresh, funky and happy mixture of electronica, acid jazz, trip hop music. Lots of bouncy beats, head-bobbing bass lines, digital soundz, real drum sets, old-school breaks, sampled, scratchy & scratched vinyl, single vocal lines or samples of voices from other sources. All of the artists are working on their own debut albums so this will be a great way to taste a few yummy flavors before going for the full seven course meal!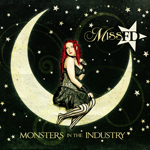 Artist:
MISS FD
(@)
Title:
Monsters In The Industry
Format:
CD
Label:
Quantum Release Records
(@)
Rated:
MONSTERS IN THE INDUSTRY is the first album under the Miss FD moniker but for the Fort Lauderdale-based girl who's behind it all it isn't the first experience at all, because we all already knew her as Frightdoll. If I remember well she was about to sign (or she signed) a contract with another label and then she had a lot of problems with them (and for this reason I think she wasn't able to use the Frightdoll name) and according to the main song's lyrics ("A thief on every level - the industry is a devil - it'll tear you down - it'll cut you up - and then call you a rebel...), it hasn't been a pleasant experience. Anyway, the new album contains eleven songs which have the characteristic elements of the two previous Frightdoll albums (a bit of goth atmospheres and electro-ebm sounds/energy) plus a new pop side that could be good for Miss FD the day she will decide to retire and to sell her songs to fake MTV hits bad girls (see the final refrain on "Disgrace" or "Realigned"). MONSTERS IN THE INDUSTRY is an album that needs time to be assimilated because we switch from dark e.b.m. atmospheres to electro pop in no time. There's only a little bit of melancholy here and there (like on the early part of "Elements off time") but soon replaced by energetic synth distorsions. Danceable, pop, dark and electronic, Miss FD has a lot of bullets into her gun and she isn't afraid to use them...