Artist:
VV.AA.
Title:
Tombstone Trance Vol. 1
Format:
Download Only (MP3 + Lossless)
Label:
Stabudown Recordings
Stabudown's compilation album isn't purely 'trance', in any generational use of the word, but a fairly broad collection of almost-entirely-instrumental EDM that spans synthwave, modern electro, synth-industrial, techno and, to a lesser degree, trance in the more early 90's, less mainroom hands-in-the-air sense. Initially there's a musical commonality that comes from some heavy and not-just-4/4 percussive elements that provide most of the tracks with a distinct bang, but as the tracks progress, things get more beat-free, introspective and spacious. The result is an earnest pack of tunes that's so remarkably consistent and planned out that at times you could believe this is an artist album.

TML's "Goshun" is one of the heavier pieces, thick kicks with stuttering vocal sounds, while CLAWS's "Scrappy Industrious F.U." also has the banging attitude but with a production approach that's so bright it ends up feeling feel-good possibly by accident. Kerridge's "Death Is Upon Us", Long Bastard's "Send" and Bad Tracking's "Arnos Veil" form a mini-industrial section (the second of those with some vocals, just to mix things up a bit).

Highlights include Koehler's "Beyond Andromeda", a deceptively grouping of semi-breakbeat and playful high synth arpeggios that's strangely infectious. East Side Ancients' upbeat but coarse-edged dub track "New Happy Fortune" is oddly nostalgic, but in a good way, and it runs nicely into the deeper reverbing delays of Grey People's "Mourning Etiquette". This in turn flowers smoothly into the ethereal tones and heartbeats of "Absolute Other" by Organic Dial. The two final tracks, from Vanity Productions and The Rancor Index, complete the descent into downtempo ambience, bordering on drone, and the journey is nicely complete.

It's a well curated compilation that's more thoughtful and diverse, and less in-your-face, then the artwork and branding may possibly suggest. Definitely the sound of life at the more interesting side of EDM.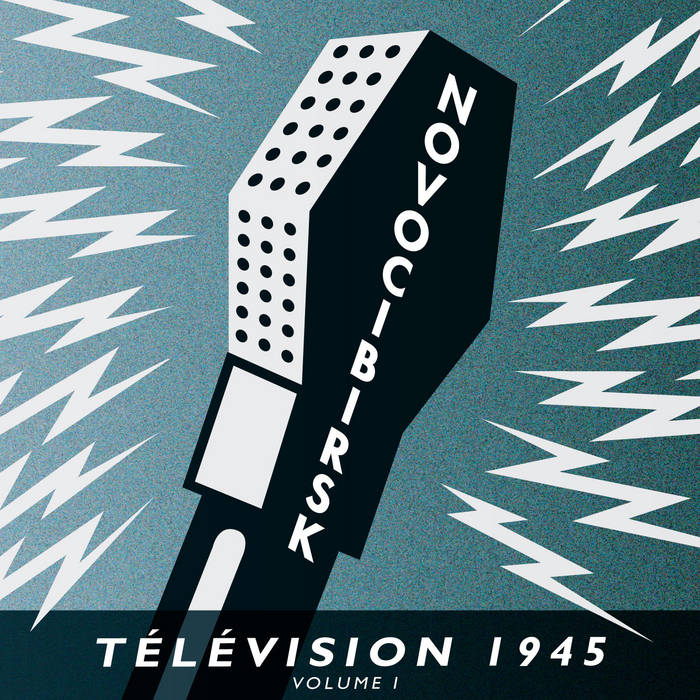 Artist:
Novocibirsk
Title:
Télévision 1945 (volume 1)
Format:
LP
Label:
ProductionB
Rated:
One famous phrase of the philosopher George Santayana was saying: "those who do not remember the past are condemned to repeat it", well on a less serious circumstance, I'm happy that since we didn't have the occasion to check nice stuff that didn't see the light in the past, we are able to check it now. Many labels are digging in the past to find what we left uncovered and they are doing a nice job by giving some late "fame" to bedroom producers: people that maybe weren't interested into finding their space into the labels' rosters but that were producing their music to satisfy their need to express themselves. One recent example is Rx-101, Dutch techno/electro/acid producer which has seen released some old recordings by Suction Records. The same is happening with Novocibirsk, a project that Hervé Isar run from 1982 to 1993. On those years he recorded many tracks which he later saved on DAT tapes (unluckily many haven't been recorded and are lost forever). Time ago, he took some from his DAT tapes archive and self-released some CD-rs. Now, some of those tracks have been cleaned and remastered and are seen the light properly distributed and publicized by ProductionB, sublabel of Boredom Product which is starting their activities with this release. Novocibirsk music is taking us back to the times of the Groupe de Recherches Musicales (GRM), the pioneering French public center in electro-acoustic research founded by Pierre Schaeffer in 1958. That experimental approach has been taken as inspiration by Hervé and mixed with some other influences of the likes of Klaus Schulze, Jean-Michel Jarre (see "Train To Novocibirsk") as well as Kraftwerk (like on "Die Stadt - Novocibirsk II" or like the vocoder experiments on "Télévision 1945" which are recalling me "Autobahn") or Telex (see "Flugzeug"). Luckily these sounds are not lost forever and more are going to follow! Welcome ProductionB, we wish you a long life full of great releases! P.s. "Télévision 1945 (volume 1)" is available on LP, CD and digital download/streaming.
Artist:
Feldermelder
Title:
The Sound Of Remixes
Format:
Download Only (MP3 + Lossless)
Label:
-OUS
"The Sound Of Remixes" is an unfortunately glib title, reminiscent of supermarket-level "best dance music ever" compilation CD's, but since Feldermelder's EP was actually called "The Sound Of", then the title is at least justified. And make no mistake, this is nowhere near supermarket music.

There's a total of three reworkings. Both Zavaloka's version of "Another Place" and Shao's remix of "Shanghai" are short affairs, little packets of broody beat-electronica. The former feels like bold and atmospheric intro music to an EDM album, while the latter sounds like scratchy, suspenseful in-game music, mapping out a heartbeat rhythm under gritty strings and synthesis that feel like they're conscientiously not going anywhere.

More than half the release is filled by Feldermelder's own self-reworking of "1st _ 62nd", a nine-minute exposition of fairly frantic but lightweight industrial beats under rapidly washing metallic-sounding atmospherics that gradually twist and bend their shape.

It's a strong example of chin-stroking electronica from the borderlands outside dance music, but there is a slight sense of it bringing nothing new to the party, featuring too many sounds you've heard before and somehow just falling slightly short of gripping.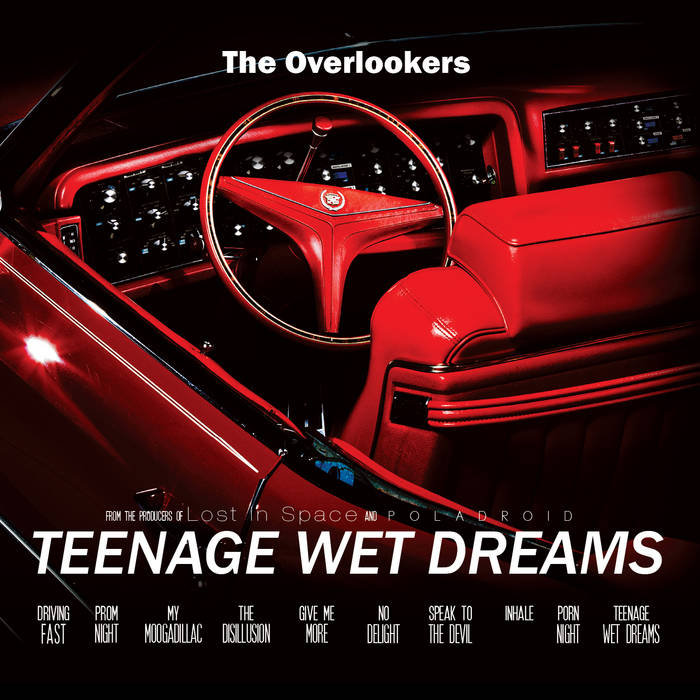 Artist:
The Overlookers
Title:
Teenage Wet Dreams
Format:
CD
Label:
Boredom Product
Rated:
Anticipated by the E.P. "Driving Fast", The Overlookers are delivering to the electro-pop lovers, their first album "Teenage Wet Dreams". Containing ten songs (well, that's nine if you count "Porn Night" as a "Prom Night" reprise) of which four we already checked with a different version on the E.P., the album will please the Depeche Mode fan but not only them. Formed by XY (Foretaste) and JB (Dekad), Overlookers took the fifties aesthetic made of sexy cars/girls and transposed it to the 21st century with a blink to the 80s. The duo got inspiration by 80s synthpop/ebm and if you check their other projects, I'm pretty sure you'll find something else you may like. The quality of this album resides in the fact that it's catchy since the first listening and it won't annoy you after a couple of times: the duo did a great job by packing the album with upbeat songs and dark ballads full of catchy melodies, great synth sounds, and top production work. Some tracks will recall some atmospheres and melodies a la Depeche Mode but The Overlookers' sound is personal and doesn't copy the one of the Basildon boys, luckily. If your preferred Depeche Mode period is going from "Black Celebration" to "Violator", what you won't get from Depeche Mode anymore you'll be able to get from The Overlookers! The album is available on streaming, digital download and deluxe six panel digifile CD.
Artist: VV.AA.
Title: Bleeps, Beats & Bass 2
Format: Download Only (MP3 + Lossless)
Label: Basserk

The second in the compilation series from constantly reliable Amsterdam label Basserk is another rich pack of almost-entirely-instrumental house, electro and danceable techno that stays just on the right side of wonky and looks out across the view.

There's an intriguing music-as-product concept behind it, with QR codes linking to every track, meaning for example that you'll be able to buy your favourite track as a sweatshirt. I can't vouch for the quality of the shirt manufacture of course, but big chunks of this are serious dancing music, so a lighter, more breathable T-shirt may be required as well...

Musically, it's a pack with no filler, stacked with potential DJ weapons. There's the infectious bounce of Sjamsjoedin's "Corners", the bright alt-disco clapping of Heart Space's "Move Aside", or the breathy, semi-glitched groove of highly-regarded LHISPR's little track "Closer" that bypasses your higher thought patterns and makes you dance like a robot.

It's bookended by "Passw123" by Full Monty at one end and "Modderpoel" by Maanwagen at the other, both breezy stepping grooves reminiscent of Luke Vibert tracks, that cheekily imply they're about to break out into full-verse rap tracks but never do. The former is a definite highlight that's earned its pole position on the compilation, that one's getting repeat plays here for sure.

There are also broodier and more introspective pieces for headphone-centric listening. Xyloglotte's "McKlatchey"- a track you'll never be able to verbally ask Siri or Alexa to play- rumbles with a gentle kick-led broken beat under counterplaying layers of squeaky synths, while Radio Parkplatz's "Wormshop" brings a bit of urgency through relentless synth bass notes and gliding siren-like arpeggios that slightly recall a Juhl Krøse track or two.

HuSo's "Tome" is one of those 150bpm-ish tracks with dubbier, half-speed top layers where your body can be shuffling frantically to the slightly jungle-ish beats at 150 while your head chills out at 75.

Kraz's "Shelter" stands out, not solely for the fact it has a full sung verse-and-chorus vocal on it- with a gravelly, Jan Burton, Rob Dougan-ish affair over a slow beat and synths that seem to want to be guitars, it definitely draws the attention. Baptist's "Nothing Left" leading into Tholyson's "Fou Amoureux"- the latter with an extremely OMD-ish synth lead line- form 'the synthwave section' towards the tail of the release.

It's hard to argue with the title of this release. High-quality bleeps, variety in the beats and a tastebud-wetting variety of squelchy bass sounds are on offer. It's a strong pack with just the right amount of twist.