image not
available
anymore
Artist:
SARALUNDEN.BJORKAS.MJOS
(@)
Title:
Dubious
Format:
CD EP
Label:
Nexsound
(@)
Rated:
Founded in 2000 by Andrey Kiritchenko in Kharkiv/Ukraine, Nexsound is a label dedicated to unconventional sound. Their releases (they press proper CDs as well they release stuff as web label) have a characteristic experimental approach which on the pressed CD is less considered as on that format they are releasing the most "accessible" stuff. The first release of this series is a collaboration MCD which see songwriter/performer Sara Lunden composing with Kyrre Björkås (he plays with the Norwegian band Det är jag som är döden) . and Andreas Mjös (producer/musician, he plays with the Norwegian band "Jaga Jassist"). DUBIOUS contains five tracks which mix "pop" with electronic experimentations and melancholic soundscapes. The tracks are based on male/female vocal duets where the first two tracks "Dubious" and "You can come" see the musical structure based on acoustic instruments (mainly guitar and piano) being enriched by manipulation of electronic sounds. "Naked in my bed", "The sound it makes" and "Murder" (the song I appreciated most because of its dark atmosphere), instead haven't acoustic instruments into their structure as they have a minimal electronic background made of tiny synthetic sounds which couple well the intimate atmosphere created.
Artist:
HOLLYDRIFT
(@)
Title:
Halting Gait
Format:
CD EP
Rated:
Personal project of Mathyas Anderson, Hollydrift is releasing a free four tracks E.P. which mix ambient dub atmospheres with shoegaze attitude (his personal definition). Mathyas in the past experimented a lot into the industrial noise field but lately he didn't found it too stimulating, so he used his passion for field recording, sytnhs and his passion for the place where he lives (Port Washington, Wisconsin, near the lake Michigan) to record four tracks where he mixes the sound of those places with darkwave intuitions (see the rhythmic and melodic "Buckles and bows") and reverbered ambient ambience. His tracks have a certain cinematic effect but sometimes he tend to lose himself into the echoes of the sound produced. Anyway the tracks have a lot of good moments and interesting sounds so you can give them a try by downloading them at http://www.hollydrift.com/haltinggaitep.html. After the listening don't forget to write to Mathyas your impressions because he's offering his music for free but he'd like to share something with the listener (he's also sending another release for free in change of a letter where you describe the place where you live).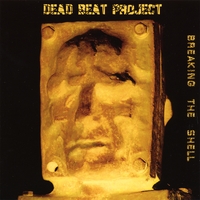 Artist:
DEAD BEAT PROJECT
(@)
Title:
Breaking The Shell
Format:
CD
Label:
Aesthetic Death Records
(@)
Rated:
BUY from
In balance between ambient, 70's electronic with a dance hint and soundtrack to a dark movie, Dead Beat Project present its first album titled BREAKING THE SHELL. Personal project of Esoteric (UK) keyboard player Olivier Goyet, Dead Beat Project first release is able to convince since the first listening thanks to its wide range of sounds and ambiences. Some examples? The opening "Last faith" is a semi Celtic/classical tune, "Silent stream" is a cinematic electronic tune with electro rhythms, "This feeling" is a melancholic dark ambient track with synth pads, orchestration and piano while "Alive and living" is a melodic dark ambient track really evocative. One of the main thing that impressed me listening to the nine tracks of the album is Olivier capacity to switch atmospheres during the tracks in a subtle way thanks to the add of little melodies, rhythms and sounds. He is also capable to make turn one track from dark to melancholic adding only few melody lines and this is a key point if you want to keep the attention of the listener. Check the tracks' excerpts here: http://cdbaby.com/cd/deadbeatproject/from/chaindlk
Artist:
ERIC URSICH
Title:
Electronic Diffraction Patterns
Format:
CD
Label:
Punch Records
(@)
Distributor:
Masterpiece Distribution
Rated:
Active since early 90's as Vacca Stracca (it sounds like "lazy cow") or lately with his own name (he released a vinyl album always for Punch Records, titled "Kanashii"), Erich Ursich is releasing his first proper CD album titled ELECTRONIC DIFFRACTION PATTERNS. Composed using only analog gear without the help of any midi interface, ELECTRONIC DIFFRACTION PATTERNS contains five long tracks of electronic sidereal experimentations. Referring to the early years of electronic music when the sounds were purely synthetic wave sounds with no use of rhythm or drums, Erich brings back that kind of approach by presenting one hour of bleeping sounds, synth patterns and hypnotic ambience. The effect is almost lysergic: the sound waves stimulates the brainwaves, leading them through new lands. Have you ever heard on 60's movies hippies on acid telling that they were seeing colors dancing or talking? These tracks have a similar effect. Mind that you must LOVE electronic sounds and experimental music to enjoy this album but assuming that you do, then you'll discover or re-discover a pioneer way of approaching music deeply linked to future technology (try to imagine what kind of imagine the 60's or 70's people had of it) and sound research.
image not
available
anymore
Artist:
Creature
(@)
Title:
Distant Horizons
Format:
CD
Label:
Haunted House Records
(@)
Distributor:
CD Baby
Rated:
A new release for the Haunted House-recording artist CREATURE hailing out of Derby, UK. CREATURE is Stephen Haunts and he continues with this new full-length his path performing a special sort of Dark Ambient/Down-Tempo Electronica. His musically outfit still relies on some dark lead synth sounds complimented with rhythm patterns between ear-catching and commercial-oriented up to experimental and abstract-minded. "Distant Horizons" is like most of its predecessor "Mechanical" a completely instrumental arranged album, but it surprises a bit, that Stephen for this album seemed to have spent some efforts in the creation of the tracks list. After a dark, cold melodic intro tune ("Indigo"), the track "Carbon" rules the scenario and offers easy-minded but powerful and I tend to say catchy synth textures. But the more this album continues, the more it turns into some darker and more ominous sounding spheres. Since all tracks work well and do the best to offer a matured listening experience, I like to point out the slow and dark-melodic track "Helter Skelter" and the DIVE-like "Flutter" as being favorites. Stephen himself extracts a lot of his sounds out of very experimental-minded kind of work. Circuit bending is to be named and this requires some knowledge of a electrician. Would be surely interesting to know more details on this, since this music is a descent trip under a pair of headphones, but also "easy" enough to work in the background while concentrating on different things. Good stuff.