image not
available
anymore
Artist:
EMBRYONIK
Title:
Space Cadet
Format:
Download Only (MP3 + Lossless)
Label:
Binalog Productions
(@)
Distributor:
Juno Download
Rated:
Embryonik is back and after "Psycho disco" they are ready to rock the space dance floors with a new track titled "Space cadet". The song is an upbeat electro dance tune based on warm pads, great vocoder vocals and spacey atmosphere. George/Embryonik distributed a shorter version on Juno Download as appetizer just before the release of this EP. SPACE CADET contains fourteen versions of the original tune where you will find three different Embryonik remixes ("original", "instrumental" and the cool electro but not spacey "moonbeam") plus eleven other versions from eleven different producers. Here's a quick description of each of them. Noisebrigade decided to enhance the space experience by giving the track a psychedelic flavor with TR808 beats, pads and vocals. Pip Williams mixed retro electro with a bit of grime and house. Binalog Productions on their "Freestyle mix" kept only the main bass line just to play with the tune giving to it a... freestyle flavor. GFC version sounds mechanical and electro with 4/4 hard beats. The Discoballistic remix has different passages that play with minimal melodies and arpeggios exploding on some sections. Urban Midnight made it sound like a particular electro dub song. George Tsakiris made a robotic minimal song with hard beats, basic leads and pads here; Plus the sample tricks of the original vocals. Rambla's remix has part of the original synths mixed with dub grime bass lines and hard beats. Darksphere slowed down the track making of it a sort of minimal electro dub tune without the characteristic dub sounds. 80s Stallone, true to their name did a nice 80s dance version a la Moroder. Jowie Schulner is the last one to remix "Space cadet"; It is so lush with the 80s cinematic feel that I could imagine the closing titles of the compilation just like at the end of a Robocop movie.
(Proofread by: Johan Sebastian Bot)
image not
available
anymore
Artist:
NOISEBRIGADE
Title:
Plastic Fog
Format:
Download Only (MP3 + Lossless)
Label:
Binalog Productions
(@)
Distributor:
Juno Download
Rated:
Having grown up in the 80s, it's downright strange to see young kids today walking around rocking that era's fashion. A few weeks ago I saw a young lady walking downtown and I had to do a double-take; for a second there, I thought 1983 Madonna had come back in a time machine. My point? There was a lot of bad s--t that came out of the 80s, but amidst the waste there were a few gifts that have stayed to this day - one of them being the Italo sound.
The new release from Noisebrigade, PLASTIC FOG hit's all of the right buttons and simultaneously takes you to 1982 dirty rotten scoundrel cocaine drug clubs and modern-day dark bunkers in Rotterdam and Berlin. Bunkers where the crowd rides these rhythms in lockstep with Dj's spinning the platters. The cokes still there, but the new generation is getting off more on basslines.
The PLASTIC FOG EP mixes it up with the dancefloor Italo groovers of 'Soldiers' and the most excellent 'Hacking Your Brain', as well as the more abstract funk of 'Plastic Fog' and 'Bullets and Diodes' for the headphone phreaks.
Topping it off with some banging electro remixes from Darxid, Hyboid and Embryonik, this is a killer release from Italian producer Noisebrigade. Out now on Binalog Productions.
Artist:
C.H. DISTRICT
Title:
Conclusion
Format:
CD
Label:
M-Tronic
Rated:
C.H. District is the musical outfit of a Polish guy called Miroslaw Matyasik. He started under this moniker on 1996 and he also cooperated writing music and , sometimes, acting for three theatre groups from the Silesia area: Cogitatur Theatre, Apart and Suka Off. In 2002 he got a deal with M-Tronic label and the year after released his first official album split with Duuster. In 2005 he released a full length for the same label titled "Slides"and then we have to wait until 2010 for the release of the latest one, CONCLUSION, album which has been licensed to Tympanik Audio for the north and south America. CONCLUSION contains ten new industrial electronic i.d.m. rhythmically driven tracks which are more similar to Oil 10 than to the sound proposed by Ant Zen or Hands labels. Tracks like the main title, "Practical tool" or "Go out" have a danceable pitch mixed to ambient and others like "Shrink" or "Burnaut" (this one features synta[xe]rror), are cool melodic dreamy robotic tunes with powerful beats and a cinematic feel. Then, "Like a human", featuring Tomtylor on vocals, shows new ways of exploring the genre thanks to a rich sound palette (Miroslaw uses many beats coupled to cool electronic textures) where melodic vocals are a great counterpart to an energetic dreamy sound. Really nice album...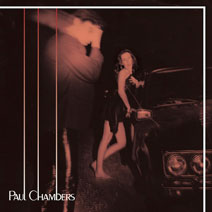 Artist:
PAUL CHAMBERS
Title:
Stations / Absorptions
Format:
CD & Vinyl
Label:
Anna Logue Records
(@)
Rated:
Paul Chambers is a guy coming from UK who in the late 70s started to experiment with synthesizers and, just like Thomas Leer (his album "The bridge" released in collaboration with Robert Rental has been released by Industrial Records in 1979), could be considered a pioneer of dark minimal electronic music. Officially Paul released only two tracks ("Steering solo" and "Take a ticket") in 1981 when he took part to "The apprentices dance", compilation released by Sounds Interesting Records. For "Steering solo", Paul took the post punk energy thanks to solid guitar riffs and energetic vocals and mixed it with epic synth lines. "Take a ticket", instead, is a mid tempo introspective synth wave tune with passionate vocals and nice melodies recalling me a bit John Foxx. Those were two really nice songs which showed the potential Paul Chambers had and that he couldn't prove with a full length release. Fortunately, now, Anna Logue Records is giving to Paul that chance and is giving to us listeners the pleasure to check a double feature release: an LP titled "Stations", containing vocal and instrumental tracks where you can find also the two songs I mentioned and a CD titled "Absorptions" containing fourteen instrumental tracks which sound like a soundtrack for futuristic movies (for the concept of future that people had in early 80s) made with screaming synthesizers and cold drum machines plus a different mix (even colder than the previous one) of "Take a ticket". If "Absorptions" represents the experimental side of Paul Chambers, "Stations" contains synth wave gems like "The appointment with fear" (where sudden pitch changes make it sounds like a post punk track for aliens), "You are time" (syths leads play a mysterious atmosphere while Paul sings mesmerizing the audience like David Bowie was used to), "Crazy lazy" (try to think to a version of Japan's "Nightporter" played by Vangelis) or "Title name" (a slow synth r'n'r tune with guitar solos and fat lead sounds). I hope that Paul will dig some more into his archives to give us more songs. He's a multifaceted artist and he'd deserve to get the proper exposure even if it arrives thirty years late.
Artist:
MILLIMETRIC
Title:
Reconfiguration
Format:
CD
Label:
M-Tronic
Rated:
After releasing different 12"s on labels like on Goodlife and Properproud, Millimetric signed a deal with M-tronic for the release of its debut CD album entitled "Expériences Modernes", which was released back in 2009. Containing collaborations with The Hacker, The Horrorist, Beta Evers and Martin Dupont the album linked electro/techno world to old school e.b.m. sounds (Front 242 / D.A.F / Liaisons Dangereuses / Severed Heads) giving life to a powerful mix made of cold synth sounds and breathtaking rhythms. This new album RECONFIGURATION sees cool producers and bands giving their version of the tracks coming from that debut album. The Hacker opens the dances with an acid version of "Smoking kills" just to leave space to an upbeat dark electro version of "Dans mes yeux" remixed by Lyynk. Also David Carretta opted for a dark techno atmosphere for his version of "Manic depression". Adriano Canzian for "Colargol" used fat lead synth sounds to create an obsessive atmosphere, while Christopher Kah for "Die angst" used dissonant detuned monophonic synth sounds to create an alienate atmosphere. 9 Elma's dark electro atmospheres infected "Dans mes yeux" while Nomenklatur gave their treatment to "Colargol", turning it into a sensual mid tempo in balance from electro and house. People Theatre did a nice job on "1972" turning it into analog sounding obsessed tune. Club Amour on "Escape from camp 81" mixed cinematic atmospheres and dark electro sounds. The Horrorist on their version of "Smoke kills" mixed e.b.m., techno and treated vocal samples used like an instrument. Strange Connection remixed "Dans mes yeux " turning it into an old school e.b.m./electro mix. Dirk Da Davo (the Neon Judgement) worked on "Prejudicial silence" working mainly on rhythm. The album is closed by three unreleased tracks recorded in 2004 (Industry and morality"), 2003 ("Action body") and 2000 (Can't speak"), where Millimetric is sounding more e.b.m. influenced (imagine a sort of Die Form of the 90s) and focused on minimal melodic variations and hard beats. This is a nice release and I hope that Millimetric are working on new tracks, because at this point I'm curious to hear what is next.