Artist: Belp
Title: Crocodile
Format: LP
Label: Jahmoni / SVS Records

"Crocodile" is a playful half-hour mini album spanned by ten short ideas that disassemble electronic dance music production elements- in particular hi-hats and snares, which are a focus- and more organic percussive sounds, pulling the rhythms apart and playing with bending and twisting them into something that sounds like it ought to be danceable, yet defies you to be able to do so.

It's exemplified by "Endless Preparations For A Ceremony", the conscious tripping-up of rhythmic patterns structured akin to avant garde jazz. The title track takes a similar rhythmic approach but with more use of atmospherics and heavily reverb-drenched vocal sounds to give it a moodier and more well-rounded feel, while "Strand", despite being the longest track (at over three and a half minutes!) is a more stripped back and minimal affair.

"One And A Half Years Later" is an example of the more denser tracks, taking some spoken-word music documentary narration and layering it over a bendy and squelchy downtempo groove reminiscent of Wagon Christ, while final track "Catch" is a bold and punchy flourish of untraceable some-kind-of-tribal samples.

Overall it's an unusual collection of exercises in unexpected rhythm programming, but at times it does feel a little bit under-baked, like a collection of incomplete musical sketches- certainly worth a listen though.
Artist:
Borghesia
(@)
Title:
Proti kapitulaciji (Against Capitulation)
Format:
CD + Download
Label:
Moonlee Records
(@)
Rated:
Bogrhesia is a Slovenian band I have heard of (all the way back to the early 1990s) but never actually heard as I could not find any of their albums in the pre-Internet commerce era when you had to find a record shop that carried product. I can attribute my discovery of them to the Trouser Press Record Guide, a book I consider responsible for awakening my interest in many non-mainstream artists such as Current 93, In The Nursery, Legendary Pink Dots, X Marks the Pedwalk and many, many more. Borghesia have been around since 1982, formed by members of the alternative theatre group Theatre FV-112/15. As you might imagine they've amassed a sizable discography over the years, none of which I've heard previously, unfortunately.

'Proti kapitulaciji' (Against Capitulation) appears to be their 13th album after 'And Man Created God' (2014) and 'Better Live Than Dead' (2016). According to the label-provided one-sheet, this album "is a free-floating rock epic based on Srecko Kosovel's modernist poetry that sits somewhere between an alternative soundtrack of 'Blade Runner,' the uncanny ambience of Coil, melancholy Berlin era David Bowie and the immediacy of Nine Inch Nails. After giving 'PK' an initial listen I can understand why the label stated those things, but I don't necessarily agree with them. Yes, this is a very unusual album with industrial and electronica elements, but it doesn't sound anything like Blade Runner, Bowie or NIN.

The first thing you need to know is the album is sung entirely in Slovene, and while that may be off-putting to some, it shouldn't be dismissed out of hand, because there is still much of value here. However, one caveat - there are more than just a few tracks where an English translation might come in handy. (You can get one at Borghesia's website.) The first track, "Odprite Muzeje," equates "Open Museums" with dead ideas and tombs haunting Europe. (How's that for inspirational tourism!) Vocals are dual male/female, as often done on this album. This is set to a backdrop of vintage analogue electronica. It has a somewhat surreal, trance induced quality as the lyrics almost seemed almost chanted. It is no less surreal on the following track, "Kons," about a hollow, empty, culturally dead Europe with an overwhelming aura of melancholy. Musically everything is well-integrated with a chugging rhythm, and instrumentation of guitar and electronics which support rather than detract from the melody of the vocals. "Na piramidi" (In A Pyramid) is where the album really comes alive though and all elements seem to be on an unstoppable dark track. Things only get stranger after this one.

The deeper you go, the more intense and wacky the songs get. There is absolutely nothing mainstream about this album, even though much of it is in a (sort of) rock format. It becomes evident that Srecko Kosovel's poetry, used as the song lyrics, is the most important element of this album. Thematically it speaks of how Europe is dead, art and culture are dead, and it all needs to be destroyed. Good people got sold out, civilization has no heart, capitalism ruins everything, and nothing can save you. Yes, it's a potent sort of pessimistic misanthropy more aimed at the collective than the individual, society in general. I'm sure a little gets lost in translation because even following along listening while reading the English translation at times it seems there is something missing that might be better expressed in the original Slovenian.

What I find interesting is that Kosovel lived way back in the first few decades of the 20th century (1904-1926), died quite young at age 22, but managed to complete 500 poems. He was labeled an impressionistic poet and a political poet, often compared to Rimbaud, and is now considered a Slovenian poetic icon. When you realize the time during which he lived was dominated by World War I, you'll understand better the reason for such pessimism and misanthropy. Kosovel's poetry still seems pretty relevant today (when I first read the lyeics, I thought they had been written recently!) and Borghesia's execution in the music makes it seem all the more contemporary. Although Borghesia are well-versed in the musical idioms of EBM, synthpop and industrial, there is no one genre they subscribe to here. Instead, the presentation is much more theatrical, is if in an electronic a musical. The closest prior work of theirs to this one is 'And Man Created God,' but even that only hints at the full-bore of 'Proti kapitulaciji'.

This is an album sure to have only limited appeal outside of the Slavic region of Europe, partly because of the language, and partly due to unfamiliarity with Borghesia and Kosovel's poetry. It's a worthy venture for the intrepid explorer though, discovering a near century-old major modernist poet filtered through the more modern musical lens of his countrymen.

Artist: Surachai
Title: Come, Deathless
Format: Download Only (MP3 + Lossless)
Label: BL_K Noise

Chicago-based Surachai's seventh album- the first on my radar- is a melting pot of thick industrial, raw electronica and brooding synth work, a deep and dark hour long journey that manages to be both relentlessly abrasive and uncomfortable, yet also engaging by virtue both of being very well constructed, and by being very difficult to pin down.

The initial forays draw comparisons to artists like Aphex Twin, with opening track "The Shedding Of Useful Skin" exemplifying that style of manic glitchy fast-cut electronica that revels in its own anti-structure. This digital micro-management and subbass playfulness, also reminiscent of acts like Autechre, reappears in milder form in tracks like "Articulation Of A Dead Tongue" and the steadier, slightly acid-303-tinged "Splinters And Thurst".

As it progresses more subdued darker qualities are allowed to come to the fore, with "Deciphering Whispers From Wind" a captivating longer piece of distorted black synth work with a rigid sense of suspense, while "An Unfamiliar Reflection Activates A Gate" is a prime example of the industrial underbelly on show.

Overall it's not perhaps as dark and gothic and brutal as the artwork or some of the track titles suggest, imbued with an energy that does at times feel genuinely positive, particularly expressed in final track "Time Splits Every Second".

This will appeal to a wide range of listeners for its accomplished melding of electronica and industrial darkness, and even though it's only January, it's got a chance of staking a claim as one of this year's strongest electronica album offerings.
Artist: Angelo Bello
Title: GENDYN Suite
Format: CD + Download
Label: Elli Records

This suite, deriving its name from GENerative DYNamics, is a short EP of entirely computer-generated sonics with quite an analogue feel, offering up high pitched squeaky sine waves, crisp and abruptly-edged noise patterns and sci-fi bleeps and bloops in a way that might, if you hadn't read up about the concept behind it, seem to be totally random. It's a busy collection, often with multiple elements crashing into each other, and it's not without its ebb and flow, but the overall effect is a harsh and appropriately short-lived aural assault, like a deep facial scrub but for your ears.

The most successful piece is certainly "Ricercar", which expands in a presumably deliberate manner from low electronic rumbles out into a more sinister-sounding cacophony that's strangely both relaxing and tensing in equal measure depending on which angle you hit it at, before the lower notes depart and leave us in a more fragile, bubbly, electronic-underwater environment to close.

Blurring the lines between music composition and computer programming and electrical engineering, it's a curious and somehow quite old-school work, but if you like your electronics sounding genuinely experimental, raw and avant garde, this is an 18 minutes you'll appreciate.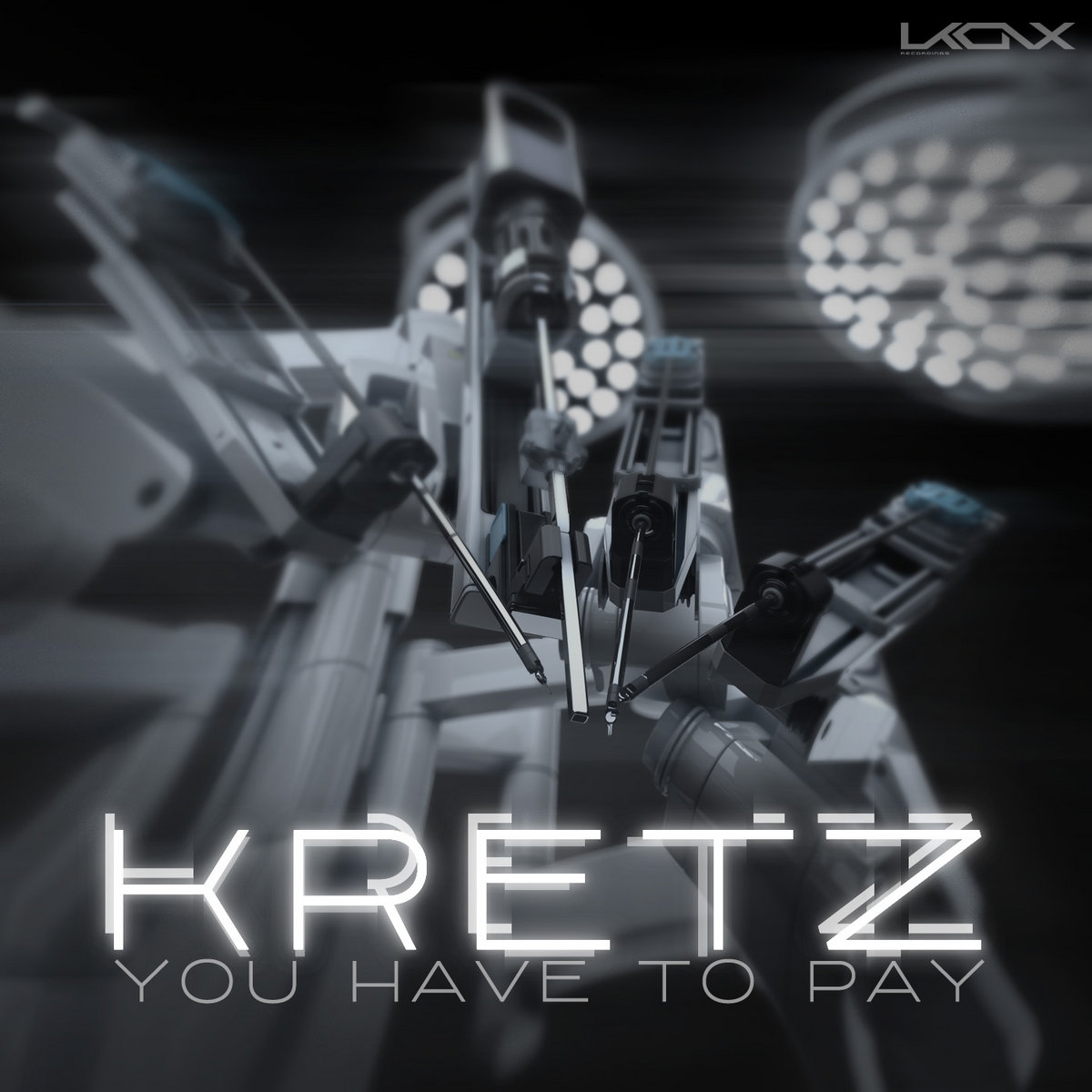 Artist:
Kretz
Title:
You Have To Pay
Format:
Download Only (MP3 + Lossless)
Label:
Ukonx Recordings
Rated:
Jonas Lund a.k.a. Kretz born in Stockholm and has a long history in the music industry. He has a past as a record company A&R and as a label manager but as musician, he started making music on the C64, Atari and Amiga. He released stuff for a lot of record labels such as: Svek, Loop records, Skint Records, Good looking, Mo´wax, React, Paper Recordings, Why Not, Reco-Nice, Plump House, Sub-Stance to name a few. On the electronic music scene he had releases under three different monikers: Anode, Rex 42 and Kretz. With the latter, he released stuff since 2012, all digital releases and the last one is a single for Ukonx Recordings. "You Have To Pay" and "Get Dirty" are two fast tempo (140 and 135 bpm) tracks that mix electro funk vocoder vocals with robotic rhythms and dancefloor attitude. We have few pads here and there and many synth lines that help building the rich rhythmical bone, creating in this way, syncopated intervals into the 4/4 main structure. Also melody is making its part into the creation of two cool tracks that for sure will get the attention of the electro heads willing for good tunes. The single is closed by the Deemphasis remix of "Get Dirty". On this version the Ukonx label boss is focusing on the bass parts and is adding 808 drum sounds, new pads and 303 acid sounds. Nice!