Artist:
Freakangel
(@)
Title:
The Faults of Humanity
Format:
CD
Label:
Alfa Matrix
(@)
Distributor:
Alfa Matrix
Rated:
Not too long ago I was given the nod to review two albums that came from the same source, although not the same record label. The two bands, Freakangel and Suicidal Romance are both from Tallinn, Estonia, and share a key member ' Dimitry i., who on this album does vocals and seems to be the leader. What he does with Suicidal Romance we'll save for the next review. Although there are some dark-electro similarities between the two projects, Freakangel has the more aggressive style and Dimitry is definitely the vocal captain in this band. He is assisted by Art (ex-Kamaloka) on guitars, and frOzen (frontman of cB, aka Cyclone B) on keyboards. Also, these guys really seem to look the part; starkly goth-industrial at a time when most similar American bands just seem to be going with a nondescript look.

In the realm of dark-electro-industrial EBM music, it's hard to come up with anything that hasn't been done before. The style has been well-defined by the likes of Suicide Commando, Hocico, Funker Vogt, Leaether Strip, Wumpscut and so many others. Obvious comparisons to these bands are nearly pointless. So how does a band possibly stand out from the pack? Well, it ain't easy, but I have to give Freakangel credit for trying.

The opening prelude, 'Frailty,' on 'The Faults of Humanity' is a moderately slow industrial instrumental dirge with a bit a dramatic strings and crunchy percussion. That's followed by an old-school EBM style stomper called 'Gods Blind Game'. The synth riff sound is fairly standard and Dmitry's vocals are pretty much along the lines of Hocico, but perhaps a tad nastier. I have to say that it is catchy, and good dancefloor fodder. Rock solid guitar work by Art too. I like the triple-beat on the chorus; it adds a bit of character. There is also a cool bit of dark industrial ambience at the end. 'My Darling Bullet' is another straight ahead stomper but it has a couple of interesting things going for it- a sparsely interjected dialogue sample ('Do you want to die?') and smoothly gliding wordless female vocals, I'm guessing from Viktoria Seimar of Suicidal Romance. What a contrast, something really different in this kind of music.

'Crawling in the Dark' slows the pace down a bit and is plenty gloomy. Dimitry's vocals are no less malevolent though. Very gothy. 'The Last White Dance' picks up the pace again and frOzen's old-school analogue synth work is commendable. Nothing you haven't heard before, but well-done. 'Curse.Forgive.Kill.Cure' seems like it goes on for a little too long without anything of significance happening. 'Together Against It,' which follows is a little more sonically interesting, and also has a better chorus. 'It's Not a Lovesong' almost seemed like another piece of filler until the wordless female vocals saved it from being a fast train to nowhere. By the time I got to 'Price For All of Us' I realized there was little in the way of beat variation throughout most of the material. I don't think it's necessary to make them ALL dancefloor suitable. Some extended atmospherics and unusual beat-play would have been nice, but it is what it is. Since there really isn't any variation in Dimitry's vocals, some variation in the music would have been good. 'Under Code' carries on in a similar manner with nothing particularly outstanding. A little disappointing. 'Finale' is a brief atmospheric piece with wordless female voice, synth and piano, and no percussion. I would have rather have heard that expanded to five or six minutes and have skipped one or two of the lesser interesting tracks on the album. The band is to be commended though for not overusing dialogue samples, a flaw that a lot of dark electro-industrial bands succumb to.

Oh, 'The Faults of Humanity,' they are manifold, aren't they? For a debut album, this is still pretty good; not perfect, not great, but pretty good. Worth checking out. By the way, this album also comes in a 2 CD version (I only reviewed the 1 CD version) if you can't get enough Freakangel.


Artist:
Neutral Lies
Title:
A Deceptive Calm
Format:
CD
Label:
Boredom Product
(@)
Rated:
Neutral Lies are a duo coming from Lille, Northern France, formed by Jean Francois Dean and Nicolas Delbarre. A DECEPTIVE CALM is their debut album under this moniker but they have on their back years of activity with different bands. Since 1986 they gathered experience with: Mr Collins, The Vegetable Men, Integrite Absolue, A Place Apart, Frenetic Convulsions, Process On and Concept of Xeno. On A DECEPTIVE CALM they focused their musical skills on a mix of synthpop, upbeat electro and melancholic mid tempos someone, at this point, would name Depeche Mode, but Neutral Lies didn't have exactly that goal, because their music is more influenced by electronic new wave (check tracks like"Nostalgia" and "Slough of despond") and a bit of 80's e.b.m. (on the label's note you can read the name of Absolute Body Control). With intimate lyrics that cover the high and lows of human soul (mostly the second ones), Neutral Lies added to an analogue synthetic sound, a vocal style in balance from melody and detachment that sometimes didn't convince me fully even if with different listening you get used to that and you start to enjoy the cool sounds they use.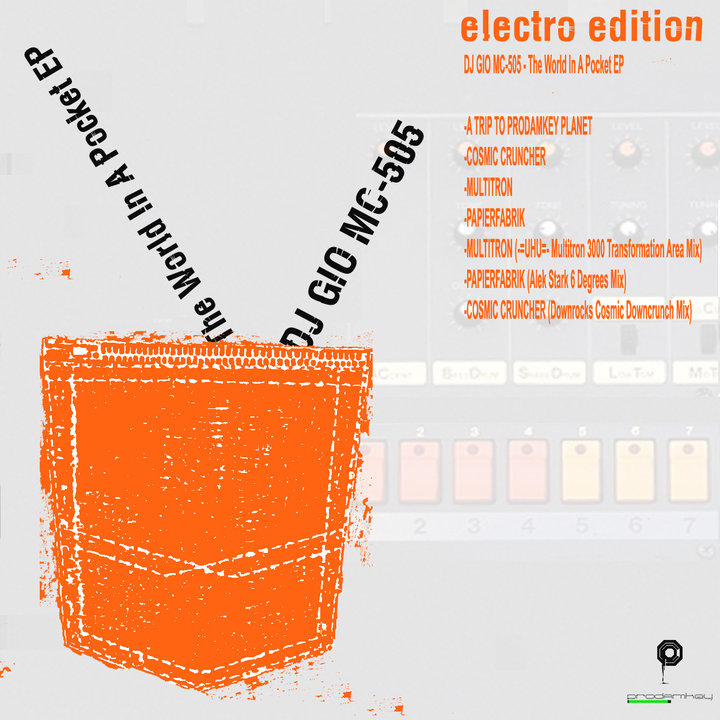 Artist:
DJ GIO MC-505
Title:
The World In A Pocket E.P. + Acid Edition
Format:
Download Only (MP3 + Lossless)
Label:
Prodamkey
Rated:
THE WORLD IN A POCKET E. P . is the latest release of Giosue' Impellizzeri, Italian electronic music enthusiast well known also for his work as musical journalist with different internet magazines (Technodisco, to name one) and with the new Italian edition of the famous Dj Magazine. The last time I had the chance to check his music was with the release of a double compilation on Das Drehmoment where he participated with "Intellivision", a great electro classic with Detroit influences. Ideally THE WORLD IN A POCKET is linked to that tune as it opens with an instrumental titled "A trip to Prodamkey planet" just to explode with "Cosmic cruncher", another electro upbeat track that mix electro and detroit techno. "Multitron", instead, is pure electro with bouncing fat bass lines and spatial themes (all the E.P. is focused on "the future is now" concept). "Papierfabrik" is the last original tune before the remixes bonanza and it sounds syncopated, upbeat and a bit cinematic. The release contains remixes of "Multitron" (UHU after the first release on Gigolo has released few digital E.P. and released his full length on Transient Force always on digital file format. He gave to the track a bit of experimental spatial touch), "Papierfabrik" (Alex Stark opted for upfront hard beats and kinda minimal electro bass / lead synth lines) and "Cosmic cruncher" (Downrocks made it sound like a retro electro tune a la Egyptian Lover, with gated bass drum with syncopated rhythms for the first half but on the end a TB-303 appears giving its acid typical sound). There's also a second release linked to the E.P. and has been released by the other Max Durante's label Angel Dust. On the ACID EDITION of THE WORLD IN A POCKET you'll find three remixes: Snuff Crew remixed "Multitron" focusing on drum layers alternance with few vocoder inserts, Gesloten Cirkel picked up "Cosmic cruncher" turning it into a sixteen minutes extravaganza with few minimal synths, 4/4 beats and TB-303 acid bouncing sounds while the closing Metacid version of "Papierfabrik" sounds obsessive with TB-303 resonance going mad. The remixes are nice but I really enjoyed the original tunes and if you are short of money, be sure to download those ones at least...
image not
available
anymore
Artist:
Apparent Symmetry
Title:
Mourn
Format:
Download Only (MP3 + Lossless)
Label:
Abstrakt Reflections
(@)
Rated:
Another new netlabel focusing on 'the darker side of IDM and post-industrial music', as they like to declare. I have my own and quite critical theory on those labels, as especially the rather experimental-minded Electronica
(net-) labels are growing like mushrooms out of the ground. Whoever will be able to follow all label activities and releases, if especially this kind of music is available in uncountable numbers? Who is seriously able to separate the wheat from the chaff? If there wouldn't be a signed artist of this label (Mr. Sascha LPF 12 Lemon ' cheers mate!) penetrating me with uncountable mails and the usage of MySpace blogs, to check out the quality of the roster of this new and promising label, whoever knows, if I'd ever pay attention on them? After listening this very first release of Abstrakt Reflections, I came to the result, that ignorance to the efforts of this label would mean avoidance of quality and layered Dark Electronica/IDM music ' things I consume like water and air. APPARENT SYMMETRY is a US-based solo project of Zach H. and under this moniker he's able to offer us an attractive form of Downtempo-/ Ambient-Electronica music, which features a crunchy rhythm work very near to the ideas and allows comparisons to such cult artists like GRIDLOCK, or some of the recent Tympanik Audio projects like ACCESS TO ARASAKA, SUBHEIM, or CANDLE NINE. Zach sets the quality on a high level without simply copying his idols ' his true, layered Industrial ambience touches the eardrums. 'Skybending' is the name of the most addictive tune, chosen out of this masterpiece here, which includes brillant piano inserts placed in a fragile synths-sound environment and subtle inserted rhythm works. 'Mourn' is a spectacular Dark Industrial/Ambient album, which surpirises through its matured sound design, which is lightyears better, tahn anyone does expect from a newcomer. Keep it on both, label and artist ' this is a must-download-item.

image not
available
anymore
Artist:
VV.AA.
Title:
Synthematika One
Format:
Download Only (MP3 + Lossless)
Label:
Synthematik
(@)
Rated:
Netlabels come and go, and even, if I tend to repeat this phrase over and over again, this new Russian based label has some remarkable stuff available in the roster. To start with a compilation of 31 participants is surely a nice initiative, but besides this, this compilation offers a fine overview of the current Russian, and a lot out of the ex-Russian federation states, accommodated underground scene. In between you'll get also some international guests, projects like PROJECT ROTTEN, SUPERVILLAIN (both out of Sweden), California's CYSTEM CEX, or the relatively known Argentinean project LASTRAX, as they all could enter a free slot on this uprising compilation. If you would decide to burn this compilation as audio, you would receive a remarkable 2CD collection, which strictly separates between the rather calm and melodic Synthpop-driven part on CD1, and the harsh and EBM/Industrial- formulating CD2. As to write on all participants would hurt my fingers, as well as the review would turn out too huge, I prefer to name the few outstanding tunes. Part/CD 1 starts with ALPHA POINT and their track 'Things I Do' ' to me the very first act I could discover originally hailing out of Moldavia. It seems that this act has listened and understood the kind how MESH would produce a quality song ' as this project reaches nearly a comparable quality! Russian quintet MEZZAMO we had on here with their latest release and 'Without You' proves their catchy abilities once again. The surprise of this imaginary CD 1 has to be named with RU.ARE, a to me undiscovered Russian talent with a track called 'Halo' ' catchy refrain with smooth male vocals providing convincing English lyrics, all placed in a well-done composition under tasteful arranged synth patterns ' well, this seems to be a must-to-check-them-out soon. Generally nothing bad got featured on this first part, but also the second part of this remarkable compilation buries out some fine talents. We've reached the harder and more EBM-driven part of this compilation, and most likely those bands turning a bit away from the mass-consumed, repetitive Hellectro-rush can reach the best results. That of course doesn't mean, you'd find only dumb and horrific bad contributors out of the Hellectro boot-camp ' not at all, just check CYSTEM CEX and the Belarusian talent DIVERSAND 13 for example ' but if bands try to figure out a somewhat own and authentic sounding stuff, I'll normally go for them. Moscow's SPIN PROVIDER have been quite often invited guests, when it comes to review another Eastern European-based efforts. Their rhythmically well arranged tune sets a first standard. Finest Dark Electro rather following a classic, DECODED FEEDBACK-related sound outfit, you'll get presented by DREAMER IX, a Russian project, which could recently release a debut album via the Hungarian Advoxya label. Although I know, that our online system may does not print the Cyrillic letters in a comfortable manner; I'll give it once again a try (and sorry, if I wouldn't be able to figure out a possible English translation'¦). A lot of new names and talents to discover, so download this one (it is free), and you'll surely find some pearls to keep an eye on. Congratulations also to the responsible people behind the Synthematik netlabel for bringing out a promising overview on the Eastern European and mostly Russian-related Electro/Industrial scene.

01Alpha Point - Things I Do
02СпекÑÑÑм - ÐÑÑÑÑ ÐÑÐ´ÐµÑ Ð¢Ð°Ðº (Revisited)
03Supervillain - Heroes
04Systema Synthetica - Tower
05Ecstatic Mood - Face The Facts
06LastraX - Big City Lights (Synthematika Edit)
07Fashion Suicide - A Guiding Light
08RU.ARE - Halo
09Kosmodromm - ÐÑÑÑой ÐоÑод (1.0 Version)
10Mezzamo - Without You
11ЭлекÑÑонное Ðблако - ÐеÑÑаÑÐµÐ»Ñ (Reworked)
12SynthetiXXX - Un Jour Que J'attends
13Technomancer - Emulator (Synthematika Edit)
14Ladder, The - 3rd Sin
15Carved Souls - Waveform (Extended Mix)

16Alien2064 - 20-07-69
17Infektline - Dance All Night Away
18Project Rotten - Confessions Of A Killer (Reworked & Remastered)
19Cystem Cex - Homicide
20De:Source - Wake And Scream
21Hypno[Revil] - Letzte Wache
22Zweifelhaft - Reborn (Synthematika Edit)
23Spin Provider - УÑÑо (Synthematika Edit)
24Whitar - New World
25Nexothex - Cellar D00r
26Dreamer IX - Only You
27Diversant:13 - No Fear
28Delithium - Going To War
29Sturmreaktor - Fallout
30T_error 404 - Passed World
31Ginger Snap5 - Synthema Song