image not
available
anymore
Artist:
XYKOGEN
(@)
Title:
Carnevale
Format:
Download Only (MP3 + Lossless)
Label:
Line Out Records
Rated:
For their comeback, Xykogen decided to do things in big. CARNEVALE, their fourth album available as free download on Line Out Records, will have a video released for each track available on their YouTube channel (one every week for three months). Active from 2004, Xykogen are formed by Amon (formerly the vocalist of UK cyberpunk band Arkam Asylum), the Reverend Eris (co-founder of Wasp Factory Recordings and occasional member of The Chaos Engine), Max Rael (founder-member of History Of Guns) and Lee Chaos (founder of The Chaos Engine and Wasp Factory Recordings, and now runs the notorious Judder nightclub in addition to being the man behind temp0rary). The twelve tracks of CARNEVALE picture a shizophrenic scenario influenced by e.b.m. and post punk where magick, social control and other various insanities are well represented by the chaotic musical formula of the band. Try to imagine Chumbawamba meeting Killing Joke at a Chemical Brothers concert covering Front Line Assembly songs. These tunes are full of ideas and melodies and it would be insane not to download them to make them "spin" on your digital system once. You'll see that that won't be the only time that you'll want to listen to the declamatory rap of Reverend Eris uring his band mates to increase their volume and distortion.
image not
available
anymore
Artist:
SEVEN OCTAVES
Title:
Encouragements
Format:
CD
Label:
self-released
Rated:
The newest Seven Ocatves album, ENCOURAGEMENTS is able to destabilize the listener for the way Kenny mixed synthpop (check "The real me"), late 70s pop a la Hall & Oates (like on "I'm falling"), 70s electronica, dubstep, electro funk, id.m., a bit of jazz or cheesy early 80s dance/soundtracks tunes with piano and harp in evidence (check "Give it unto you"). I dug the central part where electro funk was the main influence but at first it's difficult to get into the right mood to listen to the whole album in only one session. You need at least a couple of time to get used to its "weirdness" to be able to fully appreciate it. This album contains a lot of ideas and melodies if you are patient to discover them... Nice.
image not
available
anymore
Artist:
T_error 404
(@)
Title:
Modify
Format:
Download Only (MP3 + Lossless)
Label:
X-Line
(@)
Rated:
Already some months before released, the latest full-length and still freely downloadable album of the Russian one-man project T_ERROR 404 gives us an update about the musically coarse of the second owner of the Alter-X promotion group, Mr. Denoizer. With 'Modify' he could create a detailed follow-up to the last release 'Million Thoughts', as this one turns out to offer a playing time of more than 90 minutes. Generally Denoizer continues his path, to offer straight and speedy Electro/Industrial tunes, which tend to integrate a colorful fusion between different music styles like Dark Electro, TBM, Synthpop or Powernoise-like inserts. There's is enough stuff to share some wild-Pogo-like dancefloor movements ('TransCommunication', 'Modify'), while those energizing tracks like 'Angel (Cloned)' offer a good Powernoise-entertainment. But personal favorites to me are the more clearer, more classical arranged Dark Electro tunes like 'Exhalation' (good Russian voice samples, good synth-pads and interesting, temporary break-beats), or 'Out Of Body' (eardrum-cutting Hi-Q sounds, nice effect-processing on the vocals...). Not to forget the 3 remix contributions by the Belarusian up and coming Harsh-EBM-talent DIVERSANT: 13, ZWEIFELHAFT and a collaboration with project of DJ Jana Dark, DARK RAD, on the track 'Shade'. All of them offer a still danceable, but of course different sounding interpretation of the T_ERROR 404 recordings. That there's also hidden a bit humor behind this project, proves the cover version on a Mark Oh track 'Tears Don't Lie', which concludes this long clocking and very diverse produced release. I'm not that sure if I should prefer this one compared to the predecessor or vice versa - no musically direction or a planned float of an album seems to be foreseeable on 'Modify', which makes it a bit difficult and demanding to follow all tracks after another. It does good to hear, that Mr. Denoizer doesn't like to fall too deep into any death valley, which Electronica can always offer ' on the other hand, some tracks would come out a bit better, if they would be polished and sorted in the track list a bit better.


Artist:
Totakeke
Title:
On The First Of November
Format:
CD
Label:
Tympanik Audio
(@)
Distributor:
Ant-Zen
Rated:
It has again taken longer with me to review the newest effort of Tympanik Audio's most iconic artist TOTAKEKE a.k.a. Frank Mokros ' much longer than the first of November I must admit. However, here are another 10 reasons to concentrate and to sink in completely into the sonic and fictional-driven music-outfit of this highly talented artist. This new album differs in a few aspects to the predecessors of Frank. 'On The First Of November' isn't at all that easy to consume and this album doesn't offer a track-list. 10 untitled tracks, as well as the photographic art provided by Salt mainly consisting of frozen leaves, rather remind on a conceptual release. Also musically, Frank has already offered more accessible works, although this can't be seen as flaw, at least not in the case of TOTAKEKE. All tracks are once again skillful arranged and are filled with uncountable pads, layers and massive atmospheres. The diversity in his complex arranged beat-work and drum-patterns searches another time for a constant rival still to be discovered. So it can't be generally a flaw to concentrate with TOTAKEKE on a more Experimental-minded outfit, instead to offer once again an album filled with Industrial-Dance-tunes, as here could hide a musically death valley of repetition. New is also the fact, that Frank has installed a kind of a guest 'vocalist', Mr. Redils, who offers his rather ominous sounding speech-singing on the track 1, 6, and 9. Frank Mokros shares musically formulated art with us, his listeners, and I really am unable to point out an all-time-favorite track out of these 10 tunes. Each of them has ist own attraction itself, so this album is another fine example to take some free time and to sink into this more than 70 minutes clocking sound experience, which lefts the listener breathless and endlessly fascinated. 'On The First Of November' sets the standard of modern and skill arranged IDM/Modern Ambient-Electronica music on a high, nearly unreachable level.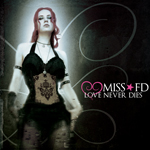 Artist:
MISS FD
Title:
Love Never Dies
Format:
CD
Label:
Quantum Release Records
Rated:
Miss FD with her newest album LOVE NEVER DIES redefines slightly her music thanks to a minor use of distorted sounds and less e.b.m. influences which characterized her Frightdoll albums and some songs of the debut CD she did under the Miss FD moniker. LOVE NEVER DIES contains seven songs and it's quite short (it is about twenty seven minutes) but despite this, it succeeds into creating a warm feeling where the listener can check the many moods of Miss FD. In only half hour, she leads her fans through electro goth dance atmospheres (like on the opening "Moment of fade" and the following "Losing ground") that show an artist influenced more from Depeche Mode than from e.b.m. "Cry for you" recalls her old atmospheres and after the short instrumental "Temporary relief" there are some surprises that will show you the other side of Miss FD's music. "Negaverse" is a song that alternate piano ballad atmospheres to dance electro e.b.m. ones, mixing melancholic atmospheres to catchy upbeat rhythms with strong vocal choruses and "Away from here" plus "In love, loss and neon", are two songs based on piano where FD opens her bleeding heart with two passionate ballads. Dark, passionate, melodic and energetic, LOVE NEVER DIES is out there since St. Valentine day for you to check...