image not
available
anymore
Artist:
Blastromen
Title:
Human Beyond
Format:
CD
Label:
Dominance Electricity
(@)
Rated:
Opened by the upbeat epic main track, HUMAN BEYOND is the debut album by a Finnish duo called Blastromen. With a past as techno music producers, the two mysterious men behind this project, started they adventure into electro music in 2004 with their first EP "Robot Aggression" released by the Finnish label X0X Records. The EP, which now is out of print, presented four tracks which already alerted the lovers of the genre (the CD edition has from this release, as bonus tracks, "Space Trader" and "Le Nucleaire Civile"). "Blasteroids EP" released two years ago created a certain hype thanks to the main track which was been included into the first volume of the Street Sounds "Nu Electro" series the year after. Everyone was waiting for their debut album but the moment was never arriving. The wait ended in September 2010 when Dominance Electricity (the most renowned label of the genre) delivered HUMAN BEYOND, making it available in CD (along with the aforementioned bonus tracks you can also find "Blasteroids" from their second EP) and double vinyl album (available in black and blue transparent vinyl) with an extra poster. The characteristic of Blastromen is to write catchy futuristic electro tunes with fast electro funk rhythms, spatial atmospheres and a bit of dark flavor (the same feeling you have when you are watching a spy story from the future). On tracks like "Computer simulator" the influences of the fathers of modern electronic music (a.k.a. Kraftwerk) are evident but there's so much more to notice that the blasting sounds, the vocoders and the intricate rhythm pattern (bass lines, leads, arpeggiators and drum sounds) aren't only special effects but are part of a special formula that make of Blastromen a great news for electro scene. It is impossible to keep your feet still while listening to "Space Trader" or "Battlenet" (you already had the chance to check this one on the second volume of the "Nu Electro" series) and with an imaginary of world wide wars of the future, scientific experiments, robotic humanity where we can uploading consciousness, enhancing capabilities, reconstructing entities and exceeding possibilities, Blastromen are there for your sci-fi parties.
Artist:
VV.AA.
Title:
Advanced Funk Vol.1
Format:
2 x 12" vinyl
Label:
Binalog Productions
(@)
Rated:
ADVANCED FUNK VOL.1 is the first vinyl release of Binalog Productions and it contains twelve tracks/international artists on the double vinyl edition and seventeen into its digital edition. Electro funk born in the 80s as genre, taking inspiration from the robotic electronic music of Kraftwerk and mixed it with hip-hop and dance. The first bands to be filed under this genre were Africa Bambaata, Cybotron and Newcleus (to name few). During the years the genre mutated (nowadays some acts sound darker paragoned to the electro funk originators) but some characteristics such as the syncopated rhythms, the use of vocoder and the analog synth sounds remain a must. ADVANCED FUNK VOL.1 gathers many new producers as well as people who have been involved into the scene since the 80s but never released tracks (Dj Mirage and DJ Xed are two of them) and others that released something during that decade (LekroiD). Coming from Spain, Eleztrik Body, open the compilation with "Future lo-fi", a classic dark sounding bouncing track. R21 from England (I already reviewed their new E.P.), with "Minimum", is a bit less dark but keep high the level of adrenalin with fast bass lines, filtered vocal samples and atmospheric laser like sounds. Hitachi II from Czech Republic, with "Tokio city", show his love for manga comics mixing happy melodic lines with hard beats and atmospheric long synth pads. Darxid is next with "Eternity", a track which mix electro and a bit of breakbeat. Dj Xed, helped by Dj K1, is here with a classic electro funk tune based on bass synth lines, freaky synth sounds and mysterious vocals. Morphogenetic from U.S.A. (headed by Santino Fernandez, one of the two people behind Fundamental Bass Intelligence) present "The secret war", a track based on dark melodies, stops and go and spacey sounds. Dj Mirage is in the house with "ElectroMech", a massive tune that sounds really powerful, robotic and epic. Paul Blackford's first release was on Dmx Krew's Breakin' Records and he's here with "Bacteria", an anxious mix of analog electro and Detroit techno. Alavux is Goran Alavuk from Serbia and "Natasha's funk" is a mix of acid, electro and techno which grows little by little adding melodies and rhythms step by step. Prototype from Germany allowed Binalog Freq to remix "Stimme der energie", which now sounds like a fresh mix of electro and techno. LekroiD, inspired by Kraftwerk, bring in "Parametric shift", a vocoder driven cool tune with catchy melodies (if you love Mandroid check this one). UKV are a duo from Croatia and "Mizar" is their track which mixes ambient techno intuitions with electro funk rhythms. From Poland, Robodrum is the first act to be only on the digital edition of AF1 with their "Army of droids", a robotic doped track with hypnotic sounds and powerful drum beats. Dwellz Rawkz is coming from Miami and it could be perfect for his city label Transient Force, thanks to electro distorted sounds and techno influences. The Boyz From Tronn with "The rock", bring some old school sounds into the compilation and if I were you, I'd check also their first album "Galaxy"! From Netherlands (just like The Boyz From Tronn), Ctrl.Alt.Del, with "Nightvision (GPS updated)", are here with an experimental robotic sci-fi tune which sounds like Dopplereffekt on drugs. George Tsakiris feat. Binalog close the compilation with "Afro spacecraft" an upbeat cool tune full of bouncing bass lines, spacey leads and crazy rhythmic lines. The compilation is officially out today and if you want to check it, Evangelos is giving away for free a megamix reworked by Spotta. Check it, now! P.s. For the digital edition, here's the link http://www.junodownload.com/products/advanced-funk-vol-1/1636234-02/?ref=dlk
Artist:
Downrocks
Title:
Mecanismos
Format:
Download Only (MP3 + Lossless)
Label:
Beat Hazard
(@)
Rated:
Camilo Sampayo is not a newcomer. Moving from Argentina to Spain in 1982, he participated to the first "Electro domesticos" compilation back in 1998 (under his Kapi moniker with the song "Psicofastofoide") as well to the second chapter of that compilation which has been compiled and released by Alek Stark few months ago. This time he participated with "Sounds Of The Streets" as Downrocks. He has also a past as hip hop and graffiti artist during the 80s but I'll focus on Downrocks for this review. With this project he already released two E.P.s ("Geometria" and "Beathazard") for his own label Beathazard Recordings in 2006 and 2008 and he just released as download only a new E.P. titled MECANISMOS. This new release contains six new songs which have many highs: great choice of electronic sounds which sound powerful and balanced, syncopated rhythms and catchy melodies, cool vocoder vocals and good mix of spacey sounds and synth bass lines/leads. Since the opening song "Pretoria" the listener is trapped within hypnotic arpeggios and catchy tunes while the electro funk structure of the song is making you dance. Also "Fastofoides" follows the same path and presents vocoder vocals, warm pads and those characteristics brass break sounds. "Pop and locking (Freestyle Mix)" is nice example of r'n'b mixed with electro funk with the soul vocals of Renko. "Mech city" sounds a bit more robotic with synth fast "scratches" and stops and go. "Micro stones" is dark, mechanic and sounds like Godzilla playing classic electro (really cool the slowed down vocoder vocals). This great E.P. closes with "E.M. waves", a mix of classic electro funk and dark electro with 4/4 hard beats. You have to check this one and you can do it fully here http://downrocks.bandcamp.com. Listen to it and purchase it supporting Downrocks!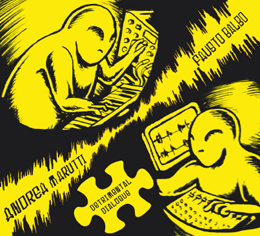 Artist:
ANDREA MARUTTI, FAUSTO BALBO
Title:
Detrimental dialogue
Format:
CD
Label:
Boring Machine, Fratto 9 Under the Sky
(@)
Rated:
This collaborative effort puts together ambient, dark ambient, electronic hero and Afe records head-chief Andrea Marutti and Fausto Balbo that maybe some of you remember for having played in a hardcore band called Jesus Went to Jerusalem and later in the electronic-metal duo Der Tod. During the last years Balbo has produced and played some electronic music made out of synths, samples, incredible self made kalimbas and a full load of great taste, so no surprise he musically tied the know with Marutti. Even if the length of the tracks may suggest an heavy influence of the ambient musician, I think many of the sounds crossing the scene will show how this collaboration is the result of a mutual work. The first synth driven suite start as an ambient piece to leave room to some unexpressive white noises and sounds and to se resurface a simple fragmented keyboard melody, as the rest of the music the track is hyper arranged and not so immediate. The second episode offers the same kind of cocktail you will sip for the whole length of the cd, but beside the ambient frameworks coming in and going and together with these sharp and/or fragmented electronic noises the used some bass lines, sometimes the impression is they put together some old IDM, Pan Sonic and cold experimental electronics, also thanks to its structure this track is my personal favorite. With the closing tracks the atmosphere of the release becomes more rarefied and abstract, bringing in the "space is the place" element to the music, so if you're into that "we're floating in the universe" feel you love these closing chapters, above all the last one where this dynamic duo hypnotizes and scares the shit out of the listener, avoiding dark or gothic influences which it's a result itself. An electronic post-ambient, post-kraut, cold but yet analog-sounding release...can you imagine that?! A listen may help above all If you consider this' definitely interesting and not a conventional output.



Artist:
Urban Jedi
Title:
Pathfinder
Format:
Download Only (MP3 + Lossless)
Label:
Binalog Productions
(@)
Rated:
PATHFINDER is the second single by Urban Jedi. On this download only release Mike presents two new tunes. The main one is a mix electronic sounds, harpsichord arpeggios, long synth sweeps and 4/4 syncopated hard beats. Sounding melancholic and cinematic this instrumental track has a deep atmosphere good for a modern version of Blade Runner. "Extraterrestrial discjockey" mix long synth pads, upbeat beats which sounds like a train, pulsing synth sounds and few female vocal samples ("Can you imagine an extraterrestrial discjockey, like listening to radio...?" [I didn't understand the last words]). Both tracks have saturated sounds which give to the whole mix a dreamy sensation. Nice one! Exclusively available here http://www.junodownload.com/products/pathfinder/1640473-02/?ref=dlk