image not
available
anymore
Artist:
CROTAPHYTUS
(@)
Title:
The Bite Of The Reptiles 2
Format:
12"
Label:
Solar One Music
Rated:
One year after the Raw Mechanics / Crotaphytus split E.P., the duo formed by Robert and Nico (the Solar One Music's guys) is back with four new menacing tunes and a Mr Pauli remix of the opening "Cnemidophorus Sexlineatus". The A side of the EP makes the listener understand, as usual, that Crotaphytus is taking no prisoners and that its search for food can't be stopped by humans. Sounding raw and cinematic "Cnemidophorus Sexlineatus" opens with mid tempo rhythms where high frequency synth pads, like sirens, make the tension grow. "Plethodon Glutinosus" has a slow rhythm made out of metallic percussive sounds and a deep bass line that make your nerve tremble. "Don't Look Behind - Cycle Of Life" is a mid tempo based on alternation of percussive synth sounds and percussions with stops and go and filtered nightmarish vocal inserts. "Hydromantes Platycephalus" with its 4/4 distorted beats, sounds almost a retro experimental e.b.m. tune. Mr Pauli remix of "Cnemidophorus Sexlineatus" sounds like Robert Smith remixed it, because that flanger on the bass guitars makes it sound so 80s (but Pauli kept also the main synth lines). "Coleonyx Variegatus" is a short closing track that make the horror atmosphere revive after the Pauli's remix. Is to notice that on most of the EP, melodic lines enrich the atmosphere creating with all the other cool synth instruments a great soundtrack for the Crotaphytus' meal. Act fast, this is limited to 200 copies!
Artist:
BINALOG FREQ
Title:
Ments 2010
Format:
Download Only (MP3 + Lossless)
Label:
Binalog Productions
(@)
Distributor:
Juno Download
Rated:
MENTS 2010 is a nice collection of remixes and remasters of three songs coming from the very first Binalog Freq release. Celebrating the 60th Binalog Productions releases, MENTS 2010 opens with an electro house remastered and reworked version of "Elements" just to follow with the first remix of that tune by Pip Williams. Pip gave to the tune a particular flavor as it is a mix of dubstep and early electronica a la Vangelis (with nice synth sweeps and epic leads phrases). R21 is next to remix "Elements" and their "5th element remix" add to the house atmosphere of the original version a little more electro. Noisebrigade after the free download debut "Cathodic dreams", remixed the track turning it into a proper song, thanks to robotic atmospheres and voices ("I'm a bot made of chrome / I compute all alone / making wishes, making plans / I connect all the elements) and to melodic lead inserts. Prototype kinda de-structured the tune on the first part (with false starts and defragmented sounds) just to start the second with a electro monster bass line which leads the dances. Binalog's "Chill Pill" version slowed down the original one making it sounds like a bad dream. The EP is closed by the remastered versions of "Moodments" and "Movements", which now have enhanced their house, techno and nu-dance influences. As usual, the EP is available at the main digital download stores.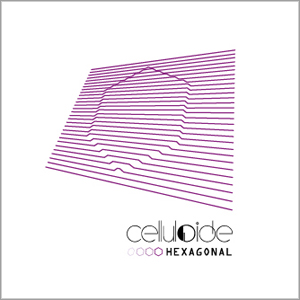 Artist:
CELLULOIDE
(@)
Title:
Hexagonal
Format:
CD
Label:
Boredom Product
(@)
Rated:
Three years after their latest album containing original songs (the album they released in 2008, "Naphtaline", had only covers), Celluloide are back with HEXAGONAL. The eleven songs of the new album are true to their style thanks to the use of analog synthesizer sounds, 8 bit bleeping sounds and thanks to the dreaming/melancholic voice of Darkleti. Packed into a deluxe 8 panels eco digipack, HEXAGONAL finds the trio dealing with solid melancholic pop songs in balance from synthpop and e.b.m. (many bass lines they used sound upbeat and fat). All the lyrics are in French language and they deal mainly with people's difficulties of bonding: like on "Fair du bruit, which means "Making noise", where he or she turns on the tv, the radio, opens all the windows to let the noise fill the place of a loss. Sounding well produced, elegant, full of nice melodies, sounds and rhythmic lines, HEXAGONAL is a good album that will satisfy the lovers of minimal pop as well as people fond of early 80s e.b.m.
Artist:
Versus
(@)
Title:
Different Twilight Places
Format:
CD
Label:
Echozone
(@)
Distributor:
Masterpiece
Rated:
Versus is a synth-pop/EBM German band coming from the electronic music-contaminated area of Dresden active since more than 9 years, which gained some notoriety after they won the bronze medal at 2004 edition of the Europe-englarged band contest "Battle of the Bands" through Re:start, a well-forged "discoid" EBM song enfilled with computer terminology included in the 15-tracks (plus a prologue) list of Different Twilight Places, a sort of concept album based on the idea of the journey...a very special one according to the passengers which decided its itinerary starting obviously from Monestirea, a track named from the village they come from, a place crowded by shuddering freezing android, a song full of digs to false morality, polluting small peripheral villages of rich countries, which are blind to distant facts which seemingly don't produce any effects on the internal balance of the community (they sing "Don't close your eyes fromdistant things: they will catch you faster as you can think/[..]/no one cares about another one/everyone has to die someday/.../everyone is cold inside")...a relevant remark as if you don't understand the starting point, the subsequent stages could appear not so meaningful...don't expect anything particularly revolutionary from the stylistical or musical viewpoint! The hard-driven beats spread out by this German lads are quite conventional, even if the official info-sheets about this release indulgently qualify themmas a "muscially most diverse band". By the way, someone could trustfully be of the opposite opinion, as sometimes the style is so homogenous and poor in variations that they could induce some yawning in people looking for variations. Luckily the energetic slightly stomping facts and some meaningful lyrics as well as some nice tracks such as We Are Cloned (my favorite track as it looks like a sort of controversial act of honesty by the band when André Steinigen, the voice as well as the lyricist, say "don't clone your idols../we are the clones of our creed"), the energetic Freequency, Drifting Away - featurinf Stefan Grossmann from Absurd Minds - and some little pearls of romance (Beautiful Like You, Travelling Home) help all those needies thirsting for beats. I have been even more puzzled by AG Akrobatik, the ghost track you could hear at the end of the album, which could be fitted for a Carharrt advert in my opinion, but looks out of keeping with the general mood of Different Twilight Places.
Artist:
goJA moon ROCKAH
(@)
Title:
Libido Cowboys
Format:
CD
Label:
Echozone
(@)
Distributor:
Masterpiece
Rated:
You could imagine the four members of goJA moon ROCKAH wandering about the kebab or weed-smelling and muddy narrow streets of some red district in Northern Europe wearing like cowboys with smoking guns acting as stand-ins for flabby cocks, animatedly chatting about new arrivals in sex shops or new flirtatious hookers after listening to the tile-track of their thirs albuym, Libido Cowboys, and the somewhat cartoonish story told in some of their songs mainly about lust, sex, unfullfilled love and so on, but maybe they're nothing but reporters of an artificial society whereas they observe and get inspiration from talent-scouts, crowding such places to look for a presumable new glamouresque music star or even a vote-sucker political candidate, a world inhabited by freaky creatures such Zombies on dope (!) showing off the brand new discovery of beuty treatment or a new glittering color for hair there's no real space for true feelings. The almost commonly accepted opinion which can be subsumed in the imperative principle "Sex sells" seems following the reversed movement of a burning cigarette and even if these German guys in their somewhat amusing 10 electro-pop songs try to entertain there's a sense of decadence coming out in many tracks (Erotik unser Eis, Geraldine or Tropische Liebe, whereas in a stereotyped tropical paradise there's still space for a love dream - "Es ist das Scheppern der Gedanken /Hier oben in den Baumen/Wo bunte Vogel wachsen/Und von der Liebe traumen" - which could disquiet any listener laughing after they depicted carnivorous pussies or similar stuff...). The neo of this album maybe stands, alas, in its not so original style: a part of some interesting arrangements partially reminding the primordial steps of ebm and hard disco and some electro-punk staining, I could say Libido Cowboys could stand as a funny act for foot tapping or for an hey-hey choir at stadiums and it doesn't really sound so sexy as lyrics could suggest. Maybe is it a purposeful choice?