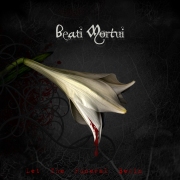 Artist:
Beati Mortui
(@)
Title:
Let The Funeral Begin
Format:
2 x CD (double CD)
Label:
Danse Macabre
(@)
Distributor:
Alive
Rated:
Again signed with their second official album to Germany's well-known Danse Macabre label group, this trio hailing out of Finland provides musically a quite interesting mutation. They combine the usual hard-driving force of a Harsh-EBM-like sound outfit, with raw and abrasive fx-processed female vocals, but too some Goth-Rock-like guitar riffs and some decent melodic inserts with beautiful sounding female vocals on the opposite. Let's throw bands like THE BIRTHDAY MASSACRE and UNTER NULL into a cooking pot, as this may describes well the elementary components of their sound. Their EBM-driven sound is definitely the leading force of the whole artistic foundation and comes out energetic, angry and with the required special doze of adrenaline to keep the bodies of the dancefloor-junkies in motion. 'Vision of Hell', 'Prey' or 'Soulreaper' offer all of these notorious weapons on board to keep on rawking. Musically more valuable I find those tracks, which move a bit more towards to integrate a wider horizon. The catchy and with some nice piano inserts arranged 'Deathrow', which features a dramatic additional vocal performance by Bruno Kramm of DAS ICH has to be named to fall under this category. Not to forget the intro and outro tunes 'Painting'¦' and ''¦Obsequiae' which feature partly words and poems out of the Finish traditions. 'Let The Funeral Begin' is artistically a quite ambitious album, which comes out as a well looking digipack, which features a second CD filled with remix contributions by an international selection of artists. The typical chosen Hellectro-Tommyknockers like SUICIDE COMMANDO, C-LEKKTOR, the well recognized label-comrades like Chile's DIE BRAUT, or the Greek project INLINE.SEX.TERROR haven't to be missed and offer additional food to consume at best on the dancefloors. But additionally some names like KUROSHIO, ERILAZ, or MACHINE PARK are rather counting to the lesser discovered projects, but from which we will hear and report surely soon from. All in all a quite good one, which offers more diversity compared to your usual Harsh-EBM/Hellectro listening experience.
Artist:
VV.AA.
Title:
Voices from the Underground
Format:
CD
Label:
Creative Commons
Rated:
This is always a great feeling to find a new, still anonymous artist which has a fresh sound and something meaningful to say. This is an even better feeling to help such an artist to reach out to potential listeners. For this reason I take pride in introducing this compilation to the readers of ChainDLK. This album was produced by the common efforts of Promofabrik and darkradio.com. Most of the artist are absolute newcomers yet they have provided great material for the album.
Alpha Point opens the album with 'I like the Angels'; a high quality electro track bearing serious potential for darker clubs. A catchy, emotional refrain, clear male vocals have already made me rocking my torso sitting on my chair. Degrees have got a rather alternative rock sounding composition. A rather optimistic and romantic sounded number of a sort you could expect to find on the 'Twilight' OST. Reactor7x ' has got some heavy EBM beats. The musical arrangement is weaker than I'd wished, but I know a whole bunch of younger cybers who will dig it for sure. Aeon Sable, on contrary, is very old school. A darker, gloomier, more atmospheric kind of gothic song. I found it very enjoyable. Perhaps not the best for a jolly birthday party but very good to enjoy alone. The Wars have got some serious alternative kick ass attitude and the vocalist's manner reminds of the early David Bowie. Teardown have got another electro track to dance to. Smoke Fish contributed a strange entitled song 'Cigarettes & Family' with a stoner rock attitude. Mezzamo is a band I wish to hear more from. The front lady has certainly some talent. Something of Switchblade Symphony is certainly to be spotted in her voice. Pontifex are probably no fans of the pope, no matter what is band name. They have got more with Die Ãrzte, a German cult punk band, than with the German guy on the Vaticans throne. Mundtot is perhaps the only band on the compilation that has released their own CDs before. Switchface has a good track to round the album up. It is instrumental, thoughtful, but not boring.
There are more diamonds, or at least pearls in the underground than most people assume. Give those artist some attention instead of applauding bands who have proven their talent, yet have their best releases years in the past.

Artist:
C.H. District
(@)
Title:
Conclusion
Format:
CD
Label:
Tympanik Audio
(@)
Distributor:
Tympanik Audio
Rated:
C. H. District is the one man project of Polish electronic musician Miroslaw Matyasik. He started out in 1996 and has about a half-dozen releases or more to his credit. This is the first one I've ever heard, so I have no basis of comparison with the artist's other material. The best way to describe it is instrumental (for the most part) beat-oriented electronica. For the most part, the electronics are on the minimal and simplistic side, and the beat-work is pushed to the forefront. In my first listening run-though, I found the album too repetitive and lacking in changes. But first listens are usually filled with prejudices, musical and otherwise, so I never review an album until after I've heard it a few times at least.

My opinion now is that 'Conclusion' is fairly enjoyable and engaging beat-core electronica, if you're not expecting anything earth-shattering, and don't mind the rhythmic repetition. That aspect is certainly conducive to dancing, or at least some form of body-motion experience. In fact, as I sit here typing this review, I'm kind of grooving on the keyboard in time to the rhythm of the music. I'm sure a number of the tracks on this CD would work well in a live club environment where you can really feel the beat and let it just move you.

One thing I didn't care for though ' the vocal sample on the 'Conclusion' title track. Although it fit right in the rhythm, to me it came across as too 'clubby'. But that's a small quibble. C. H. District's rhythm programming doesn't hit you over the head with bombastic sonics or ultra-tricky programming; it is a bit more subtle than that. It will take a few listenings to really appreciate, and may be the kind of music you might want to play while you're doing something else. I found that when I wasn't paying a lot of attention to it, it seemed to permeate my psyche more than when I listened intently for analysis.

There is one track with a vocal on 'Conclusion' ' 'Like A Human,' courtesy of Tomtylor with lyrics by Alina. It's a nice change for the album, simple but very well sung and constructed. It would have been cool to have more tracks like that, but I know it wasn't the artist's intention. Still, for me, it was one of the highlights. One other aspect of 'Conclusion' that deserves mention is that the album has a nice flow to it as from track-to-track there is a sonic meshing that gives the impression of a complete work rather than just a disparate collection of pieces. The album is only a little over 42 minutes, and it will probably not even seem that long after a few listenings.

For some odd reason I couldn't find anything off of 'Conclusion' to check out on the C. H. District website, but Tympanik has a track off of it you can download for free if you go do their Downloads section. I would advise checking it out first to make sure it's your cup 'o tea, but there are also YouTube videos available. Worth a listen if you're hungering for something new in beat-oriented electronica.

This release has come out almost simultaneously with the split release with Pylone we've reviewed a couple of weeks ago. Differently from the split cd, this work is a collection of old materials came out on cdr and an old net releases and despite the fact not all of the tracks have been composed during the same period of time this slab of plastic offers a homogeneous listening. If you ever had the chance to taste Beccuzzi' solo releases you know we mostly deal with cold electronic post-industrial avant-garde music..are in you in need of some references to file the music here contained? Let's say it's mostly post-cotemporary classic music with references to Thomas Koner, Richard Cartier, Pan Sonic and their related projects in general, Zoviet France, and anything following this route. Final archives offers a full range of high and low frequencies, sharp sounds, raw materials, squared low beats, concrete sounds, electronic versus music concrete, soft-crescendos and sudden peaks of noise and silence, just to show Becuzzi knowledge of electronic/installation music has matured along the way. I can grant you both the minimal compositions and the sound installation materials have that common heavy, post-industrial feel that characterizes the majority of Kinetix solo works but overall this cd is on Silentes and obviously if you know the label I doubt you won't like its sound. To emphasize this last conclusion I should add beside minimalism sometimes Becuzzi has this quasi-isolationist post-ambient feel that many fans of the genre will surely appreciate. Honestly it took me more than one listening to get how much I was into the work, but after several listening I'm convinced this collection of recordings puts together some interesting compositions, maybe one of the best work of Kinetix so far.

Artist:
[de:ad:cibel]
(@)
Title:
Klondike
Format:
CD
Label:
Echozone
(@)
Distributor:
Masterpiece
Rated:
One of the strongest point of the debut album by the German bouldering duo [de:ad:cibel], hiding the musical ids of Daniel Galda and Armin Kuester, could lie in the power of amusing different kind of listeners by preserving a certain stylistical unoiformity: amalgamated by appreciable EBM structures and deafening bass lines for the likes of Front Line Assembly or Funkervogt fan-base and considerably insisting on topics such as depression, religion and faith (I enjoyed some "marxist" remembrance in the lyrics of the song Jerusalem Syndrom whereas any builder of make-believe system on the basis of revealed religion acts like a pusher/seller: "...Verkauf ich euch mein Opium./Ein Konstruct aus Angst und Regeln/Die Warheit wind indoktriniert/Mit Richtig- oder Falsch-Befehlen/Die Herde grundlich selektiert" as well as the invitations on reflection on the real final aim of some religious doctrines in the song Human Product - "These lies are corridors of mundane power/to hold the might they built a watchtower/superstition was the fundament/they used it as an instrument"), ironic critics on consumerism (it's somehow funny the ideal breaking of the sacred trinity of the socio-economical system - buy, consume, die - hinting at the words of the humorous song Too tired to consume, making a long list on an enjoyable danceable psychotic electro movement of "prescribed" quinine for keep someone's finance healthy or for celebrating the scene...allelujah!) and its consequences on human relations (songs such as Architecture or B.I.I.D. arguably insists on the refusal of distorted way of considering feelings, mixed up with low-grade bodily functions) and even some conceptual statements (I enjoyed the neural connections activated by songs such as Heteronomy or One Of 47 - maybe the best song of this album -, forcing thoughts while moving dancin steps...), these lads could be even appreciated by a large range of listeners as they're able to satisfy classical dark-electro fans (One of 47, Architecture), cyber-goth or mindful techno addicts (Monster Train's ferocious march or the less rough grip of Selektionsfunktion and Geteert und gefedert should switch their hungry neurons on...), synth-pop or future-pop lovers (tracks such as the above-mentioned Heteronomy or Between My Headphones and even more "romantic" songs such as Nobody hurts like I do could be injected in their lower abdomen...), but I won't be surprised to see some reviews of Klondike on metal mags as well. Concerning the quality, Klondike ideally traces a reversed Gaussian route as I listened to more well-crafted works in the beginning and in the end of the record, being the highest peaks Jerusalm Syndrome (featuring some icy treatments on the harsch Daniel Galda's voice...) One of 47 and Geteert und gefedert. It's nice the idea of showing the dynamic range of each track! Even if they're not really newcomers of the scene if you just consider for instance that Daniel was keyboardist for Das Ich's live stages (...and it's not casual that sometimes you'll have the impression of listening an electrified version of Das Ich as well...), I could say it's really a brilliant debut!