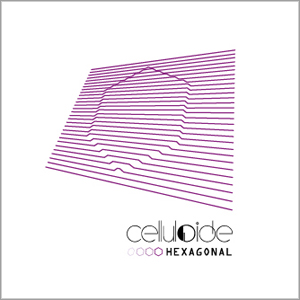 Artist:
CELLULOIDE
(@)
Title:
Hexagonal
Format:
CD
Label:
Boredom Product
(@)
Rated:
Three years after their latest album containing original songs (the album they released in 2008, "Naphtaline", had only covers), Celluloide are back with HEXAGONAL. The eleven songs of the new album are true to their style thanks to the use of analog synthesizer sounds, 8 bit bleeping sounds and thanks to the dreaming/melancholic voice of Darkleti. Packed into a deluxe 8 panels eco digipack, HEXAGONAL finds the trio dealing with solid melancholic pop songs in balance from synthpop and e.b.m. (many bass lines they used sound upbeat and fat). All the lyrics are in French language and they deal mainly with people's difficulties of bonding: like on "Fair du bruit, which means "Making noise", where he or she turns on the tv, the radio, opens all the windows to let the noise fill the place of a loss. Sounding well produced, elegant, full of nice melodies, sounds and rhythmic lines, HEXAGONAL is a good album that will satisfy the lovers of minimal pop as well as people fond of early 80s e.b.m.
Artist:
Versus
(@)
Title:
Different Twilight Places
Format:
CD
Label:
Echozone
(@)
Distributor:
Masterpiece
Rated:
Versus is a synth-pop/EBM German band coming from the electronic music-contaminated area of Dresden active since more than 9 years, which gained some notoriety after they won the bronze medal at 2004 edition of the Europe-englarged band contest "Battle of the Bands" through Re:start, a well-forged "discoid" EBM song enfilled with computer terminology included in the 15-tracks (plus a prologue) list of Different Twilight Places, a sort of concept album based on the idea of the journey...a very special one according to the passengers which decided its itinerary starting obviously from Monestirea, a track named from the village they come from, a place crowded by shuddering freezing android, a song full of digs to false morality, polluting small peripheral villages of rich countries, which are blind to distant facts which seemingly don't produce any effects on the internal balance of the community (they sing "Don't close your eyes fromdistant things: they will catch you faster as you can think/[..]/no one cares about another one/everyone has to die someday/.../everyone is cold inside")...a relevant remark as if you don't understand the starting point, the subsequent stages could appear not so meaningful...don't expect anything particularly revolutionary from the stylistical or musical viewpoint! The hard-driven beats spread out by this German lads are quite conventional, even if the official info-sheets about this release indulgently qualify themmas a "muscially most diverse band". By the way, someone could trustfully be of the opposite opinion, as sometimes the style is so homogenous and poor in variations that they could induce some yawning in people looking for variations. Luckily the energetic slightly stomping facts and some meaningful lyrics as well as some nice tracks such as We Are Cloned (my favorite track as it looks like a sort of controversial act of honesty by the band when André Steinigen, the voice as well as the lyricist, say "don't clone your idols../we are the clones of our creed"), the energetic Freequency, Drifting Away - featurinf Stefan Grossmann from Absurd Minds - and some little pearls of romance (Beautiful Like You, Travelling Home) help all those needies thirsting for beats. I have been even more puzzled by AG Akrobatik, the ghost track you could hear at the end of the album, which could be fitted for a Carharrt advert in my opinion, but looks out of keeping with the general mood of Different Twilight Places.
Artist:
goJA moon ROCKAH
(@)
Title:
Libido Cowboys
Format:
CD
Label:
Echozone
(@)
Distributor:
Masterpiece
Rated:
You could imagine the four members of goJA moon ROCKAH wandering about the kebab or weed-smelling and muddy narrow streets of some red district in Northern Europe wearing like cowboys with smoking guns acting as stand-ins for flabby cocks, animatedly chatting about new arrivals in sex shops or new flirtatious hookers after listening to the tile-track of their thirs albuym, Libido Cowboys, and the somewhat cartoonish story told in some of their songs mainly about lust, sex, unfullfilled love and so on, but maybe they're nothing but reporters of an artificial society whereas they observe and get inspiration from talent-scouts, crowding such places to look for a presumable new glamouresque music star or even a vote-sucker political candidate, a world inhabited by freaky creatures such Zombies on dope (!) showing off the brand new discovery of beuty treatment or a new glittering color for hair there's no real space for true feelings. The almost commonly accepted opinion which can be subsumed in the imperative principle "Sex sells" seems following the reversed movement of a burning cigarette and even if these German guys in their somewhat amusing 10 electro-pop songs try to entertain there's a sense of decadence coming out in many tracks (Erotik unser Eis, Geraldine or Tropische Liebe, whereas in a stereotyped tropical paradise there's still space for a love dream - "Es ist das Scheppern der Gedanken /Hier oben in den Baumen/Wo bunte Vogel wachsen/Und von der Liebe traumen" - which could disquiet any listener laughing after they depicted carnivorous pussies or similar stuff...). The neo of this album maybe stands, alas, in its not so original style: a part of some interesting arrangements partially reminding the primordial steps of ebm and hard disco and some electro-punk staining, I could say Libido Cowboys could stand as a funny act for foot tapping or for an hey-hey choir at stadiums and it doesn't really sound so sexy as lyrics could suggest. Maybe is it a purposeful choice?
image not
available
anymore
Artist:
DIGITIZER
Title:
Computer Controlled
Format:
Download Only (MP3 + Lossless)
Label:
Auditory Cortex Records
Distributor:
Juno Download
Rated:
Christian Askvig is a guy coming from Norway and he just loves analog synthesizers. He's active with different projects (his latest one is a techno influenced project called Polymorph) but this time we are here to talk about his electro outfit called Digitizer. Mixing classic electronic robotic sound with electro, genre explored by bands such as The Consumer or Der Zyklus, Christian composed five killer tracks where alternating bleeping sounds, hi-freq pads and syncopated rhythms paint sidereal atmospheres with a dance attitude, played by programmed androids. Using vocoder filtered vocals here and there, a bit of delay and "well-trained" arpeggiators, Digitizer is offering an E.P. that you won't miss if you love Kraftwerk, Luke Eargoggle and the fore mentioned bands. Available only as digital download at the major stores listed at Auditory Cortex Records' release page.
Artist:
Poratz
Title:
Beat
Format:
3" MiniCD
Label:
electroton
(@)
Distributor:
electroton
Rated:
Here is another Electroton 3' mini-CD release from Poratz, a project by Patrizio Orsini based in Livorno, Italy. It's the second release for Poratz, but I haven't heard the first. This one is dedicated to Japanese Glitch music artist Aoki Takamasa, which after hearing this mini-album isn't so surprising.

'Beat' is a stripped-down spare affair where even the track titles ('Aoky,' 'Casiotone,' 'Turntable,' 'Drumma,' etc.) are minimal. The best thing about 'Beat' is the intricacy of the quirky little tinkertoy rhythms. It really is all about beatz in a minimal format on 'Beat,' although there is often a lot going on. There is plenty of repetition too, giving most of the pieces a miniaturized machine-like quality. It could just have easily been titled 'Music For Little Toy Robots'. Even what little melodic content there is sounds mechanized.

In spite of the repetition, there is a good amount of creativity and playfullness in the programming within the limited framework of the dry sample sound palette. Most of it sounds electronic, which is as it should be, but I think Poratz dropped the ball on the 'Drumma' track. Normal voice samples of 'and the beat keeps going on'¦breakout' no matter how they're sliced and diced, detracts from the electronic ambience in my opinion. Should have at least used a vocoder or ring modulation.

If you like minimal electronic music with emphasis mostly on rhythm, you should like this. There are only seven tracks, and they're all short (nothing over 4 minutes) so it's over before you know it. A slight entry, but it never suffers from excess or over-indulgence and has kind of a happy-tone. Nice change-of-page for those for those who may listen to too much of the dark and dreary.