Artist:
Geomatic
Title:
64 Light Years Away
Format:
CD
Label:
Tympanik Audio
(@)
Distributor:
Ant-Zen
Rated:
Another new signing for the still refreshing Tympanik Audio label is the Dutch project GEOMATIC, which could earn a lot of good reactions by both, press and audience, with the release of the debut 'Blue Beam' on the French IDM/Electronica label M-Tronic. And already with the dramatic and bombastic arranged opening track 'Nanu Ano', this project celebrates an impressive piece of work, which is able to set standards. Just imagine the most complex Dark Electronica music normally provided by bands like ZENTRIERT INS ANTLITZ, REMAIN SILENT or MC1R, and you'll should able to know about this fantastic track. Fair comparisons to this bombastic tune can be also drawn on 'Shesqi', 'Drifting Away' and 'Above Horizon'. This rather Blade-Runner-like Electro-stuff gets a bit more calm, lesser raging and pacing, while it still impresses with its dark mood and the bizarre, at times 'oriental'-like, voice samples and synth drops thrown in ('White Hole, Dark Soul'). GEOMATIC somehow reanimate the ideal, that to listen to their music always means to consume something unheard and unexpected. Let the too early gone GRIDLOCK or ACCESS TO ARASAKA being godfathers for one or another arrangement or sound design, in addition to the above mentioned artists - but who cares? The title '64 Light Years Away' can be taken seriously, as GEOMATIC offers a fantastic sounding trip influenced by an undiscovered outer-space-like environment. The programming skills of this mysterious project are top-notch and are kicking a lot of those so-called 'high complex' productions out of the field. GEOMATIC aren't unrivalled in the stable of Tympanik Audio, but already with this debut for this IL-based label, they cementing a kind of exceptional state in this highly recognized label roster. Fucking awesome, keep it on!
image not
available
anymore
Artist:
MetaComplex
Title:
Hybrid Enzymes
Format:
Download Only (MP3 + Lossless)
Label:
Auditory Cortex Records
Rated:
Out on Auditory Cortex Records as the previous two releases, "Metaverse" EP and the "We will eliminate" single, HYBRID ENZYMES is the latest one by MetaComplex. Coming from Budapest, Hungary, Tamas Olejnik is the man behind MetaComplex and he's also active with the Antendex, Dublicator and Retax Gorgon monikers. The release contains three version of "Hybrid Enzymes": the original tune, the one remixed by Digitizer (they recently released "Computer Controlled", always on Auditory Cortex Records and you can find here on CHAIN D.L.K. its review) and the one remixed by DVS NME (they released a month ago their debut release but on the Greek label Binalog Productions). "Hybrid enzymes" is very cool track which blends rich robotic rhythms, melodic pads and bleeps and mysterious atmospheres. Anyone named Dopplereffekt? Well'¦ they aren't their copy but they shared the same laboratory where they experimented with sounds. Digitizer for their remix decided to keep the main melodies and to add an acid touch on the rhythmic lines, while DVS NME opted for keeping the bit of mystery adding an electro flavor thanks to syncopated drums, some new melodies and a bouncing intermezzo with bass enhanced lines. The track is really nice and remixers didn't change it drastically, they rather personalized it.
image not
available
anymore
Artist:
MINERVE
Title:
Please
Format:
CD
Label:
Echozone
Distributor:
Masterpiece Distribution
Rated:
The first time I reviewed Minerve was with the release of their debut album "Breathing Avenue", issued by Pandailectric in 2004 and I already put in evidence the qualities of what back then were a duo formed by Daniel Wollatz and Mathias Thurk. Now six years have passed and they are a four members band which have recently released their fourth album PLEASE on Echozone. The new album brings to the lovers of electropop twelve new tracks that span from upbeat ballads (like "Life is an illusion", "Read im my memories", "Please"), melancholic ones (the following "You don't know me" or "Save me"), dancey synthpop tunes with e.b.m. influences ("Hold me tight", "Every day", "Don't ask me why", "Phoenix", "Forbidden love" or "Under my skin") and a bit of new wave ("Down to the ground". Influenced by Depeche Mode, And One, Mesh, Minerve with PLEASE released a solid album full of catchy melodies and good vibes.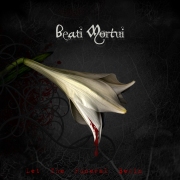 Artist:
Beati Mortui
(@)
Title:
Let The Funeral Begin
Format:
2 x CD (double CD)
Label:
Danse Macabre
(@)
Distributor:
Alive
Rated:
Again signed with their second official album to Germany's well-known Danse Macabre label group, this trio hailing out of Finland provides musically a quite interesting mutation. They combine the usual hard-driving force of a Harsh-EBM-like sound outfit, with raw and abrasive fx-processed female vocals, but too some Goth-Rock-like guitar riffs and some decent melodic inserts with beautiful sounding female vocals on the opposite. Let's throw bands like THE BIRTHDAY MASSACRE and UNTER NULL into a cooking pot, as this may describes well the elementary components of their sound. Their EBM-driven sound is definitely the leading force of the whole artistic foundation and comes out energetic, angry and with the required special doze of adrenaline to keep the bodies of the dancefloor-junkies in motion. 'Vision of Hell', 'Prey' or 'Soulreaper' offer all of these notorious weapons on board to keep on rawking. Musically more valuable I find those tracks, which move a bit more towards to integrate a wider horizon. The catchy and with some nice piano inserts arranged 'Deathrow', which features a dramatic additional vocal performance by Bruno Kramm of DAS ICH has to be named to fall under this category. Not to forget the intro and outro tunes 'Painting'¦' and ''¦Obsequiae' which feature partly words and poems out of the Finish traditions. 'Let The Funeral Begin' is artistically a quite ambitious album, which comes out as a well looking digipack, which features a second CD filled with remix contributions by an international selection of artists. The typical chosen Hellectro-Tommyknockers like SUICIDE COMMANDO, C-LEKKTOR, the well recognized label-comrades like Chile's DIE BRAUT, or the Greek project INLINE.SEX.TERROR haven't to be missed and offer additional food to consume at best on the dancefloors. But additionally some names like KUROSHIO, ERILAZ, or MACHINE PARK are rather counting to the lesser discovered projects, but from which we will hear and report surely soon from. All in all a quite good one, which offers more diversity compared to your usual Harsh-EBM/Hellectro listening experience.
Artist:
VV.AA.
Title:
Voices from the Underground
Format:
CD
Label:
Creative Commons
Rated:
This is always a great feeling to find a new, still anonymous artist which has a fresh sound and something meaningful to say. This is an even better feeling to help such an artist to reach out to potential listeners. For this reason I take pride in introducing this compilation to the readers of ChainDLK. This album was produced by the common efforts of Promofabrik and darkradio.com. Most of the artist are absolute newcomers yet they have provided great material for the album.
Alpha Point opens the album with 'I like the Angels'; a high quality electro track bearing serious potential for darker clubs. A catchy, emotional refrain, clear male vocals have already made me rocking my torso sitting on my chair. Degrees have got a rather alternative rock sounding composition. A rather optimistic and romantic sounded number of a sort you could expect to find on the 'Twilight' OST. Reactor7x ' has got some heavy EBM beats. The musical arrangement is weaker than I'd wished, but I know a whole bunch of younger cybers who will dig it for sure. Aeon Sable, on contrary, is very old school. A darker, gloomier, more atmospheric kind of gothic song. I found it very enjoyable. Perhaps not the best for a jolly birthday party but very good to enjoy alone. The Wars have got some serious alternative kick ass attitude and the vocalist's manner reminds of the early David Bowie. Teardown have got another electro track to dance to. Smoke Fish contributed a strange entitled song 'Cigarettes & Family' with a stoner rock attitude. Mezzamo is a band I wish to hear more from. The front lady has certainly some talent. Something of Switchblade Symphony is certainly to be spotted in her voice. Pontifex are probably no fans of the pope, no matter what is band name. They have got more with Die Ãrzte, a German cult punk band, than with the German guy on the Vaticans throne. Mundtot is perhaps the only band on the compilation that has released their own CDs before. Switchface has a good track to round the album up. It is instrumental, thoughtful, but not boring.
There are more diamonds, or at least pearls in the underground than most people assume. Give those artist some attention instead of applauding bands who have proven their talent, yet have their best releases years in the past.