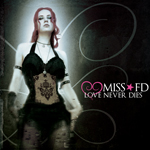 Artist:
MISS FD
Title:
Love Never Dies
Format:
CD
Label:
Quantum Release Records
Rated:
Miss FD with her newest album LOVE NEVER DIES redefines slightly her music thanks to a minor use of distorted sounds and less e.b.m. influences which characterized her Frightdoll albums and some songs of the debut CD she did under the Miss FD moniker. LOVE NEVER DIES contains seven songs and it's quite short (it is about twenty seven minutes) but despite this, it succeeds into creating a warm feeling where the listener can check the many moods of Miss FD. In only half hour, she leads her fans through electro goth dance atmospheres (like on the opening "Moment of fade" and the following "Losing ground") that show an artist influenced more from Depeche Mode than from e.b.m. "Cry for you" recalls her old atmospheres and after the short instrumental "Temporary relief" there are some surprises that will show you the other side of Miss FD's music. "Negaverse" is a song that alternate piano ballad atmospheres to dance electro e.b.m. ones, mixing melancholic atmospheres to catchy upbeat rhythms with strong vocal choruses and "Away from here" plus "In love, loss and neon", are two songs based on piano where FD opens her bleeding heart with two passionate ballads. Dark, passionate, melodic and energetic, LOVE NEVER DIES is out there since St. Valentine day for you to check...
image not
available
anymore
Artist:
NOISEBRIGADE
Title:
ROBOTO E.P.
Format:
CD EP
Label:
Sauroid
Distributor:
Juno Download
Rated:
Fading doppler echoes. Ghost whispers. The onset of paranoia. Ducking around the corners to escape the ever watchful eyes that are placed everywhere. This is the sound of Noisebrigade's new "Roboto" EP released on Sauroid Records. Noisebrigade has this knack for weaving melodies and drum patterns that individually you'd never think would meld together - under his excellent guidance and sharp eye you wind up with a dense soundtrack that manages to never sound cluttered, with elements catching your attention, popping out at you. Reaching into your brain.
Electro purists will gravitate towards 'Inside Trader' but it's all the slower tempo tunes here that really stand out for me. The brilliance of the original 'I, Robot' is taken to new depths with the Exaltics remix version. 'Production Chain' sounds reminiscent of some of the best slower groovers from the album cuts released by Dynamix II and Techmaster P.E.B back in the day - cuts to burn one to, cuts to lay back and work out your rack of 18" subwoofers... this is deep cavernous electronic music. Finally, I'd be remiss to wrap up the review without mentioned the intense energetic 'Inside Trader' remix by Faceless Mind - mixing the best of Miss Kitten and Dopplereffekt vibes, this one will definitely be getting club play and heads on the dancefloor.
I'm fast becoming a fan of the Noisebrigade sound - once you get this one on your system or headphones, I think you will too.
image not
available
anymore
Artist:
VV.AA.
Title:
Face The Darkness
Format:
Download Only (MP3 + Lossless)
Label:
Twisted Flesh Recordings
(@)
Rated:
Someone could think, the Swedish Harsh Electro-musician Fredrik Croona would have lots to do with new recordings for his music-projects PROJECT ROTTEN, and his appearances in the highly recognized MENSCHDEFEKT (signed to Infacted Recordings with a licensing deal to Metropolis Records) and SYNDROME X/209, but no. He also felt the need to establish a new net-label, with which he likes to offer his most favourite music style for free to a wide-ranging audience.
'Face The Darkness' is the first release of this young label, but a remarkable one too. It surprises a bit, that Fredrik could evoke already with this first release such a forceful army of Hellectro-troops, but a lot of names of the roster presented on this compilation, have already recognized higher attention. C-LEKKTOR (signed to COP International, the Turkey import SADIZTIK INJEKTION (Hi Samet!), ÃBERBYTE (signed to Crunch Pod), the immortal US-act DIVERJE (Hi Tommy!), Estonia's SUICIDAL ROMANCE (Hi Dmitry), the already mentioned MENSCHDEFEKT, or Australia's ANGEL THEORY (Hi Charles) can look back with proud on their previous releases. Relative newcomer projects like the South-American SAY JUST WORDS (nice synth-pads offer a melodic contrast to the harsh pounding environment...), Germany's ES23 (offering with 'This Is Anarchy' a quite good, harsh, collaboration tune with Fredrik Croona's PROJECT ROTTEN...), or the Belarusian duo DIVERSANT: 13 are more than greenhorns and don't need to hide their talent. Also those bands normally promising a more variable sound outfit than the average and repetitive formula, have been remixed by notorious acts of the Hellectro-army (DIVERJE's 'Suffer This World' by CENTHRON, ANGEL THEORY's 'Memories Of You' by STAHLNEBEL & BLACK SELKET). A lot of infectious and hard hitting tracks thoughtful compiled, which only awaiting to storm your home entertainment and to execute some imaginary dancefloors - no space for resting guaranteed! So this compilation suits perfectly, to save your next Hellectro-party. If you're longing for more musically diversity, you may won't find too much here...


1 C-Lekktor - Living Dead
2 D-ToX - No Sympathy
3 ES23 feat. Project Rotten - This Is Anarchy
4 Sadiztik Injektion - Realize The Suicide (Aggrotrance Remix)
5 Diversant:13 - Silent Night 2010
6 UberByte - Hell Alamein
7 Diverje - Suffer This World (Centhron Rmx)
8 Suicidal Romance - S.H.R
9 Say Just Words - Abandonment Of God
10 Electric Breathing - Zerfall
11 Suono - Jungle
12 Syndrome x/209 - Sexuality
13 Angel Theory - Memories Of You (Touched By Stahlnebel & Black Selket)
14 Menschdefekt - The End


Artist:
Gushing Cloud
(@)
Title:
Prism Shelter
Format:
CD EP
Label:
Intanglecat
(@)
Rated:
Gushing Cloud [love the name] is basically Gus Kumo. A delectable mixture of electronic music genres all done in a satisfying fashion, giving the listener something different every 3-5 minutes with most of the tracks running into each other to produce a nice suite-like atmosphere. There's seven tracks on this CDR/EP of electronica, hip hop beats, ambient atmospheres, and general sonic experimentalism that keeps things interesting. Nice dark ambiences too. Check it out if you have ADD or just like a good mix of things musical.
image not
available
anymore
Artist:
EMBRYONIK
Title:
Space Cadet
Format:
Download Only (MP3 + Lossless)
Label:
Binalog Productions
(@)
Distributor:
Juno Download
Rated:
Embryonik is back and after "Psycho disco" they are ready to rock the space dance floors with a new track titled "Space cadet". The song is an upbeat electro dance tune based on warm pads, great vocoder vocals and spacey atmosphere. George/Embryonik distributed a shorter version on Juno Download as appetizer just before the release of this EP. SPACE CADET contains fourteen versions of the original tune where you will find three different Embryonik remixes ("original", "instrumental" and the cool electro but not spacey "moonbeam") plus eleven other versions from eleven different producers. Here's a quick description of each of them. Noisebrigade decided to enhance the space experience by giving the track a psychedelic flavor with TR808 beats, pads and vocals. Pip Williams mixed retro electro with a bit of grime and house. Binalog Productions on their "Freestyle mix" kept only the main bass line just to play with the tune giving to it a... freestyle flavor. GFC version sounds mechanical and electro with 4/4 hard beats. The Discoballistic remix has different passages that play with minimal melodies and arpeggios exploding on some sections. Urban Midnight made it sound like a particular electro dub song. George Tsakiris made a robotic minimal song with hard beats, basic leads and pads here; Plus the sample tricks of the original vocals. Rambla's remix has part of the original synths mixed with dub grime bass lines and hard beats. Darksphere slowed down the track making of it a sort of minimal electro dub tune without the characteristic dub sounds. 80s Stallone, true to their name did a nice 80s dance version a la Moroder. Jowie Schulner is the last one to remix "Space cadet"; It is so lush with the 80s cinematic feel that I could imagine the closing titles of the compilation just like at the end of a Robocop movie.
(Proofread by: Johan Sebastian Bot)