Artist:
VV.AA.
Title:
Yummy! Yummy
Format:
CD
Label:
Hot Corner Records
(@)
Distributor:
667 / Rough Trade
Rated:
When I first put this CD on, not knowing it was a compilation, I assumed it was one artist, so when I found out it was various artists I was impressed with how organic, well matched and homogeneous the selection turned out to be. The artists are mostly unknown and I believe all or mostly german and they've come together thanks to the Hot Corner Records mastermind (and contributing artist himself) John Pussner. The other six names are Danny Decock, Crack Hudson, Blockboy, Parasyte Woman, Mika Krogen and Lippovic and they contributed a total of 15 tracks of groovy, loungey, disco-ish fresh, funky and happy mixture of electronica, acid jazz, trip hop music. Lots of bouncy beats, head-bobbing bass lines, digital soundz, real drum sets, old-school breaks, sampled, scratchy & scratched vinyl, single vocal lines or samples of voices from other sources. All of the artists are working on their own debut albums so this will be a great way to taste a few yummy flavors before going for the full seven course meal!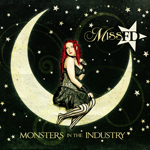 Artist:
MISS FD
(@)
Title:
Monsters In The Industry
Format:
CD
Label:
Quantum Release Records
(@)
Rated:
MONSTERS IN THE INDUSTRY is the first album under the Miss FD moniker but for the Fort Lauderdale-based girl who's behind it all it isn't the first experience at all, because we all already knew her as Frightdoll. If I remember well she was about to sign (or she signed) a contract with another label and then she had a lot of problems with them (and for this reason I think she wasn't able to use the Frightdoll name) and according to the main song's lyrics ("A thief on every level - the industry is a devil - it'll tear you down - it'll cut you up - and then call you a rebel...), it hasn't been a pleasant experience. Anyway, the new album contains eleven songs which have the characteristic elements of the two previous Frightdoll albums (a bit of goth atmospheres and electro-ebm sounds/energy) plus a new pop side that could be good for Miss FD the day she will decide to retire and to sell her songs to fake MTV hits bad girls (see the final refrain on "Disgrace" or "Realigned"). MONSTERS IN THE INDUSTRY is an album that needs time to be assimilated because we switch from dark e.b.m. atmospheres to electro pop in no time. There's only a little bit of melancholy here and there (like on the early part of "Elements off time") but soon replaced by energetic synth distorsions. Danceable, pop, dark and electronic, Miss FD has a lot of bullets into her gun and she isn't afraid to use them...
image not
available
anymore
Following the acclaimed Man Machine, Memoria, the third release by the German band Lost Area and the first one on Echozone, their new headquarters, begins in a not so convincing way. Even if the title-track and the following Blood Rain features good melodic lines as well as what it seems to be the new tone of their renowned maquillage, deeply anchored in the safe port of traditional dark-wave and ebm (there's plenty of hooks to stylistic bodies of bands such as VNV Nation, In Strict Confidence or Frontline Assembly), but this time marked by more larks on vocals, heavily treated and pitched in order to sound distant, a stylistic choice that I think it could be explained by the general mood of this release oscillating between a fatalistic aura, Promethean disenchantment and an abstract sense of fading, but the qualitative level abruptly rises with Mirror: lyrics which seem to reflect Caliban'a anger in the notorious novel by Oscar Wilde perfectly fit to the structure of the song partially reprising the danceable beating of the first track - it's really the fine the final treatment of the voice mutating into transfigured tone when the gradual fusion between the identity outside that mirror and the one inside it or I'd better say the possession of the first character by the second one has been completed (the first strophe ending with "he will become a part of me..." while the final one ending with "he has become a part of me", but the best intersection with known gothic cliche' and poisoned electro-dance rhythms is maybe the following song entitled Lies, whose stepping proceed in a linear way while the sounding machinery stir frozen emotions up till the moment they violently erupt; a pretty way for conciliating emotive spleens with pulsating beats as well as a track - already available on the well-known electro sampler "Dark Alliance" - that is going to inflame darkest halls!
After the bleeding cries for seraphic entities - something you could expect on a gothic-tinged release, lads! - in Guardian Angel, an electronic ballad whose emotional alcoholic percentage has been increased by the insert of a guitar played in a way the most weeping progressive-rock bands usually play partially reminding the Hidden Faces-era by Clan Of Xymox, the resentful clubbing lyrics of Evil Eye. I initially argued it could be against an incapable psychotherapist when listening the incipit "I am in a schizophrenic mood/I have seen everything you've done/I followed you step by step/The pills did me no good"!- , the morbid trippy hopping of the icy Desire, the frigid misogyny - a side effect of love for a psychotic gothic cutie, my fellows! - carburized by a good melodic line on the usual well-groomed EBM stepping of Nothing, I like listening to what seems the depressed side of S.P.O.C.K. (the notorious Swedish synth-pop band, not the Star Wars character!) in the balanced sequences of Dream On. Strangers, the striking Eye Of The Storm and Live Your Dream look too much conventional to me - maybe too many listening memories resurfacing during the recording of the album, whose clear and powerful sound acts as the most evident clue of Gerrit Thomas's paw from Funker Vogt for production and sound engineering. The vocal qualities and its raw darkness by the singer Andi Grundler are mostly highlighted in the only German song, Ikarus, a sort of bizarre lullaby whose epic accents are underlined by some trumpets and choirs reminding to me some pieces by In The Nursery.
The stomping Gecko Sector Remix of Unborn ends an album whose only slight flaw is maybe the fact it retraces some stylistic and conceptual Gothic cliches, even if this 3-piece band has surely revised some subject in a good way!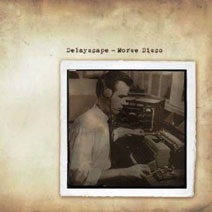 Artist:
DELAYSCAPE
(@)
Title:
Morse Disco
Format:
2 x CD (double CD)
Label:
Anna Logue Records
(@)
Rated:
Active since early two thousands, Delayscape is the musical project of Flemming Kaspersen, a guy coming from Copenhagen, Denmark who is also a member of Rainscape and has previously been in Swimwear Catalogue. He released many digital E.P.s for netlabels such as Acrylik, Cluster Flux, Monotonik, Cold Room, etc. Many of these aren't available no more (for example Acrylik stopped their activities) and most of all, they haven't previously been available on physical format. You know that Marc at Anna Logue loves analog synthetic sounds and Delayscape's music is based only on those kind of sounds: no frills, no vocals, nothing else than synthetic sounds coming from AkaiVX90, Boss Cx-700, Roland Tr 808, Braintec Transistorbass, Novation Bass Station, etc. MORSE DISCO gathers most of those tracks into a remastered form and presents also four new tracks ("Two Small Incisions", "FS Attack", "Survey Team" and "Knitter") for a total of thirty two tracks. The first CD is called "Music for Dancing at Home" and features the more upbeat tracks while the second CD, titled "Music for Frozen Journeys", features tracks that sound a bit more atmospheric and also melancholic. Based on pads, bleeping sounds, warm bass lines and vibrant oscillators, Delayscape's music, thanks to a rich texture of sounds, doesn't need too much of vocals (you don't need to listen to both the CDs all in a row, though) as Flemming uses a lot filters and sounds alternation along with cool rhythms. If you are into minimal synth (if you like Solvent or Skanfrom) but also if you love Detroit techno (Arpanet or Drexciya to name a couple) be sure to check this one!
image not
available
anymore
Artist:
QUARTERSIZED
Title:
Party Political
Format:
MCD (Mini CD)
Label:
MOMT
Rated:
The fourth CD-r/digital download E.P. by Quartesized is focused on the UK General Election (which were coinciding when he released it). The four tracks ideally are the most political ones he released because the opening "Known unknowns" and "Dub nation" have samples from the Donald Rumsfold's famous War on Terror speech (where he tries to play with words to convince people that war was right but the effect was hilarious) and from food critic and film maker Michael Winner (his speech is focused on banks that created the current crisis). The other two tracks "Kinder funk" and "Two fear parties" are focused on kid parties, when everything seemed so simple, for the first and to adult parties, when everything seems so hollow and you are forced to have fun. This time, musically, Ian opted for tracks rhythmically less aggressive (only the opening "Known unknowns" has a grime touch) but always influenced by dub and electronic extravaganza. Always interesting to check...