Artist:
Basic Rhythm
Title:
On The Threshold
Format:
12" vinyl + Download
Label:
Planet Mu
Anthoney Hart, sometimes known as East Man, sticks a different hat on for this new Planet Mu release that is Planet Mu through and through (or 'thru and thru' if you prefer). Glitchy, stripped back electronica built from sharp beats and rumbles, laid out with an EQ profile that's clean and deep and polished.

After a deceptively gentle intro, "St. Fabian Tower" breaks into a rubbery and drunken glitchstep affair sprinkled with laser beats and ravey female vocal wayhay sounds that declares this as an odd release from the off. Some of the tracks that follow, such as "Yeah, I Like It" and the slightly dubby "I Want You", are slightly more conventional affairs, with the sonic make-up of minimal techno but with complex and unpredictable rhythms and a much deeper and broodier approach to both space and bass.

A recurring motif is the use of what sounds to me like cheesy vocal samples borrowed from a main-room disco vocal sample pack. Phrases like "I want you in my life" and various "woo yeahs" seem corny in isolation, but reframing them and twisting them into this electronica space, giving them a new context is an unusual move, that sort of works- a bit. It's not a total success though.

Initially, this is a fairly calm release with a fairly sedate sense of satisfaction, that wallows in subbass like a luxuriant spa- but the calmness is not indefinite. "Edge Of Darkness" is notable for (as its title implies) a much toothier, darker and sinister sound that's got a fair chunk of aggression packed into it, and it rolls into the similarly aggressive punch-drums of "Buss It".

It's a Planet Mu release that doesn't fall far from the tree (if that expression is applicable in this case), a familiar set-up of spacious and highly intelligent electronica with a strong pedigree, and a dash of innovation but no spectacles or surprises.
Italian Von Tesla takes the sonic palette of synth sounds more commonly found in more mainstream electronica and techno, and, by more conventionally musical methods and also via custom software development, breaks them down and disassembles them into structures that go beyond glitchy electronica and into more experimental and even randomised territory. However instead of the aggressive, gritty, "smash the system" attitude that this is sometimes handled with, this is a much much gentler affair- almost passive in its steady, undramatic layout.

Among the more accessible tracks are "Everything" (sorry, "E v e r y t h i n g"), an endearing bit of awkward-beat glitch that twists and warps in a generally cheery manner which is about as unchallenging as glitch gets. Similarly "Out Of The Surface" uses the familiar device of super-soft melodic chords contrasting with fairly frenetic high-pitched clicks and bleeps for a result which ought not to be mellow, but somehow is. "Lighted Room", by contrast, is darker and sparser and could readily soundtrack the sinister alien landscape part of a game. Grumbling eighteen-minute piece "Echoes Of The End" is the most industrial-sounding moment here, a semi-robotic affair of arpeggiating proto-acid loops, while the slightly more stuttering approach of "Feedforward" is also interesting.

There are tracks which use their duration to draw you in- the thirteen minute "E-e" is a loose assembly of seemingly random and sparse synth melody notes that initially seems gently broken but which, by the end, has begun to feel like a new definition of normal. Something about the washy atmospherics of "Infinity Reveal" and the brooding final track "In The Red" feel like a throwback a couple of decades to earlier days of electronic ambient- the former containing one noise in particular that triggers a Future Sound Of London comparison I just can't shake.

It's a release that perhaps could have been gently curated down into a single-CD format; the average track length is nine and a half minutes and that could certainly be accused of self-indulgence or an unwillingness to edit. Brevity issues aside though, it's a strong and accomplished bit of devolutionary electronica that explores the wiring under the board and comes up with something listenable and distinct.
Artist: Junkie Flamingos
Title: Lemegeton Party
Format: 12" vinyl + Download
Label: The Helen Scarsdale Agency

This is a debut release from the deceptively light-heartedly named Junkie Flamingos, but the three component members (Luca Sigurtà, Alice Kundalini, and Daniele Delogu) have an established pedigree that's quite diverse, spanning electronica, death industrial, and folk music, among other things. The result of mixing together these diverse experiences gives us a five track, 35-minute work of "industrial-ambient" that is, in itself, not all that diverse.

Predominantly this is dark-and-low electronica, with a gritty ambient tone. In tracks like "Geotia", long hollow sci-fi atmospheres pervade like a fog, through which cuts slow, distant-sounding light industrial percussive patterns. Kundalini's breathy spoken-word vocals are a slow and languid poetry that sits atop, mostly receiving the deference afforded to lead vocals but sometimes melting more quietly into the surrounding sonic environment.

"The Shape Of Man" is worth singling out as both the most successful track and an exemplifier of this hybrid sound that melds the sonic qualities of experimental ambient with slow pulses and vocal repetitions that emerge from the extreme edges of what could be called song-writing.

I'll be honest, something about this release failed to connect with me after several listens, but it's hard to put a finger on why. The moderately dense atmospherics and intimate lyricism will mesmerise some listeners, I'm sure, but somehow it felt me feeling detached and cold, and the odd robot-vocoding and click rhythm of "The Language Of Slaves" just feels like a bit of a mis-fire. You can't win them all.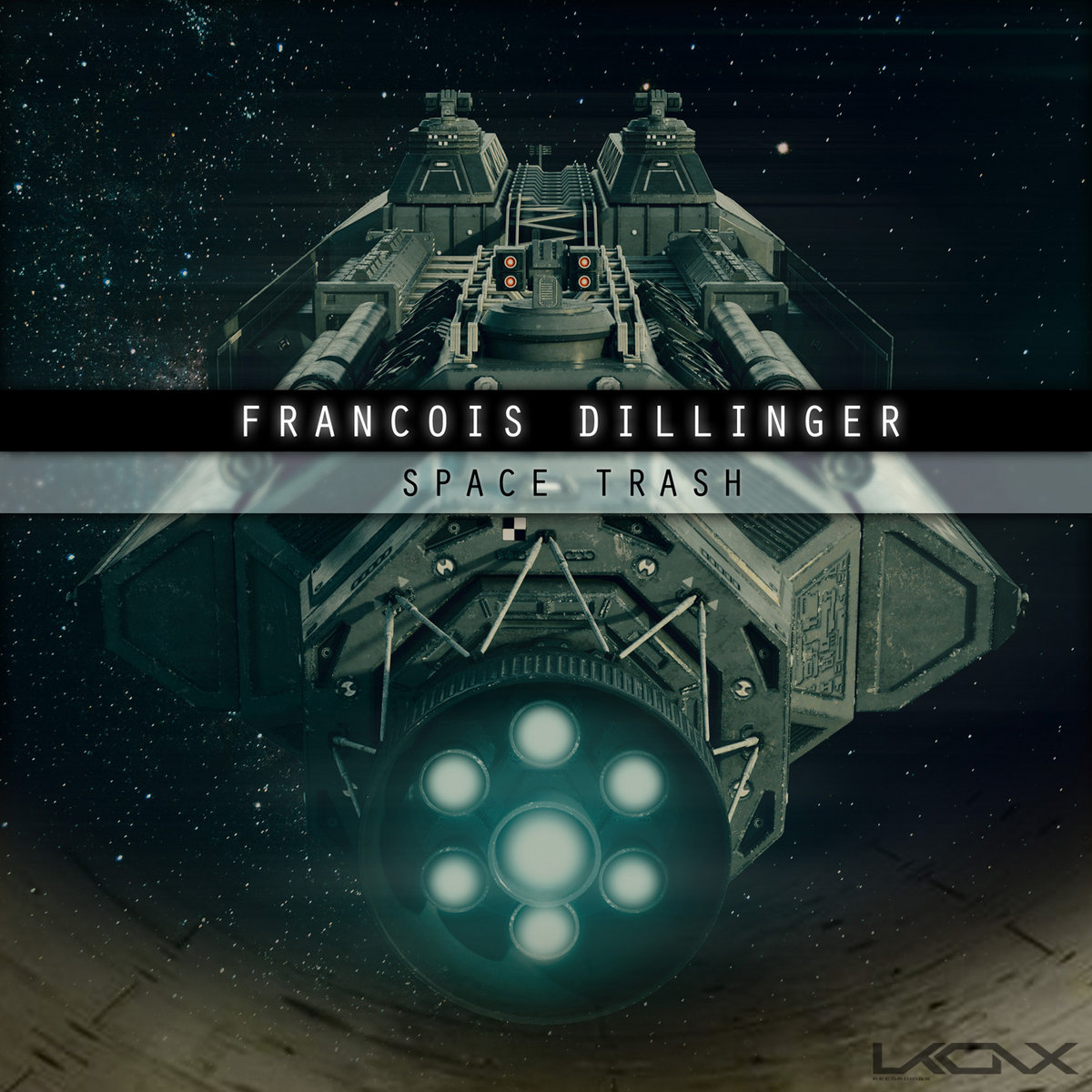 Artist:
Francois Dillinger
Title:
Space Trash EP
Format:
Download Only (MP3 + Lossless)
Label:
Ukonx Recordings
Rated:
Coming from Detroit, Francois Dillinger a.k.a. Ben Worden, is releasing on Ukonx Recordings his new EP titled "Space Trash". From his past as a dj, Ben learned how to make people move and how to mix different genres. For his new EP, he did the same by mixing industrial, techno and electro influences. The four mid tempo tracks "Space Trash", "Morose Code", "Cosmic Swamp" and "Sleepers" sound dark and minimal thanks to a mix of long spacey pads, many rhythmic sounds and balanced melodic patterns (the winner on this field is the closing "Sleepless").
As for many releases of the genre, the main element is the rhythm. Ben knows it very well and decided to use different kind of sources for that: treated sounds, distorted ones and classic electro drum sounds are forming a well-organized web of sounds that hypnotize the listener. Francois Dillinger will have different releases out in 2019 on labels like Natural Sciences, Dionysian Mysteries, Talahachi and more. He's preparing also an album and a new live set. Check the release here: https://ukonx.bandcamp.com/album/space-trash-ep

Artist:
VV.AA.
Title:
Tombstone Trance Vol. 1
Format:
Download Only (MP3 + Lossless)
Label:
Stabudown Recordings
Stabudown's compilation album isn't purely 'trance', in any generational use of the word, but a fairly broad collection of almost-entirely-instrumental EDM that spans synthwave, modern electro, synth-industrial, techno and, to a lesser degree, trance in the more early 90's, less mainroom hands-in-the-air sense. Initially there's a musical commonality that comes from some heavy and not-just-4/4 percussive elements that provide most of the tracks with a distinct bang, but as the tracks progress, things get more beat-free, introspective and spacious. The result is an earnest pack of tunes that's so remarkably consistent and planned out that at times you could believe this is an artist album.

TML's "Goshun" is one of the heavier pieces, thick kicks with stuttering vocal sounds, while CLAWS's "Scrappy Industrious F.U." also has the banging attitude but with a production approach that's so bright it ends up feeling feel-good possibly by accident. Kerridge's "Death Is Upon Us", Long Bastard's "Send" and Bad Tracking's "Arnos Veil" form a mini-industrial section (the second of those with some vocals, just to mix things up a bit).

Highlights include Koehler's "Beyond Andromeda", a deceptively grouping of semi-breakbeat and playful high synth arpeggios that's strangely infectious. East Side Ancients' upbeat but coarse-edged dub track "New Happy Fortune" is oddly nostalgic, but in a good way, and it runs nicely into the deeper reverbing delays of Grey People's "Mourning Etiquette". This in turn flowers smoothly into the ethereal tones and heartbeats of "Absolute Other" by Organic Dial. The two final tracks, from Vanity Productions and The Rancor Index, complete the descent into downtempo ambience, bordering on drone, and the journey is nicely complete.

It's a well curated compilation that's more thoughtful and diverse, and less in-your-face, then the artwork and branding may possibly suggest. Definitely the sound of life at the more interesting side of EDM.