image not
available
anymore
Artist:
Absent One
(@)
Title:
Places
Format:
Download Only (MP3 + Lossless)
Label:
Ionium Records
(@)
Rated:
Second full-length album release of this Russian duo, which is actually a collaboration between the Russian Shadowplay Records and the German AF-Music label. Still remembering the good produced debut 'Blowback' (which is additionally available as a re-release via the AF / Ionium Records collaboration label) 'Places' sees some developments and a rather unexpected evolution in the sound of Absent One. First off, it does quite good to listen to a band concentrating to focus their skills on the content of their compositions. This album isn't meant to get consumed to enjoy a straight pattern-after-pattern row supported by a harsh Techno kick-drum performance ' here are real songs with an overview and important meaning behind. A quite critical view on a social- problem regarding the use of drugs combined with unemployment and hopelessness in young years. This album may reflects a doze of some auto-biographical content of these both Russian protagonists, but who knows? What disturbs is the fact, that this real-life content gets presented quite lame with the tendency to bore after a while. Now we'll get a good idea without any Cyber-Christ-Goth-bullshit, but the music construction itself comes out that toothless like my grandma ' it misses toughness, plus I remember to have heard a higher technically state-of-art already presented on the debut. The vocalist sings in that kind, how you would have expected it from a Russian, not completely accent-free and more classic-influenced, but luckily without any distortion regarding vocal-processing. This band needs definitely to work to reach more maturity, although by spreading salt on some open socio-wounds as being the main theme, they are on the right way.



image not
available
anymore
Artist:
Thirteenth Exile
(@)
Title:
Into Nothing
Format:
CD
Label:
Prototyp/Memento Materia
(@)
Distributor:
Industrial Music
Rated:
Another Swedish Industrial-Metal band-project, from which I thought, it has been gone for good after only one release. The well recognized debut release 'Assorted Chaos and Broken Machinery' has seen the light of a release 6 years before, but in our rushing lifetime days filled with the consumption of thousands of other releases, one gets nearly forgotten. So H. Svegsjö, the one and only responsible protagonist behind Thirteenth Exile, starts nearly from scratch. Signed again under Prototyp, the sub-label of the legendary Memeto Materia-label, he presents us a raw, harsh pounding assault, which integrates deepest Dark Electronica with assaulting metal-guitar riffs, united through a powerful kick-and-snare rhythm-work. 'Into Nothing' is no stuff for the faint-hearted people, it is a drastic and ominous outfit, which offers a bombastic attitude. Not at all comparable to that childish Hellectro-bawling, this is real dramatic and angst-driven music filled with at times brutal lyrics. The good point is: it sounds authentic. This whole pain-driven sound-scenario gets additionally supported by the overall black cover artwork with that scythe in front of the cloudy horizon. If it needs to search for comparisons, I'd take harder :Wumpscut:, (check out 'A Perfect World'!!!) Little Sap Dungeon and Portishead ('Wandering Star' is a cover to tribute the idols'...) to throw them into the soup-tureen. The thick and frightening atmosphere of this album needs to be pointed out as being the most impressive ability - several tracks are slowing down the speed ('My Legacy', 'Into Nothing') and offer so much more than a wild dancefloor-action. Congratulations to all responsible participants to release one of the most intense produced albums of the last half year. Let's keep the fingers crossed, that we don't need to wait another 5 + years until Mr. Svegsjö decides again to start a comeback.


Artist:
Grandchaos
(@)
Title:
Refuge
Format:
CD
Label:
Urgence Disk
(@)
Rated:
Grandchaos is the solo project of Ivanovitch Tcheleskov, already known for his other band Idlo. This album features basically only remixes plus a new version of "Ultra dark day" off their previous "Open source" album. The title-track appears with five different versions and, together with the other remixes, will appear in its original version on the upcoming "Rumours of my life" album. Usually remixes are released at the same time or after the "official" versions, but why not changing a bit. Hailing from Belgium and sounding definitely Belgian, though remixed, this is Grandchaos. Expect some old sounding EBM, pounding bass-lines, synth layers and deep darkened vocals. There are some futurepop moments, like "A new replica" (Grandchaos vs Operation of the Sun), the last and fastest track. As for me, I prefer the old EBM parts, but it's hard to judge a remix album, anyway, it makes me want to hear the "official" new one, that's a good side effect! and, by the way, I'm actually spinning a lot the Bak XIII remix of "A lot of pain".
image not
available
anymore
Artist:
THE EXALTICS / GOSUB
Title:
The Exaltics Meets Gosub
Format:
12"
Label:
Solar One Music
Rated:
The Exaltics meets Gosub is the first of a series of split 12"s that will find The Exaltics meeting cool names of the electro scene. The first to celebrate this series is the Miami producer Shade T. Scott, actually active under the monikers of Gosub and Dcast Dynamics. Anyway. A Side contains two The Exaltics tracks: "My Language" and "I.M.O.E.H.". After the last year EP "They Arrive" released by Clone, which contained six tracks that were exploring the experimental side of Robert's music, on this release, he bring to the attention of his fans two electro paced mid tempos which mix ambient pads to a more complex and fast rhythmical structure. Fast bass lines alternates ice keys and warm pads creating a nice mix that sounds alienated but also confortable. Side B contains two new Gosub tracks "Plug In" and "You Can't Escape The Present". I loved so much Shade's album "Watchers From The Black Universe" and "Plug In" is bringing me back to those atmospheres thanks to the classic Gosub's low slung bass lines and that Miami electro flavor. On this one vocally he recalls me also a little Egyptian Lover but a kind of dark one. The second track is a nice electro melodic vocal jam which seems to have been recorded underwater. Do sea-monkeys took control of his studio? Funny one indeed. This is another cool Solar One release and now I'm curious to know who'll be the next The Exaltics' guest...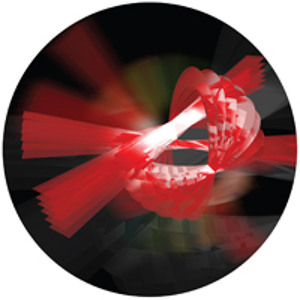 Artist:
MORPHOLOGY
Title:
Information Paradox
Format:
12"
Label:
Cultivated Electronics
Rated:
With a new distribution deal with Clone, Cultivated Electronics is back with the first release of 2012, a new Morphology EP. Coming from Finland, Morphology are a duo which in the last three years they released different vinyl 12" on Zyntax Motorcity, Abstract Forms, AC Records, to name few. The new EP is titled INFORMATION PARADOX and contains three new tracks plus a Sync 24 remix of the title track. The EP opens with the title track, an upbeat syncopated track that recalls me of the best Zerkalo tunes. It mixes Detroit electro and a bit of Miami creating a sort of warm/cold contrast. "Escape Velocity" is a 4/4 electro tune with crisp bass lines and catchy melodies. It kinda grows thanks to the add of floating spooky pads and more rhythmical parts. It sounds nasty and mysterious. B side is opened by Sync 24 with the "Information Paradox" remix. For this one Sync 24 choose to give to it a dark flavor thanks to obsessive fast arpeggios, spacey keys and eerie pads. The 12" is closed by "Tangent Spaces", a track that mixes aquatic and hypnotic atmospheres. It gathers upbeat tempos, dilated pads and melodic catchy piano inserts. This is a quality release that you will gladly check if in love with the electro genre.