Artist:
Daniel J Mackenzie & Richard A Ingram
Title:
Half Death
Format:
CD + Download
Label:
Midira Records
"A sci-fi spiked soundtrack to a theoretical film" is how this album is introduced, and it's an apt and accurate tagline. Cinematic electronica dominates, supported by organic elements including liberal helpings of reverb-laden piano, slow emotive pads and twinkling atmospherics. It's all fused with melancholy and introspection and it really does feel like it ought to be a soundscape married to slow, expansive, barren imagery. The flipside of that association is that it shows that this work is constructed of 'safe' and well-worn sonic ingredients that have cropped up in hundreds of other electronica soundscape works, and there's very little here that feels novel or progressive.

"Two Futures"- an eleven-minute suite in multiple parts in its own right- has shades of Vangelis' "Blade Runner" (the whole soundtrack, not specifically the theme), but without any of the urgency or tempo- but it never channels that synthesis in such a way that it ever becomes retro or synthwave in earnest.

It delves quite deep at times, with pieces like "Victoria I (Rain)" burying the musical elements for several minutes and just wallowing in the sinister atmospherics and decontextualised found sounds. It's nice that many of the ideas seem to be let breathe for their appropriate duration, finding the sweet spot of the listeners' attention span. The title track's bold sparseness, remaining practically empty for the first three minutes and barely-there for a further two, is quite audacious in that regard- but ultimately successful when it unfolds out into an odd crossbreed that's half triumphant Jean-Michel Jarre-esque chords, half distorted noise and glitch, in the album's most unusual moment.

Calming, yet also brooding with a little disquiet, "Half Death" is not the most innovative or challenging electronica or composition work you'll hear- but it's strongly composed and handled with a touch of quality that makes it engaging.
Artist:
Gudrun Gut
Title:
Moment Remixes
Format:
Download Only (MP3 + Lossless)
Label:
Monika Enterprise
Gudrun Gut's strong album "Moment", released last year, gets revisited here for a four-pack of relatively straightforward, danceable slices of electropop that's not nearly as dark as I was expecting. Chugging synth arps, acid squelches and lightly broken drum patterns are the bed for a respectful take on the four brooding original vocals.

Legendary German electro-techno producer T.Raumschmiere's take on "Lover" is relatively mild by previous standards, and the Pilocka Krach remix of Bowie cover "Boys Keep Swinging" is nothing short of synth-pop.

Dasha Rush's version of "Baby I Can Drive My Car" has a rolling, progressive-house-ish breakbeat and some lovely pads, but never quite manages to go anywhere, before the almost-ten-minute-long Paul Frick mix of "Musik" sets the breathy and understated vocal against an endearing slow rolling techno groove with a really enjoyable sense of purpose and some rather lush detailing, making it a standout.

No real standout reworks here unfortunately, but an enjoyable if surprisingly lightweight electropop supplement for fans of last year's album.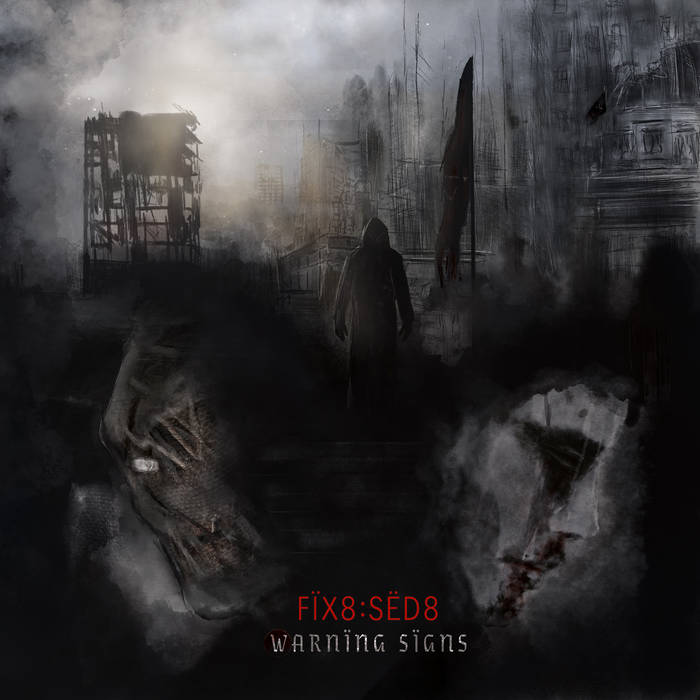 2019 seems to be generally a perfect year for friends of true and authentic Dark Electro music just if you look on the latest releases of the such hit-spotters like FLA, Amnistia, Statiqbloom, or the upcoming comeback of the Canadian legend entitled Numb. Martin Sane's solo-project Fix8:Sed8 isn't an exception and also not at all an undiscovered fellow on our site here, as this young German fellow produces his classic, verteran-styled kind of Dark Electro music since 2006. A funny as well as sarcastic interview with him can be read here: http://www.chaindlk.com/interviews/Fix8Sed8/ .

Meanwhile, after being a loner with his first two self-released albums "Humanophobia" and "Dormicum", Martin has signed a contract to the rising German Dependent label. In 2017 his third album "Foren6" has seen the light of the day and with its success he has approved his status as being propably the best-fitting "official" heir of the sound ideas taken of the Skinny Puppy and/or Mentallo & The Fixer fame. His style and personal preference is pretty much based on that retro Dark Electro sound of these obviously idols - so much that one could easily confuse Martin's outfit to them. But actually also Martin developes in his retro-oriented but still unique sound. He always works hard to add a fresh breeze through multiple vocal effects, he eplores more and more into a melodic and atmospheric facets with various layers, ominous-sounding pads und richly programmed drum patterns so that the listener needs to invest some time and concentration until the content of his musically expression creeps completely into mind.

This is it where it also starts with "Warning Signs", Martin's all new 4th studio album. After his excursion into the wide and thrilling field of medical forensics, the album "Warning Signs" thematically deals with the ongoing dystopic downturn of our societies. But actually if I nowaddays switch-on my TV set to watch such a simple thing like the daily news I am far away to rate what I see as "warning signs". According to the latest world-wide politically happenings, Martin should finally consider to name his album "Shrilling Alarm Sirens" as this title would unfortunately fit better.

The starter track "Embolism" is a bone-hard, slow stalking monster track with various different sound vocal effects and raw-cutting noise layers thrown into the mix. For sure an ideal opener of purest agony. The tone gets slightly smoother, as both following tunes, "Parasite Paradise" and moreover the over 7 minutes clocking impact entitled "Empyrean" point out a more catchy outfit with breathtaking thick synthesizer pads and cold effective layers. Most of the album tracks are based into the mid-tempo field and only a few bring back memories on his debut release "Humanophobia" on which Martin has explored a more danceable side. "Within Cells Interlinked" stands representative for this straight direction and offers from the start a punchy and fast-pacing outfit which is able to set fire under the dancefloors of all dark clubs. Maybe this track will be discussed controversially within his fans but to me this is definitely one of the highlights on this album. Ripping bass line sequences and furious lead sounds remind a lot on one or another Front Line Assembly-related idea, but also to place this rather unusual track at position 6 and so right in the middle of the whole album turns out to be a perfect decision.

It follows a track simply entitled "Love" and with this one I had hopes to find that very one special element I was longing for: The combination of the very different elements between the dark and brooding Puppy-an sickness with the melodic and fragile magic which Martin has offered us before with such timeless hymns like "Killing Fields", "Minotaurus" or "Hiob". Let's rate it fair, "Love" is another brillant Fix8:Sed8 mid-tempo track with perfectly installed vocal samples, but at least it isn't the pearl I was lurking for. Actually this special pearl isn't available on "Warning Signs".

This is maybe that tiny point of criticism because the experienced Fix8:Sed8-listener gets a perfect constructed Dark Electro album pretty much in that style as expected. With the exception of the already mentioned "Within Cells Interlinked" this album avoids unforeseeable style variations. Most of the fans would rate this as a quality. I tend to say that after 4 studio albums a form of known routine has taken impact and there's the danger that any upcoming release will be more harder and challenging for Martin to avoid repetition.

But however if you look on Martin's latest efforts with various concert trips (in South-America for example), invitations to renowned festivals like the German "Familientreffen" or "Amphi Festival" and his ongoing club tour, this all has brought more and more attention to him and his output. The times where he was relatively shy and felt not ready prepared to leave his studio or to give production-related things away into third hands are defintely over. "Warning Signs" offers pretty much everything you would expect of a post-modern produced Dark Electro release, nearly in a compareable vein of the beloved colleagues like Pyrroline, Object or Tri-State. Get it, this one is not to be missed!


Artist: Vialan
Title: Batch 009
Format: 12" vinyl + Download
Label: SM-LL

The thumbnail shown here is not an error- the cover really is just black. So it is for every release on the SM-LL label. Almost every release on the label is a numbered part of either the "Batch" series or the "Default" series, adding a further layer of facelessness. So here we are with Vialan (full name undisclosed)'s contribution, the ninth in the "Batch" series, opening up the files with pretty much zero clue what to expect.

What you get is five long downtempo electronica tracks. Over superslow but steady rhythmic patterns, built from muffled found sounds and heavily-processed analogue clicks, roll heavily reverbed and dubby noises. These echo out into the distance, gradually melding into very slow, nearly-melodic atmospherics, accompanied by waves of higher-pitched wind-like noise patterns. The palettes of glitch and techno have been timestretched and laid barren here in characterful arrangements, while the trawling of old 70s and 80s tape delays adds a fuzzy warmth to many of the sounds so things are neither too digital nor too precise.

Open "Reverb Echo" sets the tone well, though it's perhaps more hollow-sounding than some of what follows. The particularly Orb-like delayed stabs on "Replicator Dub" are a beacon of sonic warmth in an otherwise lonely environment.

"Juno Dub" is a very slight step up in tempo thanks to more frequently triggered stab, but this only lists us slightly out of glacial territory, before longest track "Sepia" introduces a rubbery, abstract, improvised-sounding low bass note that takes centre stage for a while. Final track "Spaghetti, Irish Coffee and Martini" turns the delay effects into something of a bounce, but keeps its composure for twelve minutes of deep offbeatness.

Slow your breathing, close your eyes- it's not like there's any interesting artwork to look at anyway- and enjoy one of the more extremely mellowed examples of dub electronica that has crossed my ears for quite a while. A really endearing 48 minute listen.
Artist:
Federico Leocata
Title:
Gamma
Format:
Download Only (MP3 + Lossless)
Label:
International Deejay Gigolo Records
Rated:
After releasing many EPs and two albums "Mundus Subterraneus" and "ZunÄchst", Federico Leocata is releasing through International Deejay Gigolo Records, the label of the famous DJ Hell a.k.a. Helmut Geier, his latest album titled "Gamma". In the past, many times the style of Federico's music has been compared the Dopplereffekt's (I read that he has been discovered by Heinrich Mueller of Drexciya/Dopplereffekt/Arpanet fame), but I think that the thing they share the most is the love for Kraftwerk's music. Check for example the opening track "A Priori" or the following "Alpha" and you'll realize that the robotic motorik rhythms recall the solutions invented by the Düsseldorf quartet on albums like "Computer World". There's also a sort of homage at the end of "A Priori", as the bridge recalls the breathing rhythmical parts of "Tour De France". Besides these influences, Federico's music is deeply linked to psychology and visuals. The tracks are composed with the aim to link the atmosphere created with the inner/hidden senses of the listener, just to stimulate them. The dark atmospheres and the robotic rhythms and the visuals used are working like flashes of strobe lights or like images of the Rorschach test (check the video for the "Herr Klein" track available on YouTube, for example). This album contains eight cool tracks and at the moment it has been distributed only digitally. I hope that it will have great feedback and that Federico will get the attention he deserves.