Artist:
OTSO
Title:
AAVE
Format:
Download Only (MP3 + Lossless)
Label:
Elli Records
"Aave" (Finnish for 'ghost'), from Helsinki-based electroacoustic composer Otso LÄhdeoja, has quite a sci-fi concept at its heart- music fictitiously pulled from two different times, 11th July 1952 and 31th October 2022, that has been blended together and counterpointed. Each track is identified only by one of those dates as a timestamp. From the 1952 pieces comes more artificial sound, principally an upright piano, while from the 2022 pieces comes the synthetic elements, pure-sounding and digital melodic notes.

There's an icy tone to both parts that provides some commonality, but the intertwining of the two elements is mostly driven by the way in which both sources get the same heavy post-production treatment- the original sounds and melodic ideas being heavily glitched, thickly layered and playfully mangled in a way that in some regard recalls early electronic music experimentation, but which is powered by the energy and freedom that modern techniques can so easily be used for musical infusion. The production is skittish, constantly seeming to seek out new settings and effects and never letting itself settle into anything that can begin to sound familiar.

Rhythmic patterns appear in final track "11.07.1952, 06:22" that are slightly reminiscent of a brooding Brandt Brauer Frick or the edges of acoustic techno, but it's a rare step towards form in what's otherwise somewhat shapeless. "31.10.2022, 20:46" is the other track I'd note for lesser reasons, because it's the one where the high-pitched synth melody sounds daftest.

It does appear like this whole release is largely inspired simply by having an old upright piano to play with, and at times this sounds like idle noodling rather than composition. Truthfully the sci-fi or time-jumping element doesn't feel fully baked. However if you like your glitch electronica to sound frosty, unpredictable and awkward, this will still have an appeal.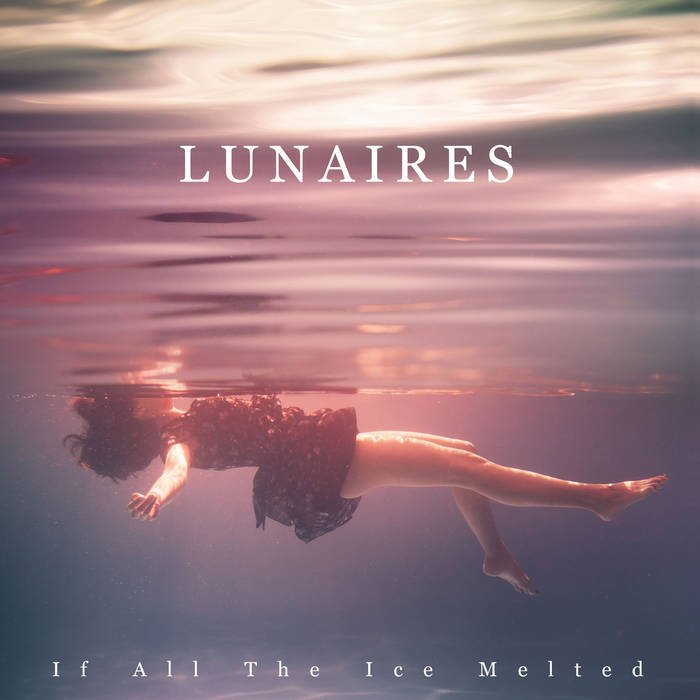 Artist:
Lunaires
Title:
If All The Ice Melted
Format:
CD
Label:
Shades of Sound
Rated:
"If All the Ice Melted" is the debut album by Lunaires but the people behind this project are no rookies at all. Patrizia Tranchina (vocals) and Danilo Carnevale (guitars, programming, synths, soundscapes) are active since the early 80s as members of Jeunesse d'Ivoire first (you can find their tracks on different compilations released by Spittle that reissue original 80s music by Italian bands and I think that their demo and their participation to compilations have been reissued completely) and from 2010 to 2016 as Ivories (with this project they released a live album, a mini and an album). With Lunaires, Patrizia and Danilo redefined their sound: if with Ivories the sound was more direct and influenced by post punk and new wave, with Lunaires the axis is moving or better, it's morphing including electronic and shoegaze atmosphere to the mix. The eight tracks of the new album are more electronic based (all the bass lines are now synth sequences) and to me are sounding like a mix of Cocteau Twins and Slowdive with electronic arrangements. I don't know if you know an Italian project called Planetfunk, well they were using guitars and electronics with a similar approach but with a different background. Patrizia's vocals are always upfront and she's talented as usual (imagine a mix of the early and late Elizabeth Frazer) and are well supported by the rich lush sounds produced by Danilo. His guitar is there but now it's filtered/treated and then it's creating distorted melodic arpeggios. Compared to Ivories the tracks are less direct and the sound richer but it's only a matter of time as they are growing on you little by little. On the information about the album, they wrote: "It's an emotional album about challenging struggles and definitive departures and how to live with them".
You can check the new album at the label's Bandcamp page here https://shadesofsound.bandcamp.com/album/sos03-lunaires-if-all-the-ice-melted. Let Lunaries seduce you...
Artist:
Kratos Himself
Title:
Solstice / Part II
Format:
12" vinyl + Download
Label:
Youngbloods
Half a year after "Solstice Part I" offered up Kratos Himself's gentle downtempo electronica ode to the Winter and Spring seasons, right on schedule "Part II" is here to offer the Summer and Autumn half.

It's still in the same ballpark- gentle grooves, soft claps, smooth-edged synths and acoustic-sounding plucked instruments, sweet and simple melodic patterns, with a fairly thick and poppy approach to production. If anything these feel more like lyrical beds and less like soundscapes, and unsurprisingly given the seasonal change, this music is somewhat warmer. Cosy chords, and less fragile sounds, are a perhaps predictable but effective way to provide contrast.

"Take U With Me" is only one advert placement away from being a crossover chillout hit, while the heavily effected vocal line on the melancholic "Breathe" sounds like Air at their most thoughtful. The quirky pizzicato sounds and lovely groove work on "Equinox" make it a highlight, while title track "Solstice" is endearingly lazy.

It's the live or live-sounding elements that lift it above lift music or library music- the subtle use of guitar sounds on "Always, Never" or a saxophone(-ish) flavour that's subtly infused into the opening track might well be just rich synthetics rather than genuine, but they are still what provide the little quality details that can make all the difference.

There's a hint of repetition between tracks and not as much breadth as you may like, with tracks like "I See U" offering up little that feels new- but at 27 minutes, marginally longer than Part I's 23 minutes, the two combined still make a praiseworthy bit of relaxing downtempo work.
Artist:
VV.AA.
Title:
Sea-Watch
Format:
Download Only (MP3 + Lossless)
Label:
Shameless
This is a charity record, with all proceeds from the downloads going to Sea-Watch. To copy-and-paste what's in front of me, "Sea-Watch is a non-profit organization that conducts civil search and rescue operations in the Mediterranean Sea. Politically and religiously independent Sea-Watch is financed solely through donations." There is absolutely no denying that the dangers of cross-water migration causing so many lost lives in the Mediterranean is a worthy cause, and frankly, even if the music being sold here were absolutely terrible, I would still tell you to go and buy it in order to contribute to the cause on a 'name your price' basis.

It's a bonus, then, that the music is not terrible at all. Eight artists have each contributed thoughtful standalone pieces of mostly-instrumental, mostly-electronica. Given the Sea-Watch theme, of course this is sincere downtempo music and not party time, but as a 46-pack of brooding modern music, it's really rich. It feels like some acts have seen it as a chance to put out tracks that may not fit into their own longer releases, with interesting results.

It starts fairly accessibly. Julian Lars Gosper's "44,448" has a somewhat underwater feel to it in its atmospherics, which does feel like it borders on the inappropriate, but that's just quibbling. Boris Hauf's "On The Pulse Of Morning" sets a long Maya Angelou speech respectfully centred in a thick atmospheric soup. It also ends in gentle fashion, with Superposition's slightly trip-hoppy piano-driven "Peak Data" giving quite a cinematic and high-quality flavour.

It's not all electronica though, and "African Flower" from These Things Happen is pure sax-led melancholic jazz, sitting somewhere between lounge and avantgarde for a curious and captivating tone, while Didi Kern & Philipp Quehenberger's "Hope" has the slow laborious plod of noise-rock, but coupled with tuned atmospheric pad melodies that make it a much more interesting beast.

Neither is it all accessible easy listening. The wilfully inappropriately named "Classic Rock" from Brent Gutzeit is a five-and-a-half minute workout in complex glitch, taking some jazzy source elements and twisting them in a heavy-handed manner until it almost sounds like raw data. It runs smoothly into Steve Heather's "Exposed Jerry" which is sonically not dissimilar but which grows around an enjoyably awkward rhythm abstract. Boris Hauf's second appearance on the compilation is in a collaboration with Max McCormick on the unusually textures "Port", littering processed found sounds over a relentless engine-like click rhythm in a manner that I'd describe as dub music's estranged electronic second cousin, who has a mental breakdown towards the end.

You should be giving to this charity, you know you should. The convenience of this Bandcamp method, plus the fact you get eight really interesting Shameless tracks into the bargain, means you should do it by buying this.
Artist:
Minim
Title:
Construct
Format:
Download Only (MP3 + Lossless)
Label:
Kasuga Records
"Construct", from Bucharest-based artist minim, is as the name implies, a reductivist exercise in sonic disassembly in which source noises are digitally processed so extensively that what's left is a fluid series of clicks. At times pattering like moderately heavy rain, at other times sparse and intermittent, sometimes blatantly random and at other times sounding structured like an unknown language, it's these clicks that carry the entirety of the work- varying just enough to maintain interest and dynamic, whilst lowering the listener's heart rate overall.

In eight numbered parts, 31 minutes overall, there's relatively little variety. Part 5 takes an unexpected step into a more regular rhythm, introducing an extremely low sub-bass that sounds like super-slow techno is happening in an apartment three floors below you. If you ever find yourself in a "my techno is more minimal than your techno" competition, this is a trump card. In part 6, a bass tone of the same pitch sounds more like distant industrial drilling than dance music, but it's a subtle distinction.

It's rare to hear a release that's quite so bold with its stripped back approach, but there's an elegance to it that's hard to dispute. A release best suited to listening in a very isolated sonic environment, as it's only there that the atmosphere here reaches its full immersive potential.

Incidentally, the primary format for this release is an SD card, which ChainDLK's database doesn't currently list as an option; but it is available as a download as well.