image not
available
anymore
Artist:
Parade Ground
Title:
A Room With A View
Format:
Tape
Label:
Other Voices Records
Rated:
Formed by the brothers Jean-Marc and Pierre Pauly in 1981, in Brussels, Belgium, Parade Ground channelled their energies into energetic music made of hard beats, paced synth lines and the melodic voice of Jean-Marc. In 1982 they participated to the Nationale Rockmeeting LP compilation and soon after they met Daniel B. and Patrick Codenys of Front 242, beginning a collaboration that is still active. In all these years, the band has on their back only two full length releases. Their first album "Cut Up" was released by Play It Again Sam Records, as well as their following singles released on 1987/88. For they second official album "Rosary", we have to wait until 2007, but a couple of months ago, Minimal Maximal, released the band's 1989 lost album, titled "The 15th Floor". Their real second album. This tape "A Room With A View", gathers songs recorded in 1988 that, as far as I know, were unreleased. The eight tracks mix e.b.m. atmospheres with new wave songwriting structures. It's like they felt the urge to release their energy without forgetting to give to the songs something more to the "in your face" approach. In this way, we have semi synthpop tunes with upbeat hard rhythms, melodic vocals, strong bass lines and some dance moments like on "Cursed By My Name". They sometimes recalled me Fad Gadget but with more melody. You can check the whole release here http://othervoicesrecords.bandcamp.com/album/vox-15-mc-a-room-with-a-view.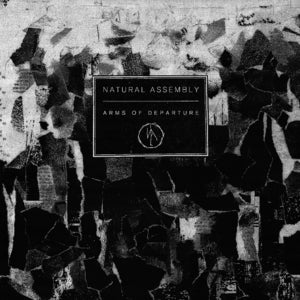 Artist:
Natural Assembly
Title:
Arms of Departure
Format:
12"
Label:
Avant! Records
Rated:
Coming from London and born the last year as a solo project of Jesse Cannon, after the release of the first demo, Natural Assembly became a duo with the arrival of Z. Zsigo and soon after made two other tapes. Now, thanks to Avant!, they are ready for their major release, a 12" vinyl EP titled "Arms Of Departure". Influenced by industrial electronic music and new wave, the duo packed six tracks where reverberated drum hits mark the rhythm while analog synth lines build the melodic background of the tracks. To the whole you have to add resounding vocals that sing quasi unintelligible lyrics. Being capable of making anxious atmospheres, the duo's lyrics are quite decadent and tormented. On "19.03.12" they sing: "The warmth of the springtide guides the blossoming of the child through the dull fog of life enduring the bright fractures of times existence" and on "Ruination": "Trapping me tight, the structure forces me down, our bodies entwine but our spirits will fadeout". They the right companion to the other label's bands Lust For Youth, War and Contrepoison. Nice...
image not
available
anymore
Artist:
Diamondback Kid
(@)
Title:
U.F.O.
Format:
Download Only (MP3 + Lossless)
Label:
Diamondback Recordings
(@)
Distributor:
Bandcamp
Rated:
It's getting better and better with every new release on Diamondback Recordings. This one, 6th of the label, is the brand new EP by the prolific founder and owner, the Diamondback Kid, and it features 5 tracks, all different versions of the wonderful, solid piece of electro, "U.F.O.".
Original track sounds 'phat' if also ethereal as the result of the combination of tough basslines, strong electro beats and dreamy pads. As with most DBK tracks there are also crossing genres elements like acid touches and pop melodies, elements that make the sound of this great artist unique, characteristic and recognizable in the electro scene, also accessible to the 'unsuspected' fans of electronic music.
Thomas Kress' remix sounds cold and robotic just like the personal productions of this German artist extraordinaire. Very cool version!
Then we have The Men Who Knew Too Much with a really imposing remix that follows the duo's dark ambient path, however it is uptempo and groovier than their previous works. Outstanding!
Next comes my version ("Binalog's Space Trip") and, of course, you are the ones who will judge the result ;) I just like to write that it was one of the tracks I really enjoyed remixing!
An instrumental version closes the release.
"U.F.O." deserves attention not only by the electro fans but also by every fan of electronic music in general. It is a solid release, put together nicely and it features some remarkable remixes worth of checking them out. It is now available for purchase on every fine digital outlet and, of course, on DBR's Bandcamp. Buy!
image not
available
anymore
Artist:
PBK & Zanstones
(@)
Title:
Mantis Fog Desert
Format:
CD
Label:
Monochrome Vision
(@)
Distributor:
Monochrome Vision
Rated:
This russian label Monochrome Vision (www.monochromevision.ru) represent for me a beautiful reality into the independent musical scene of Eastern Europe. This scene is becoming during those years more interesting and rich. The Monochrome Vision offer a number of interesting works. I invite you to visit his web site where, in addition to a catalog, you will find a very nice interface that stands out, among many different labels of the electronic/gray area, for it rigorous and geometrical graphic approach, full of shiny white color and total black.

This kind of black & white "esplendor geometric " becomes also a graphic choice even revived on the covers of his albums. And I imagine also this choice want to emphasize the care and rigor of the label into his selection of their authors and materials. So I would talk to you today just one of those works produced by the strict Monochrome Vision. An album that is titled "Mantis Fog Desert" and is signed by the double name PBK & Zanstones.

I must confess that before listening to this album, I enjoyed the presentation in the notes written inside the cover where one of the two authors describe the other as an insomniac because of his need to experiment and continuously produce electronic music. For this reason I went around the web to learn more. And I saw that PBK stands for Phillip B. Klinger and Zanstones is one of the many pseudonyms of an old acquaintance of electronic experimentation, which is called Zan Hoffman.

Of PBK/Phillip Klinger and his works , unfortunately, I have not any direct knowledge. So I prefer to trust the words of Don Campau published on his "Living Archive of Electronic Music" (http://livingarchive.doncampau.com). Is an interesting website which I highly recommend especially to all those of you who loves the roughness and the analog low-fi music of "cassette-culture" and the experimental manipulation based on audio tapes. Into his Living Archive website Campau (who is surely an expert) describes for us, in excited way, the musician Phillip B. Klinger and also which tells of his sound experimentation as the fruit of long experience in fact started in the mid 80's. So I think we can trust to PBK. I report here for you, in a few lines, a little part of that presentation:

< ... I always admired , respected and enjoyed the work I had heard by PBK over the years. For the first few years I didn't even know his real name although it was embedded, but shrouded in his releases. To me there was a type of mystery in what he did because the sounds were so far out, alien like and strange. However, Phillip B. Klinger is not only an intelligent, articulate and eloquent spokesman for his art but is inclusive and a genuinely nice and engaging fellow. He has also made some of the most outstanding and creative work in the experimental, home recording field...>

In addition to the words of Campau then add the fact that, together with a musician like Phillip B. Klinger joins, into this album Mantis Desert Fog which I am presenting, another important name as Zan Hoffman/ Zanstones, who is not only a good electronic musician, but is also the founder of the label ZH27 (http://zh27.blogspot.it).
If you've never heard of ZH27, even in this case I think it is enough to visit the web area contains the catalog of this label and many works of Zan Hoffman, to get an idea of who I'm talking about. You'll find that the production of audio ZH27 and Zan Hoffman is nothing short of immense and continues without interruption for over 25 years.

It's hundreds and hundreds of albums. I thought that the union of these two authors, on the same musical work, was so sure index of quality music. And after listening to me has fully confirmed the initial supposition. Mantis Fog Desert proved to be fact, since first hearing, a long and beautiful series of 8 musical suites, consisting of a successful amalgam of electronic and noise, perfectly mixed and enjoyed listening to both, some peoples devotee of this musical genre or any neophyte that attracted for the first time from this type of sound.

This album, after repeated and careful listening, reveals a hot core of instinctive conceptual substance enclosed in a casing that is its musical form more aesthetic and technologically sophisticated. The album have 8 tracks. Half of these tracks is to last more than 8 minutes each. And the other half has a duration on average about 5 minutes. But only first 5 track are realized by all two musicians.
Into the next 2 track Zanstones works alone (titled are 'The Jor Bangla Effect' and 'Disentangling Bilot Kaf'), and also PBK plays alone into the last very long track (over 10 minutes) titled 'Paranoia Corridor'.

Their instinctive but concrete musical concept of working realize a sort of small, intense symphony for electronic and musical waves and noise, condensed into these 8 tracks. And it's amazing how, who can play either solo or in pairs, they create a dense sound and very intense. A sound with a great aesthetic appeal but also imbued with an air of conceptual and strange psychedelic substance intended for inner reflection. In this record there are no short tracks or fast rhythm, but only long musical carpets where every sound listening requires to find the correct time for a proper breath. All tracks are beautiful and elaborate, and build a labyrinth of sound around the listener. Labyrinth into which entry is easy but the output is difficult to find.

Each of these track reveal in fact a prelude sound and a sinuous development, with no clear conclusion, in the most positive sense of the term. Nothing is permanently closed into the infinite pathway of music by this strange and alien 'Mantis' who wanders through the mists of the desert. Nothing is developed to an end and nothing is locked between a beginning and another ending that are signs for a set a definitive cycle. On this journey through the desert, which is musical and conceptual, each cycle repeated and becomes theoretically infinite. They are cycles of day and night, light and dark, black and white.

Each piece of Mantis Fog Desert is thus resulting in a loop, and one being related. Loop for himself and about himself but also with the song that precedes and follows it. This disc may be the first chapter of a suite that becomes infinite. And you could become its slaves from the first listen. Because it is easy to get pleasantly lost in the dawn mists of this desert in the pitch dark religious listening of this mantis. Even happened to me to hear this record, several times in succession without having decided. It happened to me last night, while surfing the net and writing, for Chain DLK, this review.

It's been like if I lose on the way, listening to this album and thanks its sounds intriguing and fascinating, in a night journey made light of dawn blue leds in my monitor whit the many colors of the net. And I'm unaware of the lapse of several hours. When I stopped listening to this work was done daily. And the fog, with many mists of the dark night are gone. But the taste of dawn remained, as happens after any nice journey through the night.

I wish you a pleasant journey to you and I recommend listening to this Mantis Fog Desert. Enjoy your trip through the mists of night in the desert. I'm sure, the good electronic music of PBK & Zanstones that will accompany you until the next sunrise.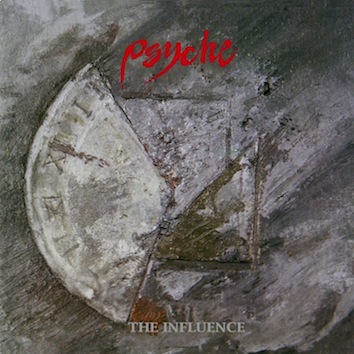 Artist:
Psyche
Title:
The Influence
Format:
CD
Label:
FinalMuzik
Rated:
Born in 1982 in Canada, Psyche formed thanks to brothers Darrin and Stephen Huss . It took a while before preparing some tracks, going into the studio, but in 1985 they self released for their label Malignant Productions, the first album "Insomnia Theatre". The tracks of that album, recently released as three LP box by Vinyl On Demand, paid tribute to Suicide and to a style of minimal electronic which was also dealing with industrial music. Soon after, they got a deal with the French label New Rose, that reissued that album and released "Unveiling The Secret" the year after. Already with this one, Psyche introduced more melody and a sort of r'n'r attitude on tracks like "Screaming Machine" (tracks that is recalling me Alien Sex Fiend a bit) without losing its electronic industrial root. Anyway, something was going on... In 1988 New Rose released "Mystery Hotel", an album that was sounding more pop and which cointained four tracks that had a commercial success in Europe and Canada: "Eternal", "Insatiable", "The Outsider" and "Uncivilized". The year after Darrin teamed up with David Kristian and recorded "The Influence". Originally released by Animalized, label of the SPV group that had on their roster bands of the likes of A Split - Second or Front 242, the album was a sort of creative change for the band thanks to the use of samples performed with the Casio FZ1 keyboard. Containing tracks like "Misery" and "Haunted", which were in continuity with their past releases, on this album the title tracks and mainly the beautiful "Dark Pool", were offering a sound more atmospheric and more complex. They always used 4/4 hard beats, but on the background pads and rhythmic sounds created a tense atmosphere, almost horrorific (see also "Psyche Theme"). Mid tempo tracks with powerful sounds were also winking to pop atmospheres: "Salvation Stranger" or "Secret Angel" are good examples of this new attitude of the band. This new release contains also five bonus tracks: "Haunted (On Hill House Mix)", "The Sundial (Shifting Time)" (this is an acoustic version of the track with chilly sax inserts), "Misery (Acoustic Rhodes)" (another strip to the bone acoustic version a track with a folk wave atmosphere), "Salvation Stranger 2012" (this is a new re-recorded version of the original tune which now sounds like a mix of cyber electronica and dark wave) and "Goodbye Horses (Immortality Mix)" (a nice dreamy electronic pop tune). If you love the band, for sure, you won't miss this release.