Artist:
Grandchaos
(@)
Title:
Refuge
Format:
CD
Label:
Urgence Disk
(@)
Rated:
Grandchaos is the solo project of Ivanovitch Tcheleskov, already known for his other band Idlo. This album features basically only remixes plus a new version of "Ultra dark day" off their previous "Open source" album. The title-track appears with five different versions and, together with the other remixes, will appear in its original version on the upcoming "Rumours of my life" album. Usually remixes are released at the same time or after the "official" versions, but why not changing a bit. Hailing from Belgium and sounding definitely Belgian, though remixed, this is Grandchaos. Expect some old sounding EBM, pounding bass-lines, synth layers and deep darkened vocals. There are some futurepop moments, like "A new replica" (Grandchaos vs Operation of the Sun), the last and fastest track. As for me, I prefer the old EBM parts, but it's hard to judge a remix album, anyway, it makes me want to hear the "official" new one, that's a good side effect! and, by the way, I'm actually spinning a lot the Bak XIII remix of "A lot of pain".
image not
available
anymore
Artist:
THE EXALTICS / GOSUB
Title:
The Exaltics Meets Gosub
Format:
12"
Label:
Solar One Music
Rated:
The Exaltics meets Gosub is the first of a series of split 12"s that will find The Exaltics meeting cool names of the electro scene. The first to celebrate this series is the Miami producer Shade T. Scott, actually active under the monikers of Gosub and Dcast Dynamics. Anyway. A Side contains two The Exaltics tracks: "My Language" and "I.M.O.E.H.". After the last year EP "They Arrive" released by Clone, which contained six tracks that were exploring the experimental side of Robert's music, on this release, he bring to the attention of his fans two electro paced mid tempos which mix ambient pads to a more complex and fast rhythmical structure. Fast bass lines alternates ice keys and warm pads creating a nice mix that sounds alienated but also confortable. Side B contains two new Gosub tracks "Plug In" and "You Can't Escape The Present". I loved so much Shade's album "Watchers From The Black Universe" and "Plug In" is bringing me back to those atmospheres thanks to the classic Gosub's low slung bass lines and that Miami electro flavor. On this one vocally he recalls me also a little Egyptian Lover but a kind of dark one. The second track is a nice electro melodic vocal jam which seems to have been recorded underwater. Do sea-monkeys took control of his studio? Funny one indeed. This is another cool Solar One release and now I'm curious to know who'll be the next The Exaltics' guest...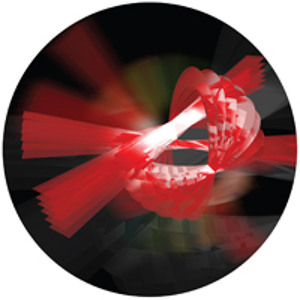 Artist:
MORPHOLOGY
Title:
Information Paradox
Format:
12"
Label:
Cultivated Electronics
Rated:
With a new distribution deal with Clone, Cultivated Electronics is back with the first release of 2012, a new Morphology EP. Coming from Finland, Morphology are a duo which in the last three years they released different vinyl 12" on Zyntax Motorcity, Abstract Forms, AC Records, to name few. The new EP is titled INFORMATION PARADOX and contains three new tracks plus a Sync 24 remix of the title track. The EP opens with the title track, an upbeat syncopated track that recalls me of the best Zerkalo tunes. It mixes Detroit electro and a bit of Miami creating a sort of warm/cold contrast. "Escape Velocity" is a 4/4 electro tune with crisp bass lines and catchy melodies. It kinda grows thanks to the add of floating spooky pads and more rhythmical parts. It sounds nasty and mysterious. B side is opened by Sync 24 with the "Information Paradox" remix. For this one Sync 24 choose to give to it a dark flavor thanks to obsessive fast arpeggios, spacey keys and eerie pads. The 12" is closed by "Tangent Spaces", a track that mixes aquatic and hypnotic atmospheres. It gathers upbeat tempos, dilated pads and melodic catchy piano inserts. This is a quality release that you will gladly check if in love with the electro genre.
image not
available
anymore
Artist:
Synapscape
Title:
Traits
Format:
CD
Label:
Ant-Zen
(@)
Distributor:
DSBP
Rated:
'The touch of the unexpected' ' this phrase taken out of the label info-sheet features some valuable content, when it comes to describe the long years of Tim Kniep's and Philipp Münch's career under the well-known Synapscape moniker. Synapscape in the year 2K11 are sounding still refreshing and offer still their own signature, where other, comparable promising Industrial-projects have failed meanwhile. 'Traits' gives us again some detailed insight into their musically varied sound-design, which features again diverse rhythm patterns between noisy to smooth installed, intelligent produced synth-drones and ' quite important ' Tim Kniep's vocal performance. They can look back now on more than 16 years of musically activity, but be assured, that they do not offer (Abnutzungserscheinungen). This album is filled with stuff worth to mention: 'Host' opens this album and gives a harsh, Powernoise-driven rhythm-massacre. But the float of the album afterwards turns more to offer progression in their rhythm-textures, 'First Came the Floods' rather more reminds on more subtle produced Electro-Clash-structures than the Noise-formula. 'Downfall' can be pointed out as being one of the highlights here, rather reminds with its rhythm-arrangements as an obvious homage to Dive/Sonar. Deep-drowning Dark Ambient scenarios you'll get additionally presented through tracks like 'condition Sine Qua Non' and 'Hiller', until the album ends after 14 tracks with the wild pounding 'Rise', one out of five tracks featuring Tim Kniep's vocals. 'Traits' stands once again for a highlight in the release-catalogue of the German cult-label Ant-Zen and this productive duo has at least found the ideal path to unite the raw, noisy structures with subtle elements. 16 years of activity under Synapscape and no sign of getting bored by the things they do ' let's keep the fingers crossed to have them much longer in front of this music genre.


Artist:
Minusheart
(@)
Title:
The Big Idea
Format:
CD
Label:
Echozone
(@)
Distributor:
Masterpiece
Rated:
Even if Minusheart are not newcomers, The Big Idea could be considered a sort of debut album due to the big changes of the line up and those listeners who already heard some of their past releases, in particular their most famous one id est their real debut (on Echozone as well), Disease - including their most known song "Don't Feed The Cats" -, will easily recognize stylistical mutation of this German band: even if it's not a chocolate snack cake, the recipe which has been added in the filler has been sugared by Vary, the new guitarist of the band led by Diver and his coarse riffs, so that Minusheart's sound seems to tack towards industrial rock in spite of its terse and schematic EBM mainstay, being such a thinness a defect together with a certain monochromatism of Diver's voice according to some listener, ignoring that redundance is not proper to the genre. Such a revolution in the line-up brought many good ideas in the oven (I particularly appreciated more melodious songs such as "Morphine Waltz", one of the best song of this album, and some interesting rollers such as "Ride On Your Colours" and the initial "Inglorious Bang"), even if most of the songs cannot be acclaimed as masterpieces, and the lyrical aspect appears renewed and more interesting as well even when Minusheart's most ironic vein pulses stronger such as in Drawback and Don't Call It Love, where Diver enumerates some notorious pornstars' names, but there're also some moles in the tracklist due to their foreseeable structure such as Solitaire, Book Of Love or Peak Of Pleasure. I may be wrong, but The Big Idea looks like the typical transitional work before an attempt of diving in the mainstream. We'll see or better we'll listen.