Artist: Guzz
Title: 􁩳􀓧􀚊􁌱􀻼􀤹 Walking in a Boundless Dream
Format: Download Only (MP3 + Lossless)
Label: self-released

The second album from Guzz is a fusion album, in the original sense, making new Asian music that combines traditional sounds and musical forms from Myanmar and India with cutting-edge synth-electronica and glitch. Fittingly every song's title is in two languages, but please forgive me that I have only used the English version here.

It's quite flowery and times, with tracks like "An Epic Poem Dissipates Over The Coast" and "Amber" sounding positive, breezy and a little indulgent. "Rain Man" is modern day world music for tourist incense shops, but not (honestly) in a bad way, while "Half-awake" can't seem to make up its mind whether it's glitch-lite or Asian-sounding chillout music.

By contrast, there's an edginess to tracks like "Countless Flying Birds" that keeps it sharply contemporary, with more than a shade of a modern grimey undertone. "Star Sea" is also noticeably sharp-hewn, in an enjoyable way.

There are more thoughtful moments on show as well. The title track mixes the melodic quality of dream-pop with a gentle bass swagger; it's also quite sparse, one of several tracks which is more stripped-back and less chaotic than the cover art may imply. "No-mind" is gently reflective and uses atmospheric sound- possibly the sound of a marketplace- to strong effect, while "Sky Tree" has a touch of the cinematic synthwave about it.

As a proper bit of fusion, this works well. It perhaps dips too close to novelty- or maybe just accessibility- for some tastes, but if you like your traditional Asian music gently powered by electronics, you'll certainly appreciate chunks of this.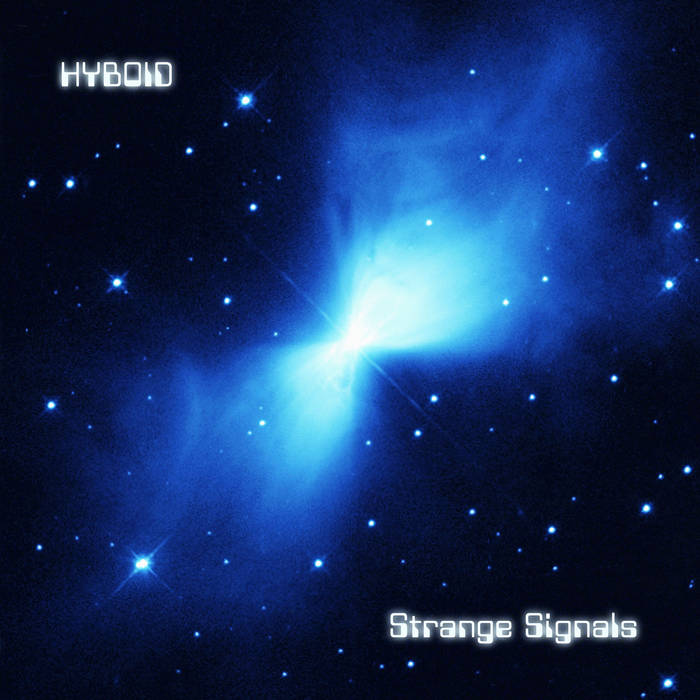 Artist:
Hyboid
Title:
Strange Signals
Format:
2 x 12" vinyl
Label:
Astro Chicken
Rated:
In ten years of activity Sebastian Hübert has been able, like a science-fiction writer, to create his own narrative with his own musical project Hyboid as well with his label Astro Chicken Records. With his music made with vintage synthesizers and drum machines, Sebastian created audio stories that lead the listener through space voyages and musically back to the late 70's/early 80's, when funk and disco music melted and muted into electro funk or the first hip-hop experiments. Hyboid is mostly linked to those sounds than to Kraftwerk and this is evident also into the new album "Strange Signals". On tracks as "Restless On Risa", "Cosmic Funk", "Walking The Milky Way" or "Future Fever", within upbeat rhythms and bouncing bass lines you can often find a lead synth line which, like a guide, is there for the listener to follow. Like the other albums, also "Strange Signals" has a theme and this time it's the tale of an interstellar romance gone wrong. Musically on the album you'll find more vocals (effected with the vocoder or not) and also a little bit more electro influences like on "Martian Dreams", "Unobtainium" and "Synthetic Band" or a bit of synthpop like on "Broken-Hearted Universe". Released on black or limited clear vinyl and on digital format, "Strange Signal" is the new Hyboid album that you won't miss! Check it out here https://hyboid.bandcamp.com/album/strange-signals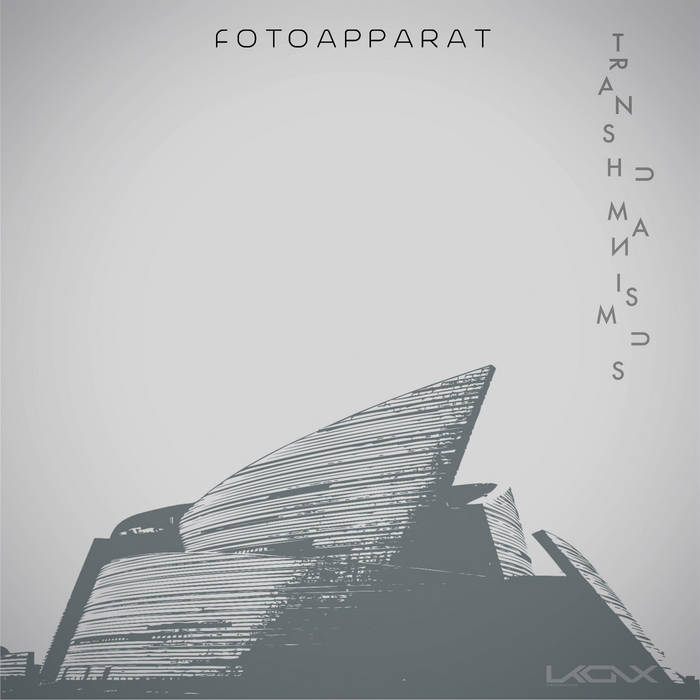 Artist:
Fotoapparat
Title:
Transhumanismus EP
Format:
Download Only (MP3 + Lossless)
Label:
Ukonx Recordings
Rated:
Formed few years ago into an unknown place in Europe (from some photos posted I think he/she is coming from Berlin), Fotoapparat, after releasing two EPs for the Mexican label Dostonos Records ("Fundamentale Wechselwirkung" and "Doppelmord"), just released a new EP titled "Transhumanismus" for the Fremch label Ukonx Recordings. It's available as digital download on the label's bandcamp page and on streaming on the usual platforms. "Transhumanismus" contains six tracks that put Fotoapparat into the focus of the Dopplereffekt lovers thanks to the cold atmospheres and rich robotic sound palette. The EP has a strong concept. The first three tracks explore our relation with machines. Humanity in its limitless ambition ultimately pushes its researches further and further, until it reaches a turning point: the end of its supremacy. The last three tracks takes inspiration from cinema, literature, science, mythology and philosophy, just to rise a question: what if artificial intelligence emancipates itself and become as powerful as a god ? Can we expect a machine to show compassion and mercy? ...and, would they punish us for our destructive behavior by recreating our consciousnesses into a personal artificial hell? Musically, Fotoapparat succeeded into creating a tense atmosphere with a deep cinematic attitude, which coupled with the robotic rhythms create really good tracks. You have cool tracks, a theme which somehow involve all of us, so you can't ignore this release! Check it in full on the Ukonx's Bandcamp page.
Artist: Microtub
Title: Chronic Shift
Format: 12" vinyl + Download
Label: Bohemian Drips / Ace Tunes

Believably "the world's first and only" microtonal tuba trio Microtub offer up two interpretations of a scenario where the tubas performed long melodic drone notes inside the unique acoustic space of a large water tower. This is supplemented by analogue synths offering up humming waves and resonant chime sounds that generally parallel and compliment the tuba noise.

It's second piece "System Reboot" that is the more purist representation of this- an absolutely luxuriant drone piece, relatively untouched by post-production, in a warm resonant environment that sounds wonderful in stereo and presumably even more incredible in a 3D audio version. Initially fused into a single layer, the sounds gradually peel out, unfold and overlap in varying combinations so that the whole work shifts imperceptibly slowly and elegantly, with a rewarding sense of calm.

First piece "Chronic Shift" is more deconstructed, if you like, taking sonic material with the same timbre but cutting it up and looping and rearranging it to post-produce new melodies. The rough-hewn cuts, complete with clicks and glitches, are so frequent and artefact-laden that they start to dominate the sound underneath. It's an approach handled boldly and with purpose, and largely it works, especially thanks to the gradual introduction of more sedate structures as it progresses, giving the piece a sense of direction.

Ultimately I'd rather listen to the unadulterated (or less adulterated) second track, but it's a beautiful combination of instrumentation and environment that really sparkles. Absolutely lush.
Refreshingly, Ophir Ilzetzki is very open about the fact that "Symphony No. 1" is an intuitive composition, not affiliated with any deep underlying theory or concept, at least not consciously. Instead it's a collection of four long works in which Ilzetzki expresses a variety of emotions through the medium of electronic composition- drone, oscillation, electric hum, fuzz, rumble, whirr, click. The result is not technically symphonic, by the book, but it's realised on a broad scale with raw emotion that makes the name somehow fitting nevertheless.

"God Sent" is a series of introspective hum notes that sets a fairly minimalist tone with confidence. "Emma Carmel" feels a little more theatrical and impulsive-driven, making solid use of what I think may be low vocal noises howled round into incomprehension, as though we were listening to a slowly told incomprehensible story from inside a robot womb.

"To Heal With Blood" is initially much angier, opening with shifting noise wall built from quite grating motor-like noises, but surprises you by calming down promptly, remaining tense but more sinister rather than aggressive, revolvingly slowly round a rhythmic throb. 22-minute-long final piece "Of No Input" has a similar pulse at its heart, but delves deeper and lower and sparser in its approach, at times bordering on inaudible, yielding again comparisons with a womb scenario and the mysterious ever-present heartbeat you would hear. As it unfolds, this pulse somehow transforms into a more rapid, again motor-like affair, before escalating back into a sonic wall for a finale.

Despite being called "Symphony No. 1" this is far from the composer's first work. He has been composing pieces for two decades, predominantly for more traditional instrumental ensembles- but this appears to be his first foray into pure stripped-down electronic work, and I would definitely regard it as a success.