Artist:
Automatisme
Title:
Alter-
Format:
2 x 12" vinyl
Label:
Mille Plateaux
"Alter-" is two styles of electronica experiments interspersed on a single release, "Alter-Rate" and "Alter-Scape".

There are six numbered "Alter-Rate" pieces, which take relatively simple minimal techno sounds- soft kicks and hits, light percussive sounds and modular synthesis pulses and waves- and then bend their time signatures and rhythm patterns, not just a little bit a lot, glitching and spontaneously adjusting them so that none of the traditional 4/4 root pattern can be discerned. They are skittish, never sitting at one arrangement for very long. At times, such as the latter half of "Alter-Rate 3" or the somewhat Aphex Twin-ish "Alter-Rate 7", they are frantic, chaotic affairs, while at others, such as the first half of "Alter-Rate 2", they are more spacious and gentle- the unpredictable bubbling of the latter sounding a little like a playful old Radiophonic Workshop analogue sketch piece, but with a lot more sub-bass.

(A notable exception to the above is "Alter-Rate 6", which spends several minutes in a surprisingly regular and 4/4 minimal techno formation, to mix things up a bit.)

Conversely, the four "Alter-Scape" pieces are described as 'ambient', but they still have an inherent rhythm. However it is true that they are far more static, providing a regular breathing pattern that ends up serving as an interlude between the irregular offerings of the "Alter-Rate"s. There's a distantly industrial feel to "Alter-Scape 3" that eschews the more relaxed side of ambient and which I'd primarily describe as drone, while "Alter-Scape 4" has that more typical melodic tone to it.

There's high-concept art theory behind this album's approach to time and sound, and appropriately, much of the sound here feels like it belongs in a live context or, even better, an installation, surrounding you from all sides and tied in with other stimuli. As an hour-long home listen, you would be more advised to ignore the descriptive references to 'club music', grab some headphones, turn the lights off and dive in. It's not revolutionary but it's head-bending enough to make it worth the dive.
Artist:
Nazar
Title:
Guerilla
Format:
CD & Vinyl
Label:
Hyperdub
Angola-born, now Manchester-based Nazar describes his sound as 'weaponising' the sound of kuduro, Angola's upbeat music and dance style, coining the term 'Rough Kuduro' for a fusion that brings in much darker elements equally inspired by the country- horrors, politics, and division.

It's exemplified perfectly on tracks like "Diverted", which on the surface sounds like a complex, slightly grime-ish bit of intelligent electronica, but under which a more sinister tone constantly lurks, next to the sub-bass. The real details are in the shadows. The politics is often quite covert, and while the track "UN Sanctions" has an obviously political title, it's essentially an instrumental, with tiny indistinguishable vocal cut-up snippets. If you don't like politics in your music, you'll be relieved that it doesn't get in the way here.

The grime comparisons are even more prominent in tracks like "Bunker", where guest vocal lines from Shannen talk about guns and bombs and other nouns repeatedly heard in grime tracks. But unlike some other MC's, whose constant lines about weapons feels like it's a smoke mask in front of a middle class suburban lifestyle, this material has very believable credentials, and feels real. This means that I find myself wishing there was a bit more exposition in these lyrics, and simply more of them- which is unusual, as with grime albums I'm more likely to find myself wishing for an instrumental version as the production normally outweighs the rap.

Other highlights include the sheer cinematic drama shared by opener "Retaliation" and the urgency-building "Intercept". The measured chaos of "Immortal", which shifts well away from the traditional cool minimalism into a frantic array of siren-like synths and panic, shows off the breadth on display, juxtaposed as it is against the pseudo-ballad of following track "Mother". Across the board there's just a little bit more weirdness than you might expect- with the sidechained throbbing and bubbling sounds of "Arms Deal" an example of the genuine oddity threaded through the production.

The overall result is yet another perfect fit for the Hyperdub label- bass-rich, sharply produced, EQ-navigating electronica that suits both chin-stroking and hip-shaking in equal measure. Top notch.
Artist: HøRD
Title: Bodies
Format: 12" vinyl + Download
Label: Avant! Records

"Bodies" is the third full-length album from French synthwave producer Sebastien Carl's solo alias HøRD. Unlike his previous albums, here the eight tracks are numbered rather than titled, and out of order too, which feels like a statement about the musical manufacturing process- but for the music itself it feels a little unjustified, since each track has lyrics.

Predominantly this is dark synthwave, with grandiose and sawtoothy synth chords, steady attitude-laden drum patterns, rumbles and atmospherics aplenty throughout. It's pitched as 'RIYL' for acts like Tangerine Dream, but while there are arpeggios and slow evolutions at play here, there's also quite a lot of distortion and grit which makes it much darker and more gothic.

"#14" is a strong opener, with a Vieon-style sense of cinematic breadth and a gritty slow drum pattern and a somewhat lethargic pace, before "#16" picks up the energy with purist techno kicks and some synth-toms bordering on cheese. "#02" has a touch more industrial tone in its percussion, and a nicely horror-chaos-tuned organ sound, while "#04" and "#13" are 'the ballads' of sorts, and a little more introspective.

"#15" is one of the strongest tracks, a brooding number with a shade of Depeche Mode about it, and final track "#17" is a good example of electro songwriting, with

But for me, there are some minor general problems that affect all the tracks. The vocal is generally quite low in the mix and washed in so much reverb that it becomes difficult to work out what's being said. Consequently the vocal doesn't fit the epic, bandwidth-filling scale offered up by the synths- which is a shame as what little I can make out lyrically in tracks like "#04" seems quite strong.

Beyond that, for me there isn't enough variation in the sounds, particularly the drums and pads, and the fact the tracks are numbered rather than named gradually starts to feel more explicable because, unfortunately, there sometimes isn't enough to tell them apart. Despite only being a 40-minute album, to an extent there's a little bit too much of one flavour here, a series of tracks with near-identical approaches and only minor variations of tempo and sound.

It's a rich and very polished bit of synthwave but I think it's a little too by-the-numbers.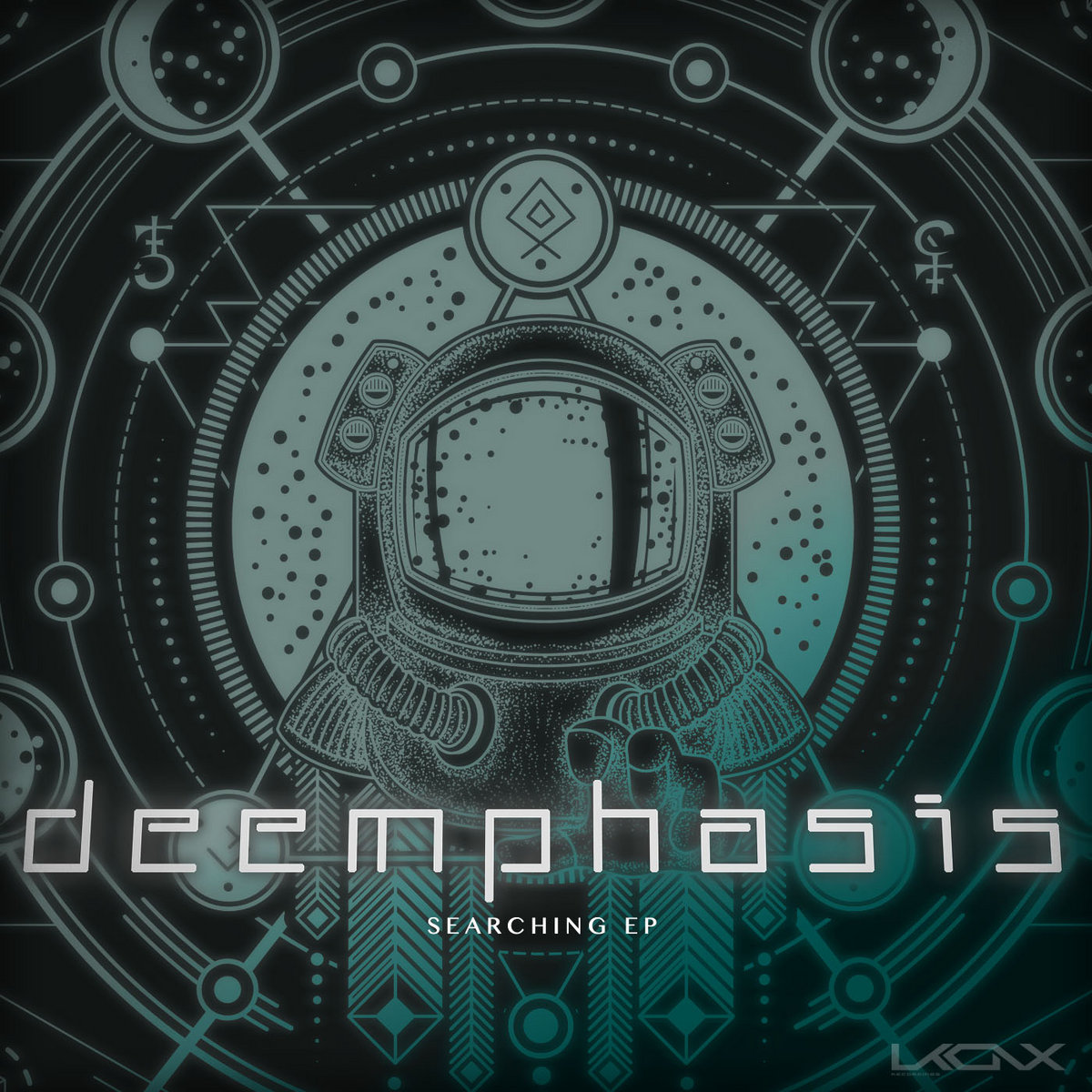 Artist:
Deemphasis
Title:
Searching
Format:
Download Only (MP3 + Lossless)
Label:
Ukonx Recordings
Rated:
Almost one year and a half after the release of the "Organic" EP, Stéphane Bastien a.k.a. Deemphasis is back with a new four-track EP titled "Searching", released on digital format on his own label Ukonx Recordings. All the tracks are developed to give the listener the time to get acquainted with them, as their length is about six minutes each. The idea that I have from the atmosphere, the titles and the graphics of the cover, which has an astronaut wearing his suit and rounded by symbols, is that his on a trip, "Searching" for answers when something happened in "Sector Seven". Something went wrong with the "Harmonic Synchronization". No one is left and he's now alone with the only company of his "Pain". Musically, whatever the trip you'll imagine listening to the EP, Stéphane is mixing electro, a bit of i.d.m. and acid. The track I preferred is the first one as is the one with more variations but all of them have great rhythms/sounds and have a good cinematic feeling.
https://ukonx.bandcamp.com/album/searching-ep
Artist: Laurin Huber
Title: Juncture
Format: 12" vinyl + Download
Label: Hallow Ground

Whilst this album is pitched as experimental, citing Huber's connections to the Swiss experimental music and arts scenes, the four long electronica pieces that make up "Juncture" do not end up feeling very experimental to me. Beautiful, mostly yes, experimental, no.

Instead, these are four mellow instrumental pieces that take certain sonic elements from techno- but no kicks or snares- and layer them up into gradually ebbing waves of sound. Different melodic elements loop on different time structures, creating musical moiré effects that pull you in interesting directions and obfuscate any overall loop point.

More experimental elements do creep in, but at the edges, for example at the end of the first track where some more distorted rustling noise- sounding like a microphone accidentally left recording in a pocket- arrives rather brusquely. These are very rare moments in something that's otherwise quite synth-purist in structure.

The fairly leisurely title track has strong shades of how Tangerine Dream might sound if they were forbidden from arpeggiating, a comparison that becomes stronger in the crisp, soft dubby white noise snares of "Jatkis".

"Hostage To History" has more urgency from the off, faster clicks and hihats and a pulsing bass note switching the comparison over into more Underworld territory. This immediacy drifts away over its nearly twelve minute span, gradually turning into something more spaced out. Short final track "Globus III" goes the other way, keeping things firmly in melodic ambient territory with a lovely warm descending-note bassline that just seems to exude contentment.

Anyone looking for anything cutting-edge, or just edgy, will be nonplussed by this- but if you're open-minded to a bit of very gentle melodic electronica with a strong intelligence behind it, this has a lot of merit.