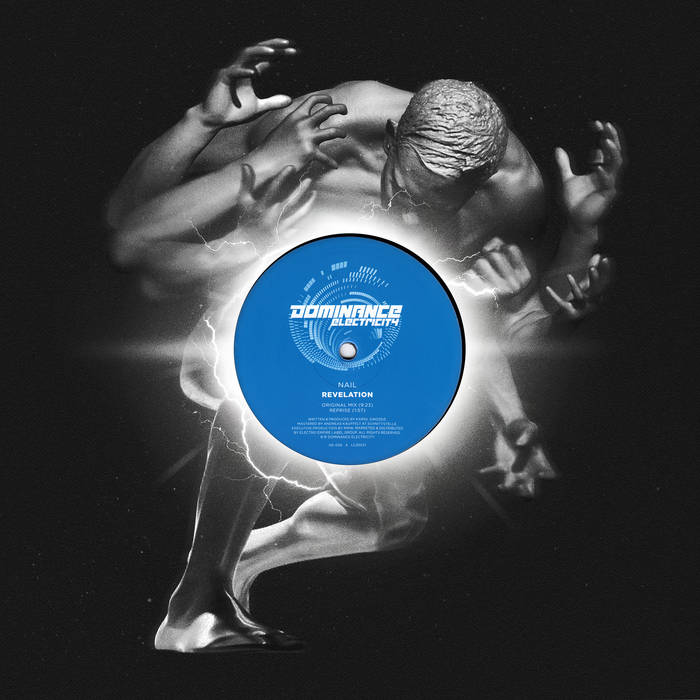 Artist:
Nail
Title:
Revelation
Format:
Download Only (MP3 + Lossless)
Label:
Dominance Electricity
Rated:
Released on vinyl on Dominance Electricity the last year, "Revelation ", the first 12" of the Polish-Silesian producer Karol Gwód a.k.a. Nail, has just been released on digital format. The digital release contains two main songs: "Revelation" and "1987", plus three minutes short reprises of both. The title track is an epic ten-minute Electro trip with biblical lyrics in Polish language. The track is driven by a cool robot sounding vocals, broken beats and hypnotic melody arpeggios. The second track, '1987', is more fast and energetic and it's based on arpeggios, blasting effects and nice drum patterns. The fan of classic Electro in the vein of Kraftwerk or Anthony Rother will be pleased to check this one as the tracks are really catchy. Compared to the vinyl, this version has a three minutes bonus track titled "Revelation (Vocoder)", which is focused on the effected vocoder lines of the track. This one definitely sounds like the recording of a threat coming from an alien spaceship.
https://dominanceelectricity.bandcamp.com/album/revelation
Artist:
SPIME.IM
Title:
Exaland
Format:
12" vinyl + Download
Label:
-OUS
Turin-based SPIME.IM make instrumental electronica, technically, but as you may have come to expect from the -ous label, it's deconstructed and made wantonly obtuse and hard to categorise. Playful messing about with synth sounds that might ordinarily be found in electropop or synthwave, pulling them into extreme abstracts at times, feels as much an exercise in pushing expectations towards limits as it does a practice of making listenable music.

It's a half-hour-long set consisting of seven non-sequentially (obtusely) roman-numbered tracks, which stand alone and could have warranted names. Some of these are accessible, for sure. The rubber shifting bass tone of "XI" contrasts nicely with the full-bodied melodic synth pads that run over it, and sounds fantastic played loud. "II" has moments of rich cinematic gut-punching tension, final track "VII" mellows out to a peaceful conclusion, while "VI" (*not* the track before "VII") builds into something that could defendably be called modern trance and club music, to the extent that you begin to wonder whether you've pressed the wrong play button, a danceable track which abruptly (obtusely) drops-out mid-bar as soon as your hands have started heading in an airwards direction.

The less accessible moments include "XII", which takes the retriggering into high-BPM bombardment territory, and "I" which is much sparser, with a pleasant pitch-shifting bass tone, but a structure which has a strong appearance of complete randomness and a deliberate intention to defy pattern-spotters.

Ticking boxes in both 'electronica' and 'art', it's a very listenable short album (or is it a long EP? Old labels no longer apply.) It will appeal to glitch and Aphex Twin appreciators looking for something fresh and stylish.
Despite having a very strong track record as a composer, a producer and as a recording engineer, this is David Chalmin's first proper solo album- but it's a work of such assured confidence and accomplished production work that it's hard to believe it's technically a debut.

This 43-minute, 6-track album belongs at the most intelligent and thoughtful edges of progressive techno and electronica, with a collection of moody synth pads, rich atmospherics, rolling basses and steady sonic evolutions that almost commands you to pay attention to the details- but it's also offset by a classical music aesthetic, exhibited mostly in the pure piano sounds heard in tracks like "Lumiere blanche", which provide an obvious yet still very effective contrast to the distorted electronics. Opener "A l'aube" sets the tone well in this regard as a prelude, but second track "Les ames perdues" is more indicative of the release as a whole, underpinned as it is by a soft 4/4 rhythm that regulates the pace of this tightly-planned sonic journey.

"Image Nocturnes" has a rich combination of outer space atmospherics and slightly retro sci-fi synth sounds that strongly recalls Etienne Forget's work on "Missions", and which would sound equally at home soundtracking a picture or narrative that is both huge and introspective at the same time. "Vertige" reminds me of what happened when the Chemical Brothers went "Further", taking sounds from the dark but still dancefloor-friendly edge of EDM and twisting them into a harder and more distorted journey, while "Matiere noire" in a way has the structure of 90's trance music (the good stuff), with its offbeat synth bass note and plinkier arpeggios, but slowed and pulled into shadows.

As melodic instrumental electronica goes, this is premium-quality material, with a rich sense of composition and melody combined with sharp and detailed production. This release jumps to the top of its class.
ANN in this instance is an acronym alias, that has been used for almost a decade as the nom de plume of an undisclosed number of anonymous musical experimenters (possibly just one), any number or none of whom may or may not actually be called Ann.

For this release, ANN offer up seven tracks, each one named after a colour, and each with a diverse and distinctive musical make-up. The prominent style, for the purposes of pigeonholing, is dark synthetic atmospherics- long rumbles, echoes and hollow soundscaping with a tendency towards bleakness. It's offered up in fairly pure fashion on opener "Crimson" and in a scratchier and slightly more sci-fi way on "Grey".

However it's also a cousin of minimal techno, with gentle and slightly oblique rhythm patterns underpinning tracks like "Ocre" ('ochre'?), which relies on the tried and tested technique of pulling a fairly fast and complex rhythm pattern against arhythmic atmospheric noises. Final track "Yellow" takes a similar approach, melding deep lung-like rumbles with seemingly random high-pitched beeps and squeaks. "Purple Hue" is also techno, on a technicality, but with a more laid-back and contrary mood infused into it.

Personally I found "Orange" a bit of a highlight, as it takes its techno and electronica elements and points them in a slightly more playful and retro direction, resulting in something that sounds faintly Radiophonic Workshop-ish. However there's something just a touch nondescript in some of the sounds and moods here, with tracks like "Vermilion" arguably a little wishy-washy and lacking any kind of distinct selling point, so don't hunt this out if looking to be challenged or illuminated.

I'm British (for better or worse) and probably the most difficult thing about reviewing this release is remembering to type "Colors" instead of "Colours" in the title. Everything else about it is very easy and enjoyable. Dark yet leisurely deep electronica.
Artist:
dTHEd
Title:
Hyperbeatz, vol. 1
Format:
12" vinyl + CD
Label:
Boring Machines
A sort of correspondence production between Fabio Ricci and two members of Ask The White, "Hyperbeatz vol. 1" pushes a glitchy, stuttery aesthetic of difficult electronica that comprises some very familiar sonic elements but in unpredictable and wantonly awkward arrangements. The result is dynamic, occasionally quite minimalistic but more often heavily layered into an ear massage that's cathartic and thorough but sometimes uncomfortable.

There are eight unnumbered tracks (at least on the version I got). Track 7 is an absolute highlight- a short piece of layered, slightly Glass-ish counter-playing arpeggios for clarinet-ish sounds over one of the more sedate start-stop-beats, it keeps its discordance in perfect balance and is a lovely nearly-three-minutes that has the potential to cross over and garner broad attention.

Most of the tracks are less accessible, but no less intriguing. Track 1 sets an interesting stall out, initially suggesting elements of Planet Mu or Leaf Label sounds but keeping things just that extra bit weirder and noisier than either. The organ sounds on track 4 are almost tongue-in-cheek initially. Track 8 is a multi-part and unpredictable affair with a penchant for the dramatic and a stomping percussive finale. The stammering of the female vocals on track 3 is hauntingly done, but, as a hobbyist producer myself, there's something about the stuttering, parallel-and-out-of-sync rhythms of track 5 that do seem to fall on the wrong side of the arbitrary dividing line between art and broken.

An enjoyable 42-minute release full of character, and definitely there to be enjoyed by people who like their electronica on the complex and difficult side, but far more than just noise.