OK – here is a lesson to promoters. The press release compares the music to Brian Eno, The Residents and Fad Gadget and drops an allusion to Throbbing Gristle. I am a pretty big Residents fan and Throbbing Gristle is one of the top 20 bands that kicked the world's ass in my opinion, so I was looking forward to this. However, it wasn't quite what I expected. To paraphrase Senator Lloyd Bentsen, I know the Residents and Throbbing Gristle and you are no Residents or Throbbing Gristle. If you come looking for that, you will be sorely disappointed. So now we know what we don't have; what do we have? I have to admit that I didn't find it nearly as interesting as the press release makes it out to be. This isn't really radio friendly, but adding a little bit of distortion to voice does not really make an experimental or an industrial album. I suppose that the closest comparison from the press release is the Residents, but without the kind of whimsical feel to it or the biting social commentary. (Plus, let's face it – the music is almost secondary to the theatrics if you've ever seen a live Residents show.) The Bodies Obtained approach this feel in "I'm a Stranger" and "Skin Stuck to Bone." But if I had to come up with a better comparison for the press release writer, I would go with Legendary Pink Dots – somewhat accessible, but just a bit off, and a variety of musical styles on the album. This disc weighs in at around 38 minutes.
A new label is rising into the tehcno genre, it is called Eydition and Heimito is the first project of their roster to put out a release. Hailing from Remsheid, Germany and having a past as metal singer the guy behind Heimito started the project in 2002. Having no musical boundaries in his mind, he started to compose techno tracks with minimal structure but with many rhythmical/bass layers. The two tracks of the release (the third one is a remix of "Beteigeuze" by LMP), "Pollux" and "Beteigeuze", mix techno elements with ambient atmospheres (see the long spatial sounding synth pads) where the alternation of patterns is the key element that save the home listener from a club only oriented release. The obsessive and hypnotic structure works really well with this sounds and make of Heimito a name to follow if you love minimal techno with a bit of house influences.
image not
available
anymore
Artist:
ANIMA VIRUS
Title:
End Of The Eden
Format:
CD
Label:
Decadance Records
(@)
Rated:
Born in 1996 from the fervid mind of Aurelio Gioia after the disband of The Vacuum, Anima Virus is his personal musical project/vision. Starting from his love for goth music, Alessio succeeded into giving a new sound to a genre that sometimes is too focused on the visual aspect. Mixing the early classic Christian Death atmospheres with electro sounds and sometimes with upbeat tempos and danceable atmospheres, he made a really good album titled END OF THE EDEN. The album contains fourteen songs composed and played by Aurelio (some songs have some guest musicians but I can't say who they are) and since from the bass distortions of the opening "Days of ice" you realize that something good is gonna happen... finally you're going to enjoy a revived version of the atmospheres that made the fortunes of Sisters Of Mercy, March Violets, the aforementioned Christian Death, etc. Actually END OF THE EDEN sounds like someone found a Christian Death lost album of the "Catastrophe ballet" era and decided to update the sound. We have always the classic mysterious guitar sound with long sustained notes but we also have semi industrial ambients sounds, electro sounds, sequenced bass sounds along with real bass guitar sounds and so on. You know that cool sounds aren't enough for having a good record and in this case we have also catchy melodies, good vocals and also a semi acoustic version of Echo & The Bunnymen song "The killing moon" where Aurelio mixed the dreamy atmospheres of the original tune with darker ones and he also changed a little the refrain and added razor like guitar sounds. Check it!
Artist:
CRUISE [CTRL]
(@)
Title:
We've Met Before, Haven't We?
Format:
CD EP
Label:
self-released
Rated:
WE'VE MET BEFORE, HAVEN'T WE? is a self produced CDr which functions as an appetizer of the forthcoming Cruise [Ctrl] second CD on Divine Comedy Records titled "How's Annie?". The three tracks continue their tradition of 120bpm tracks where analog electronics coupled to treated guitars create obsessive atmospheres. The opening "Henry's head" sounds a bit static but its aim isn't the one to create a melodic tune, it rather to be focused on alternation of tension. The second track "The bunny room" leave the drum machine and the distortion to offer a soft guitar sound coupled to a sidereal sound that crawls slowly between the sounds created by the picked strings. "Where is alice? Alice who?" is a mid tempo track that sounds like a industrial e.b.m. 80's track where drum machine and sequencer play the main part while industrial distortions create the mood. Unfortunately I hadn't the chance to check their first official album so I can't confront that one with this but as far as I can hear, Cruise [Ctrl] kept their ability to create tension also keeping the sound under control.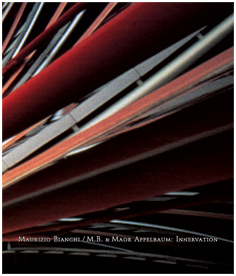 Artist:
Maor Applebaum /Maurizio Bianchi
(@)
Title:
innervation
Format:
CD
Label:
Afe
(@)
Rated:
What we got here is a couple of well-known names and sure if MB is a sort of living monument for what regards industrial music, ambient and related, Maor Applebaum in my book is one of those musicians you can always expect to produce nothing but great music. Am I really too enthusiastic? You still don't believe my words? I'm sorry I've discovered it too late but if you've never heard Applebaum's collaboration with Hallowing that came out on Tophet Prophet I think you should really give it a try, the title is "collaborating torture" and both the music plus the history of the whole collaboration can give evidence no title could have sounded better. By the way, going back to this cdr the first thing to be kept in mind is the fact this should be filed under the experimental discography of both artists which means no industrial sounds, no dark ambient feel and so on. The most of the sounds selection is based on high-mid frequencies but still not Pan Sonic/Tony Conrad alike, consider they've utilized a great variety of white noise and unexpressive frequencies. If you ask me, I'd guess the majority of dirty noises plus analog-sounding frequencies comes from Bianchi, while the most of the high pitched tones plus the whole sound definition comes from the hands of Applebaum, but maybe I'm completely wrong thus take it with a grain of salt. Ok groupies and fans reading, don't worry! If my ear is still decent some of the tracks show the background of both the artists involved in this collaborative effort thus while dueling on the experimental front this work betrays the fact they can do it hard as fuck. By some means it appears to be quite inexpressive but with crescendos and spiral downwards enriched with a clear-cut song construction (for example "afferent" and "CNS"). The title comes from the human body and specifically from the distribution of nerves, so on the cover you see tubes and mains of a factory/architectural structure, it reminds of the period close to Pascal when the whole human philosophy was pondering on the animal/human body perception put in parallel with the idea of a machine... time pass us by but the central questions/images are still the same: "part animal part machine"... .I know some of you still remember the quote.