I can understand why someone would want a remix single. After all, at one point, I think I had every existing version of Depeche Mode's "Master and Servant." However, what generally makes these remixes so sought after is the differences between them. The label notes that this 12" "contains all the remixes on the Concept 11 remix EP, (remixes by Taylor Deupree, Jordan Lieb, Andreas Bjork, Superdrive, and Compound) plus the bonus 'decoherence' version released on the iTunes single." True enough, but all of them remain pretty true to the original, such that it was hard to tell if someone else had even put their stamp on the track. There are differences, of course. Some are more stripped down than others, for example. But none of them really stood out. If you really liked the original track from "Still Life," and want to hear it in 7 slightly different ways, this is your single. At least it is pretty, pressed on translucent blue vinyl.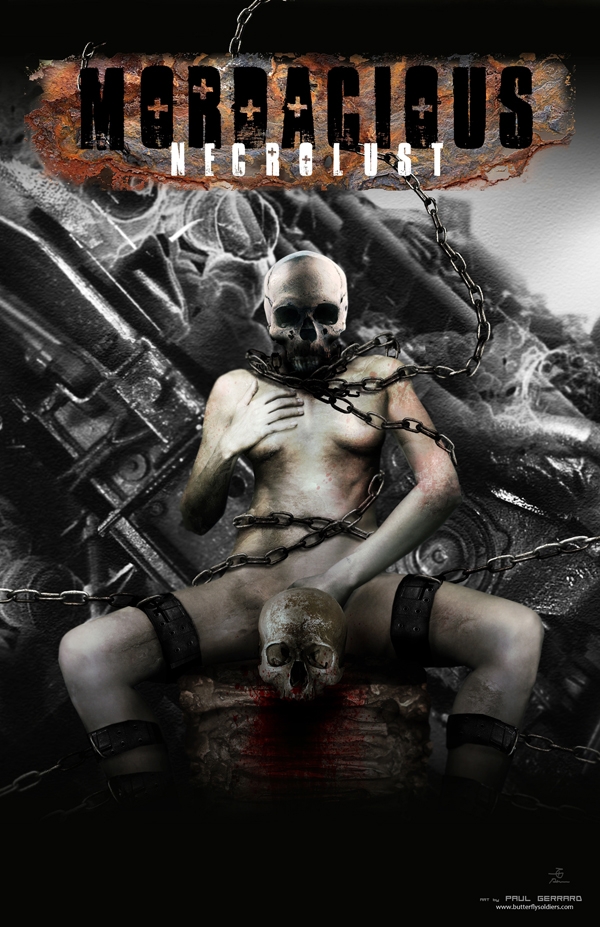 Artist:
MORDACIOUS
(@)
Title:
Necrolust
Format:
CD
Label:
self-released
Distributor:
DSBP
Rated:
After his previous two albums, "This Emptiness" and "Torture Tactics", both brought out by the Telegrammetry/Hypervoxx label, this official third album of MORDACIOUS was intended to get released under the flag of the Arkansas-based BLC Productions label. But unfortunately the responsible people behind BLC had to declare to take a longer pause until further notice - maybe with a totally stop of all further activities in mind. "Necrolust" was nearly completed, so Mordacious Mortem had to do a hard decision - either searching instantly for a new label, or to release this album completely on his own. As you can see, he has decided to rely completely on his own, while still implementing some rather BLC-reminding elements into the whole production. There is to name the stunning artwork created by the latest BLC-artwork artist Paul Gerrard (www.butterflysoldiers.com), who couldn't express the content of the album including the disreputable title any better. Talking on the music, MORDACIOUS continues his already discovered path by producing a relatively straight and rather European-inspired form of Harsh EBM/Hellectro, while an equipment-update and a more matured sound-design can be noticed too. Not to much surprises he holds up here, but that may wasn't to expect. Both compilation-approved tracks, "Death In Denial" and "Cyber Girl" can be found here too and can be still counted to be favorites of this Californian act. Also those raw and filled with tragic voice-samples tunes like "We Do" represents MORDACIOUS, and what's it all about. To satisfy your inner needs by playing a lot with fetish themes, as it is seemingly one of the most impacting influences to MM. Contrary to multiple other projects out of a similar genre, MORDACIOUS can be booked for live performances and "Necrolust" works well as being an application form.

Artist:
VV.AA.
Title:
Odyssey of Rapture, Vol 1
Format:
CD
Label:
Mystical Records
(@)
Rated:
Compilations as a rule are always a mixed bag, both in quality and style. This one seems to hang together fairly well, and there were some moments where the tracks seemed to be by the same artist. However, there is a range of quality as could be expected here. Some songs are kind of a mixed bag themselves. For example, "Voyage" by Phanatos is quite nice musically–I really like the piano line that runs throughout–but the spoken word parts just don't seem to work in it. Other tracks are quite nice. "Vala" by Aranis is a beautiful instrumental orchestral piece. "Tale for a Sunken Moon" by Samantha Bouquin is likewise far too short for such a pleasant piece. On the other hand, some tracks, such as "Hide" by Hana just didn't work for me. My wife shared my reservations with that particular track. However, on the whole this is pleasant listening. I get the sense that much of this is, oddly enough, under-produced. Some of the vocals seem a bit too stark, as if it is delivered with no effects at all. The effect of this is similar to the disconcerting feeling you get when hearing yourself on tape. There is some benefit to this, however. I felt like I was hearing tracks that were a bit more raw than I am used to hearing in this genre, which was kind of nice. This gives a sense of what these bands would sound like live, as if hearing a demo version of the tracks.
According to their website and the promo material that came with the disc, Philistine is "an industrial death/doom metal band in some ways similar to Toadliquor, Bunkur, Moss, and Halo. Other musical inspirations include Khanate, Godflesh, Neurosis, Crowbar, Isis, and Cult of Luna." I saw the magic word "industrial" in there and I was game. However, this does not really strike me as industrial metal. Rather, it seems to be just straight up doom metal. That said, they definitely live up to their motto "Bow before the power of slow." This is not fast music. It does seem that those in the metal scene are trying to go faster and faster, but this is dismal music from the pit of despair. Since I am not really currently into the metal scene, I gave it to a friend of mine who is far more metal than you or I will ever be. Here's what she had to say about it. I gave it to my husband John, who is even more metal than I am and he wasn't too impressed. "What they need to do is get themselves some good old swamp metal. Mix it up a bit." I agree with John. Slow is fine, but it all begins to sound too similar. That said, if you want a taste of what they sound like, they have their first album available for free at their website.
Artist:
Locrian
(@)
Title:
Plague Journal
Format:
7"
Label:
Bloodlust!
(@)
Rated:
The label describes it thus: "Locrian's first appearance on vinyl sees the duo of Andre Foisy and Terence Hannum distilling their specific take on deconstructed metal trance music down to just over a dozen minutes of finely balanced, passive/aggressive, shimmering psychedelic drone; Includes locked-groove on B-side."

So let's go to the music. Side A consists of "Plague Journal," which begins with some repetitive guitar. I have to admit that I didn't find it terribly interesting until it began to get noisier as it went. However, it maintains the repetitive guitar throughout and ends on a lighter note. Side B consists of two tracks. "Apocryphal City" still has some repetition but this track was much more atmospheric. Static and crackles over a repetitive melody, but much more interesting than side A. It also gets progressively noisier while still maintaining the atmosphere. This track seems to have much more complexity. "Portents Fallen" is simply a locked groove that doesn't really do much for me. This 7" comes in white vinyl packaged in a plain white sleeve. Limited to 300 copies.