image not
available
anymore
Artist:
MUSIC BOX
Title:
November
Format:
Download Only (MP3 + Lossless)
Label:
Lydian Label
Rated:
Music Box is a collaboration between Aaron Wheeler (aka Laszlo) and Todd Baker and NOVEMBER is their first E.P. Mixing i.d.m. rhythms, kinda romantic or lounge jazzy piano melodies and great guitar lines the duo have created a particular music made of many layers. The complex structure characteristic of minimal techno music won't stop the occasional listener to relax digging the mood of the opening "November" or the following "King fisher". Try to imagine an i.d.m. version of King Of Convenience and you'll have pretty much an idea of Music Box's sound. Along with the three original tunes you'll find a cool remix of "King fisher" where all the instruments have been cut into tiny peaces and plaid creating a nice i.d.m. lounge track where the main piano chords duet with fractal sounds.
image not
available
anymore
Artist:
DIFFERENT STATE
Title:
Through The Falling Eyelid
Format:
CD
Label:
Zoharum Records
(@)
Rated:
After the last year re-release of Different State's 1996 album "Knar" I forgot how they sound nowadays as the split with Sigil have been released on 2008 and "Knar" is more comparable to Godflesh than else. Anyway... THROUGH THE FALLING EYELID is the newest full length of the Polish combo which now is composed by Marek Xavier Marchoff (tools, alchembient structures), Laura Marchoff (angelic voice), Jarek Szczyglak (guitar) and Keith Rudolf. Just like their tracks on "Spazmatic[k] Spell", the ten you find on this one present a wide array of atmospheres and sounds that span from the industrial ambient electronic atmospheres of the opening "Isolate: stone cold heart", to the retro electro industrial sounds of the closing "Manifest: through the falling eyelid", passing through the cinematic samples orchestration of "Project: verses without words" or the i.d.m./industrial experimentation of "Challenge: formal experimentation", the jazz/industrial improvisations of following "Damage: bleed from their souls" or the slow dub electronic industrial atmospheres of ""Signal: I'm out". Here and there you'll find light guitar solos or vocals that shyly contrast the paranoid atmosphere created. An album that needs time to be fully appreciated because sometimes it sounds fragmented but if you are in the mood for industrial experimental sounds, give it a try.
Artist:
The [Law-Rah] Collective
(@)
Title:
Solitaire
Format:
CD
Label:
Raubbau
(@)
Distributor:
Ant-Zen
Rated:
Active since the beginning of the century, the musical pineal gland by the duo made up of Martijn Pieck and Bauke Van Der Wal aka the [law-rah] collective - two of different Dutch twisted minds of the collective founded by Bauke - keeps on secreting superb distillates of emotional dark-ambient, giving a concise sonic account of somewhat borderline feelings. Solitaire is their 7th full release and for this occasion, it seems they squeezed the nostalgic and most abstract aspect of memory as they create a mosaic of translations of mental snapshots and hidden emotions into sonic as well as visual fragments referring to the solipsistic mental process deriving from the "rendering" of memories from the past, superbly interpreted even by Salt's photographic lens for an evocative plumbeous artwork with the abandoned remains of a rural little house standing out on a leaden sky.

This cinematic journey starts with the atmospheric From Inside An Empty Room, in which a constant quivering tune and an uplifting some shamanic whispering slightly disturbed by the typical crackling caused by wind on mic membrane will elevate your soul through the wider spaces evocated by the [Law-Rah] collective's sound sculptures. Just to set the mood, the filthy resonance on percussion and a protracted low frequency pitpat on gradually resurfacing creepy tonals on the synesthetical string crescendo of Lavender Scent, setting the mood for the sumptuous breathtaking symphony of When Blue Turns Grey. If you consider the general mood of the album, you could imagine this track as an attempt of giving a musical shape to unspoken desire gradually sliding into more restless sonorities, translating into music the understanding of ineluctability, a theme which seems superbly afforded in the following track, Silent Voices, starting with a slow waltz of piano, interrupted by an obsessive choir of obscure voices, following some bass tones and suffocating the initial sign of melody before it comes back again on the stage even if in scantier melodic phrases like a day-dream whose perfection has been raped by the somewhat frightening tunneling of reality. The dramatic peak of this recording is touched by Away From Home, the most worried track of Solitaire, whose conclusion with some grave piano strokes will bring listeners to "reality" through lulling oscillations. Being imbued with the right emotional set and setting, Solitaire is a record which is going to break the heart of all those who love this kind of musical experiences.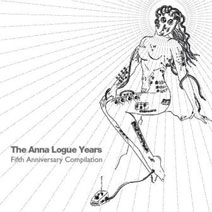 Artist:
VV.AA.
Title:
The Anna Logue Years - Fifth Anniversary Compilation
Format:
2 x CD (double CD)
Label:
Anna Logue Records
(@)
Rated:
The title says it all! This is the celebratory compilation for the fifth Anna Logue Records year of activity. Into this six panel digipack double CD you'll find one track for each of the past thirty label's releases, CD, LP and 7 inches included. There are also three tracks coming from future releases (Chromagain CD/LP, Intelligence Department CD and Paul Chambers CD/LP) and three unreleased tunes exclusive to this release which are Camera Obscura's "Village of stars" (a track recorded back in 1983), The Silicon Scientist's "Operators" and Twins Natalia's "Destiny" (if you loved their 7" you don't have to miss this one). Érick Moncollin (ADN' Ckrystall) did the drawings and Stefan Bornhorst (The Silicon Scientist) remastered the tracks. For an in depth view of the releases you can check my article and each of the reviews I did but if you love 80s synth sounds, new wave and cold wave, for 17 euros plus post you can check the what Anna Logue did during their first five vibrant years!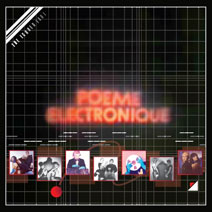 Artist:
POEME ELECTRONIQUE
Title:
The Echoes Fade
Format:
CD
Label:
Anna Logue Records
(@)
Rated:
Some months after the release of the deluxe double album edition here's the CD edition of the first ever Poeme Electronique album THE ECHOES FADE. Remastered for an optimum CD experience the album has a different track list sequence, two tracks less ("Voice" and "Give your life away") and even if Marc decided to put a fold out poster with the graphics for each track (just like on the double gatefold vinyl edition) you will miss all the lyrics and the limited postcard. It's the first time that Anna Logue decided to release a double edition of an album and Poeme Electronique's lost album is the first case. As I already wrote on my review to the vinyl's edition, THE ECHOES FADE ideally link late 70s music a la Toya/Kate Bush or Tubeway Army with the electronic sounds of early 80s with deep atmospheres, cool melodies and the distinctive vocals of Sharon and Julie. If you missed the vinyl because you don't have a turntable, now you don't have no excuses. Check it!