The novelty value on this release is clearly strong on this one, and despite being established for almost twenty years and this being their fourth album, the ensemble will still command plenty of online column inches for the sheer quirkiness of 'vegetable sound' and the ten-piece's ability to perform complex instrumental works solely out of instruments made out of vegetables.

But beyond that, is this a release that you'd willingly listen to for more than just novelty value? Yes, it is. Compositionally it's not ground-breaking but across 14 tracks and 48 minutes there's plenty to enjoy even if you ignore the music's vegetable roots (that's the only intentional pun I'm doing).

While some pieces, like "Perfect Match" and the decidedly Clangers-esque "Carrot Pano Drama", are slightly cheesy and squelchy, with recorder-style squeaky veggie woodwind and more processed-sounding sounds playing up the novelty value, the majority of the pieces here are genuine and worthwhile experimental composition works that stand out because if you didn't know how the sounds were being produced, you might think it was some strange hybridisation of organic instrument and synthesis. "In V" riffs off the concept of Terry Riley's "In C" but instead of a comedy version or pastiche, what you get is a rich composition in its own right, with its own distinctive texture.

"Hyperroots" is a highlight and also a strong potential crossover track, being quite poppy in structure and bizarrely almost club-friendly. The rhythmic progress and relentlessness of "Beet-L" spans to span both 60's electronic experimentation and proto-techno while the curt percussive layering of "Internal Crisis" initially suggests what Art Of Noise's "Daft" may have sounded like if they'd limited themselves solely to the local farmers' market for inspiration before devolving into more panicking and theatrical territory.

Playful at times, and not shying away from the sheer silliness of what they're doing, nevertheless underneath the novelty the Vegetable Orchestra is a musically valid and interesting listen.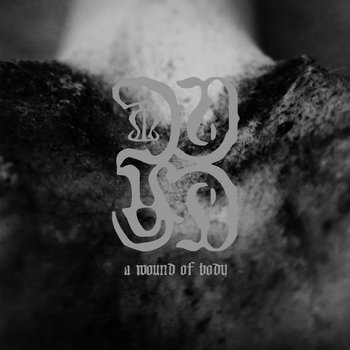 Artist:
Common Eider, King Eider
Title:
A Wound Of Body
Format:
CD
Label:
Cyclic Law
(@)
Rated:
Common Eider, King Eider returns with a new release that change a little bit their musical style as it starts to be personal. While their previous release were well written but showing their influence, "A Wound Of Body" is centered upon two elements: wide reverberating drones and silence. Nowadays dark ambient is a synonym of sharp drones and foley to create realistic soundscapes which surround the listener while this is a release that almost asks the listener's attention to catch the nuances of the sound as it often tries to hidden itself in the environment.
The first track, "Remembrance A Threnody", opens this release showing the particular idea of dark ambient that is the base of this project: instead of being based on drones, the track start with isolated noises and long tones at relatively low volume and immersed in silence; only at the middle of the track, a slowly developing melody appears but it's just an interlude for the return of isolated and atmospheric drones with distant cymbals in the background. "Sinew Stretched Over Crumbling Bones" is instead more cinematic as it starts with a drone which it's slowly evolved by accumulation so it has a far richer spectrum and surrounds the listener in the final moments of the track. "We Sing Over These Bones So That They May Rise Up And Run Away Into The Night" is the shorter track of this release and it's centered upon a slow violin line underlined by sparse insertions of atmospheric drones. A wide spectrum drone is the core of the first part of "Helene" while the second one is based upon sections separate by a couple of seconds of silence. "River Of Blood" closes this release with a quiet atmospheric drone which is the background for a violin melody which starts as a drone underlining the background and evolves in the final part of the track in a sort of accompaniment for filtered voices.
With this release, the project show an almost developed personality which is the center of a release that sounds as something really different from the rest of the scene. Highly recommended for fans of dark ambient.
Artist:
Monty Adkins
Title:
Empire
Format:
Download Only (MP3 + Lossless)
Label:
Line
Andy Warhol's 1985 "Empire" is an eight hour forerunner of slow TV, filming the Empire State Building from dusk to the following dawn, and any attempt to create a new soundtrack to the film must also enter that slow mindspace and wallow in it. And that's what Adkins does here- though the recorded product available to buy is only 50 minutes long, so we get selected highlights (if 'highlights' is an appropriate word) from across the reels, rather than the full-length experience.

Taking the idea of the building as a bell tower, and leading that into the idea of a nine-bell ringing sequence in which the pattern constantly changes and never repeats, has led Adkins into creating a nine-chord harmonic sequence built from piano- and Rhodes-style melodic notes and pads blended with ambient sounds recorded in other large spaces, with the latter elements fading away as it progresses as though to reflect the stillness descending (theoretically) on the city.

The result is beautifully mellow, calm and soporific and has gone straight onto my sleep playlist. It's relaxing, and wallpaper-like if you want it to be, but with just enough detail and variation to keep it interesting. There's a lush warm quality to it that can only be liked as an experience, far more perhaps than New York City itself.
Artist: Pharoah Chromium
Title: Jean Genet- Quatre heures à Chatila
Format: 7"
Label: self-released

This is a bold and powerful political 7" in which Elli Medeiros reads French-language extracts from Jean Genet's essay "4 Hours In Shatila", describing the massacres Genet encountered in Beirut in 1982. Underneath Medeiros' straight and emotive reading, Pharoah Chromium lays down a pair of uncomfortable but not intrusive electronic drone environments, with gritty rumbles, odd whispers, occasional heavily processed guitar plucking and oddly plinky, almost stylophone-like improvised high melodic notes. It melds together into a powerful modern take on beat poetry without very much beat. It's an expressive release that could easily have merited a longer exploration on its own, instead forming part of a larger project "Eros & Massacre" that, on the strength of this, is certainly worthy of attention for fans of politically emotive experimental electronica.
Artist:
Buzz Kull
Title:
New Kind Of Cross
Format:
12" vinyl + Download
Label:
Avant! Records
With this solo album, Marc Dwyer, using his smart I-wish-I'd-thought-of-that 'Buzz Kull' alias, has offered up a compact pack of synth darkwave that follows a reliable formula- pulsing arps and bass squelches, fairly fast synth-rock drum patterns and gritty and distorted vocals. The closest comparison might be Depeche Mode, but it also sounds like, or at least influenced by, a variety of other dark electronic and synthwave sounds.

A slightly lo-fi and decidedly 80's manner continues throughout, though it's not an overtly retro release. It's epitomised by tracks like "Existence". When slowed down a touch, such as on "The Garden", it starts to recall early-era Human League, while the slightly more techno-ish edge on "New Kind Of Cross" ends up being a highlight.

It's book-ended by a couple of nice instrumentals, with "Flowers Have No Meaning" hinting at a more cinematic and sinister style that could maybe have been explored at more length.

It's a half-hour that's richly produced, for sure, and sounds rather personal, but it maybe lacks the special twist or the catchy hook that would make it stand out from the crowd. Dwyer is gigging around Europe at some length and it's one of those releases that might sound better in a live context than at home.