image not
available
anymore
Artist:
DIGITIZER
Title:
Computer Controlled
Format:
Download Only (MP3 + Lossless)
Label:
Auditory Cortex Records
Distributor:
Juno Download
Rated:
Christian Askvig is a guy coming from Norway and he just loves analog synthesizers. He's active with different projects (his latest one is a techno influenced project called Polymorph) but this time we are here to talk about his electro outfit called Digitizer. Mixing classic electronic robotic sound with electro, genre explored by bands such as The Consumer or Der Zyklus, Christian composed five killer tracks where alternating bleeping sounds, hi-freq pads and syncopated rhythms paint sidereal atmospheres with a dance attitude, played by programmed androids. Using vocoder filtered vocals here and there, a bit of delay and "well-trained" arpeggiators, Digitizer is offering an E.P. that you won't miss if you love Kraftwerk, Luke Eargoggle and the fore mentioned bands. Available only as digital download at the major stores listed at Auditory Cortex Records' release page.
Artist:
Death Cartel
(@)
Title:
Enemy
Format:
Download Only (MP3 only)
Label:
self-released
Rated:
Created by Frank Flitton in 2009 and initially a side project from his main musical focus, The Death Cartel emerged as a creative outlet with guitarist Sebastian Kozlowski. The momentum continued from there, and a carnival of sounds converged around angry lyrics as the album progressed. Self-claimed "sounds like Tetris from Hell," The Death Cartel adds a certain depth - in contrast to many monotone electronic records - to its sound by producing vocals at different levels, nearly in canon.

The way the slower, deep vocals contrast with the bounciness of the light-speed electronica is a fun combination, and though the range of the vocals may seem to be straining at points, the sound works well with the conflicted lyrical content. It's interesting to note that during the genesis of this album, the level of production and the band's "turning point" occurred with the creation of "Rebirth," where electronic backdrop becomes heavier and more serious, in contrast with the earlier, more experimental mood of tracks such as "Your Enemy."

The Death Cartel also turned around a series of remixes following the release of Enemy, so if accelerated EBM and throaty vocals appeal, you'll want to check those out as well.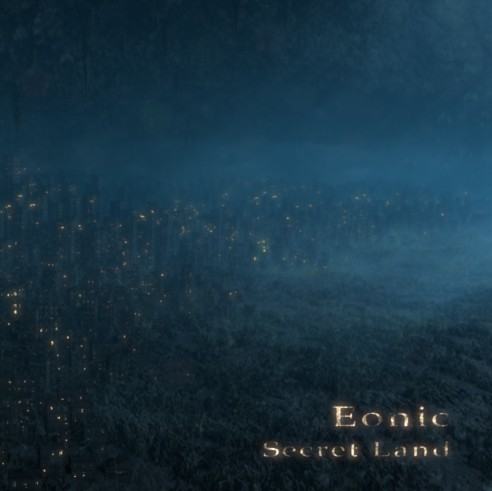 Artist:
Eonic
Title:
Secret Land
Format:
CD
Label:
Zhelezobeton
(@)
Rated:
Eonic is a russian duo whose music is based on a mix between ethnic rhythms and ambient lines of synths. The result, influenced by names like Arcana and Enigma is pleasing and, sometimes, even remarkable.
"Easterly Wind" takes attention using an hypnotic reversed loop. "Secret Land", "Desert Island" and "Temple of Silense" dangerously approach the perilous coasts of new age, dampening the meditative mood of the genre with the help of the rhythmic sections. Near the end of the album "Abandoned City" takes the listener with a surprise a solemn field of synths evolving over an ethno rhythm in a real mix of genres. The rest of the album is a sort of new age dance music, clearly influenced by Enigma, but fortunately with a sort of personal gothic view in the songwriting.
This is a strange record: even if is not openly original, it escapes the faults of their musical model making the classic records that someone likes but doesn't know why. A record for the times of the day one need a soundtrack for a mind relax.
Artist:
Murralin Lane
(@)
Title:
Our House is on the Wall
Format:
CD
Label:
12k
Distributor:
Boomkat
Rated:
Maybe inspired by the faint rays of sunlight of the morning hours of Swedish spring and summer and by the somewhat pleaseful sense of being lost to the world and contemporarily bliss a similar enviromental set could induce, Our House Is On The Wall, the debut release from the Swedish duo Murralin Lane, made up of David Wenngren aka Library Tapes - a piano-based intimist experimental project issued mainly by Kning Disk and Home Normal -, appreciated young composer in the minimal-ambient neo-classical scene running Auetic, a label which is bringing out some interesting acts pushing out the boundaries of the so-called poetics of absence including his side-project Le Lendemain backed by Danny Norbury (I reccomened to have a listen to it as well) and his partner Ylva Wiklund, looks like a collection of ethereal transmissions from a parallel dimension. On this occasion, David let his piano - a sort of trademark of his personal style... - rest in order to work on electric alembics by collecting some delicious electro-acoustic cameos and fragile compositions wearing the melancholy hat and covered with dark-tinged ceruse. The sound space appears dominated by self-shaping drones of noisy and silently raging on the same time streams, on whose constant flow Ylva seems to put flowing ampoule of brimful vocal excerpts (sometimes recorded through a mobile phone as it's clear on the final trilling of When I Told You) resounding from the cavity in the wall where they built their sounding nest from the second track Folding Paper Planes oscillating between anesthetic depictions of void spaces and nyctalopic vocal vaporizations in the airless atmosphere saturated by distorted tuning forks and oblique sonorities. Murralin Lane's dimples sound easy to be tasted till its final fading out with its cinematic suite, which let me imagine Eskilstuna, the Swedish village from which they emit transmissions, is really close to Twin Peaks...
Artist:
Mikroben Krieg
(@)
Title:
Final Cut
Format:
CD
Label:
Thisco
(@)
Distributor:
CD Baby
Rated:
Mikroben Krieg is the project of Nelson L. Brites from Leiria, Portugal. Founded way back in 1995, this marks MK's 6th release since 1999. Self categorized as 'intelligent tribal electro ambient industrial,' I suppose I can agree with the tag. Brites has a few guests here to help him out on 'Final Cut' ' Caita Brites (accordion on Nightmare Dance'); Carlos Matos (lyrics and vocals on 'Inimputavel'); Nuno Cruz (keyboards on 'Soul Engineering') and Rui Francisco (angle grinder on 'Nightmare Dance'). Angle grinder? Just what the hell IS an angle grinder? I guess it's some kind of power tool. I was never much one for machine shop toys.

From the opening track, 'Soul Engineering,' I had high hopes for this album. It's mysterious and somewhat eerie; an atmospheric mid-tempo instrumental opening with a haunting descending piano triplet riff over industrial beats, sequenced bass and dark cinematic effluvia. It is a rather strong and effective mood-setting intro. At the end the voice comes in speaking in Portuguese. Sorry, not up on my Portuguese, so it was lost to me, but it sounded ominous anyway.

'Sleepwalkers' (in English, fortunately) immediately jettisoned me back in time to Front 242's 'Tyranny' album, and 'Soul Manager' in particular. The vocals might have had a something to do with it too. It wouldn't be the last time I noticed similarities between MK and Front 242 either. Unfortunately, that by itself is not enough to win me over. The crunchy rhythm on 'Sleepwalkers' is pretty good and it does have a nice dark tone to the atmosphere, seething with foreboding. Synth-work is sort of minimal but effective. Nice track.

What happens after this though takes it down a notch or three. Over bubbling sequenced synth bass and rumbling percussion the vocal track is all SAMPLED DIALOGUE. Now if you're a regular reader of my (often infrequent) reviews here, you KNOW how I feel about the overuse of sampled dialogue, no matter what the source, especially when it serves to replace, rather than enhance a vocal track by the artist. Long passages seem no more than babble, and even though the sampled dialogue here is in English, it's still babble to me. I could care less. The music was good on 'Scene Memory,' but I would have rather heard vocal content from the artist.

'On 'The Responsive Ear' we have a rhythmically potent track with dramatic piano chords, but the vocal is lightweight (with lyrics in English) and really needs more oomph. The words I caught, 'I could try a little bit harder'¦' seemed appropriate. Yes, you could try a little bit harder, or get a vocalist with more power and drama. That would make a big difference. 'Jihad' brings back more lengthy dialogue samples over random sample-&-hold style synth sequences. Sounds like an overly-dramatic actress auditioning for a role at an electronic music workshop. 'Sinus Addicted' (now there's a title my nose can identify with) is yet again more lengthy dialogue babble over early Front 242-ish rhythms and rhythmic synths. By this time I'm realizing that the hopes I had at the opening track of 'Final Cut' are beginning to dissolve liked oil in chemical dispersant. The track just abruptly ends, giving the impression ' 'oops, we've had enough of this. 'Inimputavel' seems like a lament with lyrics and vocals in Portuguese by Carlos Matos. Maybe lamentable is a more accurate description. They sound impassioned, but much too soft for this kind of music. Must be something in the culture; I'm just not getting it. Musically, it's actually pretty good though with its Middle Eastern undertone. We're back to more sampled dialogue serving as the vocal track on Paradox,' and a rhythm track that is reminiscent of a Rhythm Ace drum machine. And once again, more sampled movie dialogue ('Angels in America') over rhythmic industrial ambience. This is really getting old now. The positive sentiments I held for the album at the outset have eroded like the ecosystem in the Gulf. Last track (before the remixes) 'Inquietude' brings back some real vocal content over more traditional drums mixed with tabla, and I'm grateful for anything that doesn't reek of sampled dialogue. I don't even care that the vocals are in Portuguese; they're adequate and that's fine with me.

The last five tracks are remixes of previous tracks on the album. The Eden Synthetic Corps remix of 'Sleepwalkers' is the best of the bunch; very club-worthy. As for the rest, I suppose they're okay as far as remixes go, but by this time I've had more than enough. If the artist here is open to a little unsolicited advice, I'd steer clear from dialogue samples on the next release, and get a vocalist with some power and dynamics. I see potential in Mikroben Krieg, but it hasn't been realized here on 'Final Cut'.