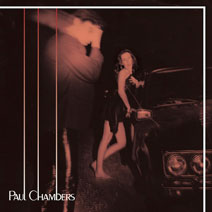 Artist:
PAUL CHAMBERS
Title:
Stations / Absorptions
Format:
CD & Vinyl
Label:
Anna Logue Records
(@)
Rated:
Paul Chambers is a guy coming from UK who in the late 70s started to experiment with synthesizers and, just like Thomas Leer (his album "The bridge" released in collaboration with Robert Rental has been released by Industrial Records in 1979), could be considered a pioneer of dark minimal electronic music. Officially Paul released only two tracks ("Steering solo" and "Take a ticket") in 1981 when he took part to "The apprentices dance", compilation released by Sounds Interesting Records. For "Steering solo", Paul took the post punk energy thanks to solid guitar riffs and energetic vocals and mixed it with epic synth lines. "Take a ticket", instead, is a mid tempo introspective synth wave tune with passionate vocals and nice melodies recalling me a bit John Foxx. Those were two really nice songs which showed the potential Paul Chambers had and that he couldn't prove with a full length release. Fortunately, now, Anna Logue Records is giving to Paul that chance and is giving to us listeners the pleasure to check a double feature release: an LP titled "Stations", containing vocal and instrumental tracks where you can find also the two songs I mentioned and a CD titled "Absorptions" containing fourteen instrumental tracks which sound like a soundtrack for futuristic movies (for the concept of future that people had in early 80s) made with screaming synthesizers and cold drum machines plus a different mix (even colder than the previous one) of "Take a ticket". If "Absorptions" represents the experimental side of Paul Chambers, "Stations" contains synth wave gems like "The appointment with fear" (where sudden pitch changes make it sounds like a post punk track for aliens), "You are time" (syths leads play a mysterious atmosphere while Paul sings mesmerizing the audience like David Bowie was used to), "Crazy lazy" (try to think to a version of Japan's "Nightporter" played by Vangelis) or "Title name" (a slow synth r'n'r tune with guitar solos and fat lead sounds). I hope that Paul will dig some more into his archives to give us more songs. He's a multifaceted artist and he'd deserve to get the proper exposure even if it arrives thirty years late.
image not
available
anymore
Artist:
Artefactum
Title:
Foxgloves & bluebells
Format:
CD
Label:
ur muzik
(@)
Rated:
This album from Artefactum deals programmatically with poetry because almost all of the lyrics is based on poems by various author and mostly from the romantic age.
"Fairly Lanterns" is constructed above the voice of Merissa d'Erlette above a sounscape made out of a drones and various bells giving a sort of romantic nightmare. Noises and a cavernous drone introduce the listener into "Of Subterranean Inhabitants" where spoken word gives a poetic mood to the whole track. "Primrose chant" is a sort of abstract tune for infants. "Oraisons mauvaises" is a repetitive ambient loop that ornes the voices of David Sabre reading the words of Remy de Gourmont. "Where Saffron and Daises Grow" uses the words of Emily Bronte whispered on a lovely and dark soundscape full of evocative images ending with a piano line. "La belle dame sans merci" is based on the lyrics of John Keats and is the softer track of this album with the bells to create the almost ethereal mood of the track with also the nature samples and ending, using traditional flutes and beats, with a smile.
This is a sophisticated album that lies between dark and ethereal with almost ethnic influence. It's an uneasy listening but, with a careful curiosity, will reveal a poetic depth. Quite nice.
Artist:
John Berndt
(@)
Title:
New Logic for Old Saxophones
Format:
CD
Label:
Creative Sources
(@)
Rated:
The youngest hyperactive member of the second wave of the so-called Neoist movement, faithful to both the philosophy and musical researches by Henry Flynt - the father of Concept Art and of the Fluxus movement, an interesting attempt to destroy the barriers between existence and artistical creation - and to the experimental researches related to improvisional music - he invented the so-called Relabi style, an almost esotheric concept of sound design close to the idea of primordial rhythm, which has attracted some attentions by Computer Music fans, but who has been criticized for the difficulties for any possible application on "played" music, even if Mr.Berndt applied its principles both in the composition for his group Multiphonic Choir and his orchestral project known as Second Nature (have a look here, if you are interested to investigate this subject thoroughly, check it here: http://www.johnberndt.org/relabi/index.html -, founder of the Red Room collective and organizer of the well-known High Zero Festival in Baltimore, one of the most important event related to the most experimental side of improvised music, John Berndt unearths two vintage saxophones - one 1933 Buescher Soprano (arguably an S-50 Bb, belonging to the legendary New Aristocrat series) and 1935 Conn Alto (I could guess it's a 6m, also known as Naked Lady, but I'm not sure...) - to apply his performative "logic", whose postulates doesn't derive only from "standards" like the ones by Ornette Coleman, but the catching phrases of Berndt seem digging in different stylistical grounds and it's quite amazing noticing the intertwining of modular or free jazz with arabian scales. The introduction of the release by Denpasar you will find in the leaflet seems tryng to draw a "poetical" framework, more than conceptual, around it by making impressive descriptions, looking like mental movies inspired by Berndt's exhumation. You will find some sort of tributes to other respected improvisional musicians - you'll wonder how this scant community of musicians is close-knit and bounder than an Amish one! -, such as the Italian Gianni Gebbia, the stagy saxophonist Anthony Braxton and the eccentric Christine Sehnaoui Abdelnour (A Material Answer, the track tributed to her way of performing based on a visceral interaction between the instrument and vocal noises, is maybe the most amazing of the album!). Someone could argue John Berndt makes sonorous stuff for snobbish listeners due to somewhat invasive excess of technicism, but it's difficult to deny this fourth solo-album by this skilled improv musician is amazing.
Artist:
MILLIMETRIC
Title:
Reconfiguration
Format:
CD
Label:
M-Tronic
Rated:
After releasing different 12"s on labels like on Goodlife and Properproud, Millimetric signed a deal with M-tronic for the release of its debut CD album entitled "Expériences Modernes", which was released back in 2009. Containing collaborations with The Hacker, The Horrorist, Beta Evers and Martin Dupont the album linked electro/techno world to old school e.b.m. sounds (Front 242 / D.A.F / Liaisons Dangereuses / Severed Heads) giving life to a powerful mix made of cold synth sounds and breathtaking rhythms. This new album RECONFIGURATION sees cool producers and bands giving their version of the tracks coming from that debut album. The Hacker opens the dances with an acid version of "Smoking kills" just to leave space to an upbeat dark electro version of "Dans mes yeux" remixed by Lyynk. Also David Carretta opted for a dark techno atmosphere for his version of "Manic depression". Adriano Canzian for "Colargol" used fat lead synth sounds to create an obsessive atmosphere, while Christopher Kah for "Die angst" used dissonant detuned monophonic synth sounds to create an alienate atmosphere. 9 Elma's dark electro atmospheres infected "Dans mes yeux" while Nomenklatur gave their treatment to "Colargol", turning it into a sensual mid tempo in balance from electro and house. People Theatre did a nice job on "1972" turning it into analog sounding obsessed tune. Club Amour on "Escape from camp 81" mixed cinematic atmospheres and dark electro sounds. The Horrorist on their version of "Smoke kills" mixed e.b.m., techno and treated vocal samples used like an instrument. Strange Connection remixed "Dans mes yeux " turning it into an old school e.b.m./electro mix. Dirk Da Davo (the Neon Judgement) worked on "Prejudicial silence" working mainly on rhythm. The album is closed by three unreleased tracks recorded in 2004 (Industry and morality"), 2003 ("Action body") and 2000 (Can't speak"), where Millimetric is sounding more e.b.m. influenced (imagine a sort of Die Form of the 90s) and focused on minimal melodic variations and hard beats. This is a nice release and I hope that Millimetric are working on new tracks, because at this point I'm curious to hear what is next.
Artist:
Marsen Jules Trio
(@)
Title:
Les Fleurs Variations
Format:
Download Only (MP3 only)
Label:
Oktaf
(@)
Distributor:
Finetunes
Rated:
By means of his Oktaf imprint, Martin Juhls aka Marsen Jules gives the opportunity to admire the finest specimens of his blooming musical greenhouse, carefully irrigated by his delicate poetics, after it leapt out in many listener's hearts through his appreciated issues on City Centre Offices and previous stuff on the renowned net-label Autoplate. Among Oktaf's most scented bulb, I'd like to mention the remastered version of Yara and the album Lazy Sunday Funerals, but for this issue, which contains four re-rranged tracks of his acclaimed album Les Fleurs, an intensively emotional album intended to resemble the whole span-life of a flower from its blossom to its decay resulted in a wonderful idyll strictly related to the ineluctability of the decay of natural beauty in its perpetual cycles, Martin makes official a new collaborative path together with his long time friends and twin brothers helping him in his gardening activity Anwar Alam (violin) and Jan-Phillip Alam (piano). These new musical presences don't alterate, but just highlights, the spell Martin's able to cast on the listener based on the gradual dissolving of a looped phrase on repeated airy symphony till they merges each other in order to flow together listener's emotional universe. Marsen Jules Trio is able to build that kind of music which has the magical power to marbleize the listener by simultaneously unleashing emotional winds in its inner world. This is just an appetizer of a possible forthcoming album signed by this trio - I particularly got enchanted by De La Morte D'un Cygne and Coeur Saignant of the 4 tracks included in this release -, but it's enough to test the exstatic property of Marsen Jules' musical poetics. Peeping at his wonderful blossoms could arise your curiosity in its rich musical garden as well as in gardening!