image not
available
anymore
Artist:
ROBERT COSMIC
Title:
Rare Objects
Format:
10"
Label:
Shameless Toady
(@)
Rated:
Coming from the north of Span, Roberto Perez, is delivering his second release under the Robert Cosmic moniker after the "Restarting My Robot EP" released by Battery Park Studio this year. Available on 10" and on digital format thanks to Shameless Toady, RARE OBJECTS contains only two tracks: "Rare objects" and "Visita al espacio" (translated is "Visit to the space"). The main song is a great nu-electro tune with 808 upbeat syncopated rhythms, vocoder filtered vocals, different layers of melodic synth leads plus catchy synth pads. The whole result is a robotic dark tune with space here and there. The B-side is a nice instrumental which recalls a little the first one because of its sounds and bpm but it's more focused on the bass line and on the spacey pads with the leads enriching the atmosphere on key moments. It's a short single but for sure you'll find yourself playing it several times in a row.
Artist:
DVS NME
(@)
Title:
Sentience
Format:
Download Only (MP3 + Lossless)
Label:
Binalog Productions
(@)
Distributor:
Juno Download
Rated:
Johan Sebastian Bot is coming from Colorado. At his active he has a lot of tracks he posted on his Soundcloud page but, as far as I know, SENTIENCE is his first release with the DVS NME monicker. The EP contains two original tunes and three remixes (two of "Sentience" and one of "Norse funeral"). The peculiarity of the main tracks is that they have no drums. I know that talking about electronic music without drums could make you think about ambient music but "Sentience" and "Norse funeral", could not be filed under that genre, because the rhythm is present and it is generated by synth arpeggios. In balance from dreamy atmospheres, ("Norse funeral" has nice warm synth pads along with soft leads) and cinematic sci-fi atmospheres ("Sentience" melodic progression is catchy and evocative) DVS NME did two cool songs I'm sure you'll dig. About the remixers: they all added rhythm lines to the tracks, keeping the bass line and the main synth leads and added syncopated percussive drum lines with a bit of Mediterranean flavor (Binalog Freq on "Sentience" used bongo sounds and a lot of "stop and go", just to exalt the cinematic essence of the original tune), retro sounds with several new melodic arpeggiator lines (Pip Williams remixed "Sentience" and he kept the main melody but used different synth sounds) and electro robotic atmospheres that substituted the original dreamy ones (Rawtary on "Norse funeral"). This is a nice release and you'll find it on sale from Junodowload starting from December the 13th.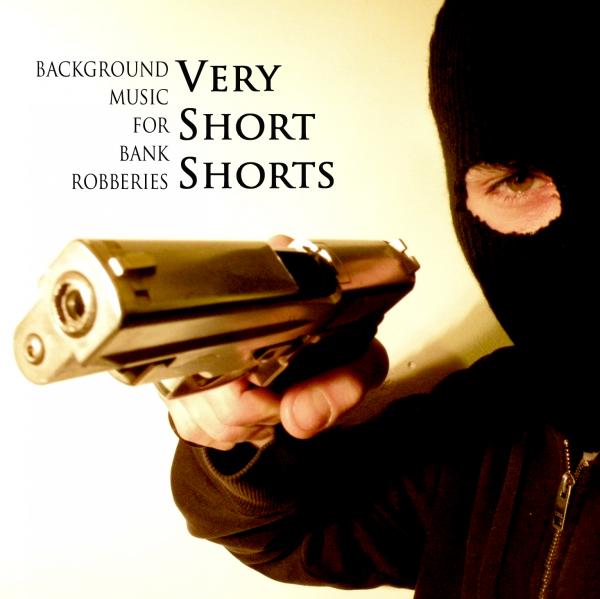 Artist:
VERY SHORT SHORTS
(@)
Title:
background music for bank robberies
Format:
CD
Label:
Bar La Muerte
(@)
Rated:
An unconventional band and record even for an heterogeneous label like Bar La Muerte, can you imagine a power trio of jazzy-soundtrack punks? Ok that's the case. The line up consists of a piano, a violin and a drummer, while that may suggest a variation to the original Dirty Three modus operandi, the result is much closer to some John Zorn's filmworks and to a jazzy, post-cabaret mix, all-you-can-mix salsa. I'm sure some of you may wonder if they work softly on slow atmospheric themes but I'm sorry for you, that's wrong since the drumming is solid, the piano follows firmly and the violin sails on and with them. Far from sounding depressive, ambiental or atmospheric in someway these guys made me think to some balcanic crossover band not for the style that here is quite different but basically the spirit is the same. What do I mean with that, this music can be played in a club, during a party and in a squat without being afraid to be out of place and that's what really makes this band "punk rock". Maybe the record is just ok and it still lacks of the intensity of some sountrack or of some unconventional bands from playing with genres but given the fact they have a goddamn technical skill and a hell of a taste it's just a matter of time. The cd is long enough to let you enjoy their music but it keeps far from boring repetitions. This' the music you should hear while watching a movie or just a tv-spot, or while losing sobriety with some friends. Can you imagine a punk answer to Stefano Bollani's sense of humor in music? Here it's!! Can you imagine something your mom and dad can dig as much as you?...here it is!!...so: keep it in the family!. Simple, perhaps nothing new under the sun, but really enjoyable: "let the music play...Barry!"
image not
available
anymore
I loved this Monotype release from the very first listening and before writing this review I've listened to this record many times. We're talking about laptop music and this trio infact features Jacek Staniszewski on computer and synth, Artus Kozdrowski on computer and adat recorder and Dominik Kowalczyk on laptop. Given the fact this music has been recorded between 2001 and 2005, this trio gains more and more respect for the high quality of the tracks. You can bet this' one hundred percent laptop music therefore expect: digital bleeps, loops, samples, unnatural white noise, weird sounds and that kind of sound aesthetic you usually have with such projects. At the same time this trio reaches an incredible intensity above all when mixing soft harsh digital noises with loops of blues singers or with simple melodies, litanies have been always kept under the surface but you don't have to strain so much to here them. Despite some melodic solution this release is basically serious music oriented and most of the episodes express a deep and thoughtful intensity and "What do we need to know?" is the perfect example of that kind of austerity. Differently from what I've just wrote may suggest this project's compositions are not so heavy but not absolutely to be confounded with quasi-ambient/IDM/abstract light music. Neurobot played that style of music that walks on the tight rope between academic abstract computer and post-industrial/installation music. Different layers of sound, serial loops, some sad melodies fighting with astral synth to conquer the scene, digital bleeps facing soft harsh drones and everything has been dragged around patiently but not so much to sound heavy. After ten years this music still sounds quite interesting and if you consider the tracks may result odd but also well assembled, you may get why I this work is definitely worth of a listen since it's definitely interesting.
Artist:
DAYBEHAVIOR
Title:
It's A Game
Format:
Download Only (MP3 + Lossless)
Label:
self-released
Rated:
There's nothing better than having a beautiful song to make a great single. After seven years of break, Tommy (who moved from Sweden to Thailand years ago), Paulinda and Carl reunited to write new songs. "City lights" (available for free at the band's website) was the first and it showed that synthpop still have something to tell thanks to catchy melodies and cool synth sounds. IT'S A GAME is the new digital Daybehavior single and contains the main track plus two remixes. The original tune is a fresh danceable synthpop song with fat bass lines in evidence and the seducing vocals of Paulinda. The song talks about lovers' games ("it's a game and I want to play / I wanna go all te way/ ...we can go slow and faster / and we can love like there's no tomorrow day") and the Greek duo Marsheaux did a great remix by keeping the original vocal lines and writing new bass lines (those ones sounds really great) with catchy lead synth inserts here and there. Australian band Parallox (that have their debut album "Metropolis" available on Conzoom) opted for a retro sounding 4/4 danceable mid tempo with dreamy atmospheres. The remixers did their best to give to the original song a "new life" and they proved once more that when you have a hit on your hands it's almost impossible to fail. Keep your eyes opened for the forthcoming album!