Artist:
Access To Arasaka
Title:
Void [];
Format:
CD
Label:
Tympanik Audio
(@)
Distributor:
Ant-Zen
Rated:
Welcome in the world of bits and bites, or better said, the nearly unexplainable musically outer-space-dimension of Rochester-based Rob Lioy. A new full-length album after the previous released masterpiece 'The Lesser Oppidan' for all of you hungry IDM-genre fans, and Rob continues as expected his march to explore undiscovered spaces of Electronica/IDM music. There's a track list, yes, while the titles itself are seemingly generated by computerized codes happened by chance (examples? '', 'config.syn_seq''¦). Rob could also easily avoid it to invent such a complex sounding track-list, as this album doesn't offer a recognizable pause between his compositions, as this is seemingly indented too. 'Void []; to me offers the best moments, when Rob decides not completely to trust into his terrific abilities to program tricky Glitch/IDM-like rhythm patterns ' the more atmospheric side of his work filled with precise reverberating fx and multiple synth-layers, like with euphoria listened in 'term/echo' for instance, is to me the better one ' although especially this kind always evokes those tireless comparisons to GRIDLOCK. Rob may can find some comparable elements in the works of the too early gone IDM-heroes Cadoo/Wells, but to me 'Void[];' is a step further to depart from this. 'The Lesser Oppidan' may has been a bit easier to consume, especially if the listener is relative ingenuous and unfamiliar with Rob's recordings, while with this new one he definitely grows artistically. You'll get another fine worked-out masterpiece full of abstract IDM/Electronica music worth to sink in and to be checked out under a good pair of headphones. Get it!
Artist:
Totakeke
Title:
On The First Of November
Format:
CD
Label:
Tympanik Audio
(@)
Distributor:
Ant-Zen
Rated:
It has again taken longer with me to review the newest effort of Tympanik Audio's most iconic artist TOTAKEKE a.k.a. Frank Mokros ' much longer than the first of November I must admit. However, here are another 10 reasons to concentrate and to sink in completely into the sonic and fictional-driven music-outfit of this highly talented artist. This new album differs in a few aspects to the predecessors of Frank. 'On The First Of November' isn't at all that easy to consume and this album doesn't offer a track-list. 10 untitled tracks, as well as the photographic art provided by Salt mainly consisting of frozen leaves, rather remind on a conceptual release. Also musically, Frank has already offered more accessible works, although this can't be seen as flaw, at least not in the case of TOTAKEKE. All tracks are once again skillful arranged and are filled with uncountable pads, layers and massive atmospheres. The diversity in his complex arranged beat-work and drum-patterns searches another time for a constant rival still to be discovered. So it can't be generally a flaw to concentrate with TOTAKEKE on a more Experimental-minded outfit, instead to offer once again an album filled with Industrial-Dance-tunes, as here could hide a musically death valley of repetition. New is also the fact, that Frank has installed a kind of a guest 'vocalist', Mr. Redils, who offers his rather ominous sounding speech-singing on the track 1, 6, and 9. Frank Mokros shares musically formulated art with us, his listeners, and I really am unable to point out an all-time-favorite track out of these 10 tunes. Each of them has ist own attraction itself, so this album is another fine example to take some free time and to sink into this more than 70 minutes clocking sound experience, which lefts the listener breathless and endlessly fascinated. 'On The First Of November' sets the standard of modern and skill arranged IDM/Modern Ambient-Electronica music on a high, nearly unreachable level.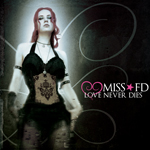 Artist:
MISS FD
Title:
Love Never Dies
Format:
CD
Label:
Quantum Release Records
Rated:
Miss FD with her newest album LOVE NEVER DIES redefines slightly her music thanks to a minor use of distorted sounds and less e.b.m. influences which characterized her Frightdoll albums and some songs of the debut CD she did under the Miss FD moniker. LOVE NEVER DIES contains seven songs and it's quite short (it is about twenty seven minutes) but despite this, it succeeds into creating a warm feeling where the listener can check the many moods of Miss FD. In only half hour, she leads her fans through electro goth dance atmospheres (like on the opening "Moment of fade" and the following "Losing ground") that show an artist influenced more from Depeche Mode than from e.b.m. "Cry for you" recalls her old atmospheres and after the short instrumental "Temporary relief" there are some surprises that will show you the other side of Miss FD's music. "Negaverse" is a song that alternate piano ballad atmospheres to dance electro e.b.m. ones, mixing melancholic atmospheres to catchy upbeat rhythms with strong vocal choruses and "Away from here" plus "In love, loss and neon", are two songs based on piano where FD opens her bleeding heart with two passionate ballads. Dark, passionate, melodic and energetic, LOVE NEVER DIES is out there since St. Valentine day for you to check...
image not
available
anymore
Artist:
CASIO SOCIAL CLUB
Title:
Running Man
Format:
Download Only (MP3 + Lossless)
Label:
Mullet Records
(@)
Distributor:
Juno Download
Rated:
RUNNING MAN is the newest single by Casio Social Club. Justin Winks for this digital release brings us three new instrumental tracks. The opener "Running man" with proper vocals can be used as dance 80s tune and it would be a track good for Madonna of the early period, also thanks to its funky guitar. "Brassy boogie" is dancey and cinematic at the same time and could have been used on the Miami Vice show on the funny moments. "Happy slappy" is a 4/4 mid tempo with an upfront slapped bass. It is the king and it knows it happily spreading its cool bass vibes while chimes, bongos, sax inserts and synth pads celebrate it. Nice single...
Artist:
David E. Williams Ensemble Experience Project
(@)
Title:
s/t
Format:
7"
Label:
ur muzik
(@)
Rated:
According to the press sheet David Williams, after a solo career, has decided to join a band that bears his name and the initial result of this decision is this strange 7" that try to reach a precarious equilibrium between traditional songwriting, curious experiments and eccentricity.
"Gert Flirts with Dirt Shirt Bert" is an experimental punk rock track that is a bizarre meltdown between Residents and Damned. "A Million Margarets" try to confuse the listener changing drastically the rhythm with slow saxophone lines and a quiet organ. "Soul Out of Shell" opens the b-side of this album with an almost country folk track, nothing really new but well written because it feature a remarkable acceleration that introduce the listener to "Scratch Put Now" a funny track that close this work with the folk flavour of the violin.
This album is really short, a little more than ten minutes, but reveals more ideas than longer and more pretentious work. Funny :)