image not
available
anymore
Artist:
Dead Shall Not Have Died In Vain (@)
Title:
Nearer My Gxd To Thee (For Albert Davis)
Format:
7"
Label:
Diophantine Discs
(@)
Rated:
DSNHDIV is one Marc Brenner, who takes the kitchen sink approach to sound, adding the noise of everyday life to the musical drone. Like doing the dishes while listening to the hum of existence (if we could actually hear it, of course). Limited to 300 copies on clear vinyl.
The Parisienne Dj Audrey Katz is one of the most toughened female producer facing the electro-dance scene as well as one of the busiest and most courted dj in France - two recent important dates in her organizer being a dj-set at Cannes Festival and at the nice Panic Room, one of the nicest à la mode place in Paris -. After refining her djing skills, touring a lot of renowned clubs in Paris (Social Club, Showcase, NY Club, Batofar, Flèche d'Or and so on…) and in other cities all over the planet, sharing headphones and mixers with other famous male (Jim Connolly aka DJ JVC, the lustful duo Jesse & Crabbe, Kitsune, Ariel Wizman, Tepr, Dj Pone from the collective Birdy Nam Nam - implicated in this disco crime with a remix of Discolights - and many other ones… ) and female (Roxy Cottontail, Nadège Winter,…), this red-haired seducing many audiences with her wildly elegant style shows some electro-dance calisthenics on this Ep issued by Leonard de Leonard's label Leonizer, including two energized tracks - Discolight and Drugs - , which are going to free the anchor on European most refined disco clubs, and some remixes - no one a part of the above-mentioned one by Dj Pone and Drugs's Lazy Flow Goes Harder Remix is able to reach the peaks of boosting energy of the original tracks in my modest opinion -. Both of them release Audrey's self confidence with sampling as well as her armory of percussion and sample-a-delic tricks any trained dj gradually learns on mixer (modified vocals samples, guessed pauses after breathtaking hard stepping, effects on snare drums, slips and slopes on pitch controller and so on). An All-in (or I'd better say a show-down, borrowing some certain terminology from poker dictionary!) proving Madamoiselle Katz knows how to rock da house!
Artist:
xabec
(@)
Title:
feuerstern
Format:
7"
Label:
Drone Records
(@)
Rated:
A disk of two different uses, one a studio track, and the other the same track used in a live performance setting with additional materials added. Xabec is Manuel G. Richter. The additional live treatments comes from Michael Northam. The original track is one of calm droning with various overtones added and subtracted as the piece continues. There is a sense of foreboding at times but also the promise of the inevitable dawn. I'm not sure that the treated side added much to the studio track. It may have been a lot more enjoyable if I had been there when it all happened. Comes in a very cool box.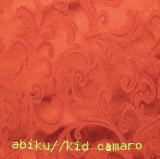 Artist:
Kid Camaro
(@)
Title:
1. drop, 2. Dusk
Format:
7"
Label:
Automation Records
(@)
Distributor:
CD Baby
Rated:
8-bit IDM, at times simple and cute, at times a bit a sad. Other times quite manic and just a bit upset. Sounds like a usual day to me.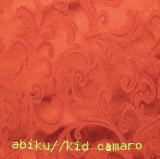 Artist:
Abiku
(@)
Title:
regency/feel/bobby
Format:
7"
Label:
Automation Records
(@)
Rated:
The music of Josh Jaworsky and Jane Vincent has been called Computer punk. It combines the cute 8-bit sound with the aggression of pissed off punk. Jane does the vocals and does she sound upset. Angst baby in spades. Life does have it's disappointments and what better way to purge the emotion than to listen to this. You are not alone.