Artist:
Strip In Midi Side
(@)
Title:
Your Stripping Experience
Format:
CD
Label:
New Model Label
(@)
Rated:
Eight months after my review of their debut MCD, here are again the Strip In Midi Side with their first album. They got signed to New Model Label and they just released YOUR STRIPPING EXPERIENCE. On this album you'll find the five songs of the MCD (with the same running order) plus five new tracks. Well recorded and mastered (they chose Streaky Mastering, people who worked with Nitzer Ebb and Depeche Mode) the album shows well the multifaceted soul of the band: goth, industrial, new wave and pop are all elements that the four Strip In Midi Side are confortable with. On different tracks (for example "Art is insanity" or "I want") the band pass from rock industrial obsessive riffs/distortions, to British pop melodies creating an effective contrast where energy and irony coexist. "Bring me down", song that we already know, starts like a Apoptygma Berzerk tune just to turn into a melodic Peter Murphy one and follows playing with these influences adding a personal touch here and there. "You don't know" mix Nin Inch Nails to the best melodic moments of Foo Fighters (some melodies recall me "The pretender"). Like a giant sponge they four Italian guys absorbed the best sounds of those genres just to digest and spit them in your face. Upbeat, irreverent, energetic, YOUR STRIPPING EXPERIENCE is only waiting four your judgement...
image not
available
anymore
Artist:
Degada Saf
Title:
No Inzro
Format:
CD
Label:
Mannequin
(@)
Rated:
First production of the Rockgarage label and produced back in 1984, NO INZRO has been the first and only album released by Degada Saf on the last century (as you may know because of my review and my interview, they released a great new comeback album the last year), album that now is reissued by one of the most active Italian labels, Mannequin. Inspired by the dada movement, the band wrote lyrics using "phonemes and puns on words from different languages", as Fausto told us in our interview. The eight songs you can find on the album are amazing because of their mix of new wave/no wave melodies along with synth sounds inventive solutions. Using Simmons pads as well as different drum machines, guitars and keyboards, they created a wide palette of atmospheres. Tracks like "Loda loda", "Om" or the main tune, are almost industrial wave because of their saturated sounds and for the will of experimenting with sounds ("No inzro", for example is a nightmarish atmospheric electronic piece which step by step becomes more obsessive and dark). The opening "La rhumba de Shang Hai", "Tri banal" or "Zom Africa", instead, incarnate the pop soul of the band where Fausto's deep vocals are well backed by never predictable melodies. I think that for these reasons Giusto Pio (Franco Battiato long time collaborator) accepted to produce the single they released a couple of years later. Do yourself a favor and if you have the money to purchase only a CD this month, check this one first!
image not
available
anymore
Artist:
RODRIGUEZ, SANTOS, KUCHEN, RODRIGUES
Title:
vinter
Format:
CD
Label:
Creative Sources
(@)
Rated:
When a cd is out on Creative Sources and it involves the Rodrigues you mostly know how it sounds like I don't wonna say it's predictable, in someway that can be true, but they have a distinct sound nobody can deny that. Even if the presence of Martin Kuchen and Carlos Santos adds a saxophone and electronics to the strings of the two portuguese players, the opening track would confirm the idea of predictability but never judge a book by the cover bros!. It's with the second track they throw in what sounds like the body of a melody, thumbs up for me since the cocktail goes really close to many contemporary electronic composition: sharp digital computer sounds, mute saxophone playing and just some odd bowed squeaks. The closing and longest composition of the whole lot sounds much more like many other works in which I've heard these players: unplayed dissonant notes, long pauses and similar tricks. The last track offers a classic contemporary sound, above all when they leave unplayed unsounding jamming for crippled or laud playing, a strange interaction, but still really good.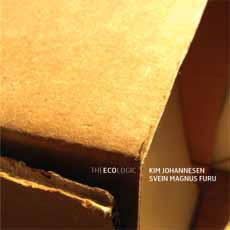 Artist:
KIM JOHANNESEN, SVEIN MAGNUS FURU
(@)
Title:
the ECOlogic
Format:
CD
Label:
Creative Sources
(@)
Rated:
Another guitar plus saxophone duo, just a while ago I've reviewed Rocco-Coxhill and now this nordic pair, beyond the remote possibly also this nordic couple has an avant jazz background I can't see any other similarity. Infact Johannesen and Furu are more contemporary classic oriented in their way of playing and these compositions somehow can be classified that way. The first track opens with what effectively sounds as a long circular drone crossed by some electro-acoustic sounds, a simple idea you may think, but in terms of length they bring this track to a point where they start disgregatin' everything before the end. If one may think that's another ordinary drone driven release the second episode presents a dissonant post Bailey-an impro with a strong intensity and the same idea is repeated here and there in several tracks before the end (tip of hat!). Despite some electro acoustic sketches that's not exactly their cup of tea, therefore when they go for a duo in unison you can bet the proceed shoulder to shoulder. They close the whole narration by returning to a long uniform sound droning even if slightly if compared to the first track, and I think thaat's a wise decision to cerate an interesting tracklist. What I've really appreciated about this cd is the fact differently from many scandinavian improvisers they avoid that repetitive unsound-playing going firmly from pointillism to well played angular notes. Interesting work.
image not
available
anymore
Artist:
PIETRO RIPARBELLI / K11
Title:
Metamorphic Portrait 1230 A. D.
Format:
CD
Label:
Actual Noise
Rated:
During the last year I've been reviewing at least three Ripabelli's releases and I've seen him once live, funny since despite the fact I happened to hear and read his name mentioned several times I didn't know how he sounded like or anything else about him and all of a sudden one listening after the other. This italian artist is quite well known for his activities in the dark ambient-post-industrial esoteric scene and I'm sure you will agree it emerges also by the musical aesthetic of his works. The positive thing about is works is that he's an incredible taste and he's far from the flashy of the genre, another great quality of his solo releases his the great sound quality of his productions so please don't mix him with many lo-quality sci-fi esoteric new-jacks dealing with power-noise or with the dark ambient thing. "Metamorphic Portrait" has been released with sound sources recorded in the lower Nasilica of Assisi and take for granted the esoteric factor of the whole cd is high on top, but as the artist himself writes in the line note of the release that's part of his personal research and explains the enormous religious feel of which this work is imbued. Despite some characteristic dark ambient sound and distortion I will somehow recognize in other works with the moniker K11, this cd is characterized by a large use of delays and echoes and by many vocal sound, gregorian chants, vocal singing and ancient ritual singing like that, but don't think it may resemble Rison D'Etre, everything is less clean, the original shape of the vocals drifts ashore and in some traces they've been submerged by some power distorsions that after a while live space to what sounds like an organ. The cocktail ends sounding really esthetic which is something that definitely lacks to many releases like that, plus you have to consider Ripabelli really knows how to build an emphatic and interesting structure fo tracks like those contained in this cd. If you've never gave him a listen maybe it's time to check how he sounds like.