Artist:
Edward Artemiev
Title:
Mood Pictures
Format:
CD
Label:
Electroshock Records
(@)
Distributor:
DWM Music Company
Rated:
Well this came as a surprise! Have you ever seen the Tarkovsy films ' 'Solaris,' 'The Mirror, 'Stalker'? Well if you have, then you've heard some of the music of Edward Artemiev. But Artemiev is not just a soundtrack composer; he is an acknowledged leader of Russian electronic music. His credentials in synthesized music go way back to meeting with engineer Eugene Murzin - one of the first in the world to invent a synthesizer around 1960. Artemiev's compositions written in the 60s-the early 70s belong to the aesthetics of avant-garde, and since then he has many releases to his credit, both symphonic and electronic. (Hard to find in the U.S. but many available through Electroshock.) 'Mood-Pictures' contains mostly pieces from a number of his film scores, some utilizing the State Orchestra of Cinematography, and others just by Artemiev and an occasional guitarist or vocalist.

This CD is an incredible introduction to Artemiev's work, so rich and varied in themes, and magnificent in its execution. The first track 'Siberiada' (title track from the 4 part epic motion picture of the same name directed by Andrei Konchalovsky) sounds archetypically Russian as the theme builds with low strings and woodwinds and a martial cadence. I found it Morriconesque, especially the voices, and when the horns came in. It has a definite 70s sound as it is from 1979. The next two tracks are also from the film, but showcasing Artemiev's synth work. 'Swing' is a bit of very nice ethereal synth ambience, while 'Fire' is sequencer-heavy chaos with a stinging guitar overlay. This was my least favorite track on the album, but the pyrotechnics are impressive.

'Looking After the Victim' comes from a movie titled 'A Butcher' and it is a mysterious mood piece that begins with a Twilight Zone-like atmosphere that morphs into a medium tempo low synth sequence with the eerie strains of high strings. On 'Kamchatka ' Grand Voyage' (from the movie 'Mammon') Artemiev's synths play off the orchestral background developing a beautiful and memorable theme with flute and guitar string sounds as well as other sonics including unearthly voices. 'Fox Hunting' (from the movie of the same name) has Artemiev treading into Tangerine Dream territory, but with a sequencer-driven intensity and verve I've never heard from those guys. 'Premonition' comes from the film 'A Driver for Vera,' a romantic Cold War psychological drama, and the music here fits the description perfectly. 'Polygon' (from 'Rainbow Moon') sounds very prog-rocky at first with drums and elaborate synth work that eventually builds into a moody interlude before meandering off into other tangential expressions. A film called 'Requiem' is the source of 'Credo,' a heavy, Phantom of the Opera-like piece with uber-dramatic and spooky synths. The next three tracks are from the motion picture 'The End of Eternity'. 'Aria' features haunting voices that are sure to send shivers down your spine. One of my favorites on the CD, and a composition of pure genius! 'A Road to Nowhere' is an electronic extravaganza with plenty of tension and so much going on it's hard to describe. 'The Well of Eternity' reminds me of 'Mars' from 'The Planets' by Holst, yet is more modern and spacey, but no less ominous. 'Lullaby' is from the film 'Night of a Birth' and features 'Hearts of Space' style synths with some beautiful orchestral backing. Almost Tomita-ish. 'Serenade' is from the movie 'Facet,' and it is a lush track with synth-sax doing the melody with orchestral synths, electric bass and drums. I don't know why, but I was reminded of the Vangelis 'Blade Runner' soundtrack on this one. Romantic, yet dramatic; very 80s. The next two tracks, 'Dialogue with a Computer,' and 'Vocalize' come from a movie called 'By the Eyes of the Wolf'. The former is kinetic and sequencer-driven, while the latter sounds classically inspired and romantic with a wonderful wordless solo vocal by Tatiana Kuindji. 'Top of the World' is from the animated film 'Legends of Peruvian Indians' with thick pipe organ and heavenly synth voices and other synthesizer embellishments. Awesome. Final track 'Peregrini' is an excerpt from Artemiev's 'Symphony,' again with vocal by Tatiana Kuindji. It is a somewhat understated piece with Kuindji's soprano voice playing hauntingly off synthetic voices over a muted low tone sequenced background. Atmospheric incidentals such as chimes strings, pads, and other synthesizer tones and washes fill in the gaps and heighten the drama. Amazing stuff.

As good as all this is, and believe me, it is really, really good; as a complete album it lacks unity. Then again, it was only intended as a diverse compilation of the artist's film work, and on that level, it succeeds. I highly recommend this CD although you may have to go out of your way to obtain it if you're from the U.S. (U. S. distributor source noted) but it is well worth it. It also wasn't easy finding his MySpace site (the only thing close to the artist's website outside of Electroshock Records, and not updated since 2006) as the spelling of his name there was different, but there is so much about Artemiev on the net that you shouldn't have a difficult time finding plenty on him elsewhere.

image not
available
anymore
Artist:
Obszön Geschöpf
(@)
Title:
Symphony Of Decay
Format:
CD
Label:
Twilight Vertrieb
Rated:
Interesting, that a 'delicious' cover artwork featuring ripped open female bodies and an obvious doze of cannibalism doesn't get censored in the Metal music genre - and only in this genre. However, that isn't the point. The French madman Remzi Kellici has at least left nearly all elements, which made him known in the EBM/Electro-genre. Already his last DCD album released by the in hiatus remaining Arkansas-based label BLC Productions, 'Erection Body Mutilated' has shown straight into this new direction, so this new album doesn't surprise musically too much. Also the track list speaks for itself, or how would you rate titles like 'How To Become A Killer With A Granny Dress'? This isn't stuff for the faint-hearted listeners. Be it SKREW, 16 VOLT, CLAY PEOPLE, MINISTRY, they all can be taken as possible references for Remzi and his new music style. Additionally he has hired a real band and tours the world - therefore it makes quite sense to sign with the German label and mail-order service Twilight, as this should be able to take care for a better financially background. 'Symphony Of Decay' is a raging hurricane featuring assaulting guitar riffs, monstrous vocals and a straight rhythmical, mostly still with a drum-computer supported outfit. The still Industrial-related components in Remzi's latest work can be noticed with several voice samples mostly with drastically background indiscriminately thrown in - and, thanks God - with the very few tracks still relying on Electronica components ('Zodiac', 'Secret Graveyard in The Garden'). I guess it isn't a secret, that I would prefer a more balancing kind of production, which doesn't reduce the Electronica elements to a minimum - as I think, that Remzi has his talent into this kind too. However, I understand his motifs. Whole life is Rock 'n' Roll, isn't it?


Artist:
Deviant UK
Title:
very.bad.things
Format:
CD
Label:
Egomania [UK]/Remote/Sony [GAS]
Rated:
Deviant UK - Very Bad Things

Deviant UK is the project of Jay Smith, and "very.bad.things" is the follow up to "Barbed Wire Star" which was released in 2006.

"Barbed Wire Star" established Deviant UK as one of the top UK industrial and alternative electro artists in a short space of time, so 'very.bad.things' has a lot to live up to.

The most striking thing about Deviant UK Initially, is the vocal sound of Jay Smith, which has strong similarities to Gary Numan's, with perhaps some subtle, grittier variations to his arsenal.
However, this is no tribute act, and within a few minutes of listening to the album, you come to realise that Deviant UK definitely have their own sound going on.

The production is an improvement on the already strong standard present in their last album, with majestic pads soaring, rhythm sections pulsing and some carefully sculpted distortion all weaving together to form a solid foil from which the distinctive vocals can launch.
Much like the production, Jay's vocals have improved, with whispers, low grumbles and even a little snarl added in parts, showing that the progression of the project is clearly a key driving factor behind the sound of Deviant UK.

The themes on this album are very direct and aggressive compared with previous offerings, and you get the sense that Deviant UK are expanding into something much more dynamic, capable of a greater breadth of song, musically, lyrically and thematically.
This aggression helps give "very.bad.things" more of an edge than "Barbed Wire Star" with more of a sense of being on a musical journey as opposed to a series of tracks.
When paired with the fact that the tempo on most tracks is fairly brisk, with crisp 4 to the floor beats pushing the album along, it is very easy to get swept away and lose yourself.

This album is literally laden with Pad driven hooks, and catchy melodies, and is definitely closer to VNV than Combichrist in terms of the Industrial Spectrum.

If you enjoy the 80's synth classics like Gary Numan and Depeche Mode, or the more contemporary stylings of VNV Nation and Assemblage 23, you will find something to enjoy on this record.
If however your tastes are for the more aggressive, you may be better suited looking elsewhere, as Deviant UK is definitely a project with an eye for a clever melody,rather than a penchant for Distorted vocals.

All in all, a definite improvement on "Barbed Wire Star", and a progression of Deviant UK in terms of production, songwriting and dynamism, resulting in an album full of hooks and toe tappers.
image not
available
anymore
Artist:
MINERVE
Title:
Please
Format:
CD
Label:
Echozone
Distributor:
Masterpiece Distribution
Rated:
The first time I reviewed Minerve was with the release of their debut album "Breathing Avenue", issued by Pandailectric in 2004 and I already put in evidence the qualities of what back then were a duo formed by Daniel Wollatz and Mathias Thurk. Now six years have passed and they are a four members band which have recently released their fourth album PLEASE on Echozone. The new album brings to the lovers of electropop twelve new tracks that span from upbeat ballads (like "Life is an illusion", "Read im my memories", "Please"), melancholic ones (the following "You don't know me" or "Save me"), dancey synthpop tunes with e.b.m. influences ("Hold me tight", "Every day", "Don't ask me why", "Phoenix", "Forbidden love" or "Under my skin") and a bit of new wave ("Down to the ground". Influenced by Depeche Mode, And One, Mesh, Minerve with PLEASE released a solid album full of catchy melodies and good vibes.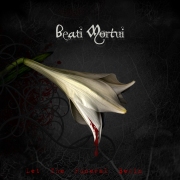 Artist:
Beati Mortui
(@)
Title:
Let The Funeral Begin
Format:
2 x CD (double CD)
Label:
Danse Macabre
(@)
Distributor:
Alive
Rated:
Again signed with their second official album to Germany's well-known Danse Macabre label group, this trio hailing out of Finland provides musically a quite interesting mutation. They combine the usual hard-driving force of a Harsh-EBM-like sound outfit, with raw and abrasive fx-processed female vocals, but too some Goth-Rock-like guitar riffs and some decent melodic inserts with beautiful sounding female vocals on the opposite. Let's throw bands like THE BIRTHDAY MASSACRE and UNTER NULL into a cooking pot, as this may describes well the elementary components of their sound. Their EBM-driven sound is definitely the leading force of the whole artistic foundation and comes out energetic, angry and with the required special doze of adrenaline to keep the bodies of the dancefloor-junkies in motion. 'Vision of Hell', 'Prey' or 'Soulreaper' offer all of these notorious weapons on board to keep on rawking. Musically more valuable I find those tracks, which move a bit more towards to integrate a wider horizon. The catchy and with some nice piano inserts arranged 'Deathrow', which features a dramatic additional vocal performance by Bruno Kramm of DAS ICH has to be named to fall under this category. Not to forget the intro and outro tunes 'Painting'¦' and ''¦Obsequiae' which feature partly words and poems out of the Finish traditions. 'Let The Funeral Begin' is artistically a quite ambitious album, which comes out as a well looking digipack, which features a second CD filled with remix contributions by an international selection of artists. The typical chosen Hellectro-Tommyknockers like SUICIDE COMMANDO, C-LEKKTOR, the well recognized label-comrades like Chile's DIE BRAUT, or the Greek project INLINE.SEX.TERROR haven't to be missed and offer additional food to consume at best on the dancefloors. But additionally some names like KUROSHIO, ERILAZ, or MACHINE PARK are rather counting to the lesser discovered projects, but from which we will hear and report surely soon from. All in all a quite good one, which offers more diversity compared to your usual Harsh-EBM/Hellectro listening experience.