Belgian (Bruxelles) EBM/electro-industrial band Mirexxx is the duo of vocalist Stijn S. and synthesist/programmer Posse, and 'Vault' is their Echozone debut album after their 2017 EP, 'Inside You', and a couple of previously self-released mini-albums. This is old, old school stuff after outfits such as Klinik and Suicide Commando, just not nearly as good. Stijn rasps his way through ten tracks on 'Vault' with little variation. The synthwork seemed as if it was going the same route (little variation in sound and sequencing) but changed a bit in the later innings during and after the instrumental "Distraction," a welcome change of pace. Drum are all rinky-dinky computer generated sounds so I found nothing really compelling about the rhythm. One of the only things Mirexxx has going for them is that there aren't many artists doing this strictly minimal style of EBM these days, so there isn't much in the way of competition. Still, it's a long way from moving a cluster of black-clads in a dark club to getting people excited about your album, especially if the album gets kinda boring after a few songs. Misanthropic, dystopian lyrics included for those who don't grok rasp.
Here's a German synthpop band that began in the early '90s, has released seven albums previously, and also a slew of singles and EPs, have had plenty of (Euro) chart-topping singles, have played many live shows including the prestigious Wave-Gotik-Treffen, and I've never heard of them before. I'd venture to say that neither have most Americans. To me, this only emphasizes just how different the American and Euro music scenes are, and it's kind of sad that good bands like !distain just don't get the attention in the United States that they deserve. !distain has gone through several members since their inception but now are the duo of Alexander Braun and Manfred Thomaser. I didn't have time to listen to all of the band's discography in order to get an idea how they've evolved, but I did listen to their 'Rainbow Skies At Night' (2015) album that preceded this one. There are similarities as well as differences, but no radical departures. The major difference between 'Rainbow Skies At Night' and 'Farewell To The Past' is depth, which the latter has more of. Not that there aren't good songs on 'RSAN,' there certainly are some little gems, but as a whole, !distain's latest shows the band has put some effort into making an album that isn't just an attempt to crank out the hits, so to speak.

I didn't think that was the case at first; the opening track "The Cosmic Revolution" (feat. Seyhan) relies on a single word hook - "Universe" in order grab your psyche melodically, and of course it works like a charm. So I am now thinking these boys are just another act along the lines of Depeche Mode, De/Vision, Wolfsheim, etc., and to an extent they are. But there's something about !distain on this album that transcends the usual suspects. It begins easily and subconsciously with the balladish "Maid of Freedom," mixing German and English lyrics. Then, in "Synthpop Boy" we hear something almost nobody sings about- the actual love of synthpop across EBM, industrial, hardcore and similar genres. This is a big difference between American and Euro music. Here, most regard synthpop as music of a bygone era. There it is a common thread between many styles of music. Granted the song itself is a little bit of a melodic throwaway, but it does get under your skin. "Der Hirtenmann,' the song that follows obviously in Deutsche, has a harder, darker, more dramatic edge that I haven't heard from this band before. I don't care if I don't understand the lyrics, it's a GREAT song and I'll just use my imagination. The instrumental that follows, "No Aces Left" is a medium paced moody piece oozing with cinematic possibilities. "Wake Me Up" is a love song that cuts deep emotionally, and is as close to perfection as any of the great ones I've ever heard. (If you can bring a tear to these cynical eyes, man, you've really touched on something.) Back to the German for "Wer im Kreise geht" (Who Goes in Circles), a nice melodic tune with dark overtones on the verses, but an uplifting chorus. "Waiting For A Song" somehow reminded me a bit of Tears For Fears in its moodiness and execution. Not common synthpop by any means. The next song, "Letter To Myself" contains the album title lyrically (a clever move) and is another emotion-grabber. "Targets" was the only song on the album that I thought was merely okay, but for many (other) bands a song like this might be as good as it gets. The most unusual track though is the last one - "The Guest House" (Featuring noted dj/producer/remixer Oren Amram), a 9:44 excursion into a mystery from 1679 that is part spoken recitation and part melodic vocals with atmospheric music throughout. Even on a third of fourth listen it is still an enigmatic piece. Not your usual fare for a synthpop band. Perhaps now you can see why 'Farewell To The Past' has some real depth to it. Not only does this album hold up with repeated play, but it actually gets better. What I thought was just going to be another one of those Euro synthpop outfits has turned out to be a whole lot more. Excellent!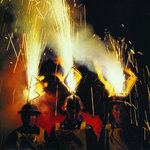 Artist:
Bow Gamelan Ensemble
Title:
Great Noises That Fill The Air
Format:
CD
Label:
Cold Spring
(@)
Rated:
Bow Gamelan Ensemble was an unfortunately little known group formed in 1983 by Richard Wilson with Paul Burwell and Anne Bean which tried to adapt gamelan music to the industrial scene which was establishing in those times. So, they used instruments made by metal or motors or common domestic objects. They aimed to adapt the music to the environment where they performed and they challenged, inspired perhaps by canonical avant-garde, the notion of musical instruments.
So, a track ad "Snappits/Hooter" creates music from the elements that make noise in everyday car traffic while "Horse/Bells/Hubcaps" is hypnotic in its use of metallic sounds and treat percussion as an element of musical language instead of something that beat the time. "Take III" shows how they use wind instruments to achieve sonic nuances uncommon in a period where this kind of music was challenging the listener with physicality while they take this path in a track like "Thundersheets/Sirens/Baths" of impressive sonic mass. However, the next track, "Pyrophones", is a sequence of subtle and meditative low volume tones.
For the quality of the music and the originality of the musical opus, this reissue is a a way to remind than the music scene is filled by great project that never had the spotlight but their opus hasn't aged a bit instead of most group which are on the magazines' cover in this times of retromania. Almost essential.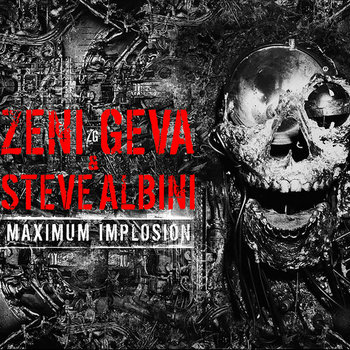 This double cd collects all pieces between Zeni Geva and Steve Albini: the EP "Nai-Ha" and "All Right, You Little Bastards!" a live recording in Tokyo and Osaka. The contribution of Steve Albini, to the heavy form of rock which is the mark of KK Null, is the clean and dry sound which is typical of his recordings and the insertion of more meditative moments in the assault of the japanese band.
This could easily be heard in the second section of "Autobody" or the first section of "Angel" which features also the guitar of Steve Albini. The other track are based on a vision of heavy metal where hammering rhythm and distortion create a sonic wall that never degrades into noise. As a bonus the two tracks of "Superunit", with Albini on guitar, are included where there's a perceptible shift toward the indie rock form which is typical of Albini's music so it's slower and more varied. The second cd is a live with Albini as a member of Zeni Geva featuring also track from the first cd and where there's a more energy and less sound details with the result that is enthralling in some moment in a peak by the cover of "The Model" by Kraftwerk in which with acuity sounds as a Zeni Geva track while retaining the pop allure of the original.
This is a reissue of material that has never produced a school or a genre but has had various little influences in a wider musical perspective than heavy metal and indie rock. It was never ground breaking but has that kind of personality that from the first notes, the listener knows who are the players. Absolute respect.
Retro electro meets beatz in the 'hood, enter the world of David Harrow aka Oicho who dwells on the poorly lit streets of the electronic scene where police fear to drive. Halfling opens with "ripper 2 cv", where one gets the impression of Instinct Ambient label electronics until the beats evoke early Tommy Boy records. Think scrawny, white producers in Compton LA, where chocolate is stuck in their peanut butter. The electronic textures suggest the likes of Taylor Deupree, but that unclean drum machine beat could come from The 2 Live Crew studio, two flavours grooving along and giving off a dreamy, almost futurist vibe. "Sleazy" follows with overtones of dimly lit backstreets with more robotic menace than bored thugs—but there is something retro enough to suggest 70's-era menace which would be pretty fly for a sci-fi. The following "Sparx" is a ghetto beat tribute to Jean Michelle Jarre's "Oxygene", only deftly recut and realigned by Harrow into a more psychedelic experience. Halfling caps off with "Half Rising" which is more like being in a chemical production facility with electrodes gone wild as the listener gets a tour of one vat of mystery solution after another. While this half-pint EP is a mere half-serving, it is not half-baked, rather a nice blend of grime and elegance. An Oreo cookie or coconut ball with a dark chocolate center, either will work but if you take a bite betcha you won't want just one.